Vietnamese tallest female player to join Japanese volleyball team
Vietnamese spiker Tran Thi Thanh Thuy. Source:
According to a recent announcement, Japanese volleyball club Denso Airy Bees has completed a contract talks with Vietnam spiker, Tran Thi Thanh Thuy.
DT News
In more details, the 21-year-old player from Binh Dien Long An Club will start to play for the new team in Japan V.League 1 scheduled on October 12. Prior to the first competition, Thuy seems to be very excited, as she thinks this will be a great chance for herself to hone her skills in Asia's leading country in volleyball.
Annual salary for the Vietnamese athlete in the Japanese club will be about VND 4.2 billion (USD 182,60), the Vietnam News reveals.
Before joining Denso Airy Bees, the team which was ranked fifth in Japan last season, Thuy had played for Thailand's Bangkok Glass and Attack Line of Chinese Taipei.
While having been recruited by Denso Airy Bees, Thuy is still allowed to return home to join the national team in the upcoming Southeast Asian Games to be held in the Philippines later this year.

Tran Thi Thanh Thuy, with the height of 1.93m, is the tallest female player in Vietnam. Her vertical reach is able to reach 3.04m. She became part of the national team in 2014 at the age of 16.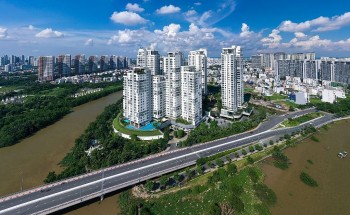 Economy
Vietnam Business & Weather Briefing (Sep 29): Vietnam among world's best performers in digital banking, Vietnam's new overseas investments surge 2.31-fold in nine months.