Vietnamese Tet Promoted in 3,400 French Supermarkets
According to the Ministry of Industry and Trade, the leading global retailer Carrefour for the first time-honored the Vietnamese Tet during the 2022 Lunar New Year Week on its chain of hypermarkets in France. More than 700 Vietnamese products were introduced to French consumers.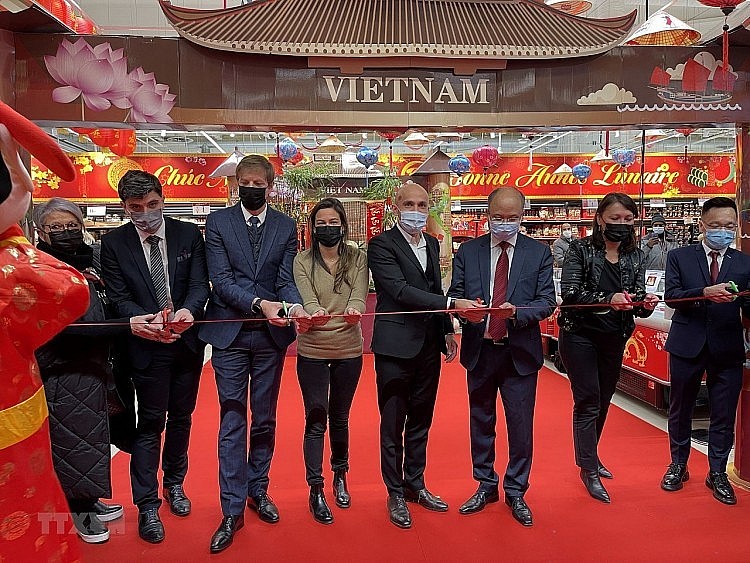 Vietnamese Ambassador to France, leaders of Carrefour Group and Ormesson city cut the ribbon to open the Vietnamese New Year Week at Carrefour supermarket chain. Photo: Thu Ha/VNA
The ribbon-cutting ceremony to open the event was held at the Carrefour Ormesson hypermarket, 30km from the center of Paris. The event is within the framework of tripartite cooperation between the Representative Office of the Vietnam Trade Office in France, importers, and retail distributors, to introduce Tet culture and Vietnamese cuisine to the French people. This is also an opportunity to introduce Vietnamese products to French consumers.
According to the CEO of Carrefour supermarket chain Bruno Lebon, the event is an occasion to celebrate the strong relationship between Carrefour and its Vietnamese partners. This is also an opportunity for Carrefour customers to discover the culinary arts, recipes, and Vietnamese products, which are appreciated by consumers.
Regarding the opportunity to access the French market for Vietnamese agricultural products and food, CEO of TTFoods, Nhat Thanh Khiem said that most Vietnamese businesses when entering the French market only target Vietnamese and Asian customers.
This is a weakness, hindering the image of Vietnamese goods as well as penetrating deeper into the local market. Businesses need to take into account the appropriate marketing and communication plan for local consumers when planning to enter their market.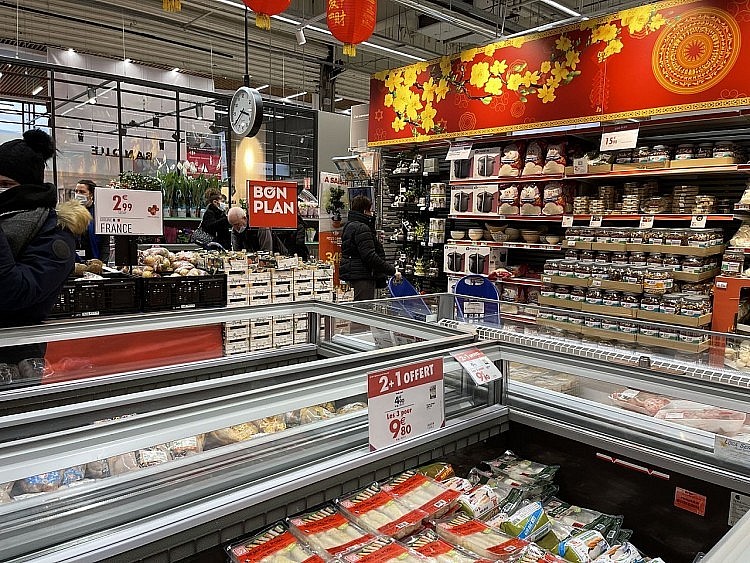 Vietnamese products. Photo: Thu Ha
Currently, the French Trade Commission is developing an approach that is appropriate to the reality in its area.
For partners who are large distribution corporations that do not have a development policy in Vietnam, the Commission has applied a practical approach, bringing benefits to all parties, which is a 3-party cooperation model between the Commission, importers and retail distributors.
For Vietnam, the first benefit is building the brand and image of Vietnamese goods in the local market through more than 3,400 Carrefour supermarkets, especially 216 hypermarkets across France.
The benefit for Vietnamese businesses is the opportunity to approach a large number of French consumers, when penetrating the hypermarket system, a mass market segment with strict requirements.