Vietnamese Tourists Prioritize Safety During Covid-19
Nearly 90% of Vietnamese respondents to a recent survey answered that they want to travel in the next 10 months. However, for Vietnamese tourists, safety is their top priority.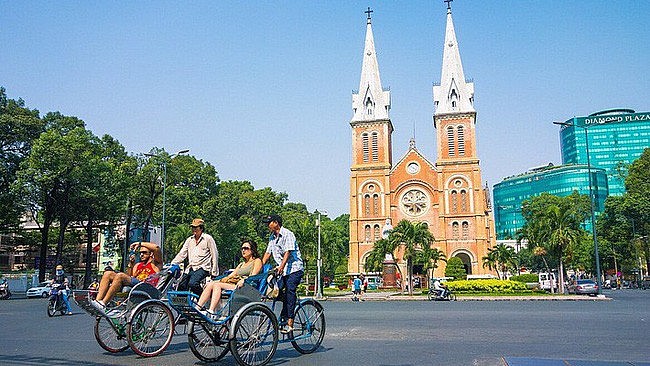 Photo: VTV
At the announcement of the survey results of tourist demand and trends during the Covid-19 period, which took place on January 11, Hoang Nhan Chinh, the head of the Viet Nam Tourism Advisory Board (TAB) reported that the needs of domestic tourists currently is strong. However, turning tourist demand into the recovery of domestic tourism is the task of the tourism industry and those working in the field. In addition, support from the Government and localities is essential to turn this need into reality.
The survey conducted from December 1 to December 20, 2021, with 10,717 respondents showed that nearly 90% of respondents want to travel within the next 10 months, of which 27% are willing to travel in the first month.
Visitors in Ho Chi Minh City are willing to travel earlier, within the next 3.9 months (118 days), tourists from Hanoi and other provinces tend to travel later, within the next 4.8 months ( 143 days).
In particular, there are few visitors (only 3%) who want to wait to travel until they have a Covid-19 green card.
Tourism demand by age, young (under 35 years old) and middle-aged (35-54 years old) expect to travel earlier, in the next 4.4 months (132 days). Older travelers (over 54 years old) tend to want to travel later, in the next almost 5 months (142 days).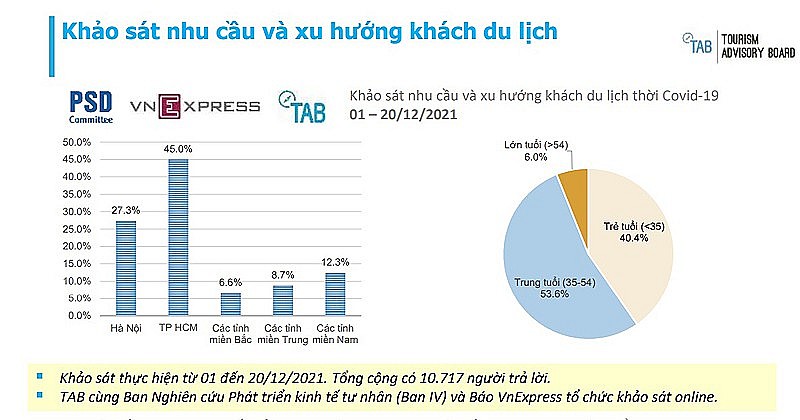 The survey shows that the needs of Vietnamese domestic tourists are like "compression springs" during the Covid-19 pandemic. Photo: NDO
Vietnamese tourists prioritize safety
With tourism in demand, Vietnamese tourists have not forgotten about the ongoing pandemic. The survey shows that safety and price commensurate with quality are always two priorities for travel decisions. Up to 55.5% and 50.7% of people answered this is the most important factor for their decision to travel.
Travelers are most concerned when traveling if they are quarantined on arrival or when returning home (86.8%), outbreaks of pandemic (60.7%) and different travel restrictions between localities ( 53.4%). Visitors have little concern when repeatedly presenting medical certificates (17.1%) and using various medical declaration applications (10%). Application software needs to be improved to mitigate these problems.
Compared with tourists from other provinces and cities, tourists from Hanoi and Ho Chi Minh City expect more flexible policies for changing or canceling services (37% and 34%). Complete information (21%), safety certification (14%) is more important than both destination and new tourism product.
Ensuring safety when traveling is the number 1 priority of Vietnamese tourists. Photo: NDO
The survey also shows that tourists recognize destinations mainly through social networks (56%), online newspapers, websites (42%) and online search engines (41%). Very few respondents know the destination through fairs, tourism events (3%), billboards (1%) and leaflets, brochures (1%). This result reflects that traditional marketing has reduced its role and is no longer effective. Digital marketing is playing a dominant role and especially word-of-mouth marketing (through families and friends accounted for 43%) still holds important role. Based on the survey results, up to 75% of the respondents wished to have digital transformation in providing information about safe tourism.
Short and self-sufficient travel is preferred
The survey also shows the pandemic makes Vietnamese tourists prefer short-term and small-group tours. About 45% of respondents choose 2-3-day tours; 78% choose to go with a family group (especially Hanoi tourists: 59%) or a group of friends.
From this answer, the research team made the conclusion that this is an investment opportunity to develop resorts with services suitable for tourists in family groups of 3 generations, located within a 3-4 hour drive from 2 cities, Hanoi and Ho Chi Minh City.
The trend of short-term tourists is also clearly shown through 3 surveys in the periods of September 2020 (3.9 days); March 2021 (3.9 days); December 2021 (4.1 days). The results of the December 2021 survey were positive compared to the previous two surveys as the average length of the trip was longer, with 4.1 days.
This result shows that the severity of the fourth outbreak is higher than that of previous outbreaks. However, Vietnamese tourists are still optimistic, choosing longer-term travel.
According to the survey, traveling by plane and private car is a priority with 65% of visitors. In particular, tourists from Hanoi and Ho Chi Minh City still tend to choose to travel by plane. Due to the impact of the Covid-19 pandemic, the demand for traveling by public transport is reduced (both planes and cars are down 10%). Meanwhile, the demand for personal car rides increased by 8%.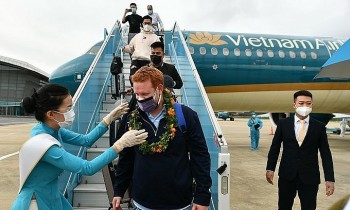 National
Vietnam News Today (Jan. 29): Vietnam records 14,892 new local Covid-19 cases; PM orders prioritizing pandemic control for safe and warm Tet; Vietnam scraps rapid Covid test requirements for int'l passengers; Vietnam-Australia trade hits all time high in 2021.