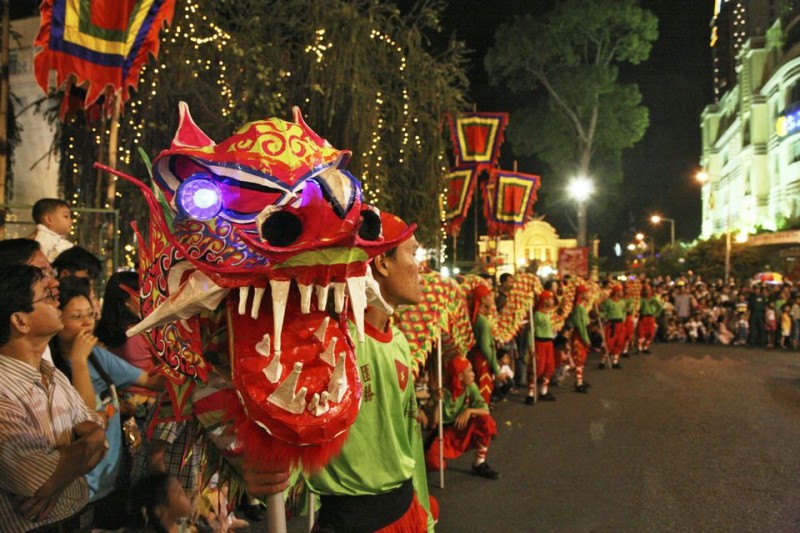 Illustrative photo
A series of activities will be held in the Old Quarter and the pedestrian zone around Hoan Kiem Lake on January 18 to celebrate the Lunar New Year of 2020.
Vietnamese Tet holiday will be recreated in the heart of the Old Quarter by the Dinh Lang Viet cultural group and the Hanoi Old Quarter Culture Exchange Center, opening a series of events to celebrate the 1010th anniversary of Thang Long- Hanoi in 2020.
The most significant ritual of the New Year event is the Neu pole raising ceremony at the Ngoc Son Temple's gate by Hoan Kiem lake, followed by several folk performances including the lion dance of the Ly dynasty, dancing and song singing at the communal house, among others, together with some special folk melody performances of artists from different regions across Vietnam.
At Kim Ngan Temple, there will be some cultural activities including the incense offering to the tutelary genie; exhibition of Kim Hoang and Dong Ho folk paintings; display of the head of lion and "nghe" statue as well as replicas of lion pattern of the Ly dynasty (1009-1225) from Ba Tam pagoda in Gia Lam district of Hanoi.
At the Heritage House in Ma May, visitors may immerse in the traditional Tet atmosphere with many costumes reenacted including the scenes of "chung" cake cooking and tasting by a typical Vietnamese family. There will be also a folk exhibition of Hang Trong paintings and the recreation of the custom of asking for Lucky letters here.  
hanoitimes.vn