Vietnamese twenty-something draws striking portraits of World Cup stars
Although the 2018 FIFA World Cup has just gone half its journey, 23-year-old guy now possesses a trove of 16 lifelike portraits of the event's biggest football stars.
Although the 2018 FIFA World Cup has just gone half its journey, 23-year-old guy now possesses a trove of 16 lifelike portraits of the event's biggest football stars.
A young Vietnamese has constantly kept his pencil busy during the ongoing 2018 FIFA World Cup, drawing more than a dozen charismatic portraits of his favorite stars at football's biggest competition.
Bui Anh An holds his drawing of a girl.
Bui Anh An, a resident in the central province of Thua Thien-Hue, takes pride in his trove of 16 drawing portraits of the World Cup stars, when Russia 2018 is only a couple of matches away from the quarterfinals.
The 23-year-old, who has never been to an art school, started drawing manga, a style of Japanese comics, and other cartoon characters since his elementary school years out of a great passion for painting.
He could create realistic depictions of different characters only after two months of practice.
Despite his love for and talent in painting, An ended up enrolling at the Hue University College of Foreign Languages, as his parents did not want him to pursue art.
But as his love for art never ceases to exist, the born-in-1995 always works hard, though secretly, to sharpen his skill.
An found international competitions to be a great chance to satisfy his hobby. The man has constantly drawn portraits of footballers with his pencil during the 2014 FIFA World Cup, the 2016 UEFA European Championship and this year's World Cup in Russia.
Although Russia 2018 is about to enter its quarterfinals, An now possesses a 'treasure trove' of 16 striking portraits of the World Cup football stars, despite not being trained by any professional painting school.
"I like to watch football and love a lot of players and teams, so I draw and post pictures of them [on Facebook] before the 'H-hour' of the games," An told Tuoi Tre (Youth) newspaper, explaining the motivation behind his drawings.
"In addition, I want to cheer for the players and help me feel part of the atmosphere of the World Cup," he added.
Messi and Ronaldo stands side by side in their national jerseys in this drawing posted on Bui Anh An's Facebook page.
INSPIRATION
It took the young man four to six hours to accomplish a sketch of one player on A3 or A4-sized papers.
The inspiration for the portraits often comes from the strong impression those players left in An during their recent matches, not from their daily looks.
For instance, An was so captivated by the mysterious smile of Cristiano Ronaldo, when he scored the first goal during Portugal's group stage opener against Spain on June 16, that he finished drawing the portrait of the Portuguese star even before the first half ended.
When Portugal and Argentina both advanced into the knockout stage, An came up with the idea of drawing Ronaldo standing side by side his Argentine 'rival' Messi in their national jerseys, implying his hope that the two men would face each other in the quarterfinals.
But as both teams were eliminated after the round of 16, An edited his artwork, putting an air ticket in the hand of Messi, indicating that they were ready to fly home from Russia.
To An, the most important thing in portraiture is the proportion of the faces.
"The facial proportion has to be correct. If not, it will be impossible to recognize who the player is," An said.
"It is also important to show their charisma, so that the portrait can become soulful," the young man added.
An has received a few hundred likes on Facebook for every of his artworks.
He said that he took the praise and comments as motivations to draw more World Cup-themed paintings.
Below are some of the portraits by Bui Anh An:
Sergio Ramos from Spain
Luis Suarez from Uruguay
Romelu Lukaku from Belgium
Neymar Jr. from Brazil
VNF/Tuoitrenews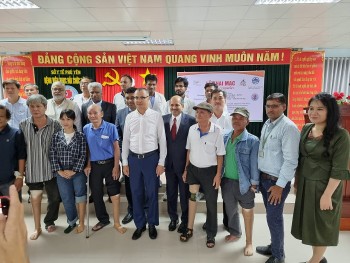 Friendship
This is the 5th time the Jaipur Foot Artificial Limb Fitment Camp has been held in Vietnam since 2018 by the Indian Ministry of Foreign Affairs, Indian agencies and organizations.