Vietnamese Youth to Lighten up the Frontiers of the Fatherland
In March 2023, many provinces and cities across the country complete the "Border light" program, lighting up the roads at the border area and bringing electricity to remote villages.
"Border light" program has made an important contribution to ensuring social order and security, improving the people's spiritual life in the border area, strengthening the closeness between soldiers and compatriots, thereby joining hands to firmly protect the sovereignty and national border security.
The Youth Union of Quang Tri Electricity Company has just handed over the 'Lighting up the border' youth project to Ban 1 village of Thuan commune, Huong Hoa district.
For this work, 18 spots of solar lights are installed to illuminate the 1km-long traffic route in Ban 1 village of Thuan commune. This work is expected to help local people move conveniently and ensure social order and security in the area at night.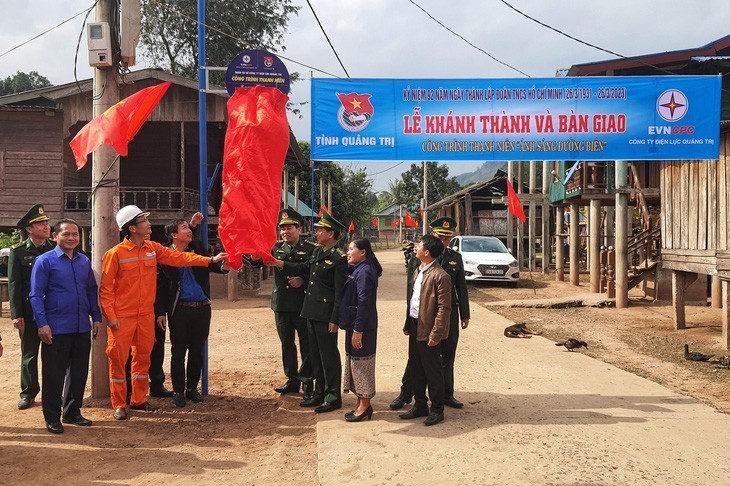 The inauguration and handover ceremony of the project was held in March 2023. (Photo: Thoi Dai).
From March 10 to 12, the Provincial Youth Union coordinated with Youth Association of Dong Nai province to organize the first phase of "March in Border" program in Dak Lak province. In this program, a Border Light project was completed with 50 solar light bulbs, 1 children's play area and 20 gifts for children, families of former youth volunteers with difficult circumstances and Vietnam heroic mother…
The Youth Union of Lai Chau Provincial Police coordinated with the Youth Union of Phong Tho District and Party Committee of Ban Lang Commune to hand over the "Lighting up the border village" youth project. With this work, 15 solar electric light poles was constructed and installed in Then Thau village with a total length of illuminated distance of about 400m.
The Standing Committee of the Dong Thap Provincial Confederation of Labor also held a handover of the phase 2 of "Lighting up the border" project in Hong Ngu and Tan Hong districts.
The work has a total length of 22.4km, of which the lighting section through Hong Ngu district is 15km long, the lighting section in Tan Hong district is 9.4km long with a total cost of more than VND 1 billion. The project includes the provision of JDE-6300 New Solar light bulb (300W), 6V-35W polycrystalline solar panel with a height of 4.5m, etc.
The project is put into use to create favorable conditions for people and vehicles to participate in traffic, contributing to protecting the sovereignty and security of the border areas of Vietnamese localities.
Women Can be Successful Leaders, Say Youth

Standard Youth is a social media campaign launched by the Ho Chi Minh Communist Youth Union Central Committee in collaboration with Plan International Vietnam with ...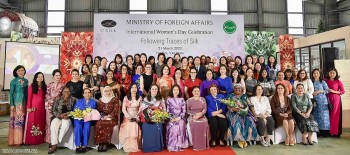 Friendship
Female ambassadors, representatives from diplomatic corps and international organizations, along with spouses of diplomats in Vietnam gathered together to find about more about silk weaving and silk products in Vietnam.