Vietnam's Cua Dai Beach Voted Among Most Beautiful Beaches In Asia In 2022
In early 2022, the famous travel website travel2next.com selected the list of the most beautiful beaches in Asia. Notably, Vietnam also reached the top with a familiar place.
It is difficult to choose which continent has the most beautiful beaches in the world. However, Asia is clearly a strong candidate. From the islands of Indonesia to the coral reefs of the shallow waters of the Philippines or the beaches of Thailand, Asia always has soft, white sands and pristine turquoise waters.
1. Pink Beach, Indonesia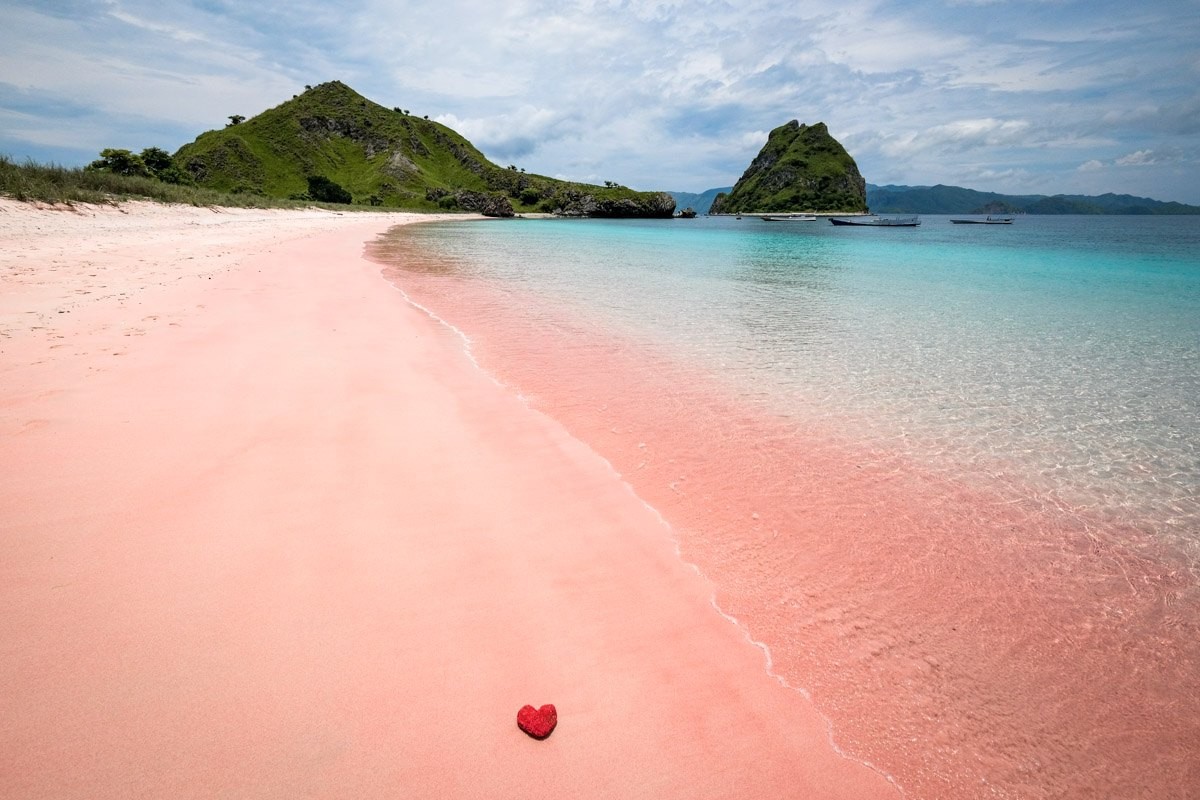 Photo: The World Travel Guy
This beach is probably the most famous and most instagramable island in Indonesia thanks to its reddish sand color ( pink sand beach) and turquoise water surrounding a great coral reef. It's pretty easy to visit and it's just located at 3.30 hours from Labuan Bajo using our comfortable boats. One of the most requested trips is PADAR Island. Located about 40 kilometers from Labuan Bajo harbor, the journey will generally take 3 hours with our diving boats. On Padar pink beach the color is lighter than on Komodo island.
Pinks beaches are getting their color from the foraminifera, which are red organisms that live on the coral reef and are washed up on the beach.
Komodo pink beach is included in our Komodo Snorkeling tour where you will see Komodo dragon, pink beach, manta point, and another secret spot.
2. Boracay, Philippines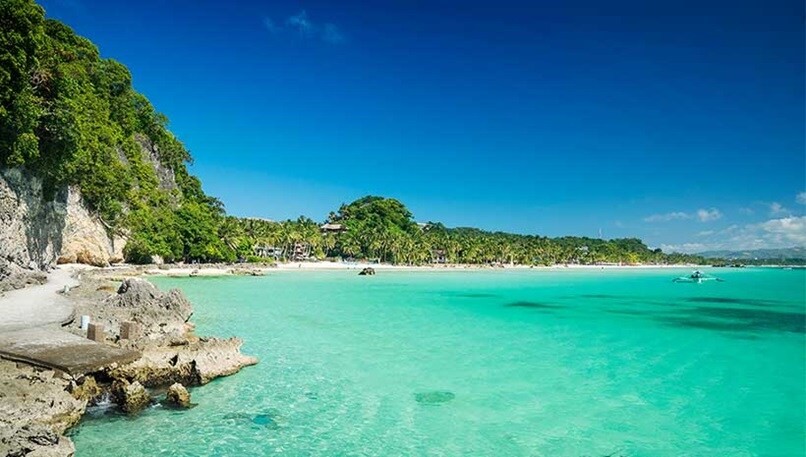 Photo: Cosmo.ph
Boracay is a resort island in the Western Visayas region of the Philippines, located 0.8 kilometers (0.50 mi) off the northwest coast of Panay. It has a total land area of 10.32 square kilometers (3.98 sq mi), under the jurisdiction of three barangays in Malay, Aklan. Boracay had a population of 32,267 in 2015, including the Ati people who were the original inhabitants of the land, although commercial development has led to their severe marginalization over the years.
Apart from its white-sand beaches, Boracay is also famous for being one of the world's top destinations for relaxation. As of 2013, it was emerging among the top destinations for tranquility and nightlife.
Boracay was awarded the 2012 Best Island in the World by the international travel magazine Travel + Leisure. In 2014, the resort island was at the top of the "Best Islands in the World" list published by the international magazine Condé Nast Traveler. In 2016, Boracay headed the magazine's list of "Top 10 destinations to watch".
In April 2018, the Philippine Government decreed a 6-month closure of the island for tourists to undertake major renovation works, especially of the sewage system, which had become obsolete and insufficient. The island was administered by the Boracay Inter-agency Task Force during the closure, then it re-opened in October 2018, with a set of new rules meant to address a variety of issues.
3. El Nido, Palawan, Phillipines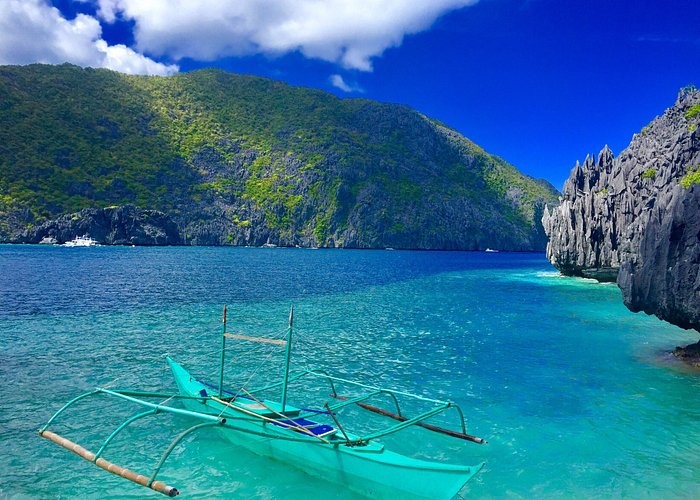 Photo: Tripadvisor
El Nido is situated at the northern end of Palawan island in the Philippines. Palawan is an extremely popular tourist destination thanks to El Nido, but most flights to the island land in the main city of Puerto Princessa.
Previously there were only two ways to visit El Nido. You could fly into Puerto Princessa and ride in a minivan for five hours on a windy bumpy road. Or you could fly to the island of Busuanga and take the ferry from Coron to El Nido which is a 3-4 hour boat ride.
Luckily, these days there is a third option. A new airport has been built just 15 minutes outside of the town of El Nido (Airport code: ENI) and AirSWIFT operates numerous flights a day between El Nido and other popular tourist destinations in the Philippines, including Manila, Boracay, Busuanga (Coron), and Cebu.
4. Koh Phangan, Thailand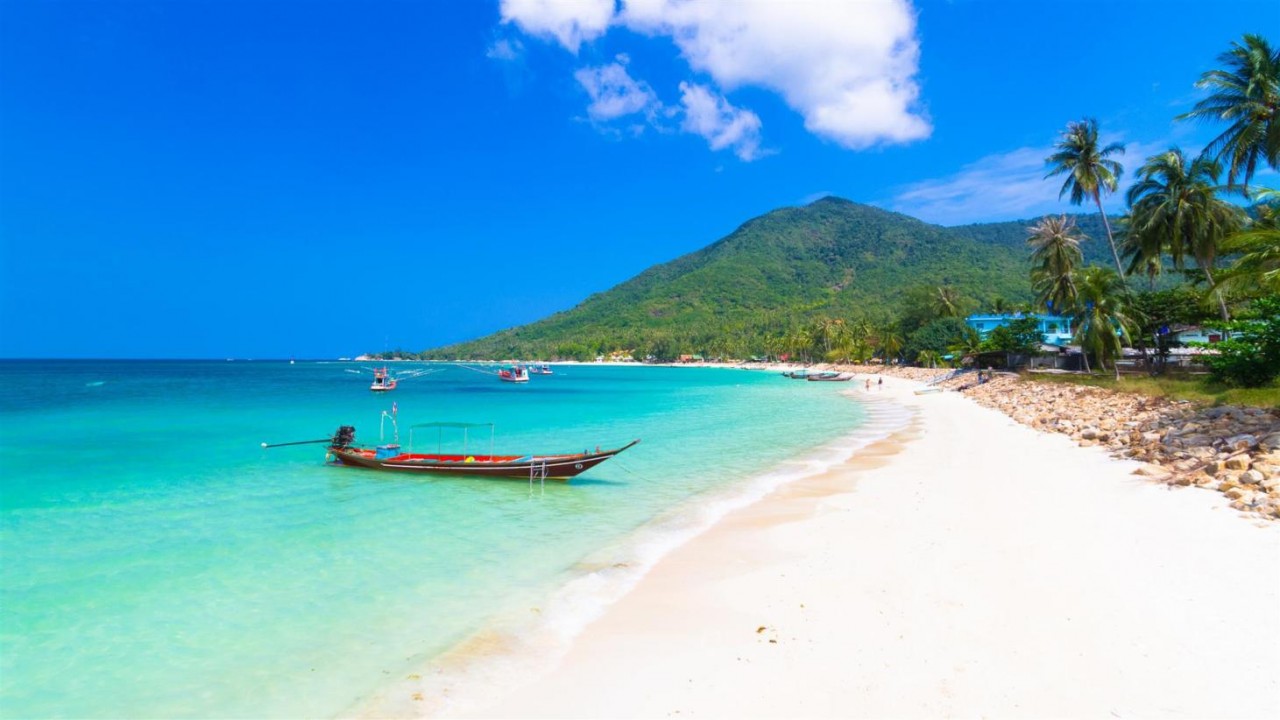 Photo: Agoda
Koh Phangan (also spelled Ko Pha-Ngan) is Thailand's 5th biggest island and one of the most beautiful and wild. Located 70 km from the mainland and just 12 km from Koh Samui, Phangan does not have an airport and relies heavily on ferries from the mainland and Koh Samui to transport visitors.
The island is renowned for its lush tropical jungle interior, many idyllic, long, white-sand beaches, and over 20 nearby dive sites. The main disembarkation points are Thongsala and Haad Rin, where you'll find plenty of ATM machines and banks. Koh Phangan's main claim to fame is its legendary Full Moon Party, and Black Moon Party with the Full Moon celebrations attracting between 10,000 and 30,000 revelers during New Year's Eve.
5. Soneva Gili, Maldives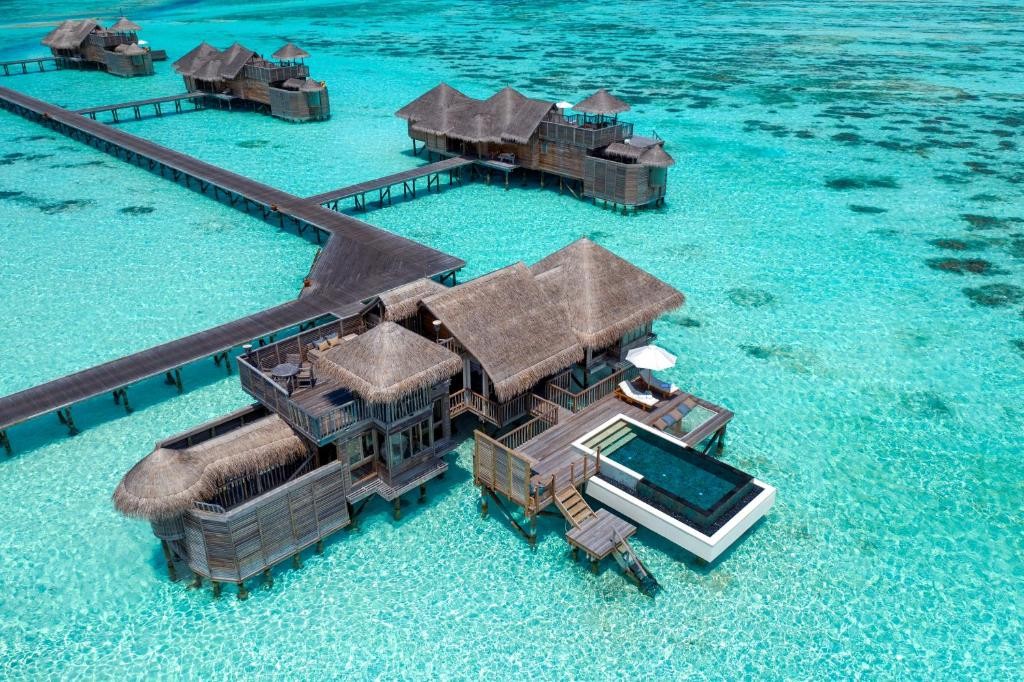 Photo: Booking.com
Also known as Gili Lankanfushi, this is one of the most beautiful resort islands in the Maldives, perfect for couples in love or on honeymoon.
Of course, the travel costs here are quite high, but if it is the most important and special trip of your life then everything is well worth it.
6. Gili Air, Indonesia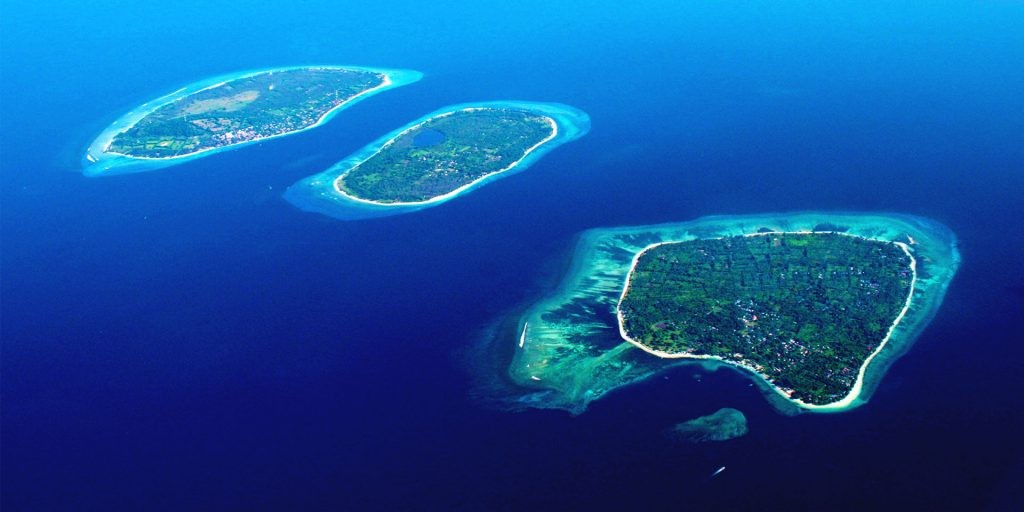 Photo: Villa Almarik
The Gili Islands are an archipelago of three small islands or Gili island triplets — Gili Trawangan, Gili Meno and Gili Air — just off the northwest coast of Lombok, Indonesia.
The islands are tourist destinations. Each island has several resorts, usually consisting of a collection of huts for tourists, a small pool, and a restaurant. The largest Indonesian settlement is located on Gili Air, however, due to the number of western expatriates who live on Trawangan together with the locals, it has become the more densely populated island, concentrated in a township stretching along its east side (this is also where the majority of tourist development has taken place). Automobiles and motorized traffic are prohibited on the islands by local ordinances, so the preferred method of transportation is by foot and bicycle or the horse-drawn carriage called a cidomo. Scuba diving and free diving in and around the Gilis are also common due to the abundance of marine life and coral formations. The most famous diving spots are Shark point, Manta point, and Simon's reef.
7. Mirissa, Sri Lanka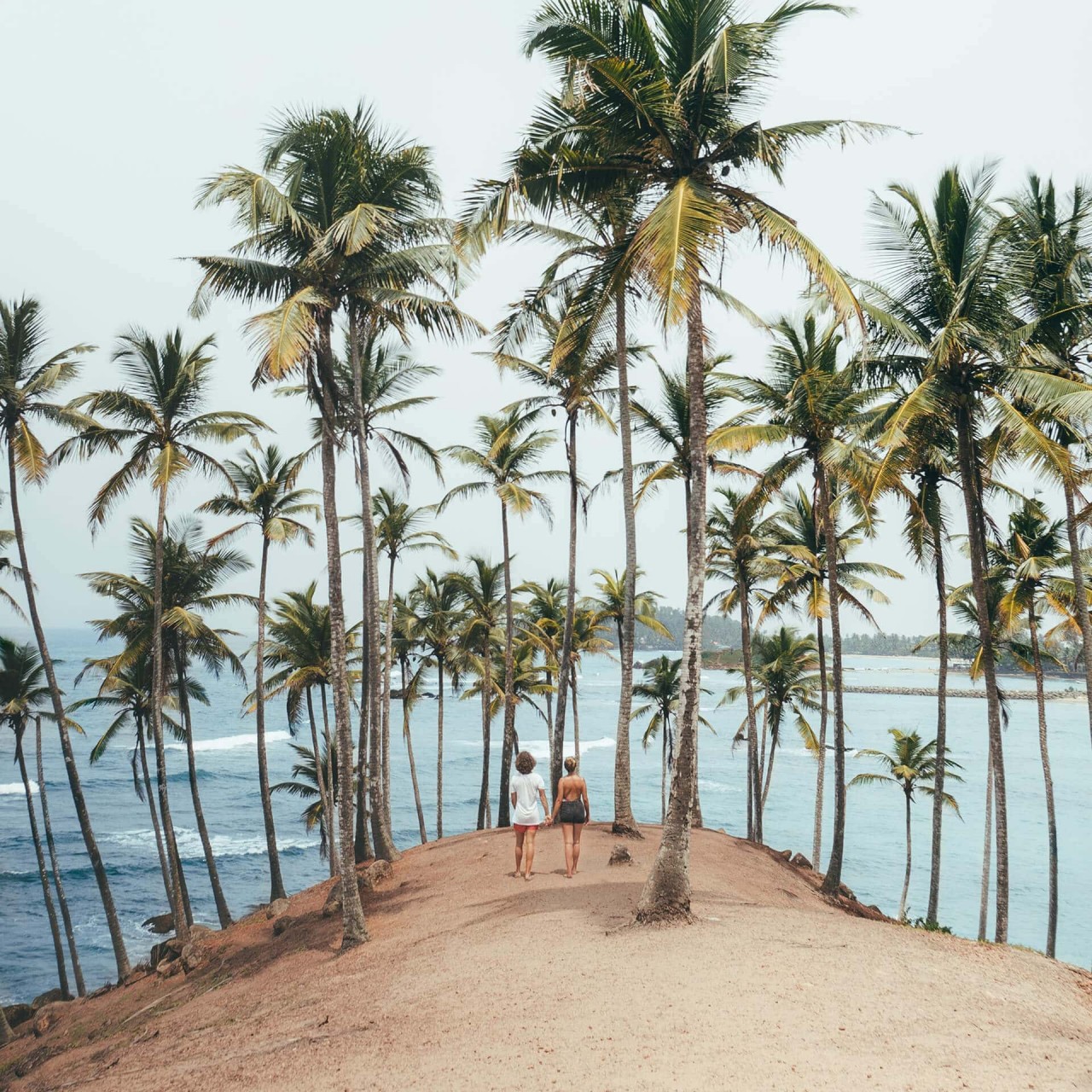 Photo: Salt in our Hair
Mirissa is a small town on the south coast of Sri Lanka, located in the Matara District of the Southern Province. It is approximately 150 kilometers (93 mi) south of Colombo and is situated at an elevation of 4 meters (13 ft) above sea level. Mirissa's beach and nightlife make it a popular tourist destination. It is also a fishing port and one of the island's main whale and dolphin watching locations.
Mirissa is the largest fishing port on the south coast and is known for its tuna, mullet, snapper, and butterfish. In 1980 the first tourist accommodation was built however it wasn't until the mid-1990s that tourism to the town started to dramatically increase.
8. Phi Phi Islands, Thailand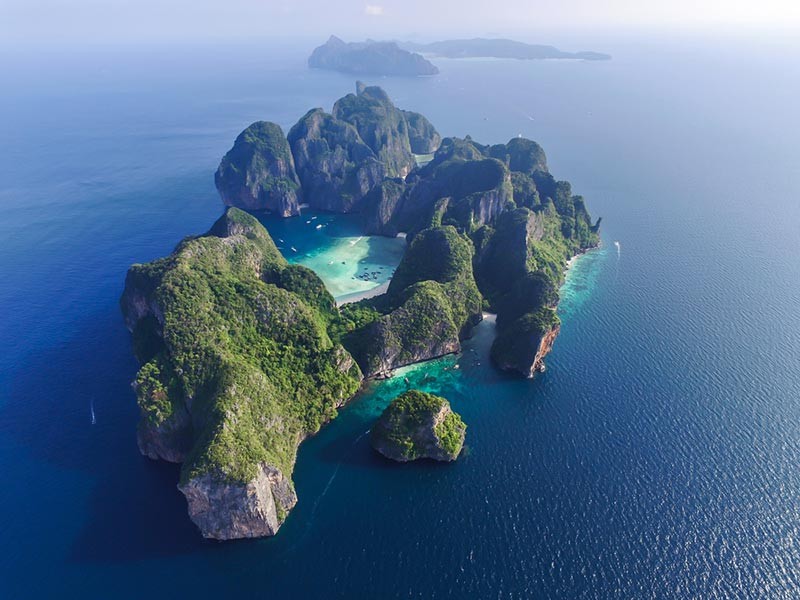 Photo: Thailand Travel Information
The Phi Phi Islands or Koh Phi Phi is the ultimate destination in Thailand. Koh means island in Thai. The islands are located in Krabi Province. If you're traveling from Krabi, it takes around ninety minutes to travel from Ao Nang to Phi Phi. If you are based in Phuket, you can take a ferry from Phuket to Phi Phi for two hours.
Phi Phi Don and Phi Phi Leh are the largest islands of all. Coming in different shapes and sizes, the islands share a few common things white powdery sand, crystal clear water, lines of coconut trees, and plenty of scenic spots.
9. Butterfly Beach, India
Photo: On my Canvas
You can bag the best time of your vacation at Butterfly Beach which is north of Palolem Beach in Southern Goa. Enjoy your solitude, away from the rest of the world, and also experience the wonderful aquatic life out in the open front of the beach.
To reach here, you can hop on a ferry from Palolem or Agonda beaches as this beautiful and semi-circled beach is not approachable by any other means. For a wider and more punctuated experience, you can opt for a ship ride too. And if you are feeling too thrilled, you can try out trekking around the thick forest surrounding this beach.
Butterfly beach is also popularly known as Honeymoon Beach as a lot of honeymooners and couples come here for a secluded vacation. You can spend your day with your partner by enjoying a picnic with wine. You can also wait for the low tide period to witness wandering Sea urchins, redfish, goldfish, and sea cucumbers here. This is a unique sight that you will not get to explore anywhere else in the entire Goa. Moreover, on one side, a million butterflies dance and harbor over this beach, and on the other, you get to catch a glimpse of dolphins in the middle of the sea.
10. Cua Dai Beach, Vietnam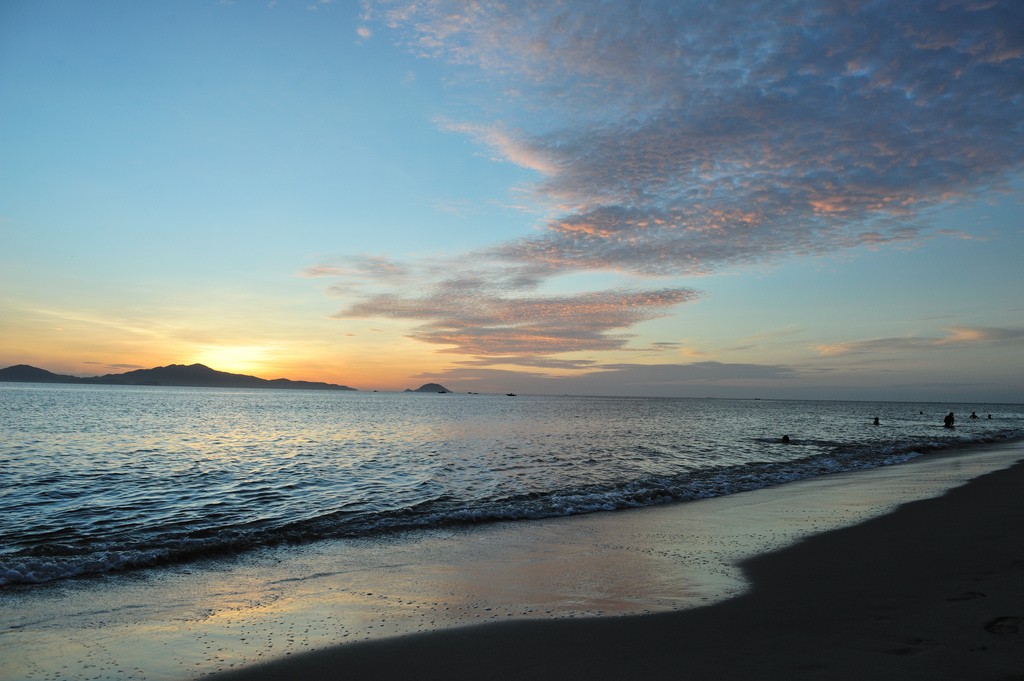 Photo: BestPrice
Literally meaning the "big sea mouth", Cua Dai Beach is only 4 km far from Hoi An Ancient Town which used to be the busiest trading port in Southern Vietnam. As the confluence of Thu Bon River, Yangtze River, and De Vong River, it stretches 3 kilometers in length from the Cham Islands ferry port to An Bang Beach.
Cua Dai Beach is bestowed with shimmering white sand, clear turquoise water, moderate slopes, and calm waves. Despite having suffered from erosion, it is still adorably suitable for relaxation as well as recreational activities like swimming and other water sports.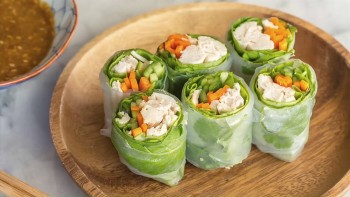 Travel
Rolls are a easy-to-make dish that is loved by many Vietnamese diners as well as Korean stars.