Silkworm Cake With Chicken Curry - The Most Wonderful Traditional Dish Of Ca Mau
When visiting th Ca Mau province in the Mekong Delta region of Vietnam, travelers should not miss tasting Silkworm cake with curried chicken – a specialty food of the province.
With lots of natural products, Ca Mau is not lacking authentic dishes. However, Banh tam ga cay is always listed as the must-eat dish in Ca Mau of its great taste, easy-to-find ingredients, and very nice looking. A trip to Ca Mau could not be considered complete if you don't taste a portion of Silkworm cake.
This one dish from Ca Mau will make customers impressed with its delicious and spicy tastes, which causes an explosion of flavors in their mouths.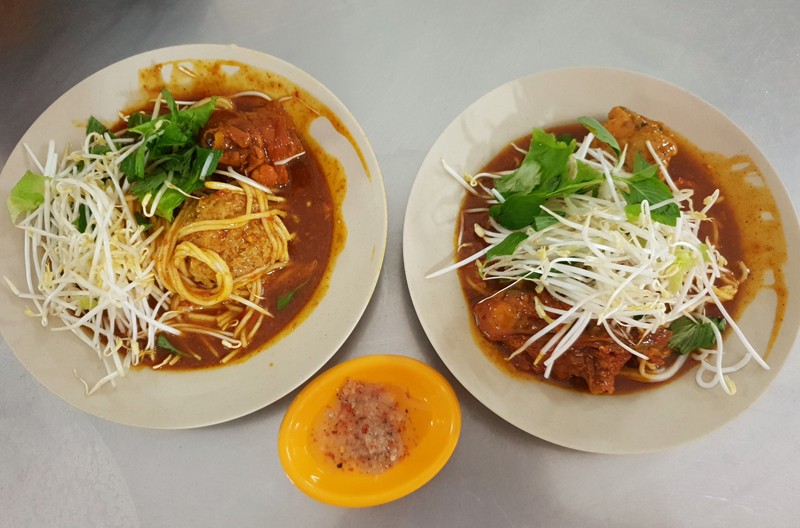 Photo: Dac san Ca Mau
Silkworm cake eaten with skin mixed with greasy coconut milk is sold in supermarkets and street vendors have been familiar to people living here. However, if you have a chance to visit Ca Mau, you will be able to try the unique silkworm cake dish that can only be found in the southernmost land of the country.
You do not need to step into a luxury restaurant to have a hot spicy plate of this traditional cake, as it is considered most delicious when enjoyed by a street vendor. Being a simple dish, silkworm cake is still loved by many people among countless other expensive specialties . Regardless of what age, the dish is suitable for everyone, who wants a light snack after a hard-working day.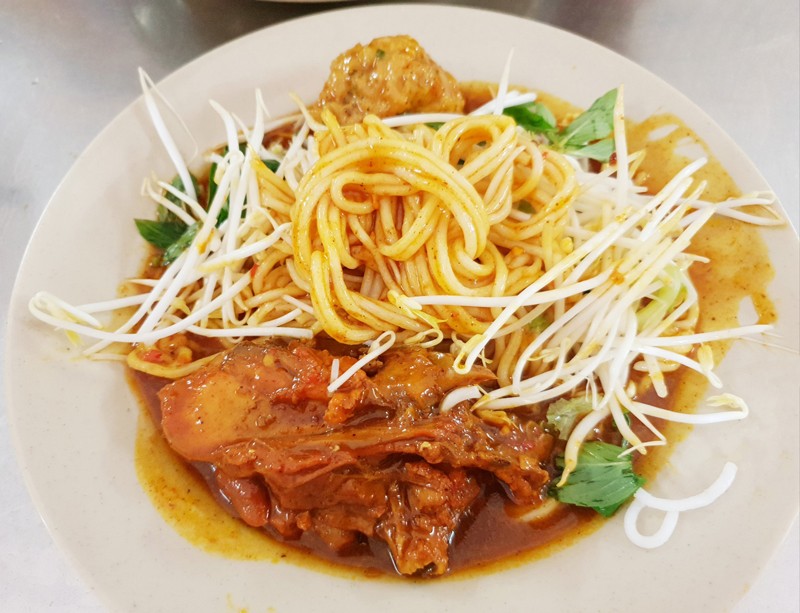 Photo: Dac San Ca Mau
Even though this silkworm cake looks simple, it takes a lot of steps and ingredients to make the final product.
The rice used to make silkworm thread must be delicious, soaked in cold water overnight. After becoming soft enough, the rice is milled into a powder and then mixed with water in the standard ratio, cooked on low heat until the flour is reached. The finished mixture will be spun into round white cakes that look like silkworms. That is also the reason the dish is called silkworm cake.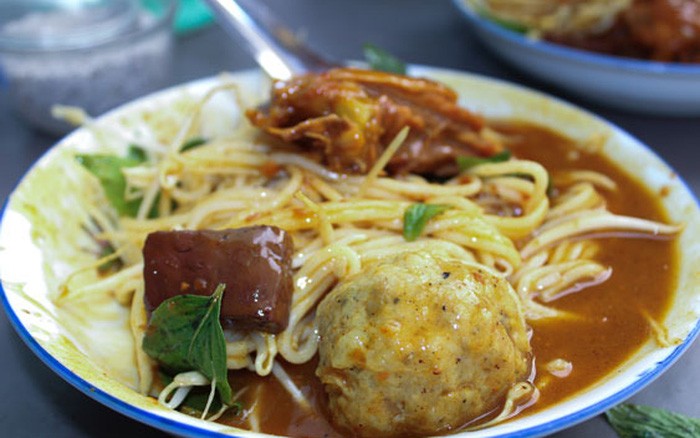 Photo: Working people
The main flavor of the silkworm cake must be very spicy, bursting in the mouth, but still leaving room for the sweet and sour taste of other ingredients.
To create exactly that characteristic pungent taste, the sauce is the secret to the success of the dish. For restaurants in Ca Mau, the main sauce used here is chicken and shumai curry.
Banh tam ga cay has 2 main parts: Silkworm cake (Banh tam) and curried chicken. To cook curried chicken which is served with silkworm cake, it needs clove, star anise, turmeric powder, cinnamon, coriander seed, and dry chili pepper. These spices are toasted, then ground, and used to cook with chicken. The curried chicken to eat with the silkworm cake in Ca Mau should taste hot. The hotness makes the dish special and different from other kinds of Silkwork cake in other regions of Vietnam.
Photo: Dulichvietnam
It takes many steps to make the cake. Choose high-quality rice, soak the rice in water overnight, and grind with water into a mix of water and rice flour. Cook the rice flour and water mix over low heat to receive a dough. The strongest person in the family covers a big flat tray with a thin layer of dry rice flour and uses his hand to form the dough into white noodles which are as big as silkworms. The noodles formed by hand are chewier than that are made by machines. After forming, the noodles are boiled in water until well-done.
The chicken meat is soft and chewy, and the shumai is smooth, bringing a lovely taste combined with the silkworm threads mixed with the spicy sauce, making customers fall in love at the first bite. You can also add some herbs such as bean sprouts, cinnamon, and lettuce to balance out the strong spicy flavors.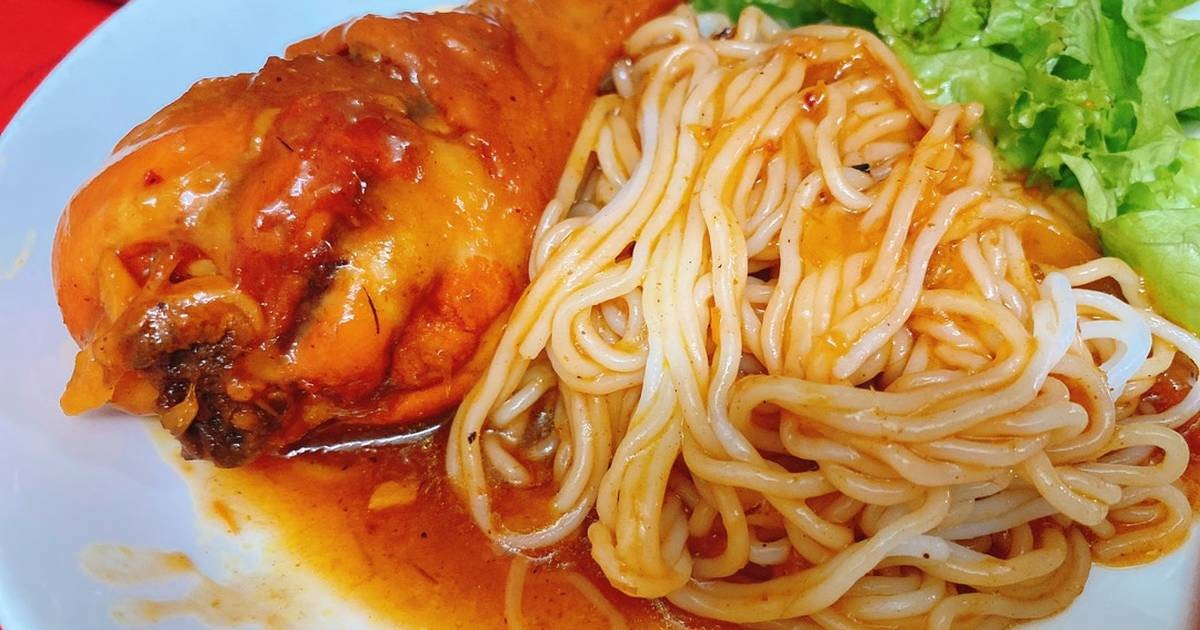 Photo: cookpad
You can eat this dish at any time during the day, morning, afternoon, or night. It is not too much but still makes the customers feel full after finishing the meal, and even leaves them craving for more of this wonderful taste in their mouths.
The Ultimate Binh Duong Food Tour

Binh Duong is a hidden culinary paradise among Vietnamese locals. Once you come here, you will be satisfied to enjoy unique delicacies.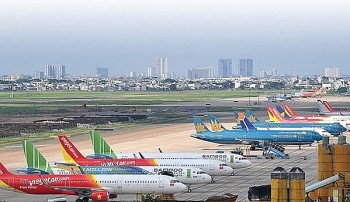 National
Vietnam News Today (Feb. 9): Vietnamese Prime Minister starts official visit to Singapore; Vietnam among destinations for best slow travel holidays in 2023; Vietnamese aviation market predicted to fully recover by year-end; Vietnam weathers crisis to record robust growth thanks to digital boom.