Top 7 Must-Visit Instagram Check-In Destinations In Phan Thiet
If you are going to have a trip to Phan Thiet, you must know these 7 amazingly beautiful places!
While Phan Thiet remains one of Vietnam's busiest coastal towns, it maintains its unique attractions from the bustle of urban development, making it the perfect retreat from its nearby business epicenters, Hanoi and Saigon.
As the capital of the Binh Thuan province, it is home to nearly 250,000 inhabitants spread across four wards and a vibrant city center. Though it still receives the bulk of its income from fishery and fish product manufacturing, its beautiful beaches and resorts are slowly transforming it into Vietnam's latest tourist attraction.
1. DT716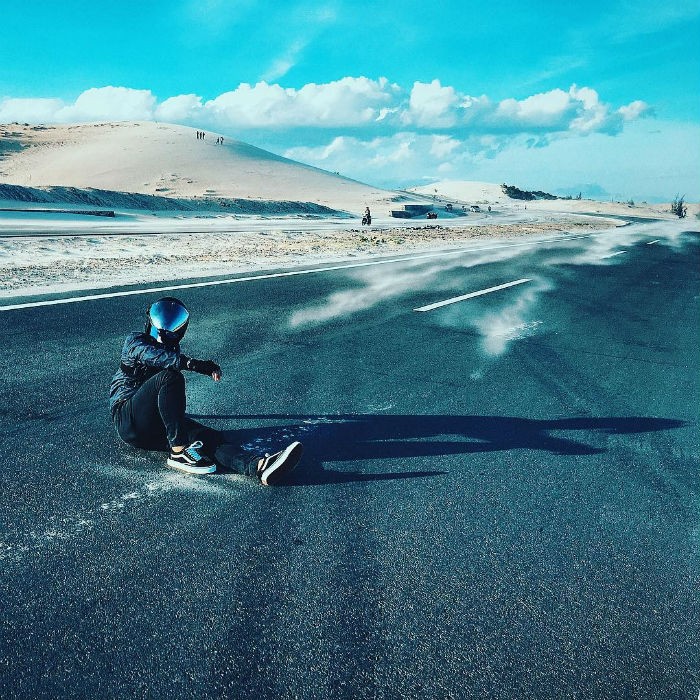 Photo: shinichi3235
Nearly 40km long, DT716 is listed as one of the classic and most beautiful coastal roads of Vietnam. DT716 passes through two extremely famous freshwater lakes of Binh Thuan, which are Bau Sen and Bau Trang. This road stretches along the pristine white sand slopes, standing out against the dark blue sea, which creates a mesmerizing scenery.
The section DT716 is considered a highlight of the Phan Thiet tour and has become a place to check in and take wedding photos, which is chosen by many young people. Thanks to the landscape that looks like a desert in European and American movies, the colorful milk tea carts scattered on the road also bring a very "Western" feeling.
2. Sand dune
Located about 20km from Mui Ne, the flying sand dunes is formed so long time ago and spread out on a vast area, with a total area of nearly 50 ha. The sand here has a lot of colors, mainly are: golden, milky white, dark red, and reddish but such colors are mixed together to create a very beautiful site.
The sand dunes in Mui Ne are really "a unique poetic dessert" of Vietnam. It is also called flying sand dunes because the sand flies and shapes differently, creating geographic forms which are very attractive, and interesting and always leave a good impression on the visitors.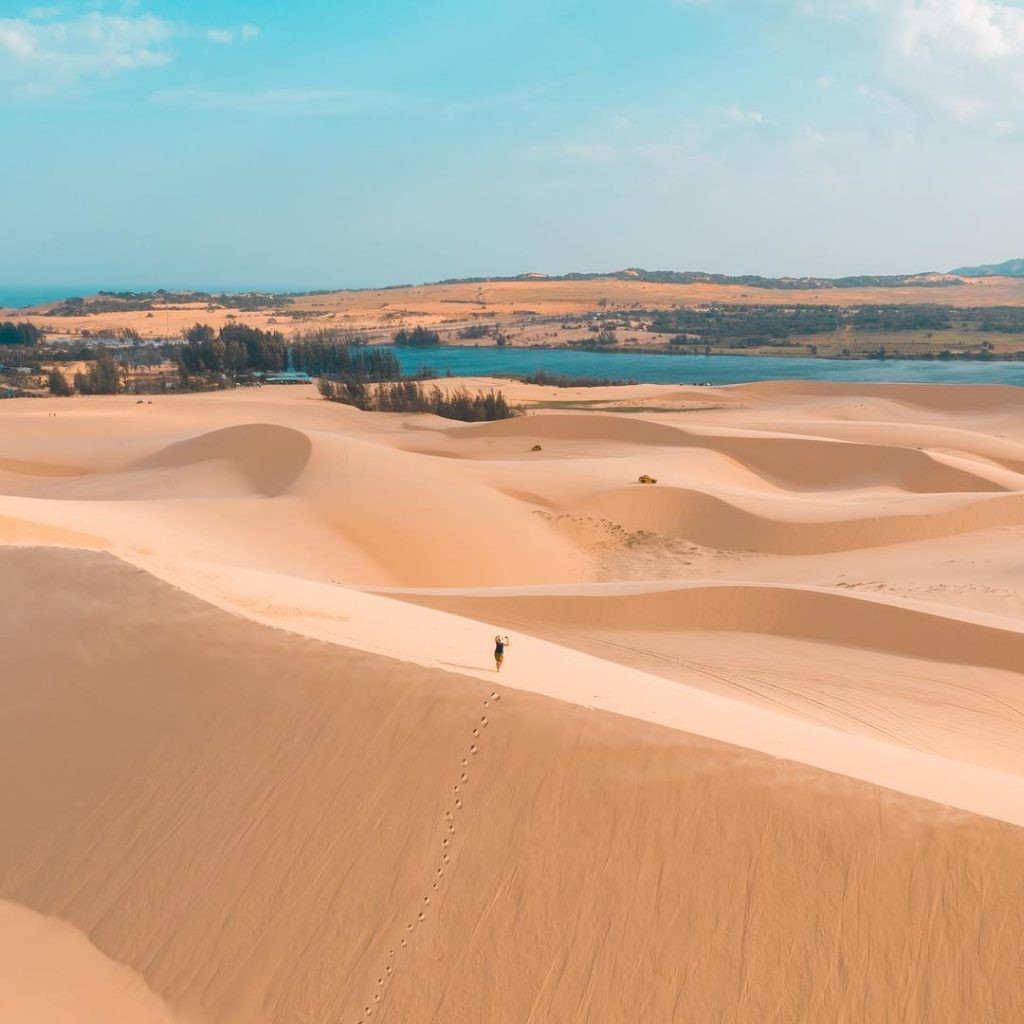 Photo: Datviettour
There are two fascinating spots to check out: the white and the red sand dunes: The White Sand Dune are by far the larger dunes and are known by locals as Bau Trang or White Lake with common comparison as a small Sahara desert in Vietnam. It is about 25 km away from Mui Ne and you can come there on a motorbike, taxi or Jeep, in which a jeep tour is preferable. This place is really a "photographer's paradise" cause every photo you take, will become a masterpiece thanks to the beautiful sand here.
The Red Dune, which is only 5km away from Mui Ne, as the name suggests, features reddish-brown sand that makes them a great attraction place. Although smaller than White Dune, they are easier to reach. Sand-sliding is a common (and fun) activity here, but it is hard to nail down where the best location to do so is as the sands shift from season to season so it's best to look around. Dry sand is much more enjoyable to sled on.
Another interesting activity is kite flying as well as catching the beautiful sunset here. From the sand hill, you can see the comprehensive view of Mui Ne surrounded by a boundless blue color of the sea mixed with the golden shine of the sand reflecting the bright sunlight; creating a charming wild landscape that would make you feel like being in nature.
3. Bau Trang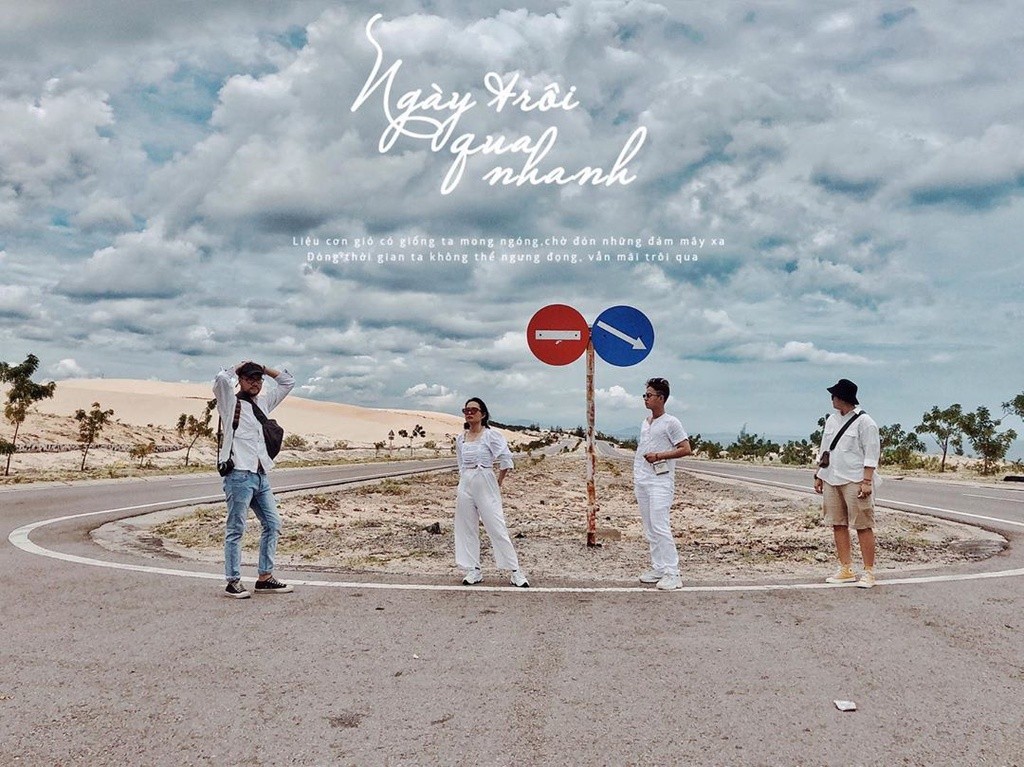 Photo: Sbin.08
When traveling to Phan Thiet, Bau Trang is one of the places that many people come to visit. According to Mui Ne travel experience, the best time to see this destination is from May to July.
About 60 km to the northeast of Phan Thiet City, Bau Trang Sand Dune (also known as Bau Sen, Bach Ho, or Bau Cat) is regarded as one of the most stunning desert terrains in Vietnam. Right in the middle of the endless sand dunes, two giant, shimmering lakes appear. Together with the striking lotus pond, they form a poetic scene that will move the heart of any nature lover.
4. Yellow bus at Bau Trang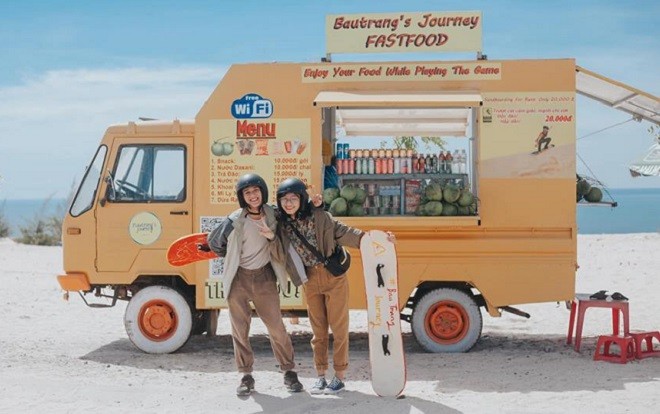 Photo: Son Doan
This yellow bus is famous on Facebook and Instagram, and other social media sites. Young tourists often stop here to check in and take photos every time they take a jeep tour from Mui Ne to Bau Trang. Coming to the yellow bus, visitors can enjoy the cool drinks sold in the car such as coconut water, soft drinks, etc. From Mui Ne, tourists are advised to hire a jeep for convenience, as the road is a bit far.
5. Pink Stream (Suoi Hong)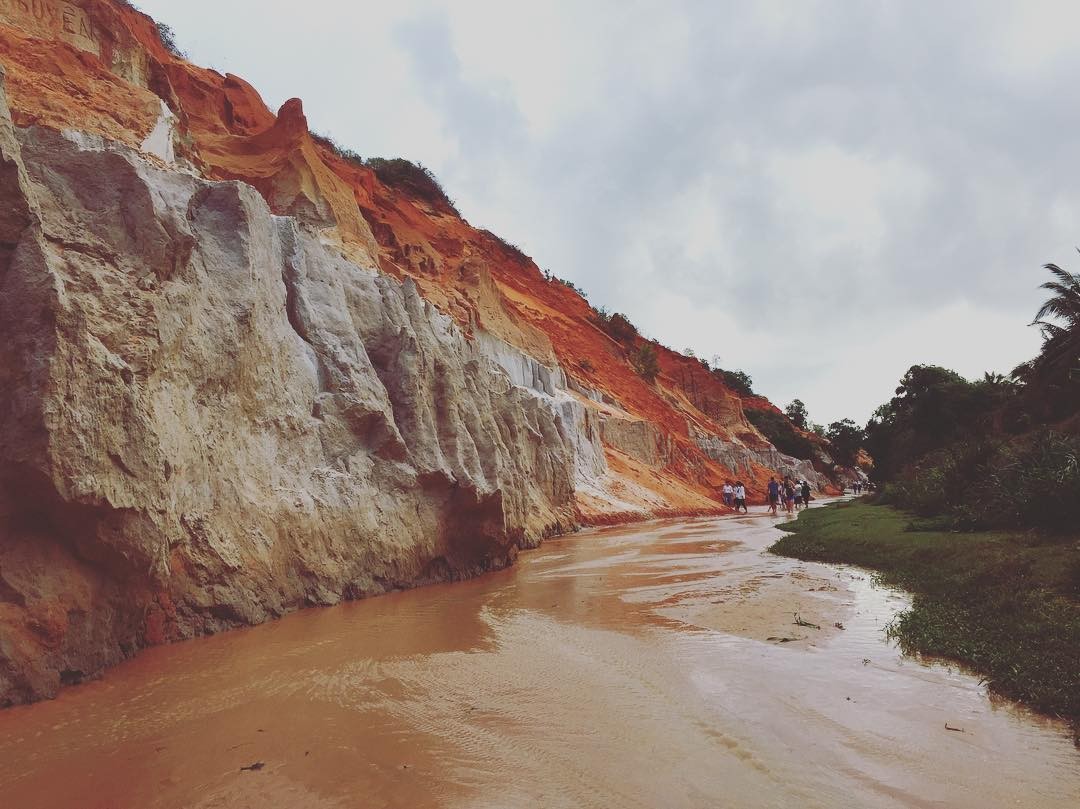 Photo: Cattour
Suoi Tien (Fairy Stream) is also known under the name Suoi Hong (Pink Stream) situated in the Mui Ne ward of Phan Thiet city. Phan Thiet has been famous for its immense sandy hillocks, and passionate beaches but not many people know about the existence of a beautiful unique stream in Vietnam.
Under the influence of time and weather, the rocks have extremely strange shapes, creating a masterpiece of nature. The clear stream flows through the red sand, and the white stalactites create a rare "magical" photographic background that can not be found in other domestic landmarks.
6. Hon Rom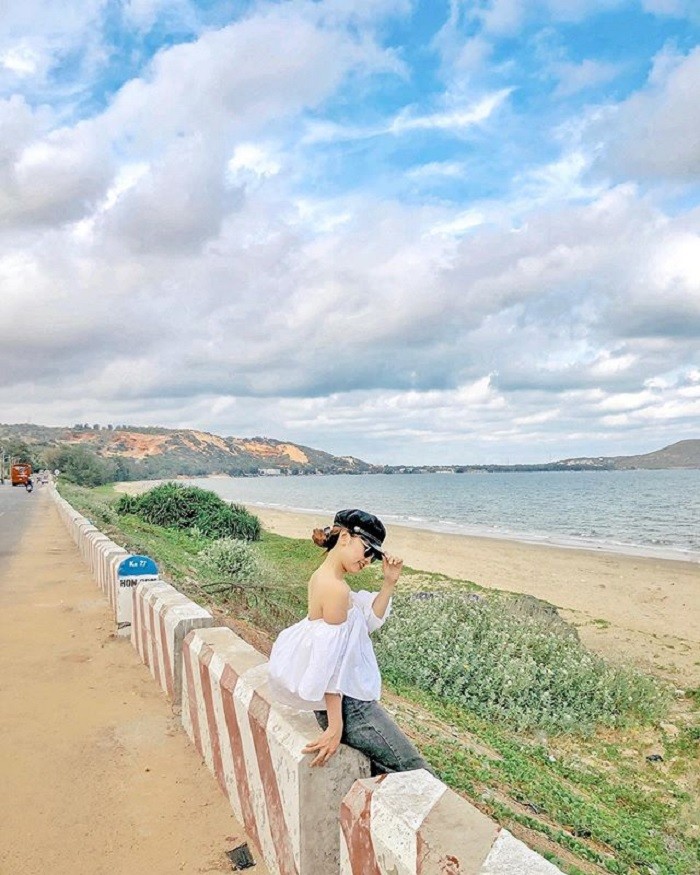 Photo: @susubona
Hon Rom is the name of a small mountain still unspoiled, located in Long Son hamlet, Mui Ne ward, Phan Thiet City. Sunrise and sunset here are really the ideal photo frames that make the photos even more ecstatic. In Hon Rom, the cluster of beaches has many areas such as Hon Rom 1, and Hon Rom 2 with shimmering envelopes. Even the path along the beach is very beautiful.
7. Mui Ne fishing village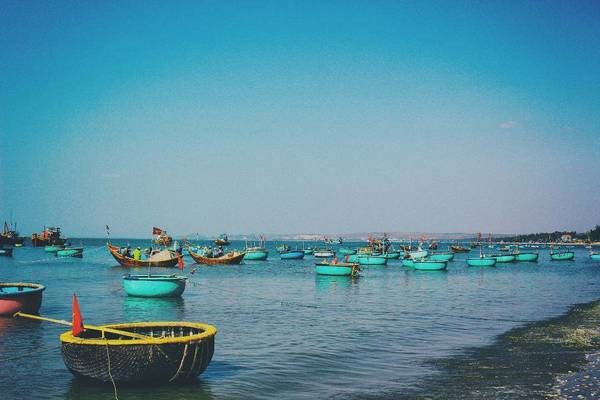 Photo: @nguyendang_kun
Having the opportunity to visit the coastal city of Phan Thiet, experience dining, and take photos in the fishing village of Mui Ne will be one of the extremely interesting activities that visitors should not ignore. The fishing village is located along Nguyen Dinh Chieu street, including many interesting seafood trading activities.