Vietnam's Digital Map: Connecting to Help People in Need
The SOS map displays the location and information of the person in need so that the volunteer can deliver essentials after receiving it from the donor.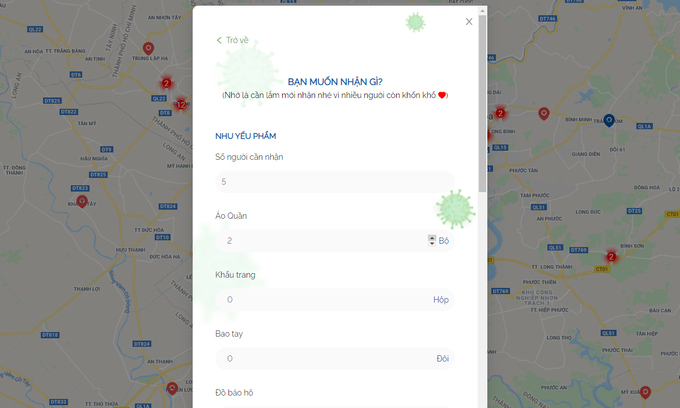 Interface for the person registering to receive the necessities. Photo: VnExpress
A Vietnamese company has built a digitial map to help deliver essential goods to people in need.
When accessing the map website at sosmap.net, a pop-up page will appear, to filter the user's needs for giving or receiving. Instead of typing out what you want, the system has a variety of essentials available, and users only need to fill in the desired amount.
On the recipient's side, the essentials that can be received are masks, protective gear, vegetables, rice, instant noodles and cash. Recipients can register for the whole family or neighborhood, by filling in the number of people that need help.
On the donor side, in addition to necessities (clothes, masks, protective gear, rice), they can contribute cash or transportation.
SOSmap is built based on Google Maps data. Through the visual map, administrators can know the location of those who need to give and need to receive, to build the most reasonable plan for goods movement. Data about the subscriber's information and phone number is secured by masking the last 2 digits of the phone number.
According to Pham Thanh Vi, CEO of Xtek company, which built SOSmap, this map contributes to solving the problem of distributing volunteer resources.
"We used to support people in flood areas and found that many places received too much, while others did not," Vi said. Since then, the idea of a map to support charity was built and applied by him and his associates at Xtek during the pandemic in Ho Chi Minh City. Thanks to the map, finding information and addresses to deliver essentials is more convenient.
The points where someone wants to donate will show up in orange, while the points someone wants to receive will show up in red. When the person in need has received the necessities, the status will turn green.
After 10 days of implementation, SOSmap has recorded more than 1.3 thousand registrations to receive, and nearly 100 registrations to give. Hundreds of people have received necessities through this system.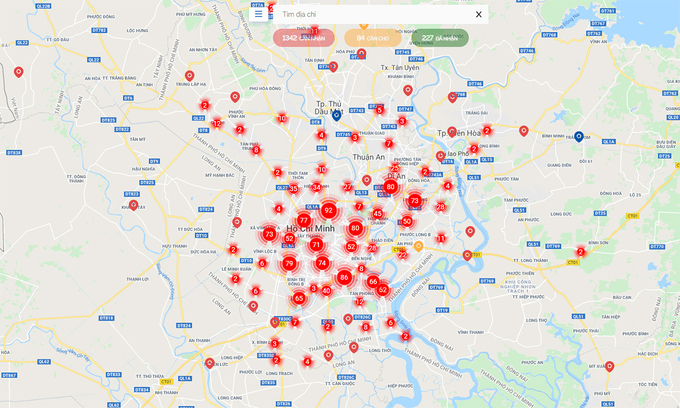 The red dots represent the locations of the "receiving" people. Photo: VnExpress
However, building a "give-receive" map is only the beginning of the process of connecting recipients and donors. According to Pham Thanh Vi, for this solution to work, a team is needed in the middle, connecting the giver and the receiver.
Currently, this team consists of four administrators and 21 agents in charge of system administration as well as contacting parties to receive and verify information. Along with that, a team of more than 70 volunteers supports the receipt of goods from the donor, delivery to the warehouse and distribution to those in need. He himself, in addition to running the company, is also involved as a shipper to deliver goods.
Due to social distancing, movement is difficult, Vi said that this support mainly took place in Ho Chi Minh and Binh Duong. In addition, the number of people who need to receive is significantly more than the number of donors, he hopes that in the future, more volunteers, as well as more donors, will participate.
In Ho Chi Minh many technology solutions have been developed to meet the needs of social security during the Covid-19 pandemic. In early July, the "Safe Shopping" application that helps people in Thu Duc city find active shopping places near them with directions or order online was also released. Recently, a map that provides the location of 3,000 essential sales points in Ho Chi Minh was also developed by an independent engineer group, making shopping easier for people. BusMap also includes a mobile food bus finder.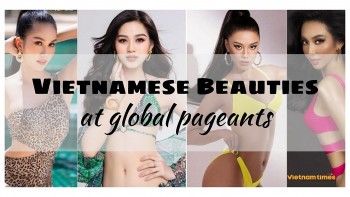 Handbook
Do Thi Ha, Pham Ngoc Phuong Anh, Nguyen Thuc Thuy Tien and Nguyen Huynh Kim Duyen set to vie for global beauty pageants.
World
In the outskirt of Poland, there is a pretty rural village that is called "The painted village" for its amazing and unique tradition of painting their homes inside and out with colorful floral patterns, making this place the most photogenic spot.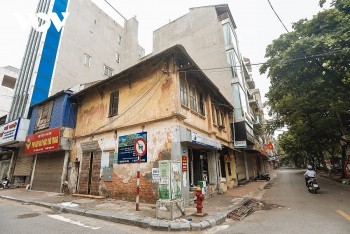 Handbook
.Ha Dong district is now still home to many old houses alongside the newly built ones. The bustling district is where Vietnam's past and future overlap.