Vietnamese Girl's 'Zero Dong' Overseas Trip
Thanh Tam made a volunteer trip to save money on accommodation in Laos, Cambodia, Thailand and Sri Lanka two years ago.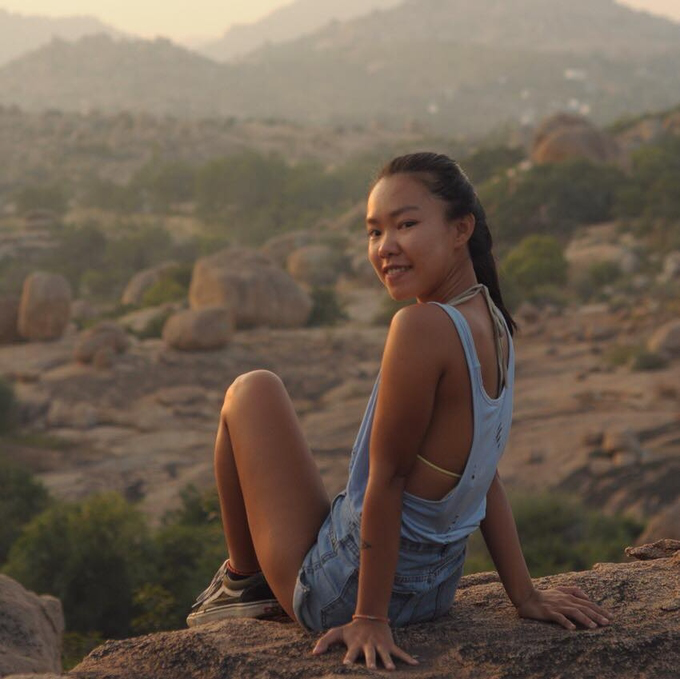 Thanh Tam in Hampi, India. Photo: Thanh Tam
In July 2019, after graduating from a university in Ho Chi Minh City, Nguyen Thi Thanh Tam, 23, set out to travel to several Asian countries. Carrying a small backpack and the money that seemed to only last a month, she traveled for eight months through six countries.
Tam chose workaway, an international volunteer model that connects hosts and volunteers, with the aim of working and cultural exchange. Volunteers can do jobs such as teaching English in remote areas; cleaning rooms; taking care of garden plants; and tour guiding, all in exchange for the cost of accommodation and meals.
Tam chose volunteering at homestays and motels for backpackers. Before sending an email to the host, she often carefully researches the information and reviews the volunteers first and goes online to find the name of the homestay to find out the quality of the accommodation.
The first volunteer work that Tam did was at a resort on Lonely beach, Koh Rong island, Cambodia. Her impression with this place is a pristine beach, no noise, no bustle, no wifi, with only white sand stretches, and clear water.
With her were four other volunteers from France and Austria. In the morning, everyone woke up at 7 a.m., spending an hour picking up trash on the sandy beaches, then sharing in gardening, carpentry, and cleaning the rooms.
Tam cleaned and served people at the restaurant. Whenever the restaurant was not busy, she took guests to visit a place where they could watch beautiful sunsets or coral reefs. When there was a coral diving and waterfall tour, she would go with guests.
Every 3 days, a boat to deliver food arrived at the island in the evening. Just on hearing the whistle, everyone ran to the sea, carrying things into the warehouse. For Tam, this is the most exciting time because everyone was having fun and cheering for each other.
Lonely Beach. Photo: Thanh Tam
The restaurant where Tam worked. Photo: Thanh Tam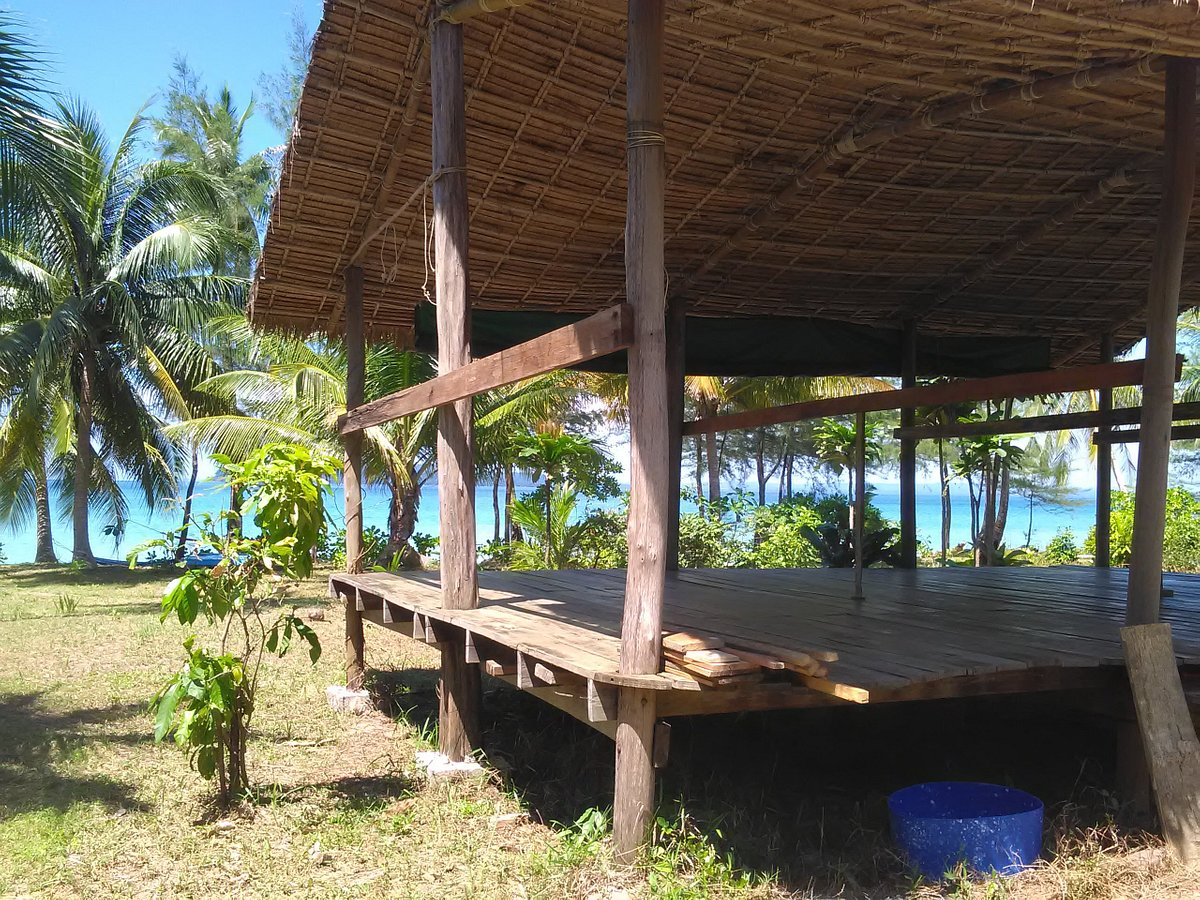 Place for yoga. Photo: Thanh Tam
Leaving Cambodia, she took a bus to continue to Koh Chang (Elephant Island), Thailand. Her workplace was an island motel, with the owner often adopting and taking care of feral cats. This was also the reason why Tam chose to come to this "never heard of" land.
Her job was as a receptionist, serving meals, taking care and talking to tourists, in addition to taking care of 16 cats at the resort. Here she worked five days a week, five hours a day, freely choosing her shifts. In her free time, she often rented a motorbike to explore Koh Chang.
After staying a month, Tam said that she was allowed to stay alone in a room because it was the low season. Every day, she was surrounded by 16 cats, not only playing with them, but taking pictures for of them.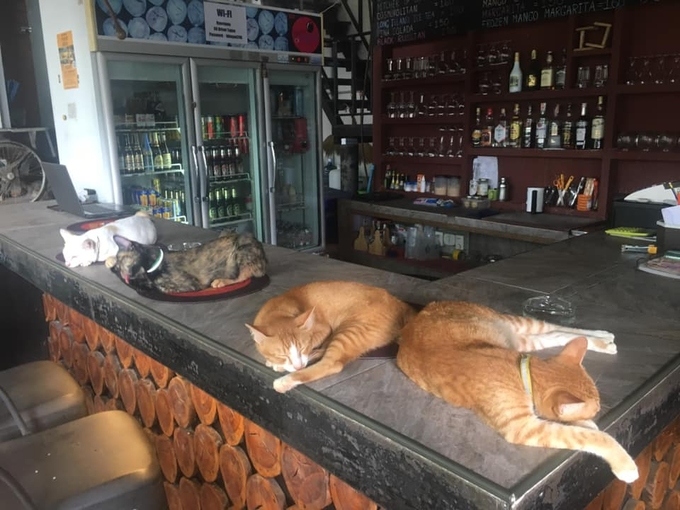 Cats lying on the bar. Photo: Thanh Tam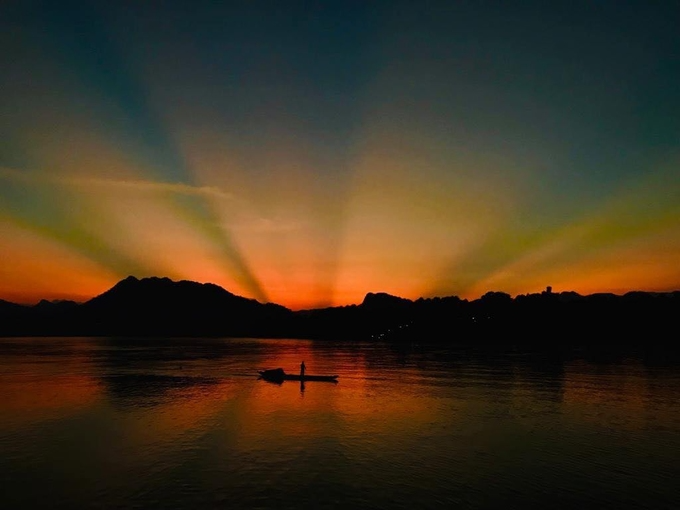 A photo of a sunset on the river taken by a tourist for Tam. Photo: Thanh Tam
Tam also worked part-time in Sri Lanka for a week; as well as Bangkok and Chiang Mai in Thailand for a week. In addition to volunteering without having to pay for accommodation, in eight months of traveling, she also traveled to India, Indonesia and other localities of Thailand and Laos in the form of free exploration, with a cost of nearly 50 million dong (US$ 2,179).
She said that after returning to Vietnam to celebrate Tet in February 2020, the Covid-19 pandemic broke out so she could not continue the journey, so had some small savings left from online jobs.
"If I could go back to the beginning and have more money, I would still choose to volunteer abroad. Because those experiences have contributed to my current self-confidence and and being able to travel, being part of a community, and saving is great at the same time," she said.