Vietnam's English Skills Dropped to Low Proficiency in Global Index
Vietnam continues to rank in the low band for English proficiency, landed at 66th in the Global English Proficiency Index.
The EF English Proficiency Index 2021 report shows that, from 52nd place in 2019, Vietnam has dropped to 66th this year. Previously, in 2020, Vietnam ranked 65th.
EF, short for Education First, recently released its 2021 report on the EF English Proficiency Index (EF EPI), which analyzes data from more than 2 million people in 112 countries and territories whom do not use English as the first language.
Very few native English teachers are currently working in Vietnamese schools. Photo: VOV
The 2021 ranking may be due to the several consequences of the Covid-19 pandemic, said Alexander Floren, EF Vietnam Country Director. Most students have to take online schools and very few native English teachers are currently working in Vietnamese schools. However, expect a modest rebound now that many restrictions have been lifted.
Kate Bell, author of the EF English Proficiency Index, said: "Despite travel restrictions, English continues to facilitate cross-border communication and cooperation, serving new ways of working.
She believed this year's EF EPI is more comprehensive than ever. It helps providing valuable insights for governments to evaluate foreign language learning policy and highlighting areas for improvement.", cited from Thanh Nien Online.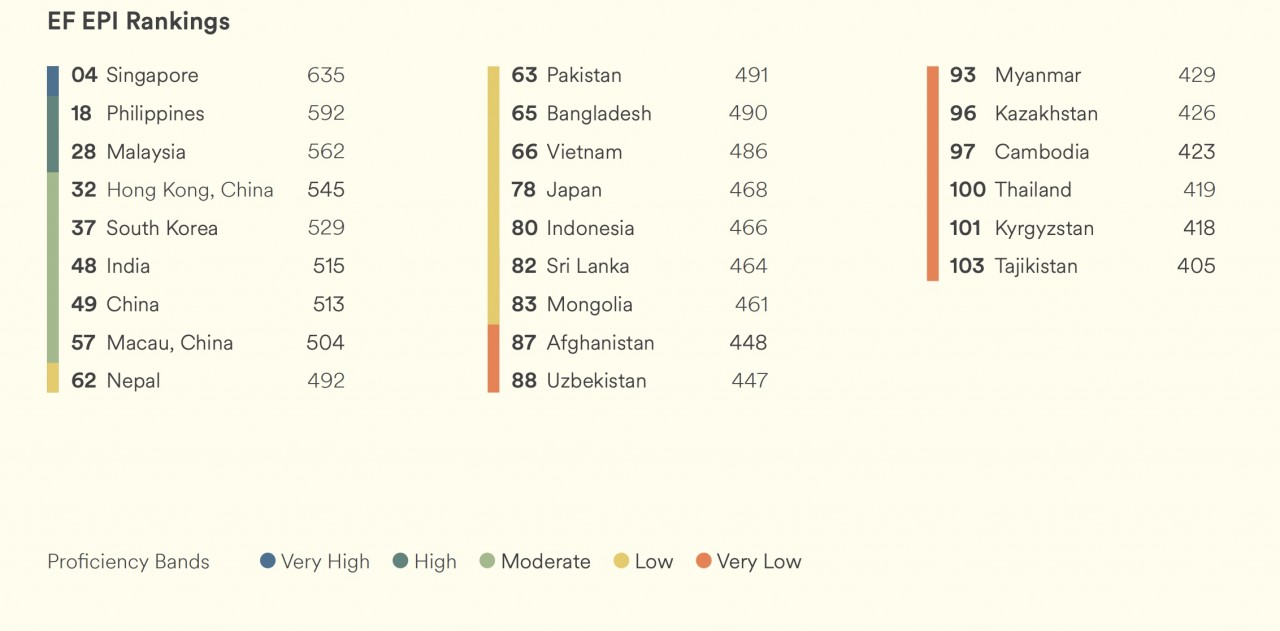 The EF English Proficiency Index 2021 for Asia. Photo: EF
The main findings of the EF EPI 2021 report indicate that Vietnam still ranks high in Southeast Asia, above Indonesia (80th), Myanmar (93rd), Cambodia (97th) and Thailand (ranked 100).
Central Asia and East Asia are leading while South Asia countries have more diverse rankings. Vietnam is in the proficiency band Lowtogether with countries such as Nepal (62nd), Japan (78th) and Mongolia (83rd).
The report also shows that the Nordic countries no longer dominate the top positions of the global ranking. The Netherlands has maintained its No. 1 position with a large difference in scores.
How to improve Vietnam's English skills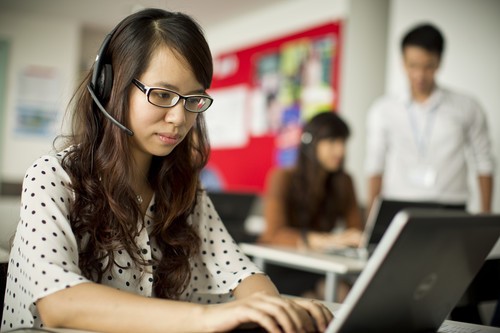 It is important to set specific and achievable goals when learning English. Photo: British Council
EF EPI report also presented a few recommendations for different stakeholders such as: companies, government and education authorities, teachers and individuals.
For companies
• Set realistic goals to close the gap between current and target proficiency levels
• Train employees using a role-specific English curriculum, reward employees who invest time in improving their English.
For government and education authorities, teachers and students.
• Re-train English teachers in communicative teaching methods if they were initially trained using other methods.
• Give adults access to lifelong learning programs that suitable for their goals.
For teachers, schools and universities
• Give teachers a straightforward path to improve their own English.
• Include English language requirements for all university majors, more subject classes to be taught in English if both the students and the professor meet the requisite English level.
For individuals
• Write goals to study everyday and in in sessions of 20-30 minutes rather than for hours at a time.
• Set computers and apps to English to get more built-in exposure to the language.
The EF Education First (EF) and the EF English Proficiency Index (EF EPI)
EF, founded in Sweden in 1965, provides culturally immersive education through language, travel, cultural exchange, and academic programs in over 100 countries.
The EF EPI is created through a different process from the one used by public opinion research organizations such as Euromonitor and Gallup. Methodology is based on test data from more than 2,000,000 test takers around the world who took the EF Standard English Test (EF SET) or one of our English placement tests.
The EF SET is an online, adaptive English test of reading and listening skills. EF EPI 2021 scores have been found to correlate strongly with TOEFL iBT 2019 scores (r=0.81) and IELTS Academic Test 2019 scores (r=0.73). These correlations show that, while these tests have different designs and test taker profiles, they reveal similar trends in national English proficiency.
Another source of data about English proficiency comes from national education systems. Many schools test the English skills of every high school student or university applicant using a standardized national assessment.