Vietnam's exports to EU reach nearly $5 billion thanks to EVFTA
Almost $5 billion worth of Vietnamese goods exported to the EU has benefited from preferential tariffs under the EU-Vietnam Free Trade Agreement (EVFTA), according to the Ministry of Industry and Trade (MoIT).
The MoIT said efforts to capitalize on FTAs have resulted in significant outcomes, helping to achieve fast and sustainable export and gradually reduce the dependence on single or certain markets.
Certificates of origin have been used to help about 32 – 34 percent of annual export revenue benefit from preferential treatment under FTAs, showing that Vietnamese businesses and goods are increasingly tapping into concessionary tariffs in the markets having FTAs with the country, it added.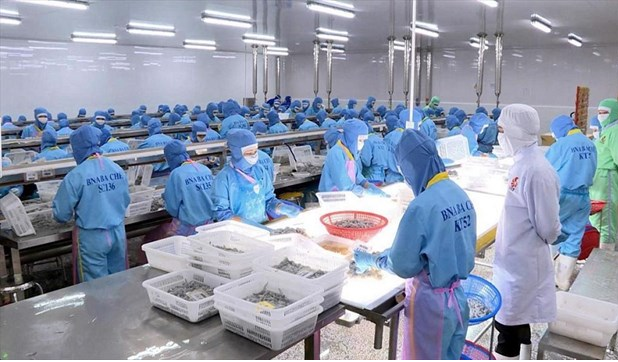 A shrimp processing factory. Photo: VNA
The MoIT noted from August 1, 2020, when the EVFTA took effect, to April 4 this year, authorized agencies and organizations in Vietnam granted about 127,300 sets of the certificate of origin from EUR 1 for nearly $4.8 billion of exports to the 27 EU countries, Vietnamplus reported.
Besides, enterprises shipping goods to the EU also conducted self-certification of origin for more than $10.88 million worth of commodities to utilize preferential tariffs.
The beneficiary items were mainly footwear, aquatic products, textile-garment, farm produce, and electronic products, the MoIT said.
The European Union Vietnam Free Trade Agreement (EVFTA) took effect on August 1, 2020, paving the way for increased trade between the EU and Vietnam, said Vietnam Briefing.
The EVFTA is an ambitious pact providing almost 99 percent of the elimination of customs duties between the EU and Vietnam. As per the Ministry of Planning and Investment (MPI), the FTA is expected to help increase Vietnam's GDP by 4.6 percent and its exports to the EU by 42.7 percent by 2025. While the European Commission has forecast the EU's GDP to increase by $29.5 billion by 2035.
Vietnam's National Assembly on June 8, 2020, ratified the EVFTA and the EU-Vietnam Investment Protection Agreement (EVIPA) following almost 10 years of negotiations.
65 percent of duties on EU exports to Vietnam will be eliminated while the remaining will be gradually phased out over a period of 10 years. 71 percent of duties will be eliminated on Vietnam exports to the EU, with the remaining being eliminated over a period of seven years.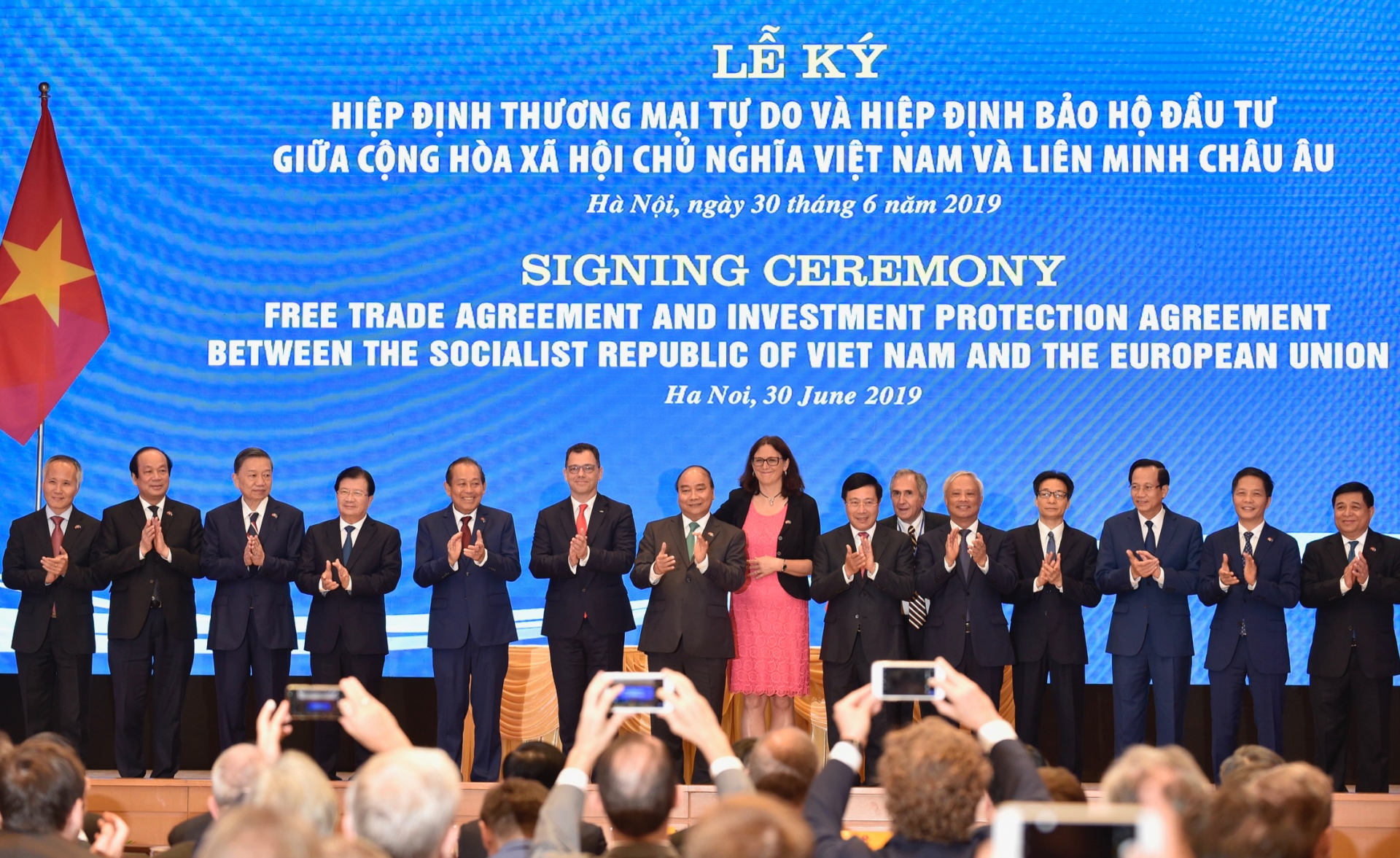 The signing ceremony of the Europe-Vietnam Free Trade Agreement (EVFTA) and the Europe-Vietnam Investment Protection Agreement (EVIPA) on June 30, 2019. Photo: VGP
The EVFTA is considered a new generation bilateral agreement – it contains important provisions for intellectual property (IP) rights, investment liberalization, and sustainable development. This includes a commitment to implement the International Labor Organization (ILO) standards and the UN Convention on Climate Change.
Talks between the EU and Vietnam began in October 2010 with negations concluding in December 2015, however, the ratification process was delayed due to specific details on tariffs as well as the EU-Singapore FTA, which came in November 2019.
Vietnam and the EU are long-standing trading partners. At the end of 2018, EU investors had invested more than $23.9 billion in 2,133 projects in Vietnam. In 2018, European investors added almost $1.1 billion to Vietnam.
EU investors are active in 18 economic sectors and in 52 out of the 63 provinces in Vietnam. Investment has been the most prominent in manufacturing, electricity, and real estate.
The bulk of the EU investment has been concentrated in areas with good infrastructures, such as Hanoi, Quang Ninh, Ho Chi Minh City, Ba Ria-Vung Tau, and Dong Nai. 24 EU member states are invested in Vietnam, with the Netherlands taking the top spot followed by France and the UK.
Vietnam continues rice industry restructuring

Vietnam will continue to restructure the rice industry in the direction of improving efficiency and sustainable development towards the objectives of fully meeting domestic consumption ...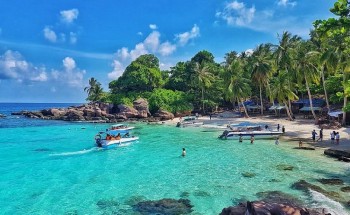 National
Vietnam News Today (Jan. 18): Vietnam confirms 21,691 new local Covid-19 cases; Logo marking 30 years of Vietnam-RoK diplomatic ties unveiled; Phu Quoc represents golden hope for Vietnamese tourism rebound; Int'l searches on Vietnam tourism reopening on the rise.