Vietnam's Northern Resorts Welcome Domestic Guests
In September, some isolated resorts in Sa Pa, Lao Cai Province and Hoa Binh Province have welcomed tourists with negative test results for Covid-19 within 72 hours.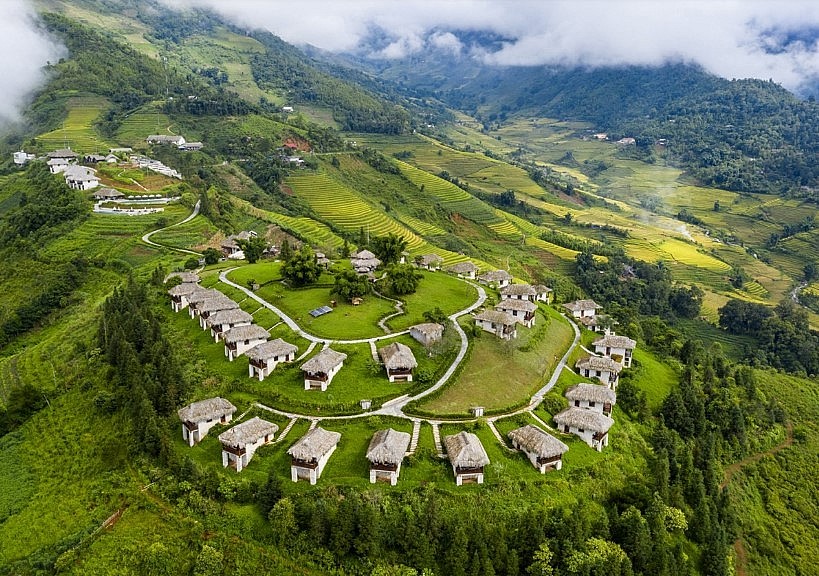 Photo: vnexpress.
Topas Ecolodge, located on the mountainside nearly 20 km from the centre of Sa Pa (Lao Cai Province), has always been open all the time. By the end of October, the resort has been offering incentives for tourists in the northern mountainous and midland provinces such as Ha Giang, Cao Bang, Lao Cai, Bac Kan, Tuyen Quang, Yen Bai, Thai Nguyen, Lai Chau, Dien Bien, Son La, Hoa Binh and Phu Tho. Booking incentives from 3,500,000 VND ($153.99) include one night in Premium Excutive bungalow for 2 people, breakfasts and complimentary 500,000 VND ($21.97) for food service at the resort. In addition, guests can freely use the swimming pool, bicycle and car from the centre of Sa Pa as scheduled.
Tourists, who are not from the orange and red areas shown on the CDC Lao Cai, having negative Covid-19 test results by RT-PCR or rapid test within 72 hours can be allowed to enter Sapa.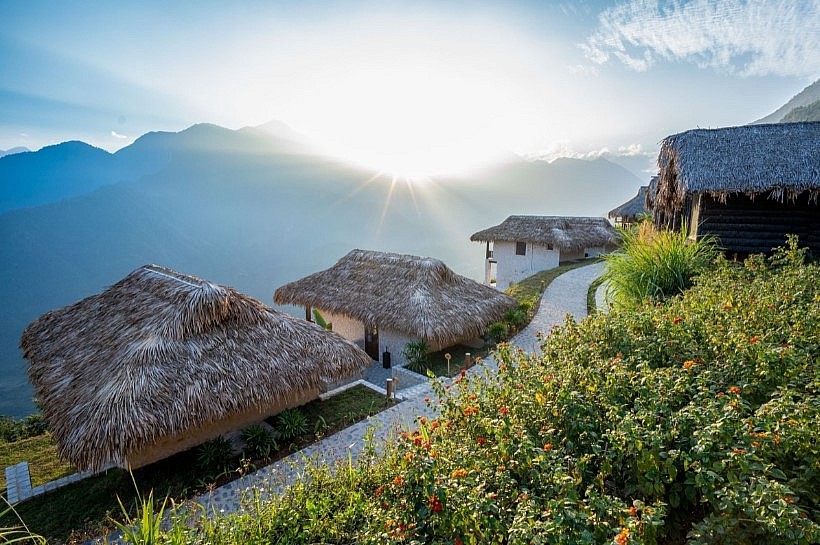 Photo: vnexpress.
From the separate rooms, visitors can admire the scenery of the majestic Hoang Lien Son range, with rolling clouds over the terraced fields. In addition, the resort has two infinity pools with environmentally friendly water heaters. The resort's representative said that the resort was full of tourists on September 2 and at weekends. The number of guests was mainly from Lao Cai Province and a few ones came from other localities.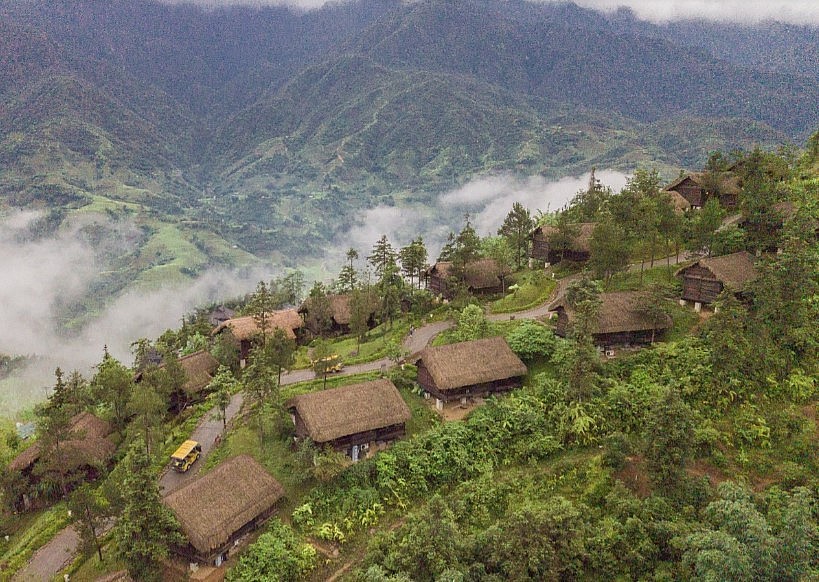 Photo: vnexpress.
Similarly, Sapa Jade Hill Resort & Spa sets to open from September 24. In order to welcome back visitors, it offers a voucher of 500,000 VND/room ($21.92) per night for food service, afternoon tea set, free weekend surcharge, free room upgrade for bookings from 2 rooms or from 2 nights.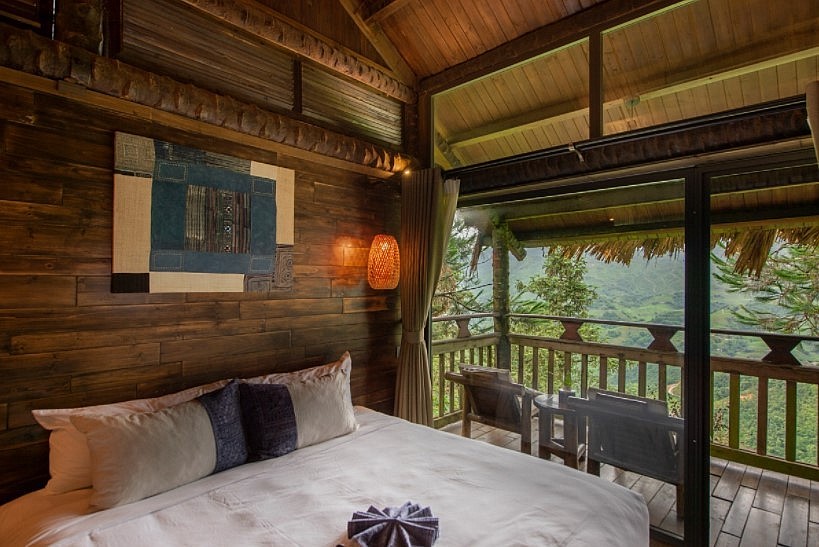 Photo: vnexpress.
Staying at this resort these days, you can enjoy the chilly air of about 18 degrees Celsius in Sa Pa, relax in a bungalow hidden in the woods overlooking the terraced rice fields in the ripe rice season, or indulge your body in the red Dao herbal bath and in the hot water swimming pool.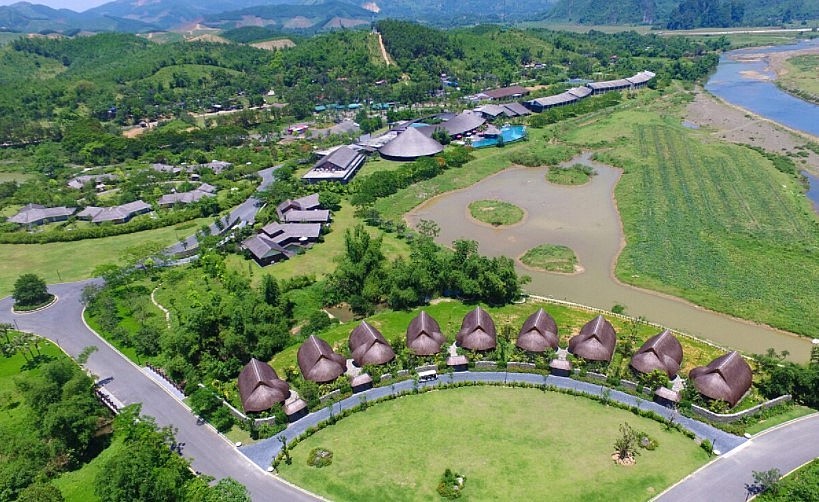 Photo: vnexpress.
In Hoa Binh, Serena Resort Kim Boi (Sao Bay Commune, Kim Boi District) welcomed guests inside and outside the province.
Hoa Binh Province requires people coming from pandemic-hit regions and ones imposed social distancing measures under Directive 16 to have negative test results by RT-PCR method within 72 hours. Regarding those coming from the remaining regions and localities, the results are accepted by rapid antigen test or RT-PCR within 72 hours.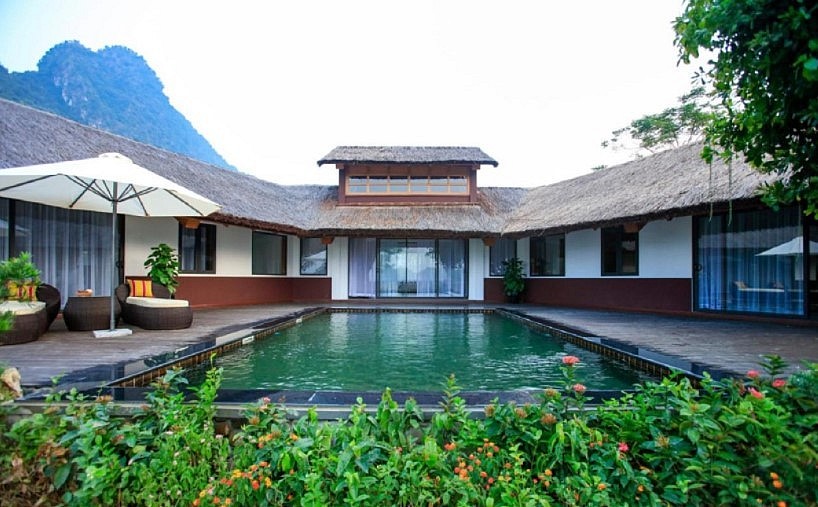 Photo: vnexpress.
Located remotely about 20 km from residential area, the resort is embraced by Quenh mountain and Boi river. With a space of 30 hectares, it offers mainly flowers, trees, lawns, rivers and lakes besides an onsen area with a direct stream of hot mineral water. Visitors stay in separate and self-contained rooms to ensure safety.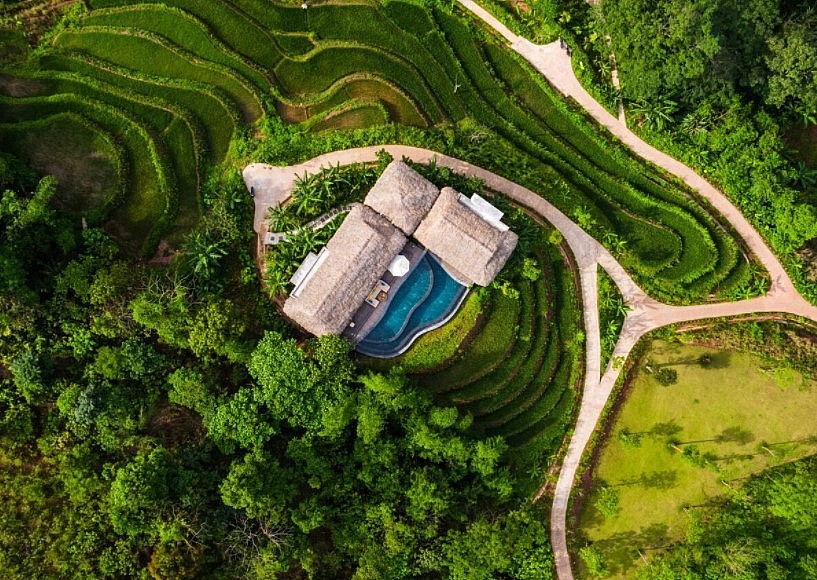 Photo: vnexpress.
Avana Retreat, Mai Chau (Hoa Binh) reopened to welcome guests from September 22. The resort is offering "Welcome Back Gift" vouchers, which cost 1,000,000 VND ($44.02) for food service per room with one-bedroom classes and 2 million VND ($87.98) for food service per room with 2-bedroom Senna room type. The incentive is valid from September 22 to October 31.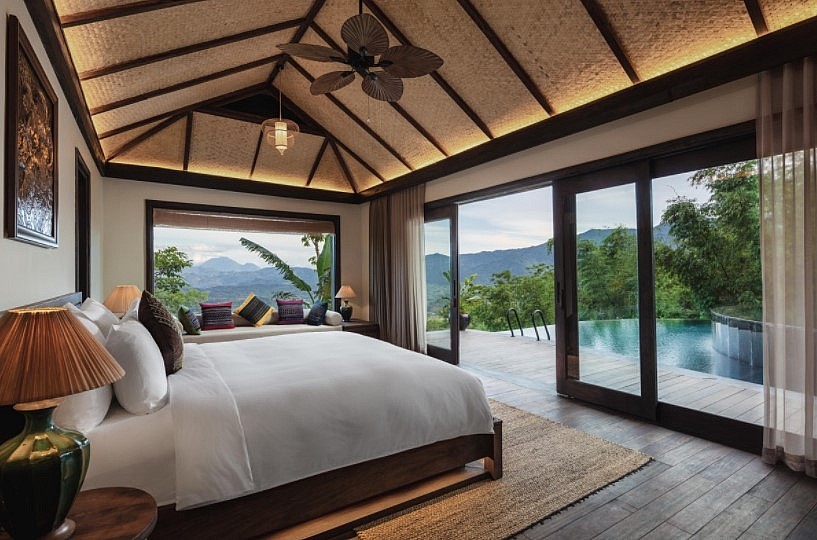 Photo: vnexpress.
Staying from the villas located separately along the hillside, visitors can enjoy the fresh air, listen to the birdsong and indulge in the floating clouds rushing into windows. The room's balconies face up with the valley with terraced fields, forests or waterfalls.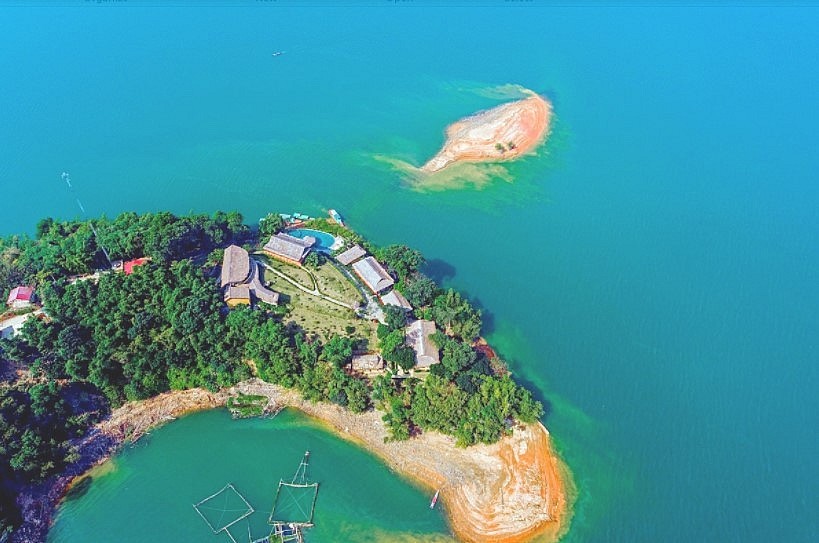 Photo: vnexpress.
Mai Chau Hideaway (Mai Chau, Hoa Binh Province) sets to reopen on September 25. The resort offers one drink (mineral water, soft drink, beer) per guest for ordering food service at the resort's restaurant. In addition, guests are free to use the infinity pool overlooking Hoa Binh lake, bicycles, bamboo rafting or yoga mats.
Photo: vnexpress.
The resort is isolated on a peninsula next to Hoa Binh lake, so privacy and safety of visitors can be ensured. We can admire the whole lake, listen to the murmur of trees and experience four seasons in one day.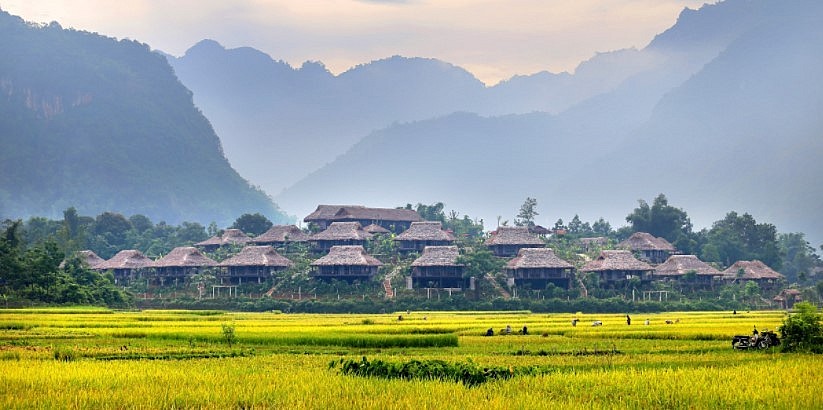 Photo: vnexpress.
Reopening on September 25, Mai Chau Ecolodge (Na Chieng, Na Phon, Mai Chau) offers lots of incentives for all 5 room classes namely Superior, Junior, Deluxe, Suite and Presiden VIP. Room price varies from 1,100,000 VND ($48.27) per night to 2,300,000 VND ($100.93) per night for weekdays. On Friday and Saturday nights, it costs from 1,400,000 VND ($61.44) to 3,500,000 VND ($153.61).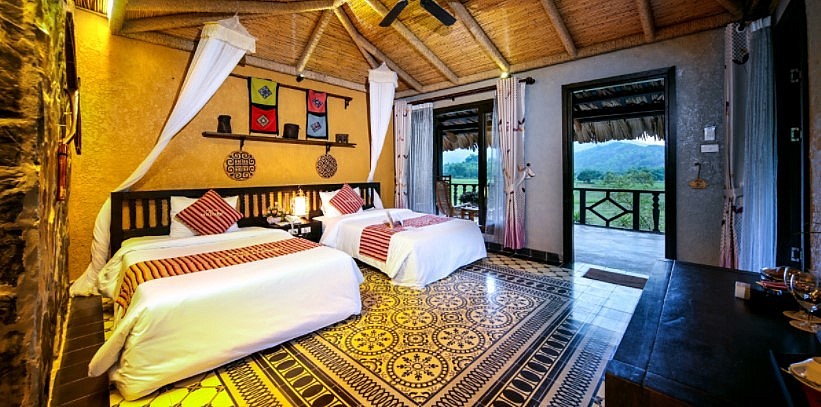 Photo: vnexpress.
The resort is also known as "The ancient village of Thai people" with the style of building each house separately, associating with nature and saving the environment. The road to the resort weaves through the ripe rice fields. Visitors will enjoy the peaceful space of a dust-free countryside with only the sound of children and people reaping rice in the stretching fields. The staff in the resort are all people in Mai Chau valley or nearby villages. They seem shy but friendly and charming.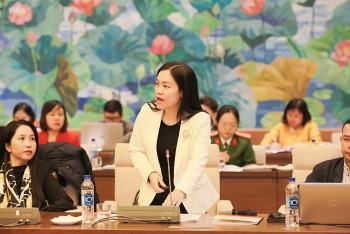 Friendship
Doan Thu Huyen, Vietnam Country Director for Campaign for Tobacco-Free Kids, made the statement at the "Child Downing Prevention" seminar.