Vietnam's Party Leader to Visit China
Vietnam's General Secretary will pay an official visit to China from October 30 to November 2.
General Secretary of the Communist Party of Vietnam Central Committee (CPVCC) Nguyen Phu Trong will pay an official visit to China on October 30, VNA reported.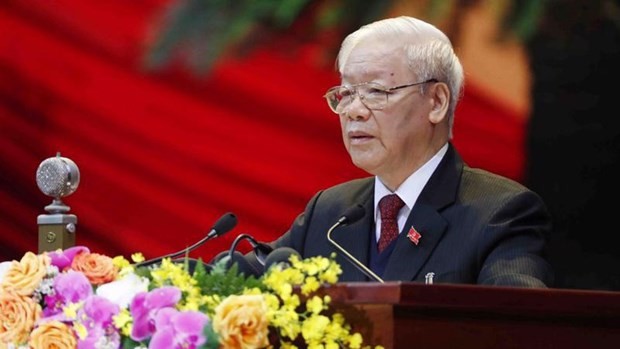 General Secretary of the Communist Party of Vietnam Central Committee Nguyen Phu Trong. Photo: VNA
The visit is made at the invitation of the General Secretary of the Communist Party of China (CPC) Central Committee and President of China Xi Jinping, who announced the CPVCC's Commission for External Relations on October 25.
Earlier, on October 23, General Secretary Trong offered congratulations to Xi Jinping on his re-election as General Secretary of the CPC Central Committee.
In his message, the Vietnamese leader also congratulated the 20th CPC National Congress on its success, especially the creative development in continuously perfecting the theoretical system of socialism with Chinese characteristics in the new era, as well as strategic visions and important goals and tasks set by the congress for the long-term development of China.
He expressed his belief that under the leadership of the CPC Central Committee with Xi being the core and the orientation of the Xi Jinping Thought on socialism with Chinese characteristics in the new era, the entire Party and people of China will definitely fulfil the tasks set by the congress and soon achieve the target of basically realizing socialist modernization so as to build China into a great modern socialist country that is prosperous, strong, democratic, civilized, harmonious and beautiful.
He also appreciated Xi's good sentiment and attention towards Vietnam and his important contributions to Vietnam-China relations, for the benefit of the two peoples.
Trong said that he always attaches great importance to and is willing, together with the Chinese leader, to direct all levels, branches, and localities of the two countries to thoroughly understand and well implement the high-level agreements and common perceptions, thus bringing friendly neighborliness and comprehensive strategic cooperative partnership between Vietnam and China to a new height that is stable, healthy and sustainable, meeting the fundamental and long-term interests of the two parties, countries and peoples, for peace, stability, cooperation, and development of the region and the world.
"I look forward to seeing you again soon so that we can deepen our discussions on strategic issues, contributing to further strengthening political trust, and setting out major orientations for the future development of the two countries' relations," he wrote in his message.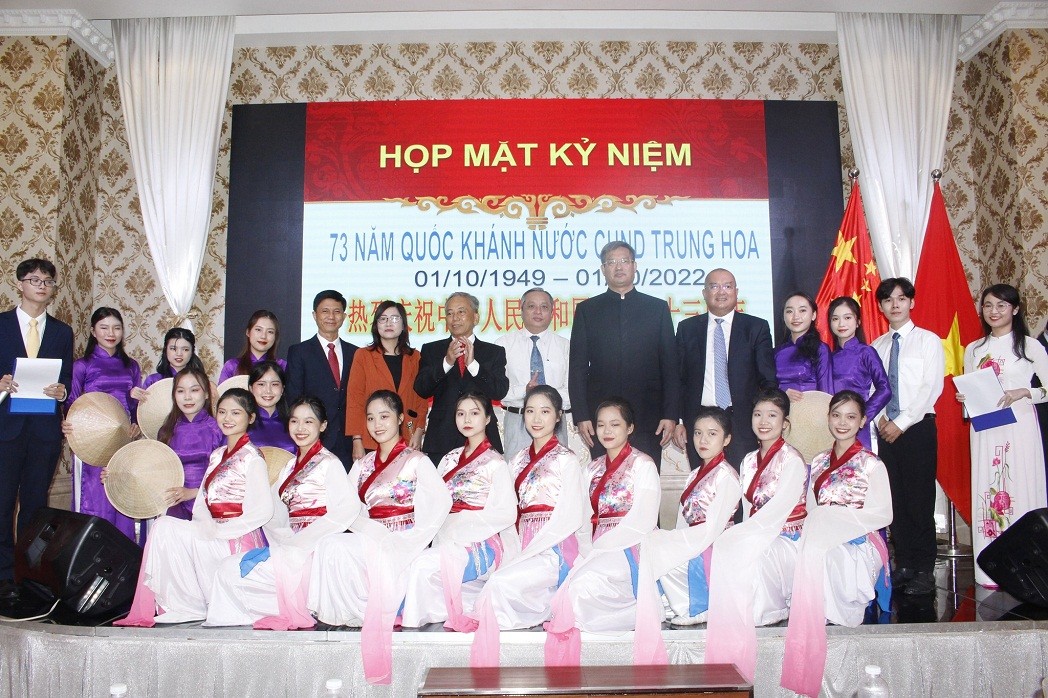 The Ho Chi Minh City Union of Friendship Organisations (HUFO) and the Vietnam-China Friendship Association of HCM City co-host a ceremony on September 27 to mark the 73rd National Day of China (October 1, 1949 – 2022). Photo: HUFO
According to Vietnamese Ambassador to China Pham Sao Mai, high-level meetings have been maintained in flexible forms, which has greatly helped enhance political trust between the two Parties and countries. Cooperation via the Party-to-Party, defence, public security, and locality-to-locality channels has been sustained.
The diplomat recently granted an interview to Beijing-based correspondents of Vietnamese press agencies ahead a visit to China on July 12 - 13 by Permanent Deputy Prime Minister Pham Binh Minh, Chairman of the steering committee for Vietnam - China cooperation, at the invitation of Chinese State Councillor and Foreign Minister Wang Yi, who is also Chairman of the steering committee for China - Vietnam cooperation.
China remains the largest trading partner and the second biggest export market of Vietnam. At the same time, Vietnam also continues to rank first in ASEAN and sixth globally among trading partners of China.
bilateral trade reached USD 165.8 billion in 2021 and USD 64.06 billion in the first five months of 2022, respectively rising 24.6% and 13.3% from a year earlier, according to customs authorities of Vietnam. Meanwhile, China ranks sixth among 139 countries and territories investing in Vietnam with total registered capital of USD 22.31 billion as of June 2022.
Vietnam and China have also actively worked with each other at multilateral forums, especially ASEAN and the UN, to promote peace, stability and cooperation in the region and the world. They have supported each other at international organisations, he said.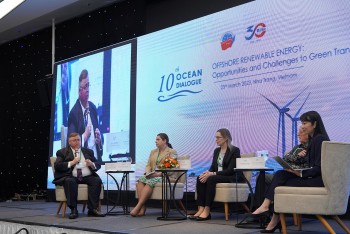 Seas and islands
Vietnam and other coastal countries in the region have both opportunities and challenges in developing offshore renewable energy, according to the 10th Ocean Dialogue held in Khanh Hoa province on Thursday.