Vietnam's peacekeepers overcome difficulties to accomplish mission
Medical staff in Field Hospital Level 2 No. 3 in South Sudan have accomplished their international peacekeeping mission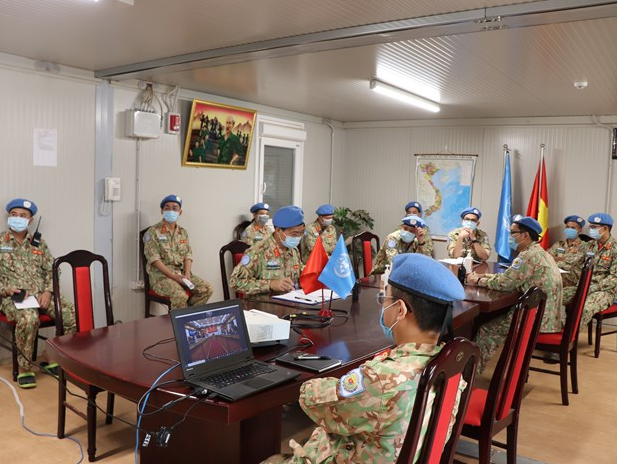 Photo: VNA
"Flight C17, which took off in Juba, South Sudan, and landed at Noi Bai airport brought moments where I was most emotional. It was an overwhelming joy to return to the homeland, family, and relatives after nearly 18 months," said Major Cao Thuy Dung, Chief Nursing Officer of the Field Hospital Level 2 No. 3, after getting off the flight from Juba, which brought the hospital staff back home on April 24.
The force was assigned to carry out the United Nations peacekeeping mission in the Republic of South Sudan from November 2019 with a one-year term, but due to the Covid-19 pandemic, their working term had to be lengthened for a further six months, which brought unexpected difficulties. However, with consensus, will and determination, the "blue beret" medical soldiers of Vietnam successfully completed their assigned missions.
The coronavirus started in South Sudan in April 2020, which was also a time when the Field Hospital faced a lack of medical equipment and supplies. Cargo brought from Vietnam was running out, while getting more supplies was not possible due to South Sudan's border closure halting domestic and international flights.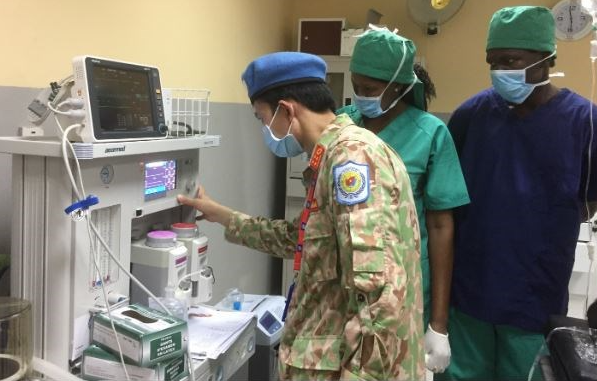 Photo: VNA
South Sudan has already been heavily damaged by a decade of conflict and war, resulting in people leading difficult lives and a poor health system. Accordingly, the country was already fragile even before the storm created by the coronavirus. The No. 2 Field Hospital of Vietnam is located in Bentiu, a complex area facing many difficulties. United Nations employees often move in and out, with the number of units fluctuating depending on troops. Germs are easily carried here from other places, while the area lacks facilities, medical equipment and suitable testing conditions. In addition, unqualified sanitary and environmental conditions enhance transition risk.
In such circumstances, the field hospital proactively deployed an isolated area with necessary equipment and facilities, ready to accept and treat patients infected with Covid-19. In addition, the hospital regularly held training and rehearsals for dangerous situations, building safety procedures for staff, and setting up a plan to protect the unit and staff's safety in emergencies.
Dr. Vo Van Hien has said that the field hospital has even been praised by the UN's Juba and Bentiu missions for its positive medical work.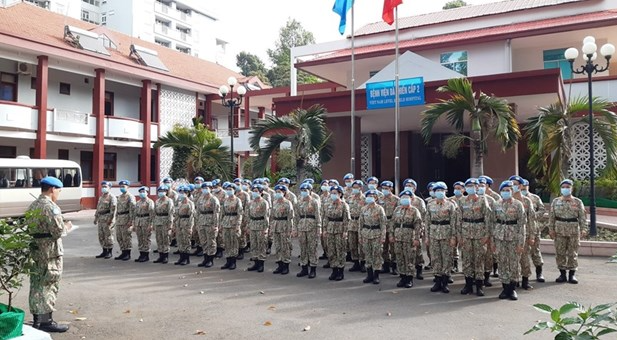 Photo: VNA
Determined to succeed
The global outbreak of Covid-19 quickly became the greatest challenge for UN peacekeeping operations around the world, and in South Sudan in particular. There were times when the hospital's staff were confused and worried, especially in light of the tense political and security situation in the area, the complex pandemic, and when relatives fell sick. Such difficulties had a profound impact on hospital staff's mentality.
Overcoming such difficulties, the "blue beret" medical soldiers united to defeat all challenges, raising their game to accomplish the humane international peacekeeping mission of the Vietnam People's Army.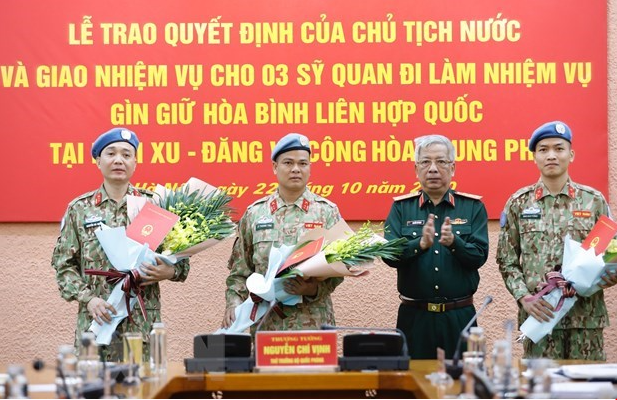 Photo: VNA
Eighteen months after leaving their country and families to carry out an important international mission, Uncle Ho's soldiers are extremely proud to have contributed their personal responsibility to the military and the nation's general mission. The multilateral international mission also included the sacrifice and dedication of female Vietnamese soldiers.
"I find great meaning in the Vietnam People's Army in peacetime, participating in international duties, contributing to protecting the Fatherland from afar, improving its image and thus the prestige of the military and the nation, which cannot be separated from the image of Vietnamese women in the eyes of international friends," said Cao Thuy Dung, Chief of the field hospital.