Vietnamese peacekeepers stand at frontline of Covid-19 battle in South Sudan
Vietnamese blue beret soldiers, who are engaging the United Nations Peacekeeping Mission's work at Vietnam's Level-2 Field Hospital No. 2 in South Sudan have prepared harmonious preventive solutions to fight COVID-19 as the pandemic spirals uncontrollably.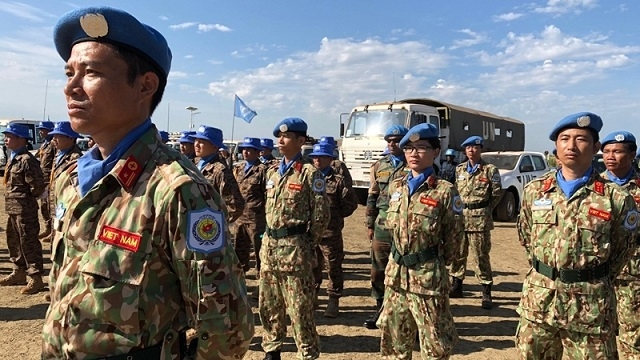 Members of Vietnam's Level-2 Field Hospital No. 1 join in celebrating UN Day in Bentiu, South Sudan. (Photo: NDO/My Hanh)
The east-central African country where the very first COVID-19 patients have detected recently features poor medical infrastructure and environment with a shortage of protective equipment while the abilities of the UN's medical mission in the home country limit.
Besides, Vietnamese soldiers are working in the multi-national surroundings as UN's staffs come and go relentlessly from other locations leading to high risks of transmission of Sars- CoV-2 virus.
According to Dr. Vo Van Hien, Director of Vietnam's Level-2 Field Hospital No. 2, the medical facility has launched a mobile emergency team ready to perform sudden missions including CASEVAC (Casualty evacuation), MEDIVAC (Medical evacuation) and other missions.
The Vietnamese hospital in Sudan also takes on the mission of medical control including conducting medical checks at South Sudan's Rubkona Airport to detect and handle infection cases avoiding larger contagion in the community.
After two years of training, Vietnam's second group of 63 personnel fulfilled the U.N. requirements to replace their colleagues at Vietnam's field hospital participating in peacekeeping mission in South Sudan as of November 2019.
The hospital set off for South Sudan on October 1, 2018. During years of operation, the Vietnamese officers and soldiers have provided health care for UN peacekeeping forces and local people in South Sudan, while participating in cultural and sporting activities, according to VNA.
Over the past months, Vietnamese blue beret soldiers also conducted a series of online training updates from the mission, organizations and prepared all possible scenarios to respond to the pandemic.
Despite poor internet connection, doctors and nurses in Vietnam's field hospital still keep up with the training courses and follow strictly the COVID-19 preventive measures.
Vietnamese filed hospital level 2 number 3, which is newly established and focusing on training to get ready to replace BVDC2.2 in UN's peacekeeper mission still joined hands to the improvement and manufacture of anti-virus protective caps, which are lightweight, breathable, easy to use and absolutely safe.
The medical facility delivered over 1,000 caps to Military Hospital 175 earlier this month to reduce cross-transmission risk within the hospital.
The Level-2 Field Hospital No. 3 with 70 members including 28 officers and 42 soldiers was launched in Ho Chi Minh City on March 4, VGP reported.
The Viet Nam Department of Peacekeeping Operations and Central Military Hospital 175 in readying the field hospital, especially in terms of personnel, for replacing Level-2 Field Hospital No. 2 which is performing duties at the UN peacekeeping mission in South Sudan.