Vietnam's President Arrives in Japan to Attend State Funeral of Late PM Abe
President Nguyen Xuan Phuc, on behalf of Party and State leaders of Vietnam, will attend the state funeral of late Japanese Prime Minister Abe Shinzo in Tokyo.
President Nguyen Xuan Phuc and a high-ranking Party and State delegation arrived in Tokyo on September 25 afternoon. Photo: VNA
President Nguyen Xuan Phuc and a high-ranking Party and State delegation arrived in Tokyo on September 25 afternoon, beginning his trip to attend a state funeral for late Prime Minister Abe Shinzo from September 25-28, VNA reported.
The state funeral, due to take place on September 27, is the second of its kind held for a former Japanese Prime Minister since World War II, following the first for late PM Yoshida Shigeru in 1967.
About 6,000 foreign guests, including heads of state, government leaders, and representatives of foreign countries, are expected to attend the event.
President Phuc is also scheduled to attend a reception for delegation heads to be hosted by the Japanese Emperor and hold talks with PM Kishida Fumio and meetings with representatives from Japan's National Diet and localities, as well as some delegation heads.
The former Japanese PM passed away at Nara Medical University in Nara prefecture on July 8. Earlier the same day, he was shot from behind while campaigning for a candidate of the ruling Liberal Democratic Party (LDP) in the prefecture.
At a news conference on Thursday, Japan Chief Cabinet Secretary Matsuno Hirokazu said about 3,600 people from within the country and about 700 others from overseas are expected to be present at the funeral.
Those from within the country include the heads of Lower and Upper Houses, as well as more than 700 current and former Diet lawmakers and 44 prefectural governors, according to NHK.
The government also expects more than 1,000 people from business and other circles to be present at the funeral.
Regarding attendance from overseas, the government expects to receive 35 top-level leaders and 218 foreign delegations.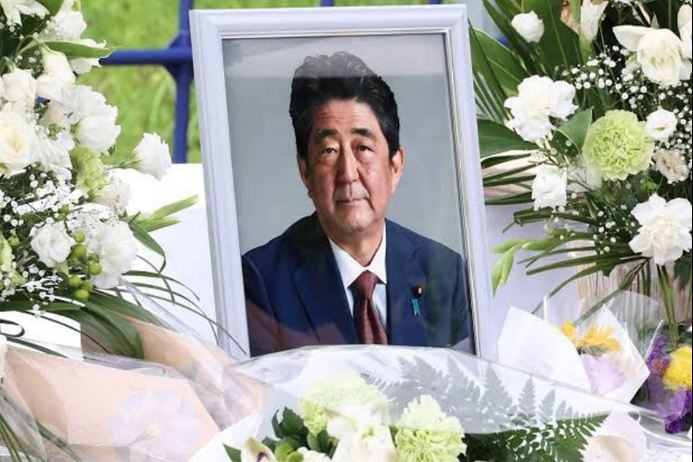 A picture of late former Japanese Prime Minister Shinzo Abe, who was shot while campaigning for a parliamentary election, is seen at the Headquarters of the Japanese Liberal Democratic Party in Tokyo, Japan July 12, 2022. REUTERS/Kim Kyung-Hoon/File Photo
Abe, 67, was Japan's longest-serving PM. He stayed in this position from 2006 to 2007 and again from 2012 to 2020.
In an interview granted to VNA in February 2019, Abe, as PM of Japan, said thanks to Doi Moi (Reform), the Vietnamese economy developed dynamically.
In the mind of the Japanese, Vietnamese people are very hardworking, intelligent, highly patient, and have warm hearts, he said.
Such impressions of Vietnam may be a reason motivating him to work to deepen the relations between the two countries.
With special affection, Abe continuously consolidated the Vietnam-Japan friendship and strategic partnership. Thanks to his efforts, the bilateral relationship developed strongly across spheres during his eight years in office.
He signed the Japan-Vietnam Joint Statement "Toward a Strategic Partnership for Peace and Prosperity in Asia" in 2006, setting the first milestone for the strategic partnership between the two countries, and signed another joint statement upgrading the relationship to an extensive strategic partnership for peace and prosperity in Asia in March 2014.
Notably, it was Abe who invited Vietnamese leaders to attend the expanded G7 Summit Japan 2016, and the G20 Summit as a special guest of host Japan in 2019. This was the first time Vietnam had attended such big events.
Apart from the thriving relations, under Abe's administration, the Vietnamese community in Japan grew into the second biggest foreign community in Japan.
According to the Immigration Services Agency of Japan (ISA), the number of Vietnamese people in Japan reached 432,934 in late 2021, accounting for 15.7% of the total foreigners in the country, up 12 times as compared to that in 2012 when Abe just returned to office.
Vietnamese trainees in Japan amounted to 160,563, making up nearly 58.15% of total foreign interns in the country, partially thanks to policies facilitating the admission of Vietnamese laborers adopted by the Japanese Government under Abe's administration.
The Vietnam-Japan relationship has been on the rise. Japan is Vietnam's leading official development assistance provider, third-largest investor, the third biggest source of tourists, and the fourth trade partner of the Southeast Asian nation.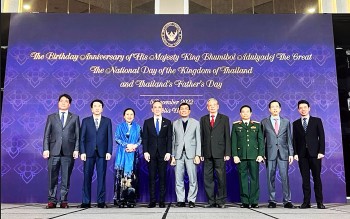 Friendship
The Royal Thai Embassy organises the reception on the occasion of celebration of the Birthday Anniversary of His Majesty King Bhumibol Adulyadej the Great, the National Day of the Kingdom of Thailand and Thailand's Father's Day on 2nd December 2022 in Hanoi.