Vietnam's agri-food industry is ranked second in Southeast Asia in terms of economic recovery expectations, according to a recent report of Food Industry Asia.
The report, entitled The Economic Impact of the Agri-Food Sector in South East Asia, aims to better understand the challenges and economic impact of the agri-food sector faced in 2020.
As reported by Vietnam Agriculture, the report highlighted that the agri-food sector's role in driving Southeast Asia's economic recovery, creating employment and putting food on the table at stable prices, is pivotal.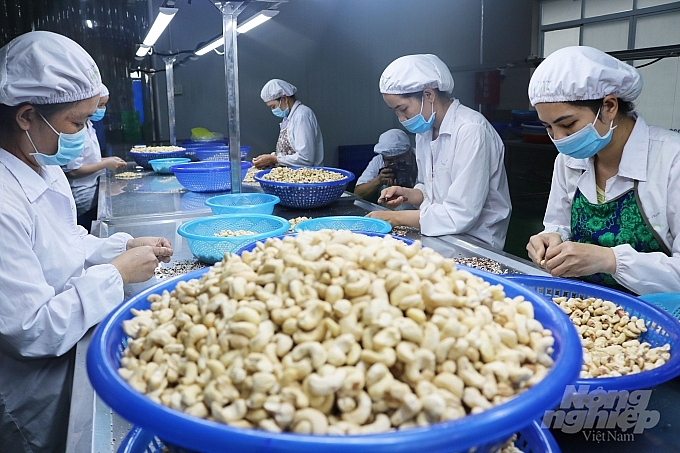 Vietnam's potential to drive agri-food recovery ranks second highest in the region. Photo: Thanh Sơn.
Commissioned by the Food Industry Asia (FIA) to better understand the challenges and economic impact of the agri-food sector faced in 2020, The Economic Impact of the Agri-Food Sector in Southeast Asia report highlighted that the agri-food sector's role is pivotal in driving Vietnam's economic recovery, creating employment, and putting food on the table at stable prices.
According to the report's Economic Recovery Matrix, Vietnam placed second across 10 countries when it comes to the sector's expected economic recovery, with a score of 6.6 out of 10, coming in just behind Singapore. This is in part due to Vietnam having contained the COVID-19 virus relatively early and minimised the economic fallout. The sector had remained resilient during the COVID-19 pandemic, seeing a 4 per cent growth in 2020, or a $3.7 billion increase in GDP contribution, Vietnamnet reported.
Pre-pandemic, Vietnam's agri-food sector demonstrated strong contributions to the national economy. Findings from the report show that in 2019, Vietnam's agri-food sector made a GDP contribution of US$86.4 billion. The sector is also responsible for half of the entire workforce with 27.5 million jobs, making it the single most critical source of employment in the economy. The sector also contributed a total of US$13.2 billion in tax revenues.
This was largely driven by Vietnam's dominant agricultural industry, which contributes over US$55.3 billion in GDP, which is nearly two-thirds of the entire sector. However, the agri-food industry saw greater diversification over the years as both food and beverage manufacturing and distribution saw double-digit growth between 2015 and 2019, Vietnam Economic News reported.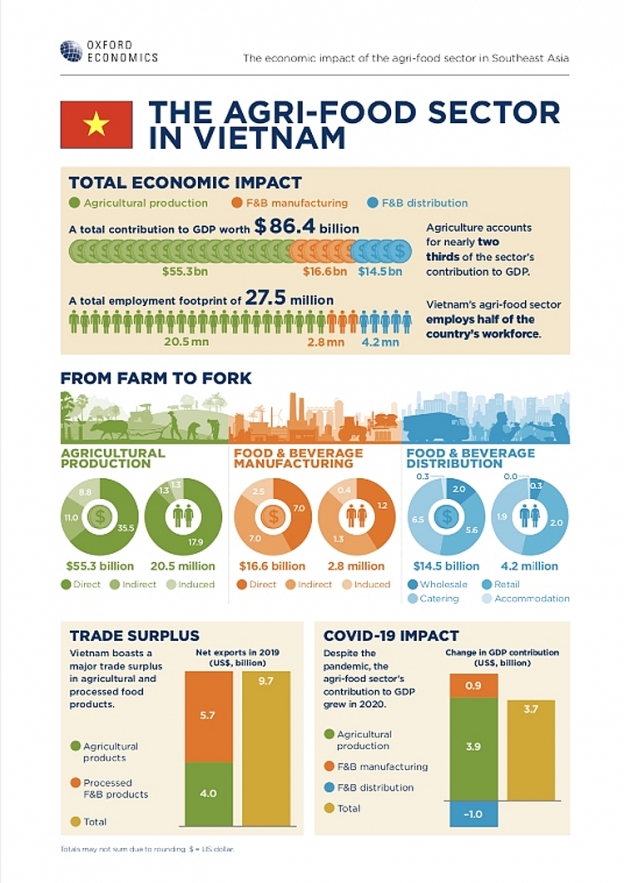 Photo: VEN.vn
Mary Tarnowka, Executive Director, AmCham Vietnam, said: "The effects of the pandemic have been felt widely and deeply across all sectors, including agri-food, but as a significant pillar of our national economy, the sector demonstrated its resilience by achieving robust growth throughout last year. The crisis can be an opportunity for Vietnam's agri-food sector to drive our economy to greater heights, promoting food security and sustainable growth, while continuing to support over half of our country's entire workforce."
"We should continue the diversification of the sector that we've seen pre-pandemic, where we deepen our capabilities in higher value-adding roles in agricultural technology, manufacturing, and services."
Matt Kovac, FIA Executive Director, said: "The report highlighted a range of substantial short-term and long-term challenges facing the agri-food sector in Vietnam, and that it remains crucial for policymakers to recognise and work around these risks, given the scale of the sector's contribution to Vietnam's jobs and GDP. With strong headwinds projected for 2021, it is imperative for the Vietnamese government to remain mindful of this with any policy that could impact the industry."
Echoing this, as reported by Vietnam Investment Review, James Lambert, director of Economic Consulting Asia for Oxford Economics said, "As Vietnam looks to continue its trajectory of being one of the fastest growing economies in the world, it is important that policymakers provide the most conducive conditions for the agri-food industry to grow and thrive, and that any fiscal policy implemented is carefully planned, designed, and communicated. That will allow the industry to continue to provide the economic benefits it has delivered over recent decades."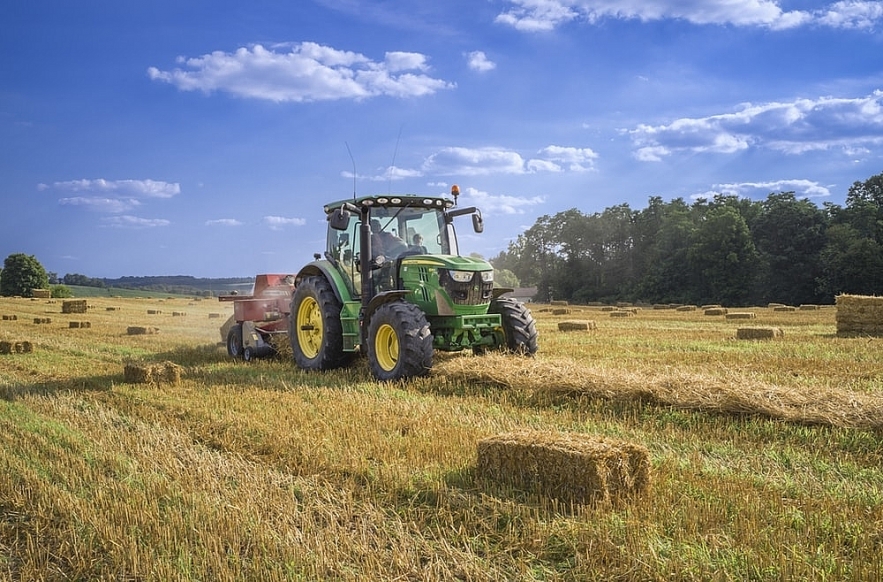 The agri-food sector could play a major role in Vietnam's recovery. Photo: Vietnamnet.
Lambert notes that fiscal adjustments can include sales tax hikes, which could potentially dent demand and household wellbeing, given that more than a third of household spending in Vietnam is accounted for by food and non-alcoholic beverages.
The report recommends that for the Vietnamese government to develop successful fiscal responses that do not inhibit the recovery of the agri-food industry, three conditions need to be met: using education to influence behaviour; favouring regulatory standards over taxes; and maintaining a constant conversation with the industry.
FIA was founded in July 2010 by a group of leading food and beverage companies. FIA brings together the food industry's most senior business leaders to champion initiatives that promote sustainable growth and support regional policies that deliver harmonised results.
Ruby Lee