Vietnam News Today (May 2) notable headlines:
Prime Minister requires Finance Ministry to reform mindset on policy building
Gov't chief demands highest efforts in COVID-19 fight
Vietnam reinforces ties with Canadian province
Vietnam offers Laos with US$500,000 aid for COVID-19 prevention
UNSC themes during Vietnam's Month of UNSC Presidency win international approval
Vietnam keen to follow path of righteous diplomacy at UNSC
Gov't may set up working group to address bottlenecks in investment projects
Fourteen new COVID-19 cases bring national tally to 2,942
Ho Chi Minh City leaders pay tribute to heroes on reunification anniversary
General Secretary Nguyen Phu Trong represents Hanoi in National Assembly electio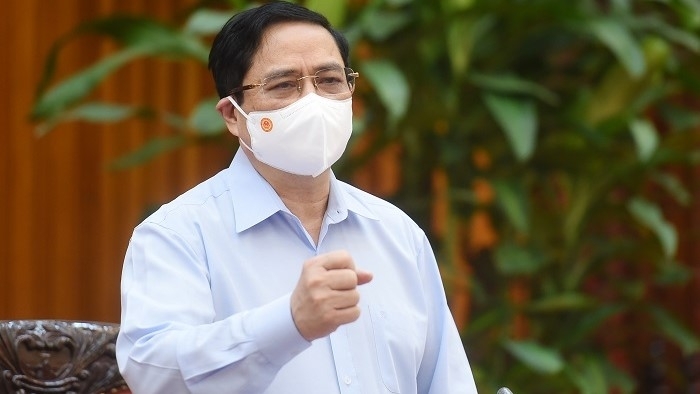 PM Pham Minh Chinh speaking at the working session with leaders of Ministry of Finance. (Photo: VGP)
Prime Minister requires Finance Ministry to reform mindset on policy building
Prime Minister Pham Minh Chinh has told the Finance Ministry to reform the mindset on policy building in the direction of mobilizing resources from all sources and using all resources in an effective and economical manner.
Speaking at a working session with the ministry on April 29, the PM said policies must help with liberalising every production capacity, better tapping potential and advantages towards creating a strong driving force for national development in both short, medium and long term.
In particular, PM Chinh required the ministry to eliminate red-tape and the mechanism of asking-giving with a view to increasing financial self-reliance in agencies, establishments and localities, while ensuring fairness, harmonious interests among all sides and upholding individual responsibility. He also demanded tightening State financial and budgetary discipline and order along with promoting decentralization, according to NDO.
The Finance Ministry should quickly revise and perfect taxation policy to facilitate investment, business and production activities while ensuring national interest, he said.
Gov't chief demands highest efforts in COVID-19 fight
Prime Minister Pham Minh Chinh demanded subordinate levels make highest efforts in containing spread of COVID-19 in the shortest time.
The Government chief stressed the point at a meeting on COVID-19 response this morning.
At least eight local residents have confirmed positive for the virus over the past two days, ending Viet Nam's 34-day streak of no local transmission.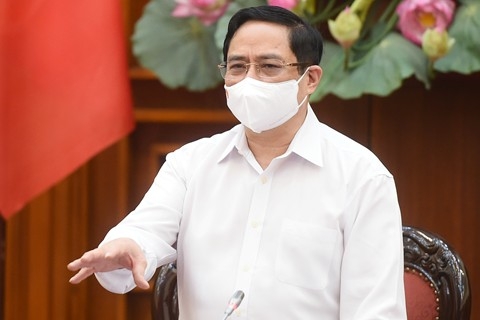 Prime Minister Pham Minh Chinh chairs a meeting on COVID-19 response, Ha Noi, April 30, 2021. Photo: VGP
All the above cases are linked to a 28-year-old man who tested positive after completing 14-day mandatory quarantine in the central city of Da Nang.
As currently regulated, those who complete mandatory quarantine period shall continue be placed under medical surveillance at home for another 14 days.
Reiterating that protecting public health is the Government's top priority, PM Pham ordered engagement of the whole political system in containing COVID-19 under the motto fighting the pandemic like fighting enemy.
At first, contract tracing must be further accelerated to quickly detect infected cases while post-quarantine medical surveillance must be implemented seriously, Pham required.
He called all citizens to shelve unnecessary activities and immediately implement the available precautious measures to protect safety and health of each individual and the whole society, VGP said.
Vietnam offers Laos with US$500,000 aid for COVID-19 prevention
Prime Minister Pham Minh Chinh sent a letter to Lao Prime Minister Phankham Viphavanh on April 30 to inquire about the complicated situation with the COVID-19 pandemic in the country and to announce emergency support of US$500,000 to help Laos in coping with the outbreak of the pandemic in the community.
In the letter, PM Pham Minh Chinh highly valued the drastic anti-pandemic measures that the Government of Laos has taken while expressing his deep sympathy in regard to the difficulties and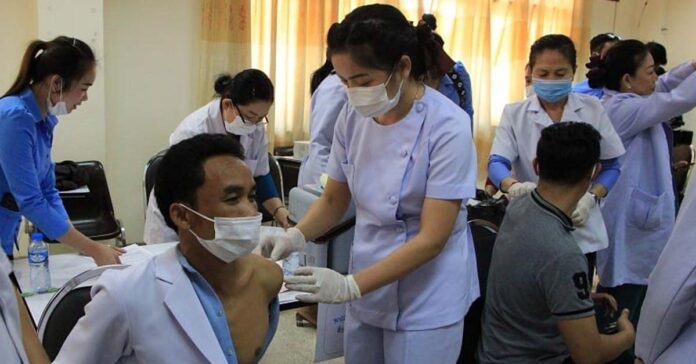 The Lao Ministry of Health hopes to vaccinate 20 percent of its population against COVID-19 by the end of this year. - Illustrative image (Photo: Lao National Radio)
He noted that besides the financial support of US$500,000, he instructed the Ministry of Health and Vietnamese authorities to urgently share with Laos their experience in disease control while providing Laos with assistance regarding medical experts and medical supplies and equipment in the prevention and fight against the COVID-19 pandemic.
PM Pham Minh Chinh also expressed his belief that, under the direction of PM Phankham Viphavanh, the determination and unanimity of the authorities and the entirety of the people, Laos will soon be able to take control of the pandemic and quickly restore its socio-economic development, according to NDO.
UNSC themes during Vietnam's Month of UNSC Presidency win international approval
The themes and topics chosen by Vietnam during the month it served as President of the United Nations Security Council in April have received support from the international community.
Ambassador Olof Skoog, Head of the EU Delegation to the United Nations, hailed the relevance of the major topics that Vietnam picked for April as the UNSC President, especially those related to cooperation between the UN and regional organisations, reconciliation diplomacy and confidence-building measures.
According to him, at present, the situation is tense in many parts of the world, but the UNSC unfortunately has not been able to issue a resolution on every issue. Therefore, Vietnam's emphasis on trust building is a very good approach to seek support from other countries in promoting the council's agendas.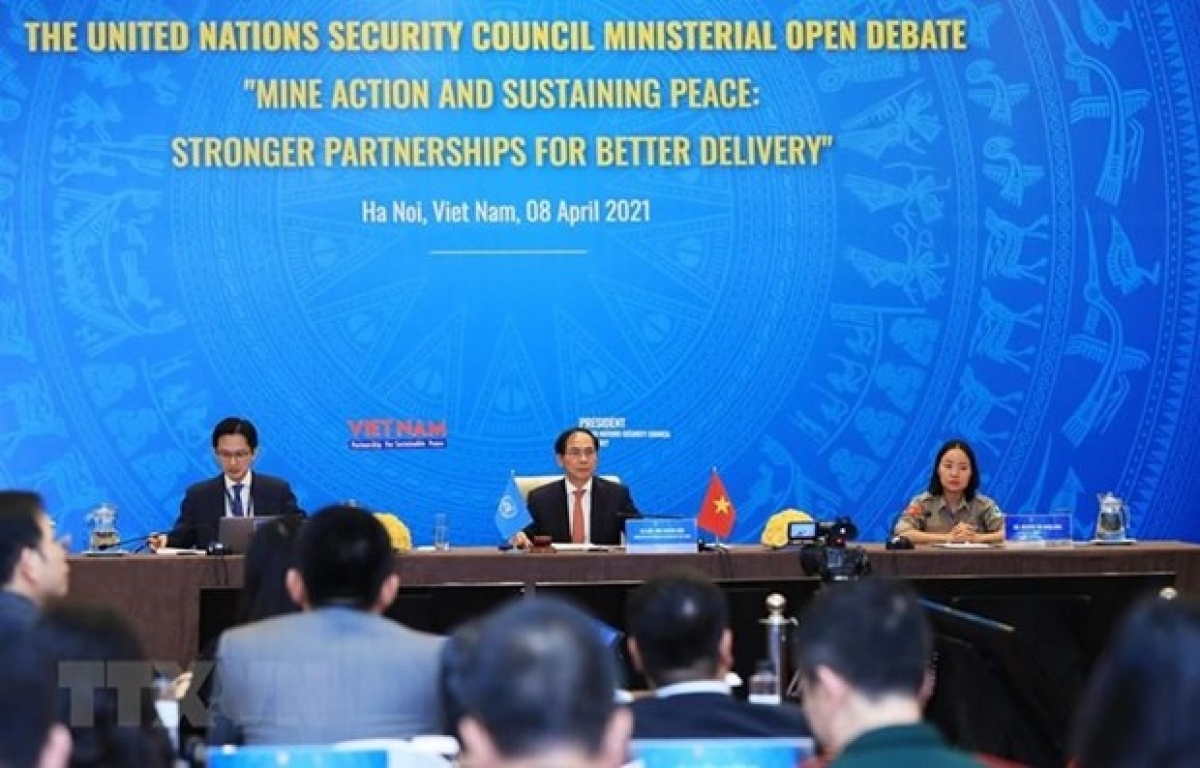 Ambassador Fatima Kyari Mohammed, Permanent Observer of the African Union to the UN, also spoke highly of the key topics selected by Vietnam. According to her, regional organisations are of great importance in promoting dialogue and reconciliation diplomacy in conflict prevention, as well as in finding solutions to solve conflicts.
Sharing the view, Ambassador Geraldine Byrne Nason, Ireland's Permanent Representative to the UN, said that Ireland acknowledges the importance of regional organisations and supports the member states of each regional organisation.
As a new member of the UNSC, Ireland appreciates all three key topics that Vietnam brought to the discussion in April, she said, adding that the Irish Foreign Minister had attended all three high-level sessions chaired by Vietnam, showing that Ireland attaches great importance to Vietnam's Presidency of the UNSC as well as issues of substantial importance that Vietnam chose to put on table.
Ambassador T.S. Tirumurti, head of the India Mission to the UN, and Ambassador Anouparb Vongnorkeo, head of the Laos Mission to the UN, also highly valued Vietnam's active and increasingly important role in the UN Security Council during the month it chaired the council, as reported by VOV.
Vietnam reinforces ties with Canadian province
The Consul General of Vietnam in Vancouver, Canada, Nguyen Quang Trung joined a working session with the Premier of British Columbia John Horgan on April 30.
At the meeting, the two sides discussed potential and opportunities of cooperation between businesses of Vietnam and British Columbia, especially in education, tourism, people-to-people exchange and labour. They agreed that the Comprehensive and Progressive Agreement for Trans-Pacific Partnership (CPTPP) has opened up chances in economy, trade and investment for them.
Despite the adverse impacts of COVID-19, trade between Vietnam and the Canadian province neared 2 billion CAD (about 1.6 billion USD) last year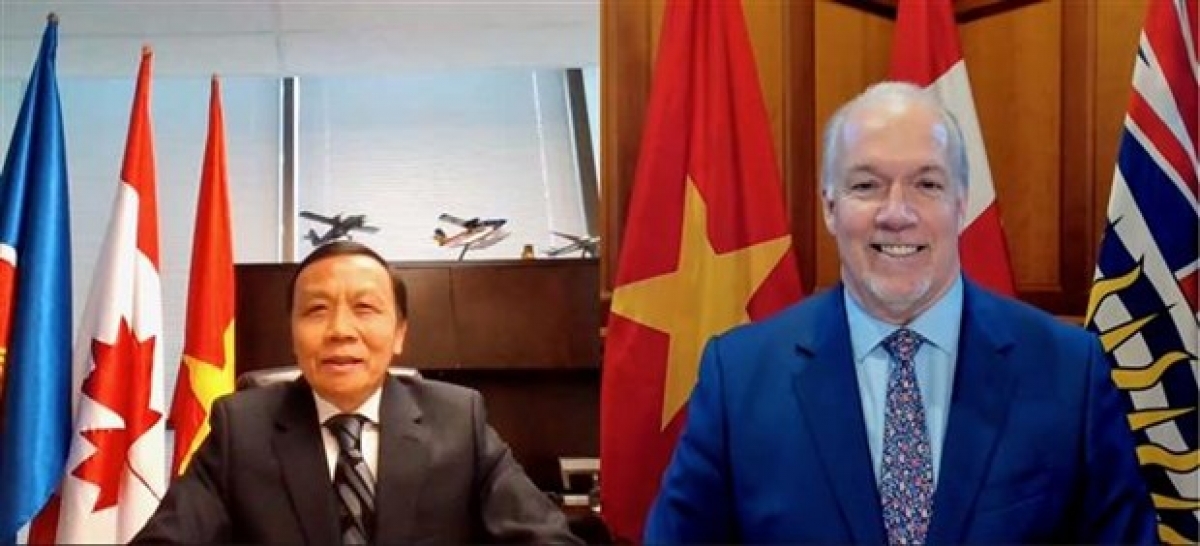 Horgan congratulated Vietnam on its successful COVID-19 prevention and control, voicing a hope to deepen the relationship between British Columbia and Vietnam in a pragmatic manner, towards the 50th founding anniversary of Canada-Vietnam diplomatic ties in 2023.
The Canadian province is zeroing in on plans on post-pandemic economic recovery and expansion of international cooperation, especially with the Asia-Pacific region.
Since 2017, Vietnam has maintained its position as the largest trade partner of Canada in ASEAN, with bilateral trade hitting 5.1 billion USD in 2020, VOV said.
Jasmine Le