Vietnam's Renewable Energy Sector Continues to Attract Foreign Investments
Vietnam is recording the highest rate of investment in renewable energy amongst the ASEAN countries, according to international organizations' evaluation.
EDF Renewables, a member of the French state-owned electricity company EDF group, has recently invested in SkyX Energy, a subsidiary of the VinaCapital Group and the holding company of the rooftop solar photovoltaic (PV) developer SkyX Solar.
While the investment sum is not disclosed, with support from its strategic partner EDF Renewables, SkyX Solar is expected to inject at least US$ 100 million in the next 2 – 3 years to expand its portfolio by developing more 200MWp rooftop photovoltaic panels for commercial and industrial use.
"SkyX Solar has around 100 MWp of rooftop solar projects under operation and/or development and we intend to partner with more industrial companies in Vietnam to build many hundred MWs of solar capacity with them," CEO and founder of SkyX Solar Samresh Kumar said.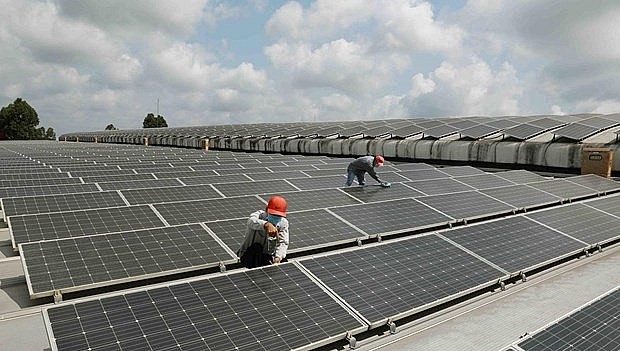 Performing maintenance work on solar panels. Photo: Vietnam News Agency
Southeast Asia Regional Director of EDF Renewables Yalim Ozilhan noted that the renewable energy sector had immense potential for development in Vietnam. With its strength in developing rooftop solar panels solutions at the global level, EDF is interested in and hopes to expand the scope of its operation in the Vietnamese market.
In recent years, Vietnam has quickly become the leading solar energy market in Southeast Asia, with a total cumulative capacity of 9.3 GW by the end of 2020, according to Bloomberg.
Not only EDF Renewables, but the renewable energy market in Vietnam has also been attracting foreign investment from other energy corporations as the demand for low-carbon electricity sources has been on the rise. For instance, the Bac Lieu liquefied natural gas-to-power plant project had a registered capital of US$ 4 billion.
Data by Vietnam's Ministry of Planning and Investment showed that Vietnam attracted US$ 5.1 billion in FDI in electricity production and distribution, accounting for 18% of the total investment capital of the year. In the first three months of 2021, this sector attracted 160 projects with a registered capital of US$ 33.56 million, the third-largest sector in attracting FDI, following processing and real estate industries, respectively.
In addition to solar energy, wind energy has been receiving attention from foreign investors. In 2020, the Copenhagen Infrastructure Partners Group signed a Memorandum of Understanding with the Binh Thuan Provincial People's Committee to develop the La Gan offshore wind energy project with a total capacity of 3.5GW. With a total estimated investment capital of US$ 10 billion, La Gan is considered one of the first large-scale offshore wind energy projects in Vietnam.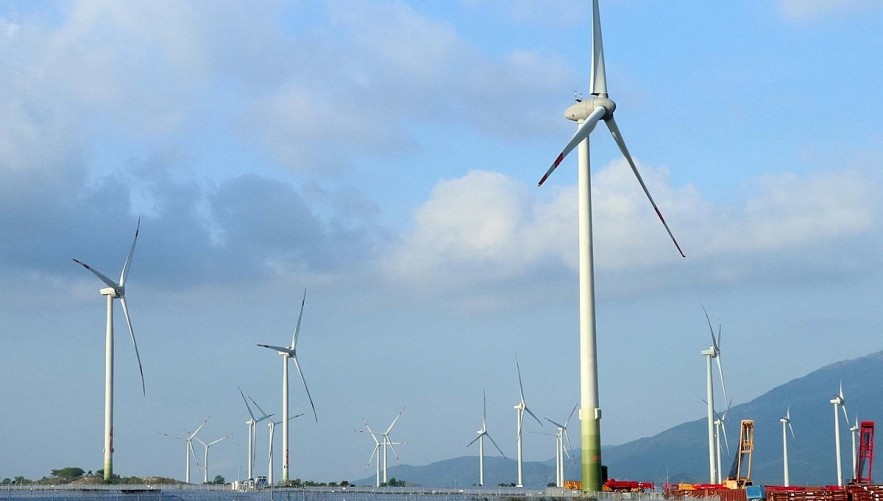 Wind turbines in Ninh Thuan province. Photo: Vietnam+
Last week, HSBC Vietnam confirmed an agreement to provide short-term green credits to Power Construction No.1 JSC, one of Vietnam's leading companies in electrical construction. This was one of the first sustainable financial sources that HSBC gave to a domestic wind energy business and the third green credit to Vietnamese businesses working in the field of renewable energy, following two business deals last year to support the development of rooftop solar energy projects by REE Solar Energy Joint Stock Company.
Sustainable financing is one of the three focuses of Standard Chartered Bank's sustainable development framework. At the end of May 2021, Standard Chartered Bank Vietnam and Standard Charter Bank China closed a US$ 462 million trade finance transaction for renewable wind power projects.
Standard Charter Bank is committed to financing its customers' strategic wind energy projects for the sustainable development of Vietnam.
International organizations noted that Vietnam was recognizing the highest rate in renewable energy investment amongst the ASEAN region. To attract more FDI and provide foreign companies with more sustainable energy sources, Vietnam has shown a strong commitment to renewable energy.
According to HSBC, Vietnam has the best potential to contribute to the renewable energy sector in ASEAN, with foreign investment boosting the growth of this sector.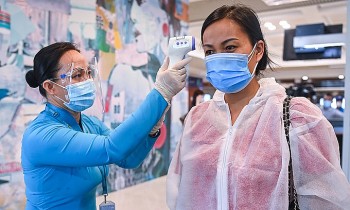 National
Vietnam News Today (October 20): Vietnam adds 3,034 Covid-19 cases to national infection tally; HCM City enhances cooperation with China's Shanghai; Thirty-two localities declare Covid-19 risk levels; Transport ministry mulls letting the unvaccinated fly.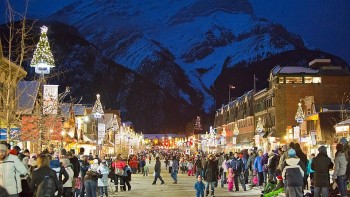 Travel
If you are looking to celebrate your Christmas somewhere else outside the country, then Canada can be the perfect choice for you with these 10 best and most idyllic places to have a wonderful Christmas holiday with your friends and families.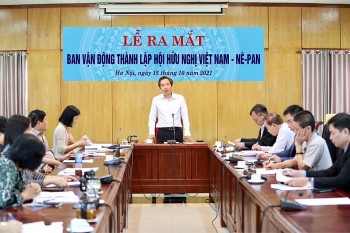 Friendship
The Advocacy Committee for the establishment of the Vietnam - Nepal Friendship Association was officially launched.