Vietnam's Scenic Train Named in Asian Top 6 Train Journeys for Food, Scenery, Culture
"The scenic train routes showcase some of Asia's most beautiful landscapes and provide a much-needed opportunity to rest and reconnect with loved ones," said CNN.
CNN published a list of "6 amazing Asia train journeys for food, scenery, and culture" on Nov. 17, which includes a Vietnamese candidate, The Vietage.
The Vietage, a custom-design carriage that offers guests a luxurious train journey through south-central Vietnam, connecting Da Nang and Quy Nhon by rail.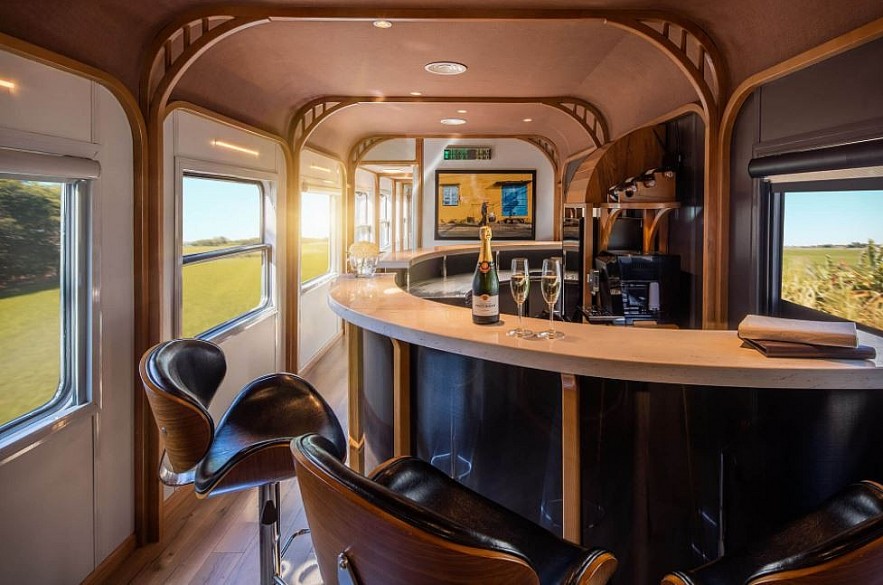 The Vietage. (Photo: Danang Fantasticity)
"Launched by Anantara Hotels in 2020, the six-hour train ride carries no more than 12 passengers through Central Vietnam between Da Nang and Quy Nhon, formerly the seat of the Cham Kingdom. The scenery is as peaceful as it is lush: water buffaloes graze in wide-open fields, humble villages flit by and impossibly green fields beg to be photographed.
Onboard, marble tables, rattan screens, and private booths evoke the romance of vintage rail travel. Tickets also include a complimentary three-course French meal with Vietnamese influences, free-flow wine and beer, plus a head and shoulder massage," CNN said about The Vietage.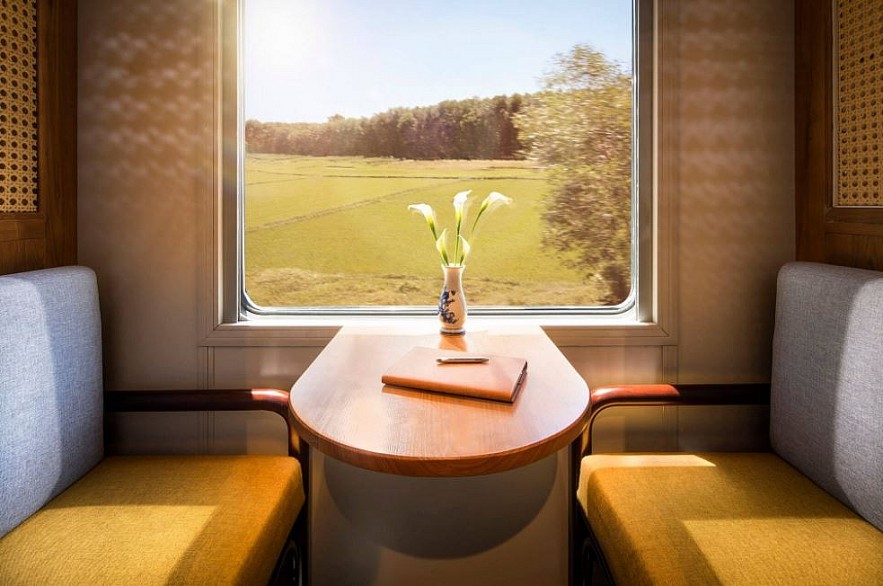 The Vietage. (Photo: Danang Fantasticity)
According to Prestige Online, the train offers "12 reservation-only seats that will bring you through the culture, nature and history of the country." On the inside, it boasts sleek-lined modern interiors, adorned with wood and rattan elements, big windows, and large comfortable seats for two.
"The carriage boasts a full-service sit-up bar where guests can have local craft beers, wines, and snacks. For the main culinary experience, there is an exclusively-curated Vietnamese menu with a French twist. Seafood and carnivore lovers can savour Quy Nhon seafood salad, barley risotto, and braised Wagyu neck. For desserts, guests are spoilt for choices with dishes like local Da Lat strawberries, passion fruit tart and a typical French-style crème brulée made with Dong Nai chocolate from Vietnam. An à la carte menu comprises premium wines, champagnes and treats such as local caviar and the finest selection of both local and international kinds of cheese, all available for pre-purchase," said Business Traveller.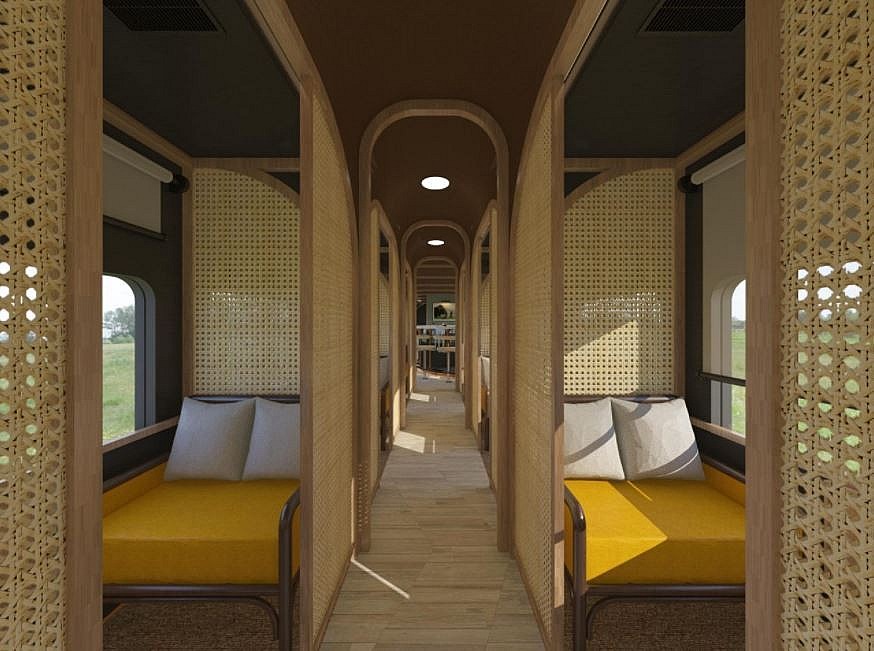 The Vietage. (Photo: The Journey Collection)
The journey lasts for six hours. In the meantime, you are able to feast on an exclusively-curated Vietnamese menu with a French twist. An à la carte menu is also available with premium wines, champagnes, and treats such as local caviar, local and international cheese, all available for pre-purchase.
The Vietage departs from Da Nang every morning at 09.31, arriving at Dieu Tri station in Quy Nhon at 15.43. The return journey departs in the afternoon at 17.29 and arrives in Da Nang at 23.01. The Vietage runs for eleven months each year, taking a break during the annual Vietnamese Tet holiday period.
A ticket costs US$350 per person one-way, according to CNN. There are also combination accommodation packages available with Anantara Hoi An Resort and Anantara Quy Nhon Villas to experience both destinations.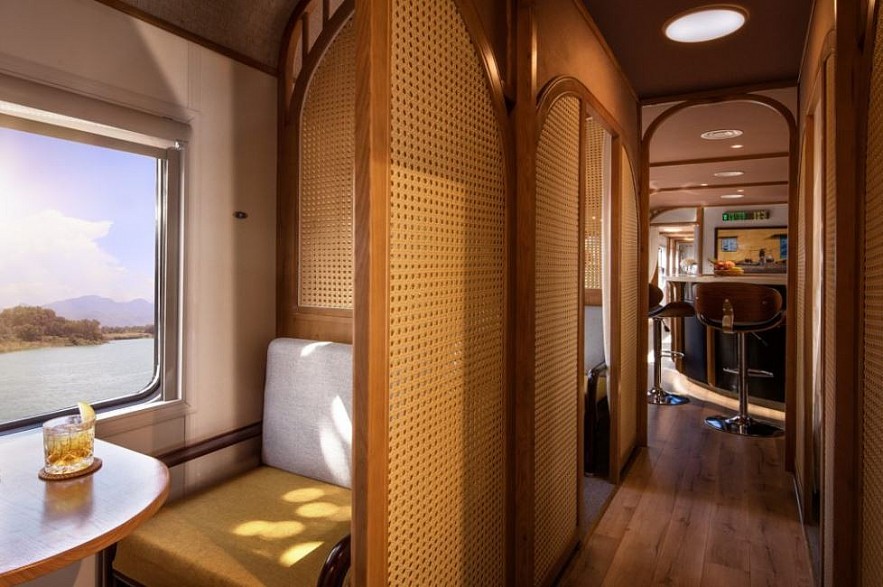 The Vietage. (Photo: The Prestage Hong Kong)
Other train journeys in the list include: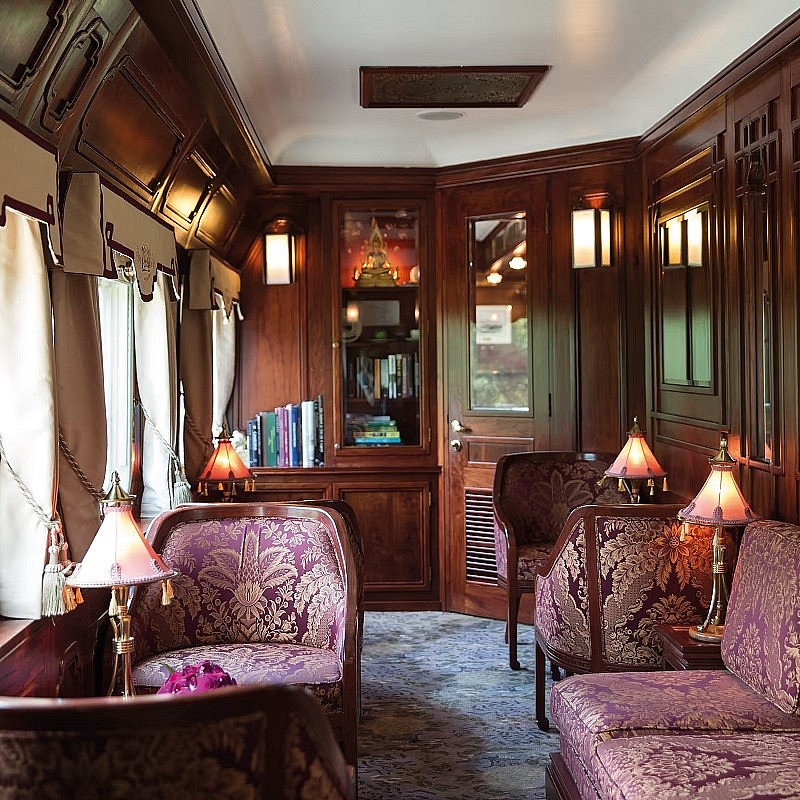 Belmond Eastern and Oriental Express. (Photo: Belmond)
Belmond Eastern and Oriental Express, Bangkok to Singapore
"A fabled journey through the exotic East," Belmond Eastern and Oriental Express describes itself on the website. The Eastern & Oriental Express is a luxury train that carries passengers between Singapore, Malaysia, and Thailand. It runs between Singapore's Woodlands Train Checkpoint and Bangkok, stopping at Kuala Lumpur, Butterworth, and Kanchanaburi, taking 4 days (3 nights). Since 2007 the train has also traveled between Bangkok and Vientiane, the capital city of Laos, according to Bangkok Post.
The train is operated by Belmond Limited. It runs approximately 32 trips that either embark upon or disembark from Bangkok yearly, between the months of September and April, only four are hosted by famous guest chefs such as Ian Kittichai. The train feels like a roving hotel thanks to its fine-dining experiences, panoramic windows, handsome cherry wood-paneling and Malaysian silk embroidery, says CNN
"A cream, the green exterior gives way to polished wood-paneled corridors and silken furnishings with a hint of classic Asian design. Exotic cuisine arrives at white-linen coated tablets in the ornamental dining cars. Take your seat among sparkling crystal and silverware. The Bar Car boasts a jazz-club ambiance, music lingering in the air, while stewards serve champagne, wine, and cocktails. As the train rolls into the night, your cozy cabin awaits. Plush furnishings and ornate marquetry bathe in the glow of your bedside lamp, a gown, and slippers laid out for your comfort. Tomorrow brings a day of adventure, as you step out from the train to discover the region's secrets for yourself," the Eastern and Oriental Express website writes.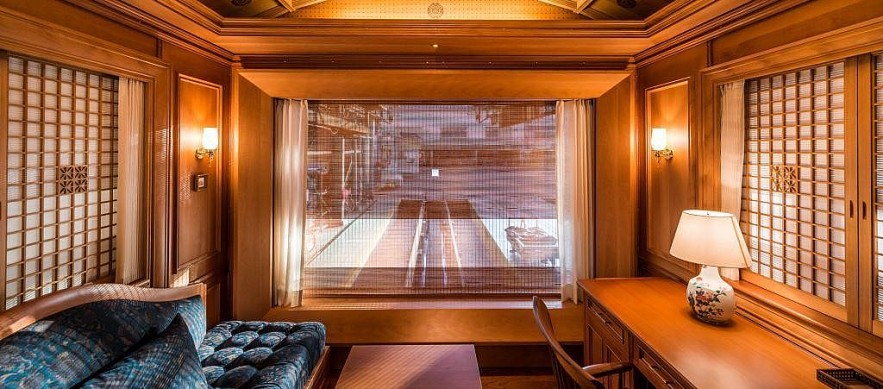 Seven Stars, Kyushu, Japan (Photo: The Luxury Train Club)
Seven Stars, Kyushu, Japan
"The Cruise Train "Seven Stars in Kyushu" was launched to welcome guests with heartfelt hospitality and to deliver the charms of Kyushu, which is blessed by abundant nature, food, culture, and history," the service's website says.
Unlike Japan's famous bullet trains, Seven Stars takes a much slower pace, cruising gracefully across Kyushu's seven prefectures so passengers can take in the dramatic mountain and ocean views in peace. The island lies just south of the Japanese mainland and is a treasure trove of natural beauty. On the four-day journey, guests will get to warm up in an onsen (hot spring bath) in Beppu, experience a five-star ryokan (Japanese inn), learn about local crafts in the city of Oita, and much more.
Designed to be an intimate experience, the wine-red train can accommodate up to 26 people per journey, spread across 12 suites in five train cars. Some find the suites charmingly retro; others would call them dated. But there's no arguing with the panoramic views from each cabin.
The other train cars host the "Blue Moon" bar and lounge and the "Jupiter" dining car, where master chefs celebrate Kyushu's bounty of fresh, seasonal ingredients, according to CNN.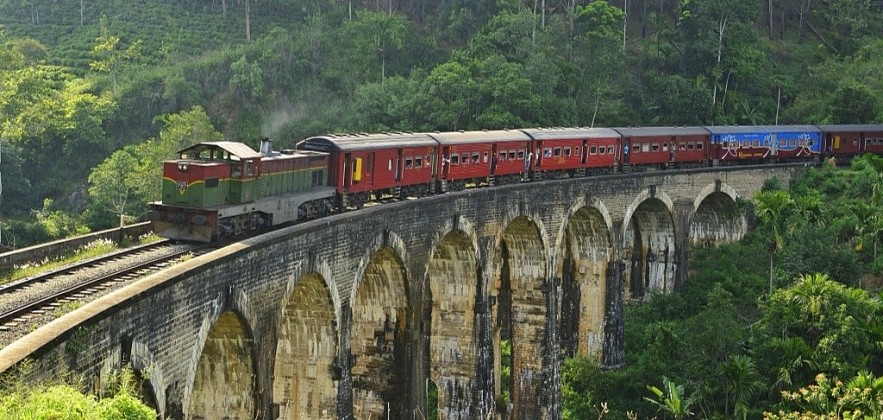 Sri Lanka Main Line (Photo: Visit Sri Lanka Tours)
Sri Lanka Main Line, Kandy to Ella
Known as the most scenic route in Sri Lanka, this train line is steeped in history and offers an unparalleled view of the country. The Main Line name was given to this railway line by the British who are often credited with its construction beginning around 1874. It was the first major line constructed on the island and was originally designed to link tea-growing estates in the mountains to the port at Colombo. However, while the desire to build the railroad came from the British, many of its key elements were constructed and designed by a group of talented local engineers.
This fantastic railway line runs from Colombo Fort station to Badulla, some 182 miles to the east. It passes through both natural and cultivated countrysides, which include quite a few tea plantations. The breathtaking views and natural beauty are complemented by the train's journey through various towns and villages, according to Atlas Obscura.
The first-class carriage on the bright-blue train features air conditioning and panoramic windows so that passengers can relish the sweeping green views of rolling hills, stone bridges, cliffs, jungles, and grand estates. Second- and third-class cabins will be more crowded with no assigned seating. But it's in these cabins where travelers let their legs dangle out of an open train doorway or stick their heads out a window to feel the mountain breeze in their hair.
The trip takes seven to nine hours, and tickets range from US$0.80 to 20, depending on the fare class.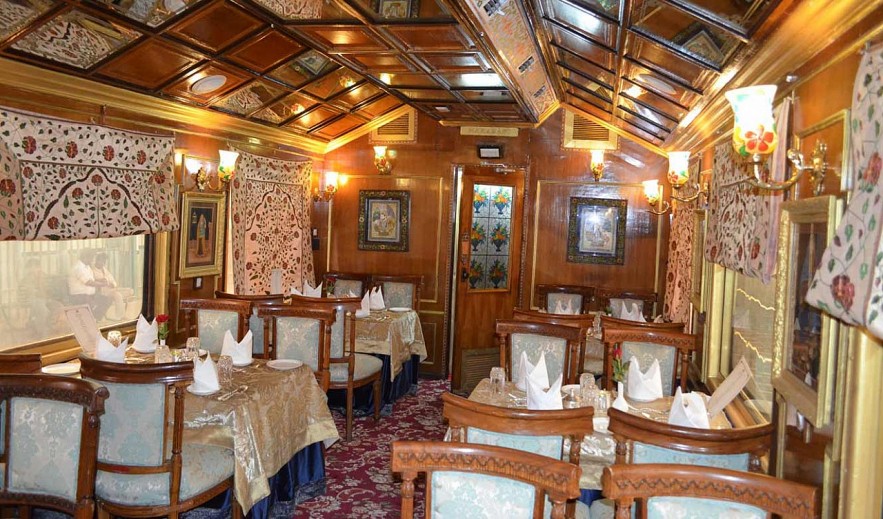 Palace on Wheels, Rajasthan, India (Photo: Palace on Wheels)
Palace on Wheels, Rajasthan, India
Palace On Wheels India is rated as World's 4th Most Luxurious Rail Journeys. Started in 1982, Palace On Wheels is one of the most popular rail tours worldwide. The train service was refurbished and relaunched in August 2009 with a new decor, itinerary and cuisine.
Palace on Wheels is 7 nights/ 8 days tour and departs from Safdarjung Station, Delhi every Wednesday at 4 pm. The train covers major tourist destinations including Delhi, Jaipur, Sawai Madhopur, Chittorgarh, Udaipur, Jaisalmer, Jodhpur, Bharatpur and Agra.
In Palace On Wheels, total 82 passengers can be accommodated in one departure in 14 tastefully theme based decorated saloons, according to its website.
Two dedicated dining carriages, a Royal Spa, and a bar and lounge round out the luxurious experience in the common areas.
The train has been on hold since March 2020 due to Covid-19, but is slated for a major renovation in May 2022, followed by regular operations by September 2022, according to CNN.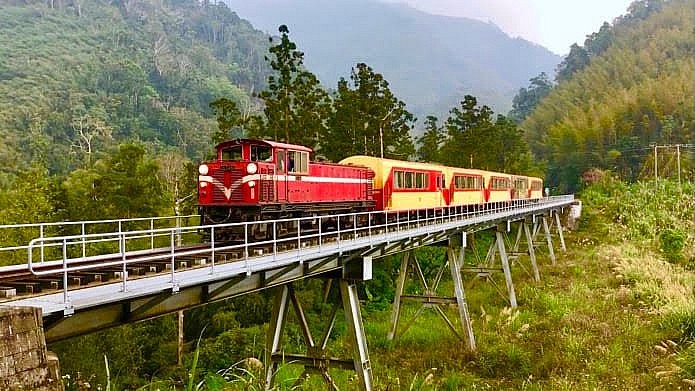 Alishan Forest Railway, Central Taiwan (Photo: CNN)
Alishan Forest Railway, Central Taiwan
One of the most beautiful routes is the Alishan Forest Railway, a century-old line initially used by the logging industry but relaunched as a tourist experience in 1933.
The historic diesel locomotives run 44 miles from Chiayi city in central Taiwan into the Alishan mountains, zig-zagging up to Chushan Station, the highest station in Taiwan.
During the three-hour journey, passengers will pass through more than 50 tunnels, 75 bridges and varied natural gems, from rivers and waterfalls to dense cypress woodlands and misty mountain tops.
It's also a favorite among train enthusiasts, who praise the line's impressive route track, which essentially corkscrews up the mountain to ascend the steep gradients.
Unlike some train journeys, passengers can hop on and off independently for detours - think short hikes to an observatory, a visit to an oolong tea plantation, or a lakeside picnic.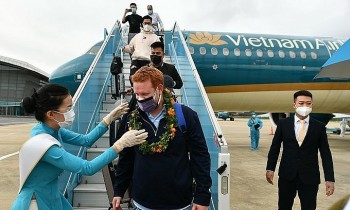 National
Vietnam News Today (Jan. 29): Vietnam records 14,892 new local Covid-19 cases; PM orders prioritizing pandemic control for safe and warm Tet; Vietnam scraps rapid Covid test requirements for int'l passengers; Vietnam-Australia trade hits all time high in 2021.