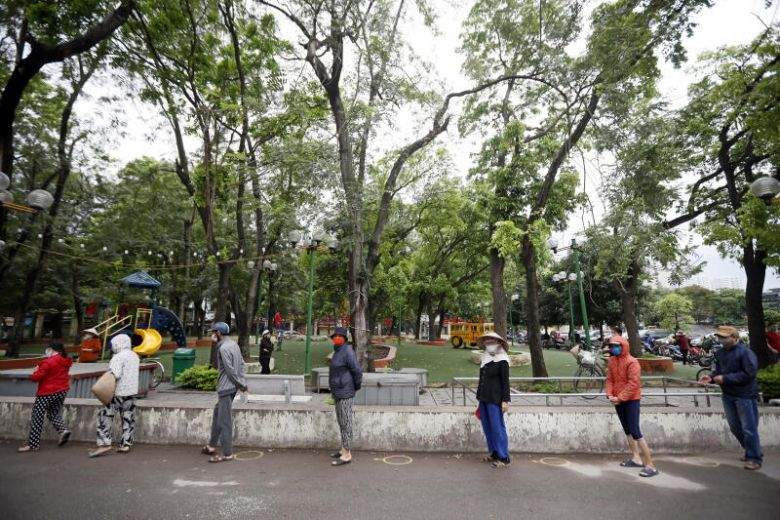 People stand in line for free rice, at a distance of 2m from each other in Hanoi, on April 12, 2020.PHOTO: EPA-EFE
The decision was made during the online meeting of the government with health ministry officials this afternoon.
Accordingly, Deputy Health Minister Nguyen Thanh Long proposed the government to divide 63 provinces and cities into three groups including high- risk, low-risk and deem to having risks according to some criteria such as traffic hubs, circulation density, borders, where people had contact with foreigners, population density, numbers of factories and industrial zones among others.
As many as 12 localities including Hanoi, Ho Chi Minh City, Bac Ninh, Binh Thuan, Danang, Khanh Hoa, Lao Cai, Ninh Binh, Quang Nam, Quang Ninh, Ha Tinh, Tay Ninh will continue to follow the government's Directive 16, which requires people to stay at home, avoid unnecessary activities outdoor among others until April 22 or longer depending on the situation of the epidemic.
The high-risk group is required to follow strictly the social distancing order, however, keep paying attention to the manufacturing, infrastructure building, creating favorable conditions for goods transportation for people.
The other 15 provinces and cities that deems to have risks, as well as the remaining localities of the low-risk group, do not need to extend the social distancing order, according to Long.
However, they need to have specific regulations on business activities in accordance with current COVID-19 prevention policies, and must continue protective measures like refraining from leaving homes, wearing masks in public, not forming large gatherings, including gatherings for religious activities and keeping distances of at least two meters apart from each other, VnExpress reported.
Businesses that provide entertainment services and tourism sites would still not be allowed to resume operations.
The Government Office earlier this month issued a document detailing the instructions on the implementation of Prime Minister's Directive 16 regarding a 14-day nationwide stay-at-home order and social distancing measures starting April 1 to deal with the COVID-19 pandemic.

The instruction requires all non-essential businesses to halt operation excepting for factories and production units, traffic and construction sites, and organizations supplying essential goods and services – food, medicine, oil and gas, utility, energy, etc.

Banks, treasury offices, stock trading floors, and other services directly related to banking activities and businesses – notaries, lawyering, registration, or secured transactions – are also allowed to open. Post offices, logistics services, funeral services, and healthcare services can also still operate.

People are asked to practice social distancing, stay home and refrain from going outside, unless in case of necessities: buying food, medicine and seeking essential goods and services; health examination and treatment, medical emergencies or disasters; or working in State agencies, diplomatic missions, armed forces, and above-mentioned establishments that are still allowed to open.

Everyone must wear face masks in public and frequently wash their hands with soap or alcoholic sanitizers.

Gatherings of more than two people in public are disallowed and maintenance of a minimum distance of 2m is required.

Public transport is "basically" halted, except in cases of official missions, transporting workers, experts, people subject to quarantine, transporting materials and goods.
Coronavirus can travel up to 4 metres

A new study by Chinese researchers examining air samples from hospital wards with COVID-19 patients has found the virus can travel up to 4m – twice the ...
Lyan Vu