Vietnam's Vice President Begins Africa Tour
Vietnam's Vice President Vo Thi Anh Xuan is paying official visits to Mozambique and South Africa from September 10-17 at the invitations of Mozambique Prime Minister Adrino Maleinane and South Africa Vice President Paul Marshatile.
Vietnam and Africa in general, as well as Vietnam and Mozambique and South Africa in particular have maintained fine relations over the years. Both African nations are traditional friends and leading partners of Vietnam in Africa, while Vietnam is viewed as a potential partner of African nations.
Vice President Vo Thi Anh Xuan and her entourage arrived in Maputo capital, beginning a four-day official visit to Mozambique on September 10 evening (local time), VNA reported.
Welcoming Xuan and the Vietnamese delegation at the airport were Vietnamese Ambassador to Mozambique Pham Hoang Kim, Mozambican Minister of Sea, Inland Waters and Fisheries Lidia Cardoso, Mozambican Ambassador to Vietnam Leonardo Rosario Manueal Pene, and representatives from organisations and enterprises of both nations.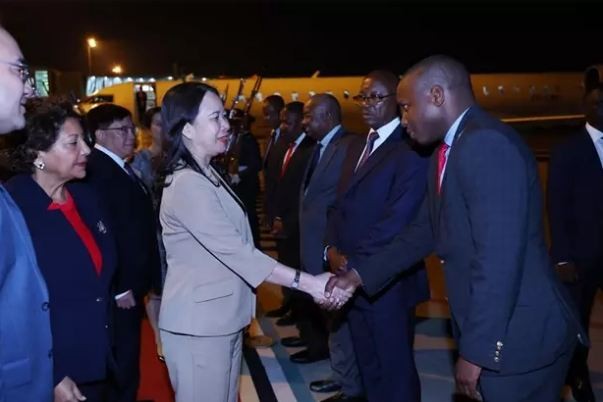 Vietnam's Vice President Begins Africa Tour. Photo: VNA
During her stay, Vice President Xuan will hold talks with Prime Minister Adriano Afonso Maleiane, pay courtesy visits to President Filipe Nyusi and President of the Assembly of Mozambique Esperanca Bias, and meet with the President of the Maputo Municipal Council, General Secretary of the Frelimo Party Roque Silva, the President of the Confederation of Mozambique Economic Associations (CTA) and several Mozambican enterprises.
She will have a meeting with the Vietnamese Embassy's staff and representatives of the Vietnamese community in Mozambique, and have a working session with Movitel telecommunications joint venture in the nation.
Xuan's visit continues to affirm the sound traditional ralations between Vietnam and Mozambique, which have been treasured by leaders and people of both countries.
With the important roles and increasing positions of Mozambique in Southern Africa and Vietnam in Southeast Asia, the potential for cooperation between the two countries in the coming time is huge, especially in economy and trade.
Mozambique has strengths in natural resources, fisheries and competitive labour while Vietnam boasts advantages in agriculture, handicrafts, fisheries, and a hard-working workforce.
The complementary economies, the regular exchange of high-level delegations, and enhanced cooperation between localities and businesses are favourable factors for Vietnam - Mozambique relations to further develop.
Vietnam and Mozambique established diplomatic relations on June 25, 1975. Vietnam opened its embassy in Mozambique in 1976, showing its respect for, and desire to develop the traditional friendship with Mozambique in particular and African countries in general.
The two countries have regularly maintained the exchange of delegations and provided mutual support at multinational forums.
Economic, trade and investment cooperation is the highlight of the two countries' relationship. Their trade turnover in 2022 reached over USD 177 million, an increase of 16% compared to 2022.
Meanwhile, South Africa is the first and only cooperation and development partner of Vietnam in Africa. The Communist Party of Vietnam has developed the traditional friendship and cooperative relations with the ruling African National Congress (ANC) and the South African Communist Party (SACP).
South Africa is Vietnam's largest trading partner and largest export market, with two-way trade hitting USD 1.3 billion last year. The two countries have maintained sessions of the intergovernment cooperation committee and the joint trade commission.
Currently, Vietnam has three projects operational in South Africa, while South Africa has 19 operating projects in Vietnam.
The two countries have also maintained national defense dialogues since 2015.
Strengthening International Solidarity in Africa

Living and working in Bambari, Major Nguyen Van Hien, a Vietnamese officer at the United Nations Multidimensional Integrated Stabilization Mission (MINUSCA) (Central African Republic) always ...