Vietnam's Younger Generation Fights Against Sexual Harrassment
According to a survey at a Vietnamese university, 75% of participants said they suffered recent harassment. However, 23.7% of them stayed silent when attacked or witnessed acts of harassment.
Management and Sustainable Development Institute (MSD) and Plan International Vietnam held an online talk themed "New generation without harassment" on Oct. 17.
The event was organized in the framework of Plan International Vietnam's "Safer Cities" project to celebrate the International Day of the Girl Child (Oct. 11), Vietnamese Women's Day (Oct. 20), and National action month for gender equality.
Trung Anh and Viet Anh, YouTubers from 1977 Vlog channel, Nguyen Trong Tien from Champions of Change Club in the University of Transport and Communications, Nguyen Ngoc Nhi, Champions of Change Club in Van Noi High school were speakers at the event. The event was coordinated by Chu Thu Ha, MSD's event and communication manager.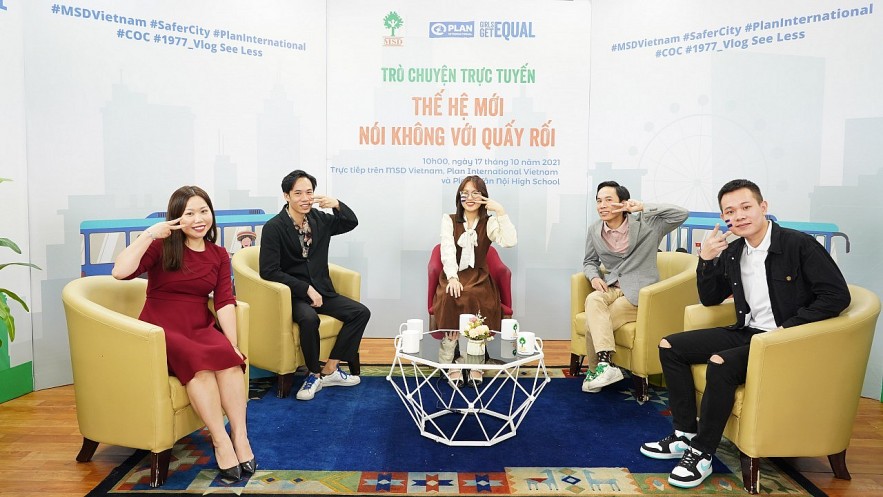 Speakers at the event. (Photo: Tuoi Tre Thu Do)
Is silence "golden" when it comes to sexual harassment?
According to a recent survey conducted by the Champions of Change Club at the University of Transport and Communications, 75% of participants said they suffered harassment, 58.3% of participants are strange men, 23.7% of participants stayed silent when attacked or witnessed acts of harassment.
Viet Anh said: "In my opinion, victims' silence mostly comes from the feeling of weakness. Harassment victims feel that they are not capable of protesting or that speaking up will not solve the problem, so they keep quiet. Bystanders may also fear that speaking up will affect them or bring negative consequences, which is also a common opinion. However, I hope you understand and believe that we are only weak when we are silent. If we speak out, the harassers and abusers are revealed as the weak side ."
Nguyen Ngoc Nhi shared her own story: "I myself have witnessed cases and listening to stories of girls being harassed, especially on public transport such as buses. Their silence accidentally gives chance for those acts. If you are unfortunately a victim, you can loudly ask the abusers to stop, stand up for yourself and ask the drivers and people around for help. There will always be help."
Nguyen Trong Tien said the boundary between compliments, funny jokes, and teasing was fragile but can be recognized through the way a person looks at, talks to, and treats others. A compliment comes with nice and decent gestures while staring eyes and rude words mean harassment.
Sharing Trong Tien's perspective, Trung Anh said one should only tell jokes to a girl if they were closed enough and if she was comfortable with it. However, body shaming and sexual-related words should always be avoided.
Speakers agreed that inappropriate and annoying touching, staring, whistling, joking were considered harassment. Even if a person means well, he should not put others in unsafe and awkward situations.
Women and girl children should be equipped with skills to identify, prevent and deal with harassers. If an accident happens, the victims should never be blamed for their inability to protect themselves. It is the abusers who must take full responsibility.
Trung Anh said harassers were afraid of being discovered. Therefore, victims and witnesses should have the courage to speak up and ask people around for help.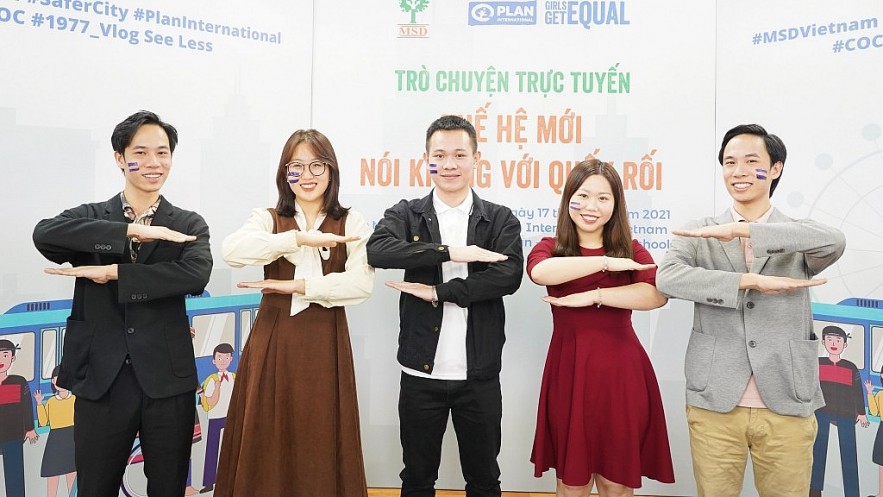 Speakers at the event. (Photo: Tuoi Tre Thu Do)
Internet safety skills needed to avoid harassment on digital platforms
In recent years, women and girls are at risk of cyberbullying, such as relentless flirting, leaking private photos, body shaming. Ngoc Nhi said: "We cannot completely avoid cyber-harassment but we can learn to protect ourselves. From my experience, I do not chat with strangers, do not click on photos or links sent by strangers. I block spamming accounts and seek help from relatives, teachers, and authorities when facing potential danger."
Chu Thu Ha shared internet safety skills with the audiences, from avoiding sharing too much personal information on social networks, using complex passwords, to using security settings to limit the leakage of personal information.
Regarding the role of the Champions of change club in the issue, Nguyen Trong Tien said: "We take advantage of the positive side of social networks. We recently participated in a contest held by Plan International and MSD to carry out campaigns and produce communication works so that positive messages can reach young people. I think anyone can help in eliminating and promoting a safe society simply by sharing positive and useful information."
Viet Anh, a famous content creator among the young generation said: "Changing awareness and actions of the whole community is not something that can be done in a short time. When we work on our videos, we want to bring positive messages to viewers in a humorous way. It is something like planting a small seed, then we water and fertilize it by continuously putting positive messages into products and projects. We hope it will change the perceptions of each person towards a society free of harassment and negative actions."
At the end of the event, the speakers and the audience agreed to commit to protecting girls from all kinds of harassment both offline and online. Chu Thu Ha concluded the event with a message: "Let's not be chopsticks standing separately. Together we are a bunch of chopsticks that are much stronger, more solid, and unbreakable. When we speak up together, all acts of harassment will have to stop. We believe in the enthusiasm, strength, and ability of the young generation to spread positive messages."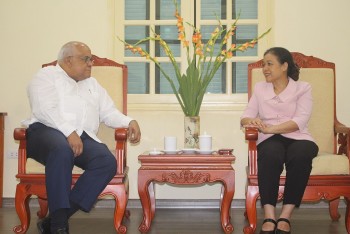 Friendship
Ambassador Nguyen Phuong Nga - President of the Vietnam Union of Friendship Organizations had a meeting and worked with Cuban Ambassador Extraordinary and Plenipotentiary to Vietnam Orlando Nicolas Hernandez Guillen. The two Ambassadors agreed to work closely in organizing solidarity and friendship activities.