VinFast, Nissan Vietnam suspend operations due to COVID-19
VinFast and Nissan Vietnam have decided to temporarily cease their operations, starting on April 5, to minimize the impact of the novel coronavirus pandemic that is spreading globally, including Vietnam.
A VinFast car at 2018 Paris Motor Show
A VinFast representative says it is unclear when the car assembly plant will resume its operation, depending on the developments of the epidemic in Vietnam as well as the implementation of the Government's recent decree on social distancing.
The decision to temporarily suspend the company's operation is to protect its employees amidst the complex nature of the epidemic, says the representative.
The company will research and manufacture ventilators (both invasive and noninvasive) and body temperature monitors for local consumption. It will also research and manufacture new car models and expand its dealers' network.
Meanwhile, Nissan Vietnam decided to cease its operation for 15 days, starting from April 5. The company's statement says 25 of its dealers nationwide will also be closed from April 1-15.
Earlier, four other car assembly plants: Ford, Toyota, TC Motor and Honda had temporarily shut down operations in Vietnam to protect their employees from the coronavirus epidemic.
Elsewhere in South East Asia, famous carmakers have made similar decisions in Thailand and Indonesia.
As of 06.00 am on April 4, Vietnam had confirmed 233 cases of the COVID-19, of whom 86 have been discharged from hospital after a full recovery.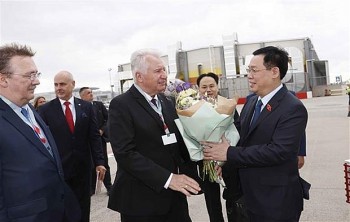 National
Chairman of the Vietnamese National Assembly (NA) Vuong Dinh Hue's official visit to Hungary from June 26-28 will surely open up many cooperation opportunities for the two countries and their parliaments, Hungarian Ambassador to Vietnam Ory Csaba has affirmed.