Vingroup smartphones may capture market share from Chinese competitors
Smartphones made by Samsung and some Chinese brands dominate the Vietnamese market. But this year, Vingroup smartphone aims to overtake Chinese smartphone brands.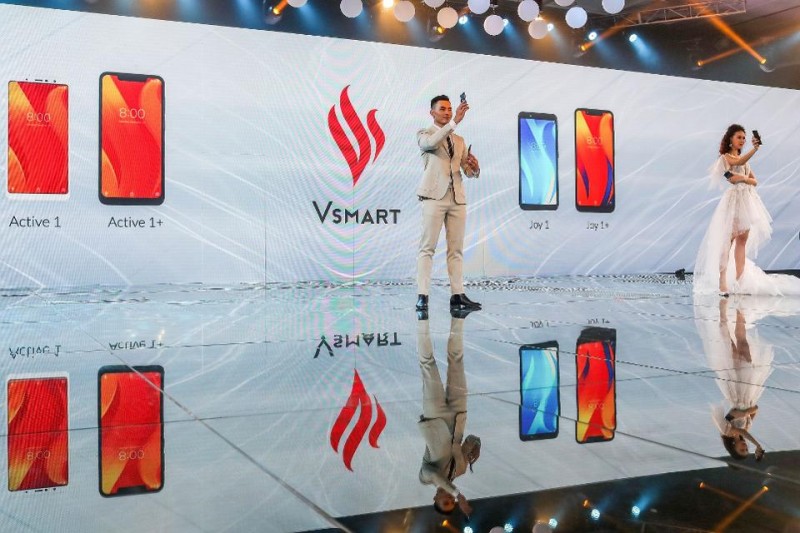 Vietnamese models present VinSmart's new smartphones, a subsidiary of Vingroup during a launch in Ho Chi Minh city on December 14, 2018. (Photo source: KAO NGUYEN/AFP VIA GETTY IMAGES)
As in much of Southeast Asia, smartphones made by Samsung and a short list of Chinese brands dominate the Vietnamese market. They have enough specs, from cameras to screen size, that users want. They run on Google's familiar Android system. And they cost less than an iPhone. That's all ideal for a developing country
Over the years, several Vietnamese companies have tried to grab a share of their own increasingly prosperous market but found little traction. The foreign brands had come in before Vietnam's own could get started.
But this year, Vietnamese conglomerate Vingroup aims to overtake some of the Chinese brands. Its phone unit will seek that lead by giving Vietnamese consumers a roster of sought-after specs, keeping prices around $100 per phone and marketing them offline in ways that foreign brands would have trouble matching.
Turning point
The conglomerate owned by Vietnam's richest man, Pham Nhat Vuong, saw its smartphone share surge after initial sales of its Joy 3 model on February 14, says Vsmart deputy CEO Tran Minh Trung. The company sold 12,000 phones in 14 hours, Tran notes, because consumers liked the localized features.
"Even though Vsmart phones use Android operating system, Vsmart's software engineering department customized the original Android operating system to develop it into a VOS operating system with features specific to Vietnamese consumers," the deputy CEO says, using the system's proprietary name. The phones run faster than normal for an Android phone and support free Vsmart-to-Vsmart messaging plus free calls between Vsmart devices, he adds.
Tran's firm had a 6% market share as of the end of 2019, lower than the market leader Samsung at 32% as well as behind Chinese brands Oppo at 23%, Vivo with 11% and Xiaomi at 9%, tech market research firm Canalys calculates. Fellow market research firm IDC gave Vsmart a 12.4% share in the fourth quarter of last year, compared to Samsung at 29.9% and Oppo at 19.1%. It says about 5 million phones sold in Vietnam that quarter.
Using the Vingroup network
Aggressive offline sales work in Vietnam could raise Vsmart's domestic share as high as 15% this year, Canalys mobility analyst Matthew Xie says. About 85% of sales in Vietnam take place offline, he estimates.
To be sure, the coronavirus outbreak in Vietnam has hobbled transportation, Xie notes, meaning the country's overall smartphone market will decline by 1% to 16% "considering the offline channel would be severely impacted."
But Vsmart can "leverage" Vingroup's other lines of business for marketing, he says. Vingroup runs a wide network of malls, convenience stores and resorts and housing developments in Vietnam. The vendor had already distributed 100,000 phones free to people living in Vinhomes-brand properties.
Low prices, higher market share
Price is another push point. Vietnam, despite its quick economic growth since 2012 and a booming middle class, remains a market where entry-level phones priced around $200 command about 67%, Xie says. That composition "makes it feasible for Vinsmart to start from entry-level devices production and upgrade into premium device manufacturing step by step," he says.
Joy 3 phones start at $98 apiece. They come with Snapdragon 632 processors, 6.5-inch screens a three-rear camera cluster system with an 8MP selfie camera. Vsmart has previously offered "pricing schemes" for phones priced at less than $150 but comparing in specs to its Chinese competitors, Nguyen says.
Vsmart must use pricing schemes to catch the competition, says Lam Nguyen, managing director with IDC Indochina in Ho Chi Minh City. To that end, it has joined the Vietnamese Ministry of Information and Communications smartphone "universalization" program by offering handsets for 500,000 Vietnamese dong ($21.60) apiece in exchange for wireless packages and preinstalled apps, Nguyen says.
Partnerships outside Vingroup
Tie-ups like that one should help Vsmart build an "ecosystem" aimed at netting and keeping customers, Nguyen says. It's also working toward an "partnership" with domestic telecom firm Viettel, the Hanoi Times reports.
"Forming a partnership alliance and building an ecosystem will likely forge VSmart to move ahead of its competitors," Nguyen says. "Failure to do that will have a reverse effect, as well."
Vsmart hopes to work more closely with Google, too, Tran says. The pair would "strategically" look for ways of using Android-powered operating systems in wireless-controlled devices such as television sets, he says. The duo has already started on TVs.