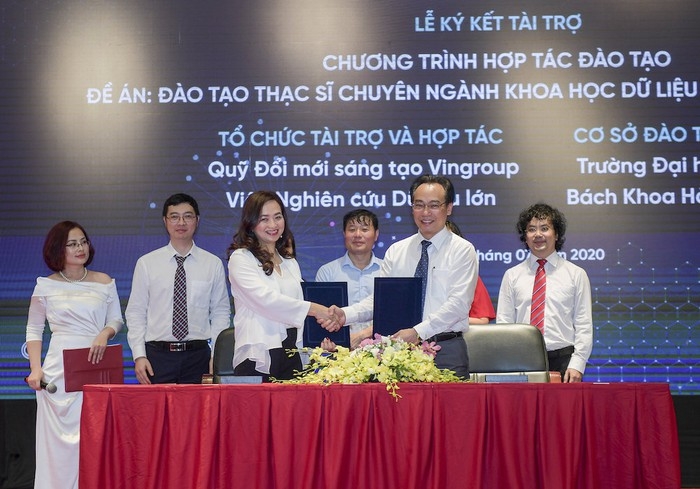 The agreement signed between VinIF and five leading universities and research institutions on July 18. Photo: giaoduc.net
Vingroup Innovation Foundation (VinIF - a branch of VinBigdata Institution under the management of Vingroup) on July 18 launched a joint-cooperation with 05 leading universities and research institutions in Vietnam for the master program on Data Science, including Quy Nhon University, Institute of Mathematics (Vietnam Academy of Science and Technology), Hanoi University of Science and Technology, John Von Neumann Institute (Ho Chi Minh National University), and VNU University of Science. The program aims to improve the quality of young human resources through training programs and world-class research.
According to the agreement, VinIF will provide a financial resource and fundings, technology, and expert network for each of the institutions within the first three years as the foundation of their long-term development.
Additionally, VinIF will provide a total of 10 scholarships for outstanding students from the institutions in order to nurture academic talents.
"Vietnam is in the huge shortage of high-quality human resources on data science sector", Professor Vu Ha Van, Director of VinBDI said.
"We do hope that this cooperation will motivate Vietnamese young people to level up their capacity in studying and doing research on data science - a critical sector in the age of digital 4.0", shared Mr. Van.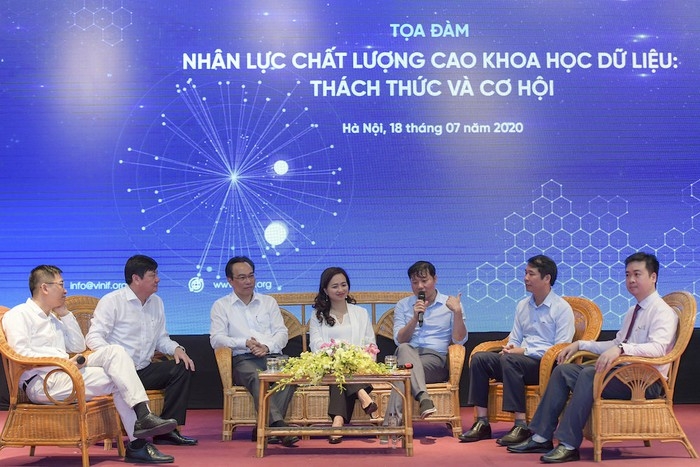 The round-table workshop on high-quality human resource of data science. Photo: giaoduc.net
Dr. Hoang Minh Son - Rector of Hanoi University of Science and Technology said "We have a big expectation on the cooperation with Vingroup, which will enable us to move forward with the high-quality human resource capacity for the society with the key sector of science technology in the new era".
"Not only based on the funding, but our students will also have more opportunities for further interactions with leading experts from VinBDI through diversified activities, including teaching, guiding, and mentoring on the subjects", he added.
This cooperation program with leading academic institutions and research centers in Vietnam shows an effort of Vingroup in pushing the development of high-quality human resources, and from that, setting a strong foundation for science and technology of Vietnam in order to meet the world standard.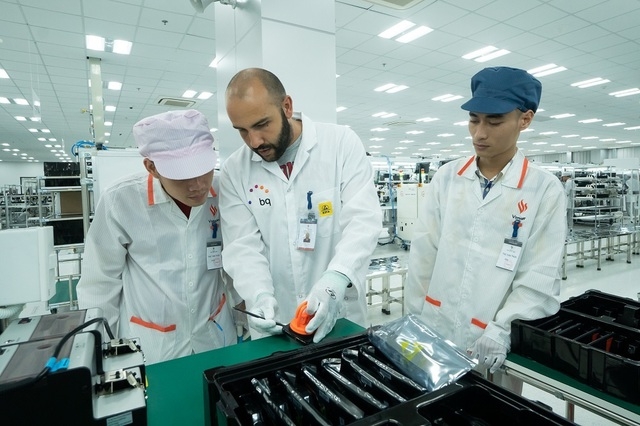 Vingroup is investing much in science and technology. Photo: Vinhuni
Vingroup Innovation Fund (Vingroup Innovation Foundation - VINIF) was established by Vingroup with the function of assisting organizations and individuals to conduct scientific research, technology, and innovation, in order to create positive and sustainable change for Vietnam.
VinIF Foundation annually organizes programs and activities to support and fund research institutes, universities, youth research groups, and individuals such as Annual research support program, Domestic master's and doctoral training scholarships, Conferences, seminars and scientific forums, Scientific advisor, Science and technology awards,...
VinIF provided fundings for projects and activities related to Big data fields such as computer science, artificial intelligence, robotics, automation, nanotechnology, renewable energy, raw materials. New generation ... with the orientation to bring out products and technology solutions that bring practical benefits to the community.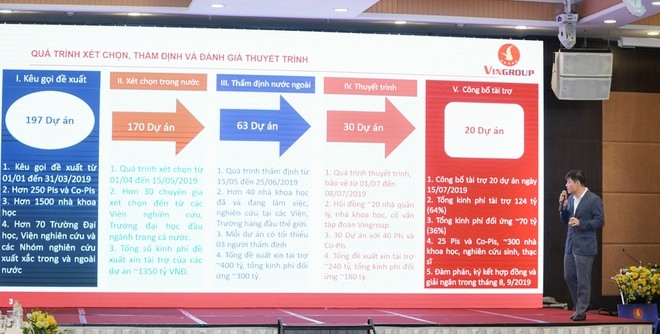 VinIF provides fundings for projects and activities related to Big data fields. Photo: VinIF
Tony Nguyen