Forbes 2020 world's billionaire list calls four Vietnamese names
Four Vietnamese billionaires are named in the top world's richest people in 2020 listed by the US business magazine Forbes. This year, the number of Vietnamese rich in the list was reduced by one and the total assets of these billionaires recorded also dropped USD 2.1 billion.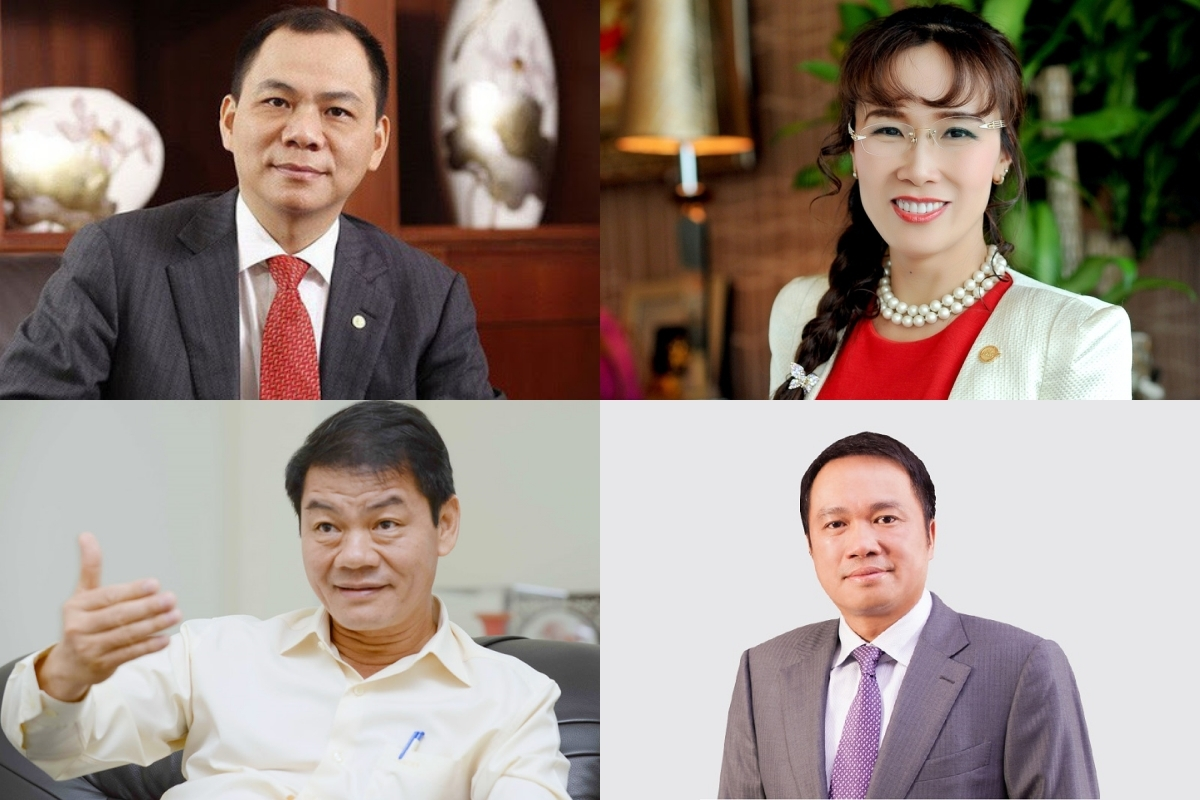 Pham Nhat Vuong (L, upper line), Nguyen Thi Phuong Thao, (R, upper line), Tran Ba Duong (L, lower line) and Ho Hung Anh (R, lower line). Photo by VnExpress.
Four Vietnamese representatives in the list, which is released Wednesday, includes Pham Nhat Vuong, Chairman of Vingroup, one of Vietnam's largest conglomerates with interests in real estate, retail and healthcare among others, Nguyen Thi Phuong Thao, CEO of the low-cost air carrier Vietjet Air, Tran Ba Duong, Chairman of THACO, leading car manufacturer in Vietnam and Ho Hung Anh, Chairman of Techcombank.
Nguyen Dang Quang, Chairman of Masan Group is not on Forbes's list this year.
Forbes values the scales of those billionaires' assessments according to share prices and exchange rates on March 18.
This is the first year, the number of Vietnamese billionaires and the total assessment nominated in the list reduced against last year, due to the uncertainties of the world's stock market in the first three months of 2020.
Pham Nhat Vuong has been listed as one of the world's richest persons eight years in a row with his total assessment reaching USD 5.6 billion, down USD 1.5 billion against last year and enjoys the 286th position in the list.
Vietjet Air's CEO Nguyen Thi Phuong Thao has the fourth appearance in the list with her net worth USD 2.1 billion, down USD 200 million from a year ago and ranked 1,001th world's richest person.
Tran Ba Duong making his debut in the list in 2018, now places 1,415th position in the world's richest people with his net worth USD 1.5 billion, down USD 200 million against 2019.
Ho Hung Anh, chairman of Vietnam Technological & Commercial Joint-Stock Bank, or Techcombank. He broke into the list for the second time with a net worth of $1 billion, down $700 million to rank 1,990th in the world.
This is the 34th year Forbes magazine has compiled its list of the world's billionaires. This year's list sees a total of 2,095 billionaires with a combined wealth of $8 trillion, down from $8.7 trillion in 2020, Vnexpress reported.
Forbes Vietnam announces 30 Under 30 list

Forbes Vietnam magazine announced the "30 Under 30" list earlier this week, featuring some of the brightest young entrepreneurs, innovators and game changers in the ...