Virtual Seminar Introduces Binh Duong's Potential to French Firms
Binh Duong province has completely controlled the Covid-19 pandemic and reopened its door, which has helped maintain its economic growth.
A virtual webinar was held on April 26 to promote investment opportunities of the southern province of Binh Duong to French firms, reported VNA.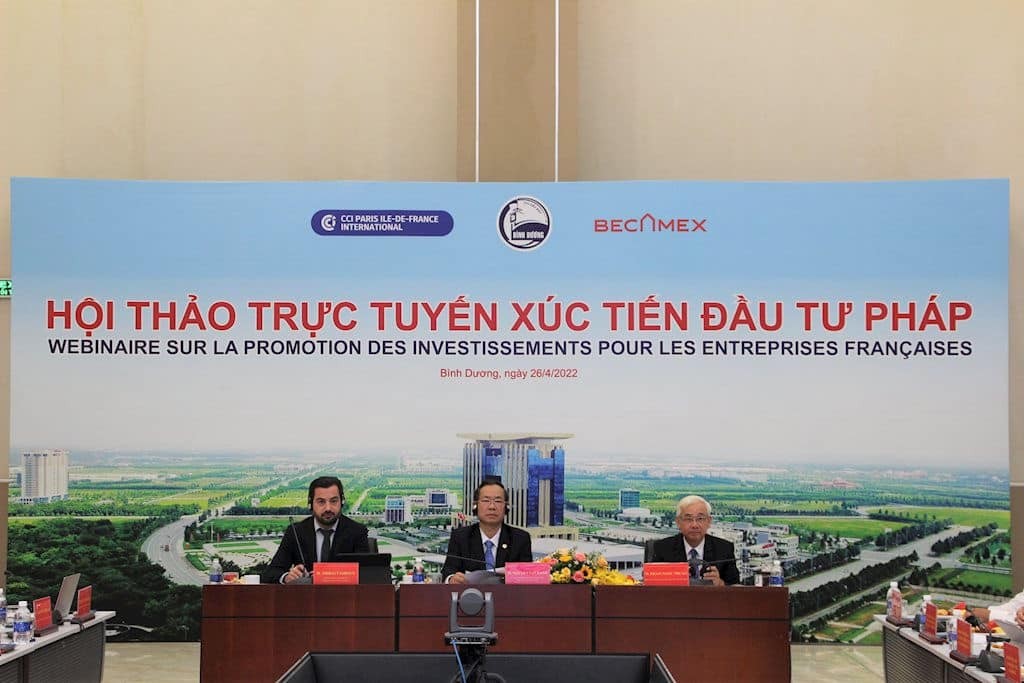 At the webinar. Photo: VNA
Attending the webinar at Binh Duong Bridge were Nguyen Van Danh, vice chairman of the provincial People's Committee; Pham Ngoc Thuan, general director of Becamex IDC; Thibaut Giroux, president of the French Chamber of Commerce and Industry in Vietnam, representatives of departments in Vietnam along with the French and Vietnamese business community currently has investment and trade cooperation in Binh Duong province.
In France, there are Ambassador of Vietnam Dinh Toan Thang, representative of investment promotion department, Ministry of Planning and Investment in France, representative of the French Chamber of Commerce and Industry and many businesses and investors.
The webinar took place in the context that the governments of the two countries are gradually reopening after waves of heavy influence from the Covid-19 pandemic.
Presided over by Vice Chairman of the provincial People's Committee Nguyen Van Danh, the event aims to awaken potentials and create more cooperation and connection opportunities for businesses of the two countries in Binh Duong province in the fields of investment and trade.
Organized in an online form, the event gathered a large number of business communities from the two countries to attend with more than 150 bridge points in Vietnam and France.
Binh Duong is currently an official member, and a reliable partner of the Intelligent Community Forum (ICF) and also the first Vietnamese locality to be honored as one of 21 cities and regions with typical smart city development strategies of the world (SMART 21) by ICF for four consecutive years from 2019 to 2022.
As of March 2022, Binh Duong ranked second across the country in terms of foreign investment attraction, only after the southern economic hub of Ho Chi Minh City. In addition to efforts to boost economic development, Binh Duong has strived to expand international cooperation. The locality has so far established bilateral relations with 11 foreign provinces and cities.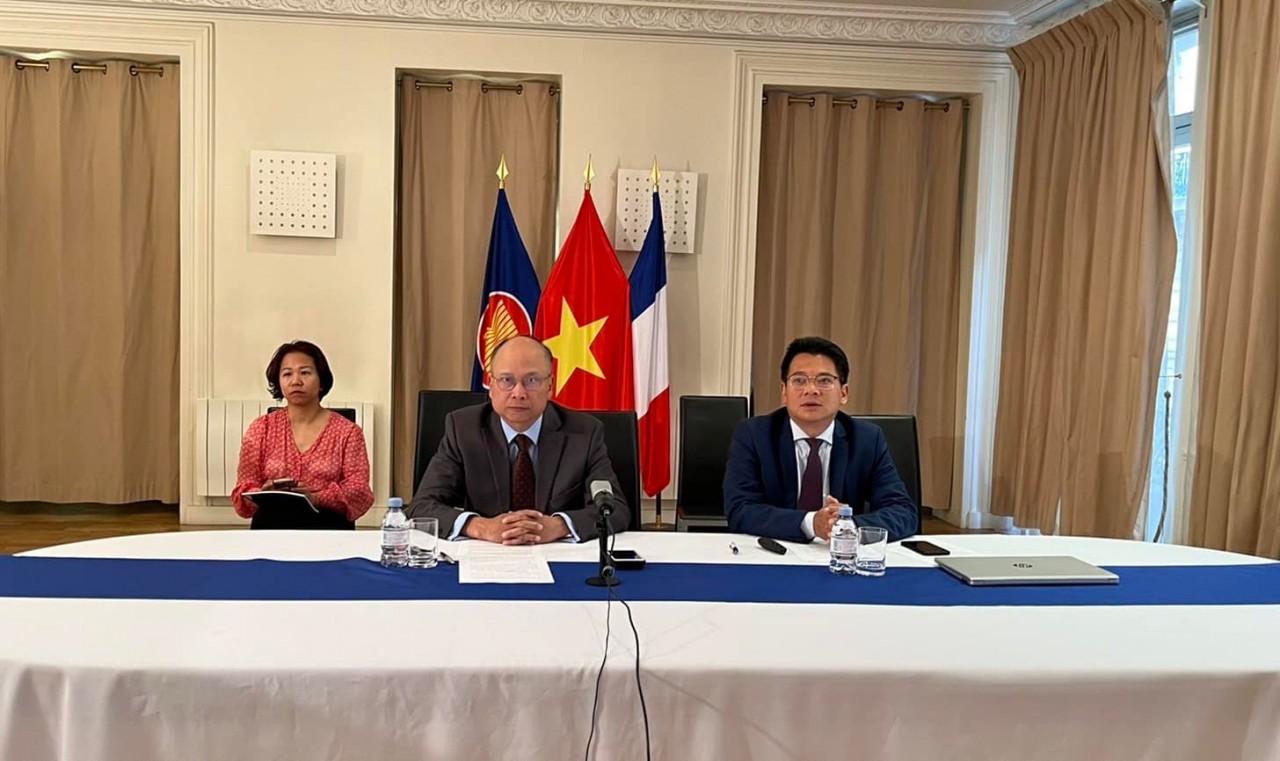 Vietnamese Ambassador to France Dinh Toan Thang delivers his speech virtually. Photo: Vietnamese embassy
Addressing the event, Danh said amid the complicated developments of the Covid-19, the Vietnamese Government has rolled out measures to bring the pandemic under control and capitalise on chances to speed up the socio-economic recovery and development.
Binh Duong authorities have exerted efforts to create the best conditions for firms to resume operation and maintain the supply chain via dialogues and business meets, particularly a virtual conference with the European Chamber of Commerce in Vietnam (EuroCham), thereby helping ensure effective operation of foreign companies, including those from France.
France is the second largest foreign direct investment partner of Vietnam in the European Union with a combined registered capital of more than USD 3.6 billion in processing and manufacturing, and real estate.
France boasts strengths in fields that align with Vietnam's orientations in foreign investment attraction, Vietnamese Ambassador to France Dinh Toan Thang said, expressing his belief that France's cooperation with Vietnam and Binh Duong in particular will make strides as the quantity and quality of French businesses investing in the province have been on the rise.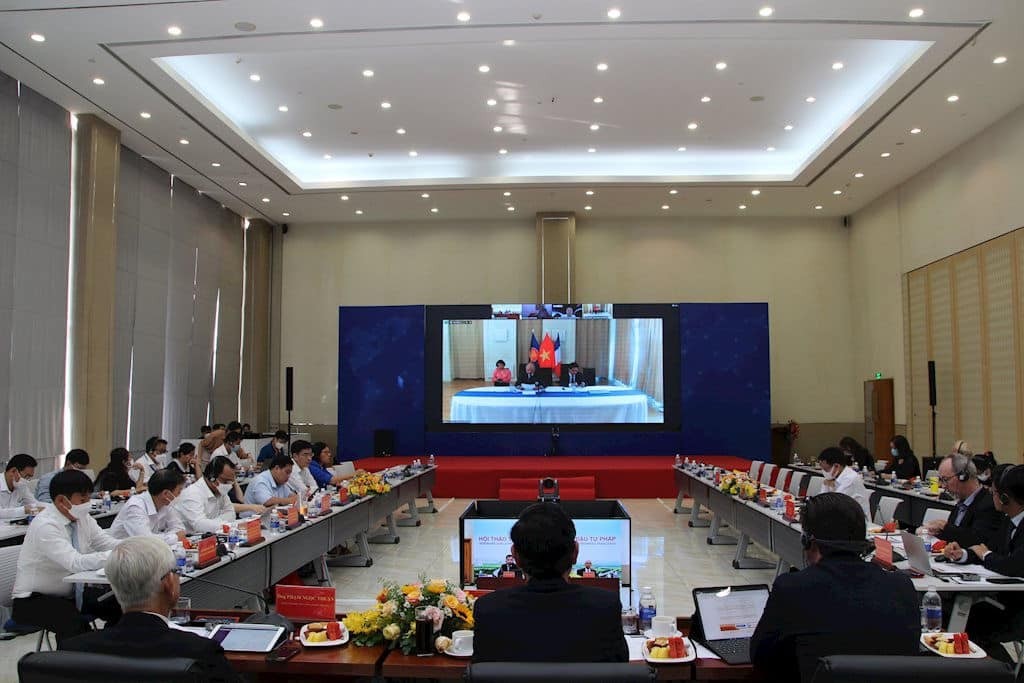 At the webinar. Photo: VNA
In the coming time, the neighbour of Ho Chi Minh City - the country's biggest hub - will prioritise high-technology and environmentally friendly projects, financial services and logistics; along with supporting industries and hi-tech agriculture, with an aim to become an innovative centre of the southern key economic zone.
The province's business climate, ongoing projects and especially orientations in the building of a smart city in the coming time were also promoted at the event.
At the webinar, French firms were briefed on investment climate in Vietnam and Binh Duong, and viewpoints of French investors in the Vietnamese province. Relevant agencies fielded queries from those who are seeking investment chances in the province.
Local authorities pledged to create favourable conditions for foreign investors, including those from France, and maintain regular dialogues with the business community at home and abroad to regulate policies conducive for the province's development and legitimate benefits of the firms in a timely manner.
Earlier, in April and March, Binh Duong also held similar to introduce the province's potential Belgian, German and Chinese firms.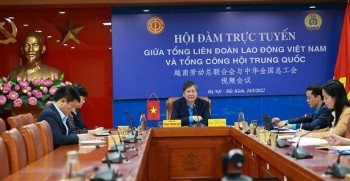 Friendship
The Vietnam General Confederation of Labour (VGCL) and the All-China Federation of Trade Unions (ACFTU) on May 24 shared their operational experience and agreed to step up their exchanges.