Explore The World's Largest Bird Sculpture in India
The world's largest bird sculpture in India took artists 10 years to complete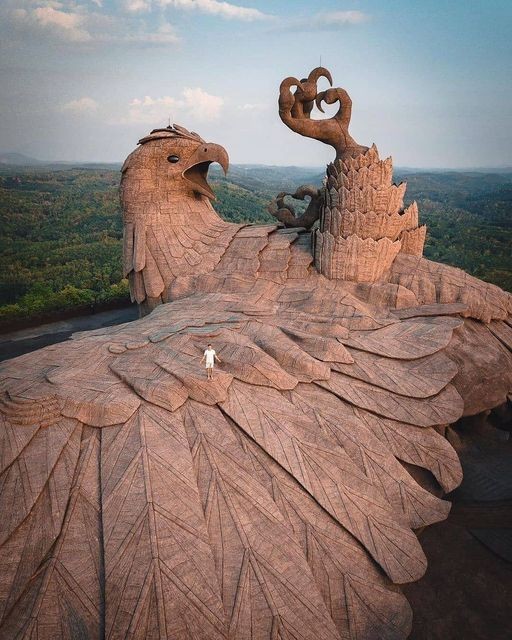 The Jatayu Earth's Center in Kerala, India is home to the world's largest bird sculpture. @jonny.melon [IG]
The Jatayu Earth's Center in Kerala, India is home to the world's largest bird sculpture. The giant concrete statue of Jatayu is built on a mighty rock named Jatayupara (para means rock in Malayalam). The colossal statue is the largest functional bird sculpture in the world with an enter into the Guinness Book of World Records.
The bird, named Jatayu, is 200 feet long,150 feet wide and 70 feet. The sculpture features meticulous details you wouldn't expect at such a large scale, including individually decorated and layered feathers. Jatayu's impressive wings splay onto the ground which allows visitors to walk on top of the figure and climb onto his talons and head.
The bird's body doubles as a roof for the Earth Center's building—making this work of art a functional one with 15,000 square feet of utility space inside.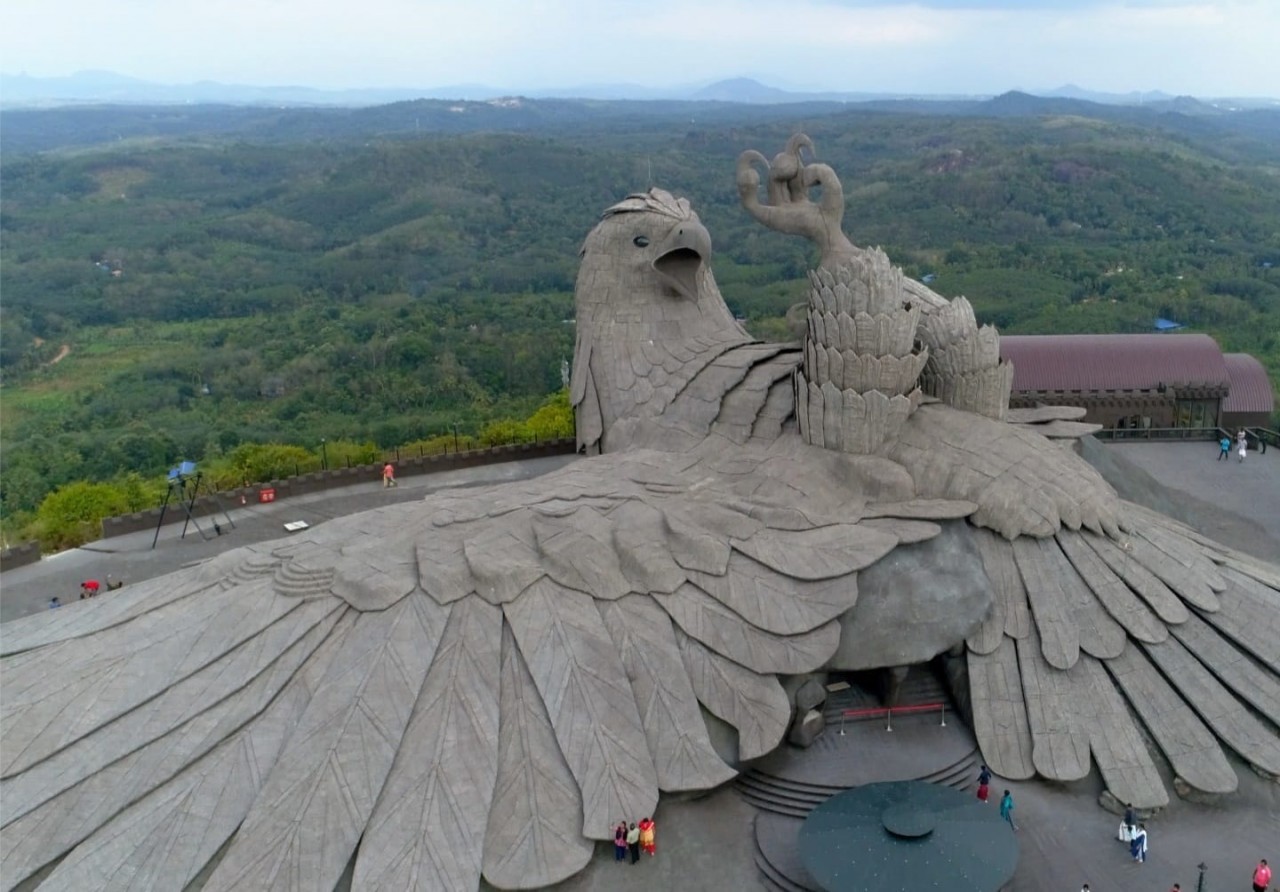 Jadayupara took 10 years to construct from start to finish and it is built mainly from compacted concrete and some stainless steel components that have a beautiful stone finish.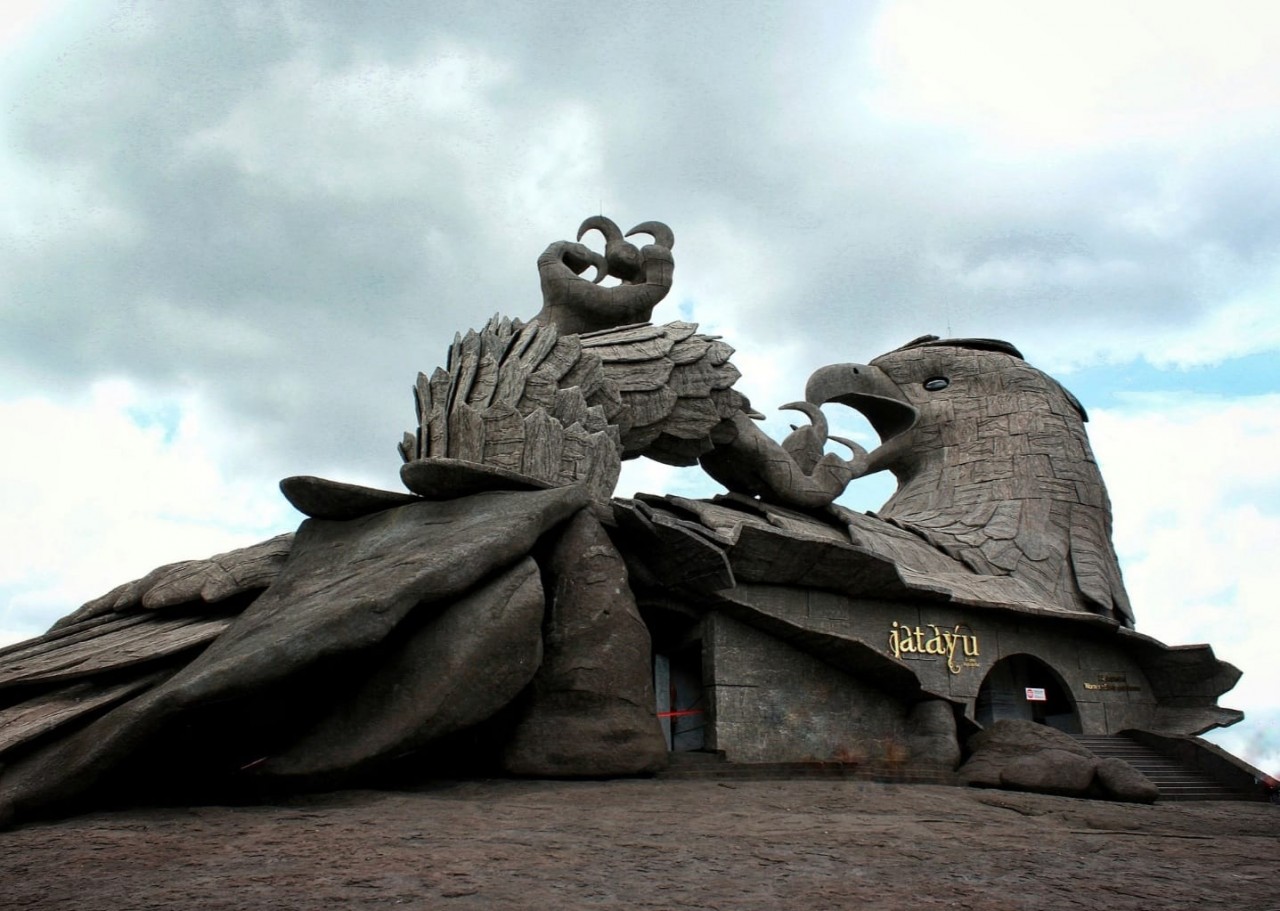 This Kerala bird statue at Jadayu Para symbolizes the protection of women and according to Hindu legend, Jatayu (the mythical bird) tried to save princess Sita from being kidnapped by the demon king Ravana.
According to the center's introduction, an audio- visual museum is built inside the sculpture which spans over five levels along with a multi-dimensional mini theatre is functional inside the wing of sculpture. However, the entrance to the museum within the sculpture and theatre will be open only in the next phase.
Cable car facility has been provided to reach the hill top. A Rama Temple and its mythical markings are in a fenced area on the hill top, which is managed by a private trust.
Moreover, a rain water reservoir is made on the hill top with a capacity to hold 1.5 million litres of water.
This incredible structure took Rajiv Anchal and his team 10 years to complete.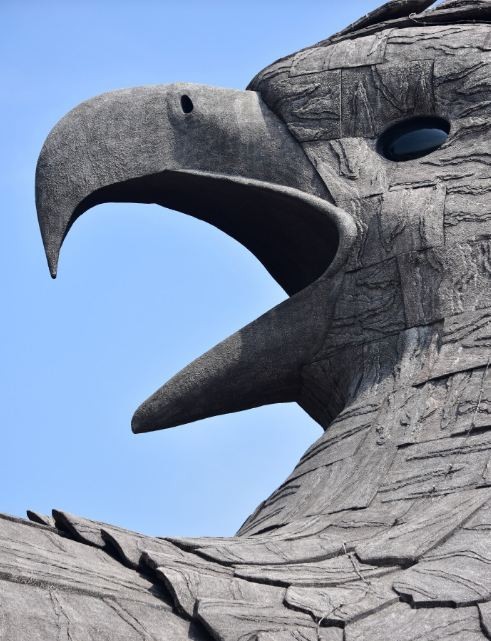 There is an observation deck inside the head where you can get a bird-eye-view of the surrounding landscapes. Stock Photos from Ganeshkumar Durai/Shutterstock
Known as a "noble bird of divine origin,"Jatayu is a symbolic figure in the Hindu epic Ramayana. The legend is that he happened to hear the plaintive cry of a lady one day. It was Sitha, the wife of the famed Lord Rama (an incarnation of Vishnu and Krishna) lamenting for help while she has being abducted to Lanka by the demon king Ravana.
Jatayu rushed to her rescue, stopped Ravana's chariot named Pushpaka Vimana and engaged in a battle with him. Eventually, Ravana took his powerful sword Chandrahasa, cut off the bird's left wing and went away with Sitha.
It is said that the injured Jatayu and his lost wing landed on top of a rock. In time, the rock got the name Jatayupara. This is where the monumental statue of Jatayu is now built.
There is a pond near the rock which is said to be formed by the stroke of Jatayu's beak. It has water throughout the year and never goes dry. Legend also says that Lord Rama later came to Jatayupara and gave moksha or deliverance to the wounded and dying Jatayu. The good bird told the whole story and Rama got the vital information about his wife Sitha. There is a mark of footprint said to be that of Lord Rama. A temple dedicated to him can be experienced in an adjacent compound.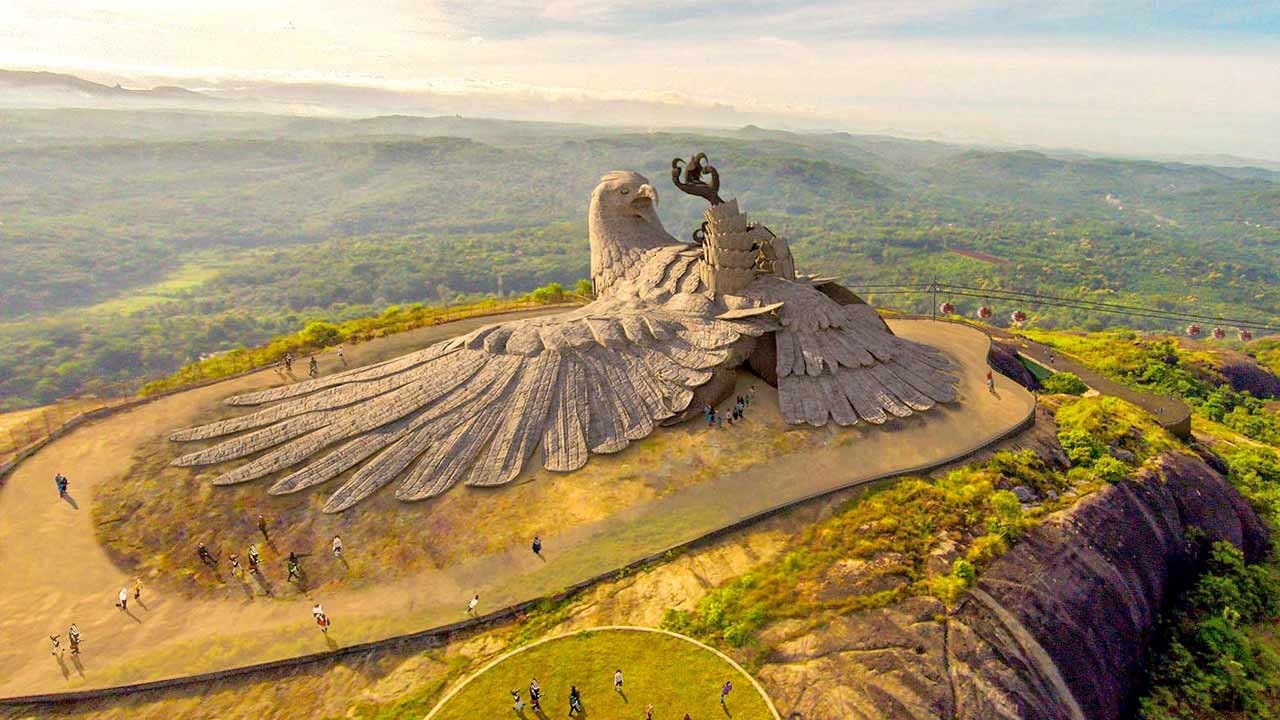 Jadayupara bird @DNA [IG]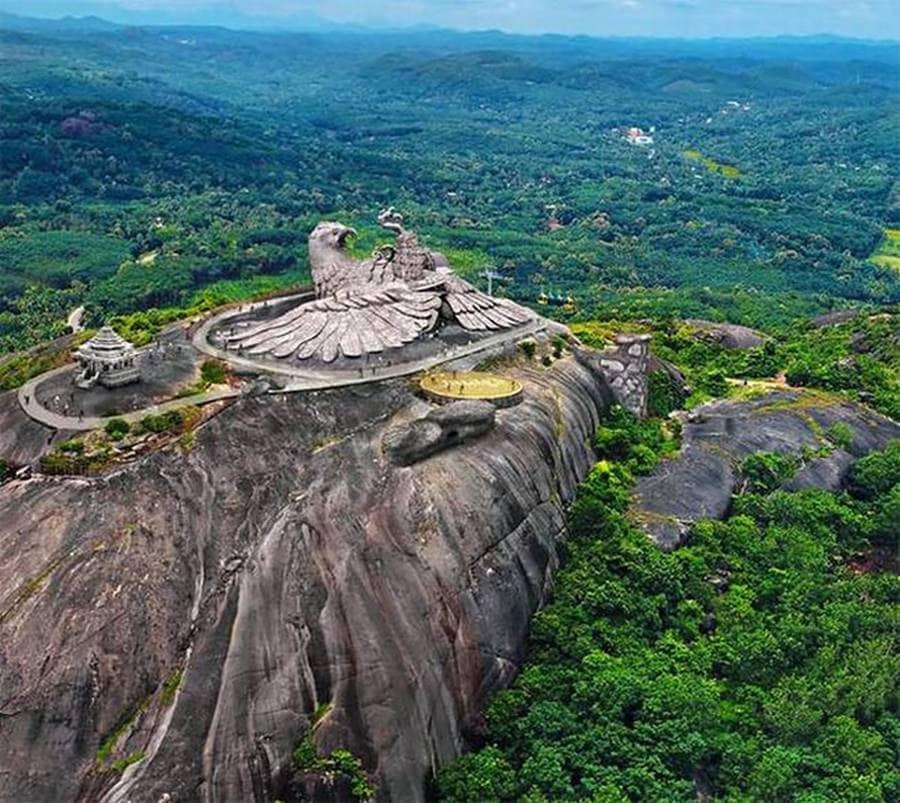 Source: Ольга Бабкина [FB]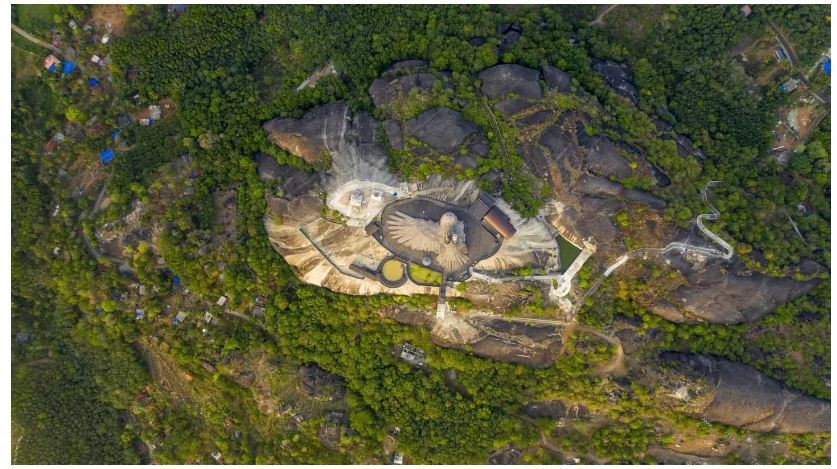 Jadayupara from above. Photo: Alex Chacon
Jatayu is an embodiment of valor and chivalry. Risking his life, he tried his best to save sitha from her abductor. Hence the Jatayu sculpture uprights as a towering tribute to women's safety and honour.
Jatayu also represents a bygone era when humans, animals, birds and other living forms cared for each other and fellow begins and lived peacefully on this Earth. In the words of Rajiv Anchal, this symbolism has great relevance in today's social scenario since the crime rate against women is on a high. Each guest at Jatayu Earths Center is requested to understand and emulate the inner meaning of this inspiring creation.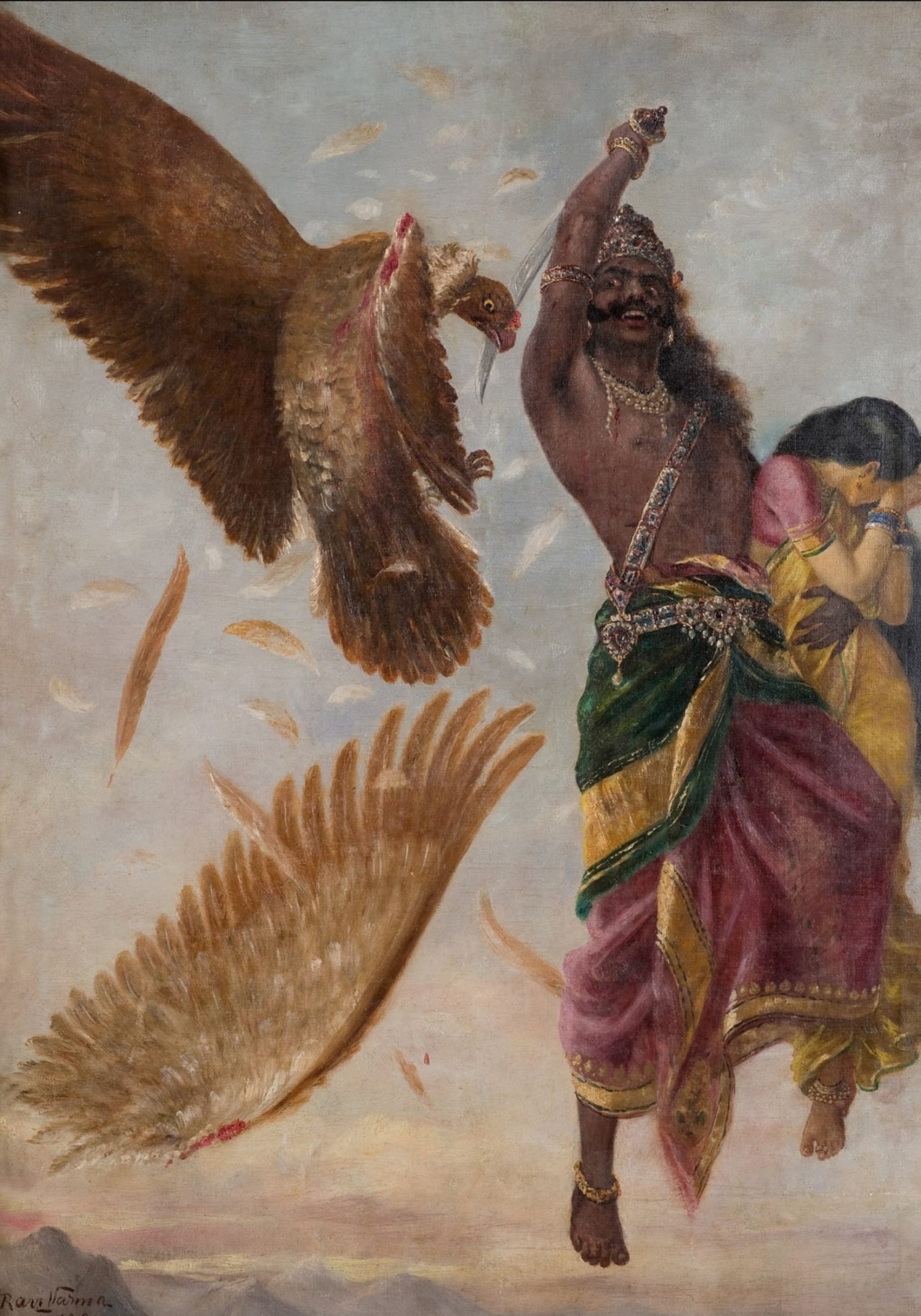 Jatayu tried to rescue Sita, the wife of Lord Rama (an incarnation of Vishnu and Krishna). Sita was being abducted by the demon king Ravana, and Jatayu came to her defense.
After battling with Ravana, the king cut off Jatayu's left wing and escaped with Sita. Rama and Lakshmana while on the search for Sita, chanced upon the stricken and dying Jatayu, who informed them of the battle with Ravana and told them that Ravana had headed South.
Jatayu Earth's Center decided to pay tribute to the noble figure's's dedication to women's safety and honor it with this gigantic statue. The sculpture also symbolically recognizes a "bygone era when humans, animals, and other living forms care for each other and fellow beings lived peacefully on this Earth."
Jadayupara is located 46km west of Trivandrum City in Kerala, India. The budget option is to take the bus from Trivandrum City, which costs around 50 INR, or you can take a taxi which costs around 1500 INR.
Jatayu Nature Park timings are Monday to Sunday from 9:30 am till 5:30 pm.
Jatayu Earth Centre tickets can be bought from the ticket office on arrival or you can purchase tickets online in advance.
Apart from visiting the Jadayu Para bird statue, there are up to twenty different activities and attractions to join in on at Jatayu Earth Centre, such as rock climbing, zip-lining, high ropes course, archery, air rifle shooting, paintball, trekking, 12D cinema, and much more.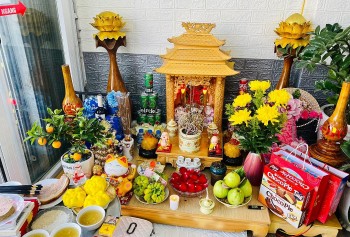 Handbook
Learn more about an ancient Vietnamese tradition that may bring you good fortune!