Visiting three symbols of friendship in Phu Tho province
(VNF) – Nong Trang healthcare center, Van Phu – Man Duk secondary school, safe vegetables project in Tu Xa commune are the name which remind people in Phu Tho province of non-governmental organizations (NGOs). The projects have changed the life of thousands of people.
(VNF) – Nong Trang healthcare center, Van Phu – Man Duk secondary school, safe vegetables project in Tu Xa commune are the name which remind people in Phu Tho province of foreign non-governmental organizations' precious supports (NGOs). The projects they have carried out there have changed the life of thousands of people.
Nong Trang commune: Healthcare center serving 17,000 people
Located in zone No.4, Nong Trang commune, Viet Tri city, Nong Trang healthcare center has gradually become a reliable medical facility for local residents.
The construction of the center was sponsored by pharmaceutical company Seegene, via the Good People International (GPI) organization, with total value of KRW250 million (~VND 5.7 billion).
A doctor provides health check for a child patient in Nong Trang healthcare center. (photo: Phuong Mai)
The construction of the healthcare center started in August 2016. It was completed and put into operation in September 2017. The full-fledged center covers an area of nearly 1,000 square meters, including one two-storey building, one auditorium, and eight functional rooms. All are provided with requisite equipments and furnitures, to effectively take care of both outpatients and inpatients.
The center has its own parking zone and WC, with quality meeting the national standard for commune-level healthcare facility.
The sponsor also provides Nong Trang healthcare center with modern medical machines and equipments (in alignment with the Ministry of Health's standard), such as ultrasound machine, freezers, bedroom.
Quach Van Luong, healthcare staff working at Nong Trang healthcare center said: "Our former healthcare center was simply built on the foundation of an old kindergarten. It therefore was not able to meet with the hygiene requirement in medication and the demand of local people."
Thanks to the sponsorship from GPI, the center's infrastructures have been in good condition and fully furnished. On average, we are providing services including health check, ultra sound scan, simple injuries treatment, and vaccination for 15-20 patients a day," said Luong.
Le Quang Liem, a resident in zone 4 said: "We are very happy with the new medical center, which was built with the participation of local residents. We were engaged in the design and construction process of it. With advanced equipments, sufficient beds, and helpful, caring staff, the new medical center really satisfies us."
"People, regardless of their age groups, now can receive medical service in a nearby location, instead of traveling a long way to the provincial hospital. Our medical staff also can provide services in patients' home if they request. More to mention, the new medical center is large enough to provide venue for people to wait for their turn for vaccination (instead of staying out), which is much comfortable. It therefore encourages them to attend vaccination session more frequently, since they have more trust in the medical center."
The school of Vietnam – Korea friendship
"I am very happy to have the chance to study in a school with full-fledge facilities. We love to play in the school yard during break time, to chill out after tiring classes. In this beautiful, well-equipped school, we find the motivation to strive harder in academic works and the pioneers' organization affairs," said Nguyen Van Trang, a student of class 7A, Van Phu secondary school.
Van Phu secondary school was built by the sponsorship of the Kim Man-deok Commemorative Service Association, on occasion of the 25th founding anniversary of the province.
Van Phu-Man Duk secondary school (photo: Phuong Mai)
The school's groundbreaking was launched in July 2011. Construction was completed and the school was put into use in May 2012. It covers an area of nearly 13,000 square meters with 2 2-storey buildings, 16 functional learning rooms.
All of the safety system (fire alarming system, fire extinguisher) is in good working condition.
At the moment, the school is having 11 classes, with 338 students.
Principal of the school, Nguyen Thi Hong Lan said "5 years since the launch of the school, Kim Man-deok keeps on supporting us. For instance, their members recently granted us an amount of USD 5,000, to help install electric fans in all classrooms.
"In November, the Association presented 170 bikes worth VND 135 million to disadvantaged students with high academic achievements. The Association also expresses delight seeing the use of the sponsorship has been well managed."
"We will try our best in our role as a symbol of Vietnam-Korea friendship" Lan said.
Safe vegetables – improving life in Tu Xa ward.
In Tu Xa commune, Lam Thao district, the change in local people's awareness of safe vegetables production and the increase of their income are two most remarkable outcomes of the project "Producing and developing safe vegetables chain" and "Increasing the capability of accessing to sustainable agricultural chain" initiated by VredesEilanden Country Office (VECO), an NGO from Belgium in 2015.
Safety vegetables production in Tu Xa ward (photo: Phuong Mai)
Currently, the Safe Vegetable project in the commune has been conducted in an area of 5ha, with the participation of 46 households. Production is carried out in accordance with the quality management system of VinMart (under the Vingroup), the Vietnam Cooperatives Alliance (VCA) and safe food retailers.
Hoang Van Doan, a member of a cooperative group in zone 21, Tu Xa ward said: "We have been strictly adhering to the standard set by the cooperative. It has resulted in the increase in people's earnings. Prior to the establishment of this model, we could only earn VND8-10 million/ farming land unit /year by using the traditional farming method. Now, it has grown to VND 18-20 million.
Nguyen Van Nghia, Director of the Safe Vegetables Cooperative, said: "At the beginning, we only have 26 households joining the project. Now the number has risen to 46. Our production area has been increased, from 3ha to 5ha. In the next 2 years, to promote our trademark and the quality of vegetables, as well as make the best use of the abundant manpower in the commune, we are striving toward the goal of a 20ha production zone and grow our number of members to 100 households."/.
( Translated by Phi Yen )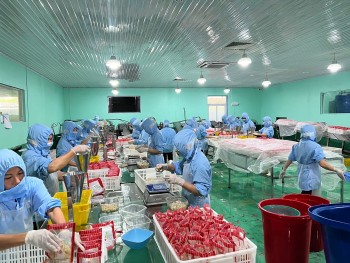 Focus
Not only agricultural products, traditional dishes of Vietnam also penetrate into difficult markets, bringing great revenue to businesses and people.