Visitors Impressed by Souvernirs in 31st SEA Games
Visitors to Hanoi can return to their homelands with distinct gifts and souveniors, commemorating the 31st SEA Games.
Even a week prior to the 31st Southeast Asian Games (SEA Games 31) officially taking place, many streets and central areas of Hanoi capital have sold products and souvenirs themed this sport game.
Within the framework of the 31st SEA Games, more than 20 exciting and outstanding competitions will take place in Hanoi city. Some include Athletics, Men's Football, Martial Arts, Gymnastics, and Weightlifting.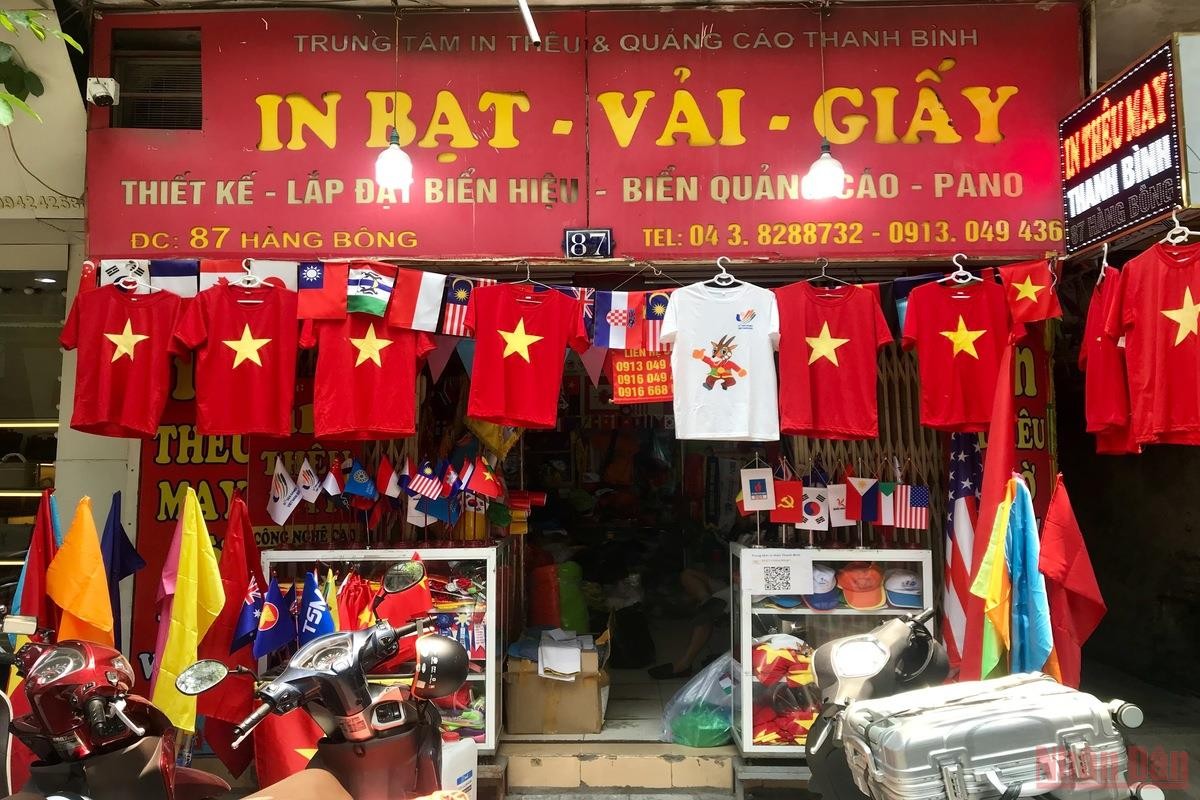 Shirts printed with national flags are displayed in many stores. (Photo: NDO)
Therefore, the venues are decorated brilliantly and Hanoians are enjoying the preparation before the Games. Every corners on the streets becomes bustling with the decoration and display of souvenirs, shirts, cheering flags... to welcome the 31st SEA Games.
For example, Hang Bong Street has been given a completely new look with prominently displayed items in celebrating the upcoming SEA Games. The owner Minh Lan store, which is located in that street, shared that customer demand at this time is increasing significantly, and the best-selling item is the cheering shirt with the image of Saola, mascot of the SEA Games 31 and also a rare animal listed in Vietnam's Red Book of Endangered Species.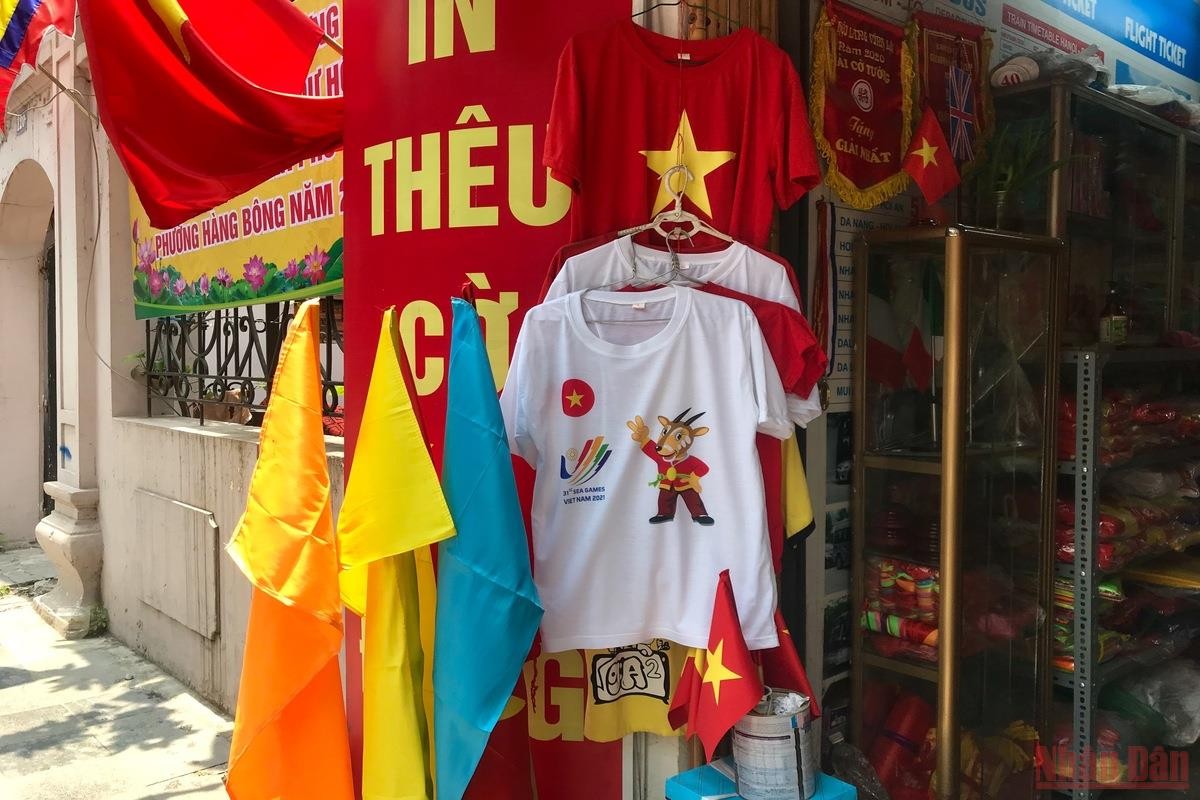 Cheering shirts with the Saola mascot. (Photo: NDO)
The price of T-shirts printed with the SEA Games mascot is ranging from 50,000 to 70,000 VND. Besides, the shirt bearing the national flag of of the red background and the yellow star is also a good choice for many domestic and foreign customers at the price of 30,000-50,000 VND.
In addition to clothing stores, stores in Hang Bong Street are also displaying for sale with many hand-held flags of Southeast Asian countries or table flags printed with SEA Games logos. Accessories such as hats and scarves with the words "Welcome to SEA Games in Vietnam" or "Victory Vietnam" also add to the bright appearance of Hanoi these days.
Souvenirs in 31st SEA Games attract many foreign tourists. (Photo: NDO)
Tim Taylor, a tourist coming from Australia, expressed his interest in souvenirs decorated in the theme of this SEA Games. He said: "On this occasion, when traveling to Vietnam, in addition to the inherent 'specialties', we also have to opportunity to enjoy the wonderful sports spirit of the whole Southeast Asia region."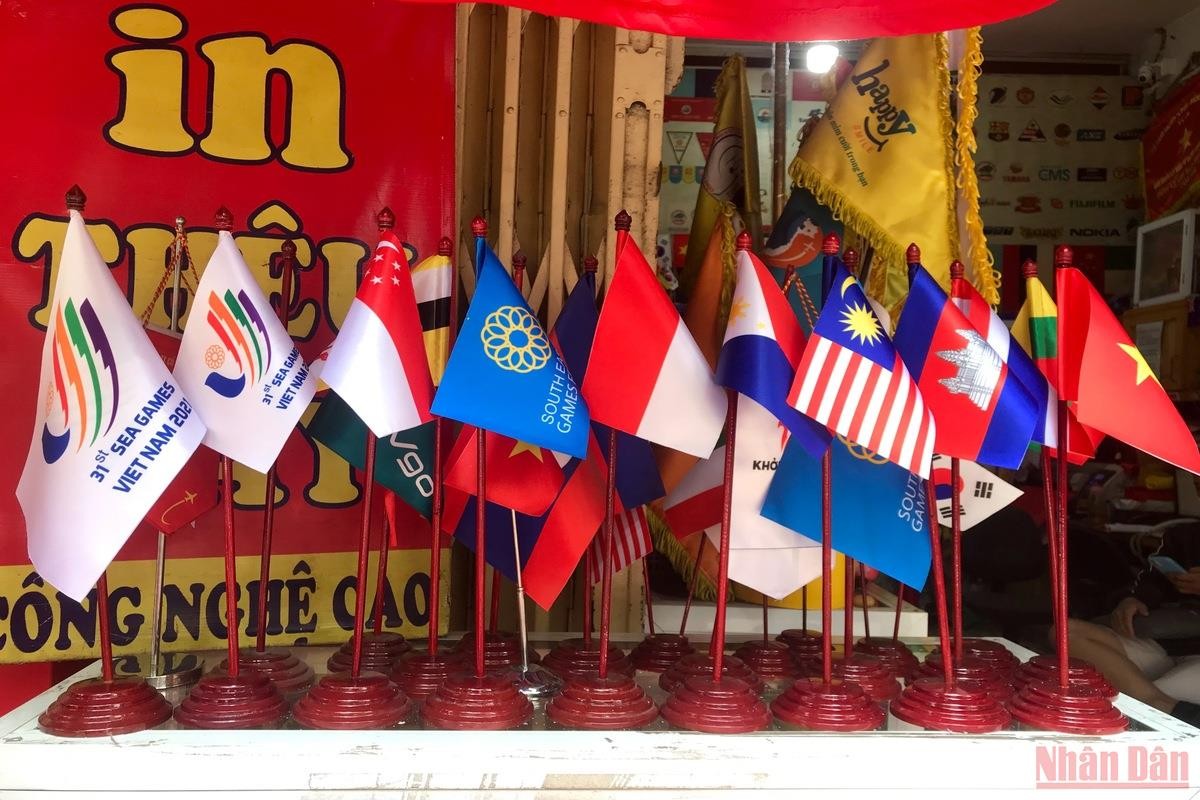 Colorful flags are sold in shops. (Photo: NDO)
On Hang Ma and Hang Luoc streets, souvenirs with the SEA Games imprint are sold in a variety of designs and sizes to meet the needs of sport fans. Typically, Saola stuffed toys are prominently displayed in stores with prices ranging from 160,000 to 200,000 VND for one piece, depending on the size.
SEA Games 31 will officially take place from May 12 to 23 in Hanoi and 11 neighboring cities and provinces. Surely in the coming time, Hanoi will be a destination that attracts a large number of local and foreign tourists.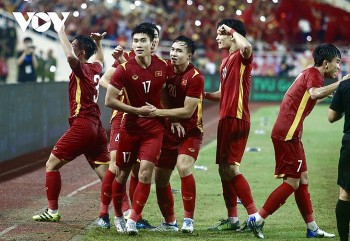 Viet's Home
The Vietnamese football team, both male and female, played their best, devoted themselves, united, and promoted the collective spirit, successfully defending their SEA Games champion title.