VUFO, ISCUF step up cooperation
A delegation of the Indian Society for Cultural Co-operation and Friendship (ISCUF) led by its Vice President Agasti Kanugo had a working session with representatives from the Vietnam Union of Friendship Organisations (VUFO) and the Vietnam-India Friendship Association (VIFA) in Hanoi on August 24.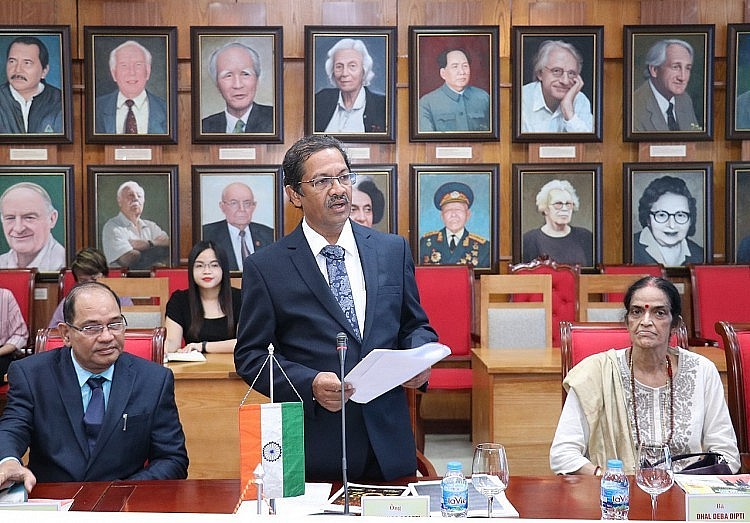 ISCUF Vice President Agasti Kanugo speaks at the working session with VUFO in Hanoi on August 24.
VUFO President, Ambassador Nguyen Phuong Nga, and VIFA leaders attended the meeting.
In his remarks, Kanugo noted that VUFO and ISCUF signed in 2017 a memorandum of understanding (MoU) on cooperation for 2017-2022. Since then, the two sides have worked to constantly promote collaboration in various spheres, contributing to creating strong developments in people-to-people diplomacy in both Vietnam and India.
Founded in 1941, ISCUF is a friendship and culture organization aiming to establish friendship with socialist countries worldwide, he said, adding that during Vietnam's past struggle for national liberation, ISCUF had supported Vietnamese people, both spiritually and materially.
For her part, Ambassador Nga thanked ISCUF for its sentiments and practical support to Vietnam.
"India is always a reliable and faithful friend of Vietnam over the past 50 years," she affirmed. "Delegation and culture exchanges by ISCUF have helped to enhance relations between the two organizations as well as people of the two countries."
At the meeting, the two sides reviewed achievements recorded since the signing of the MoU.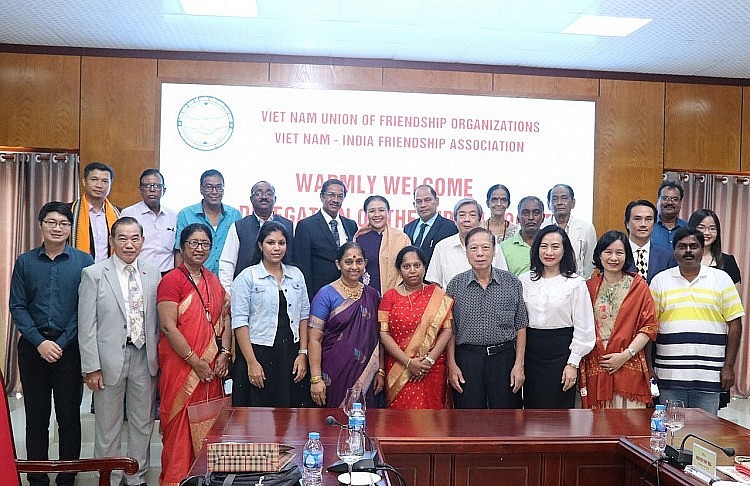 Representatives from VUFO, the Vietnam-India Friendship Association, and ISCUF pose for a group photo.
Regarding future cooperation, ISCUF said Vietnamese and Indian literature shares a lot of similarities and suggested the two sides translate and exchange their literary works to increase understanding of the land and people of the respective countries.
ISCUF also suggested enhancing connectivity between young generations through exchanges.
Nga affirmed that VUFO stands ready to coordinate with ISCUF to organize activities strengthening solidarity, friendship and cooperation between Vietnamese and Indian people.
The VUFO President also expressed her hope to receive more ISCUF delegations in Vietnam in the time ahead. /.
ISCUF was formerly known as the Indo-Soviet Cultural Society established by the Communist Party of India to gather Indian communists for the organization of solidarity activities with Soviet people during the fight against fascism. After 1945, the organization expanded its network to solidarity and friendship with socialist countries.

In 2017, via the Vietnamese Embassy in India, VUFO and ISCUF signed a memorandum of understanding on cooperation for 2017-2022.

The 14-member ISCUF delegation is on a working visit to Vietnam from August 24-29, during which they are scheduled to have working sessions with the unions of friendship organizations in Hanoi, Ninh Binh, and Quang Ninh provinces. They will also pay tribute to late President Ho Chi Minh at his mausoleum in Hanoi and visit some tourist attractions and relic sites in Vietnam.