Vietnam, India Forge Comprehensive Strategic Partnership
Vietnam and India have agreed to enhance physical and digital connectivity, and promote tourism and people-to-people exchanges.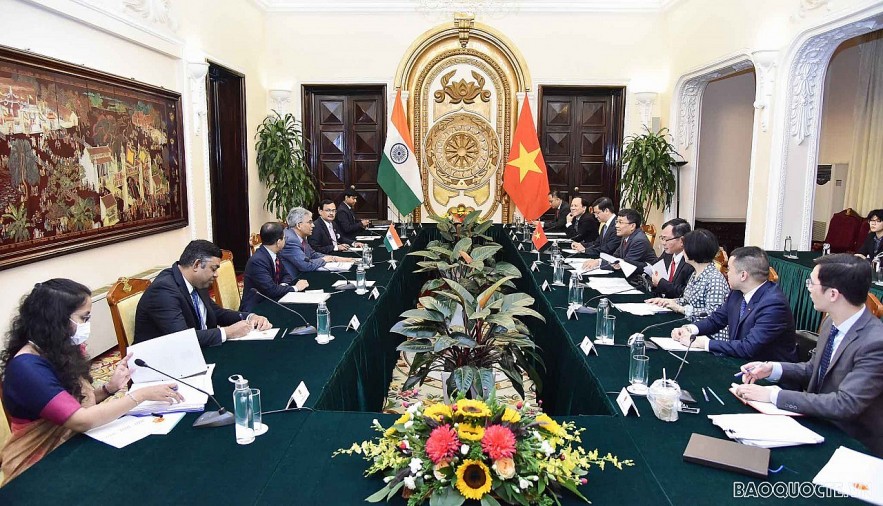 At the 12th Political Consultation between the foreign ministries of Vietnam and India. Photo: The World & Vietnam Report
The two countries discussed measures to boost all-round cooperation during their 12th political consultation and ninth strategic dialogue between the Ministry of Foreign Affairs of Vietnam and the Ministry of External Affairs of India, held in Hanoi on May 30.
The meetings were co-hosted by Vietnamese Deputy Foreign Minister Nguyen Minh Vu and Secretary (East) of the Indian Ministry of External Affairs Saurabh Kumar, according to VOV.
The two sides reviewed recent developments in the bilateral Comprehensive Strategic Partnership guided by the Joint Vision Statement for Peace, Prosperity and People adopted by the two Prime Ministers during their online summit in December 2020 and the 2021-2023 Action Plan signed by the two Foreign Ministers.
They expressed satisfaction at the positive development of the multifaceted bilateral relationship amid the Covid-19 pandemic, with regular high-level exchanges, including a recent phone call between Prime Minister Narendra Modi of India and Party General Secretary Nguyen Phu Trong of Vietnam, as well as the Vietnam visit by Speaker of the Indian House of Representatives Om Birla.
The two sides were delighted at the bilateral trade that rose 36% in 2021 year-on-year to reach $13.2 billion and is on track towards the target of $15 billion.
Vu highly appreciated India's support in medical equipment as well as vaccine production technology transfer, helping Vietnam overcome the pandemic.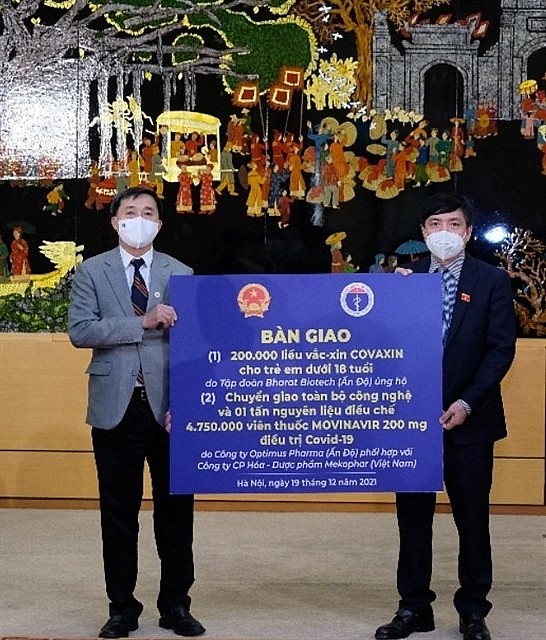 On behalf of the Ministry of Health, Deputy Minister Tran Van Thuan receives the vaccine and the medical materials donated by India last year. Photo: Ministry of Health
He suggested India continue to create favourable conditions for bilateral trade and increase investment in Vietnam in various fields such as oil and gas, auto supporting industries, information technology, renewable energy, and agriculture, high-technology and innovation.
Kumar reaffirmed India's view that Vietnam is a key partner in New Delhi's Act East policy and Indo-Pacific Vision.
He also noted that India is ready to further reinforce development assistance and capacity building outreach in Vietnam by expanding the Mekong - Ganga Quick Impact Projects and the Indian Technical and Economic Cooperation Programme (ITEC) and e-ITEC programmes in diverse sectors, as well as increasing PhD scholarships, digital connectivity and heritage preservation.
The two sides agreed to enhance physical and digital connectivity, and promote tourism and people-to-people exchanges, along with taking advantage of the common links about Buddhism and the popularity of Yoga in Vietnam.
They vowed to coordinate closely to jointly carry out activities to mark 50 years bilateral diplomatic relations, including erecting statues of famous leaders, launching a common logo and opening direct flights between major cities of the two countries.
The two sides agreed to strengthen bilateral cooperation in line with India's Indo-Pacific Oceans Initiative (IPOI) and the ASEAN Outlook Vision on Indo-Pacific (AOIP) to achieve common security, prosperity and growth for all countries in the region.
With regard to the South China Sea (Bien Dong Sea), they reached consensus on the necessity of maintaining peace, stability, cooperation, development and respect for international law, including the 1982 United Nations Convention on the Law of the Sea, as well as respecting sovereignty, sovereign rights of nations and freedom of aviation and navigation.
Promote important cooperation pillars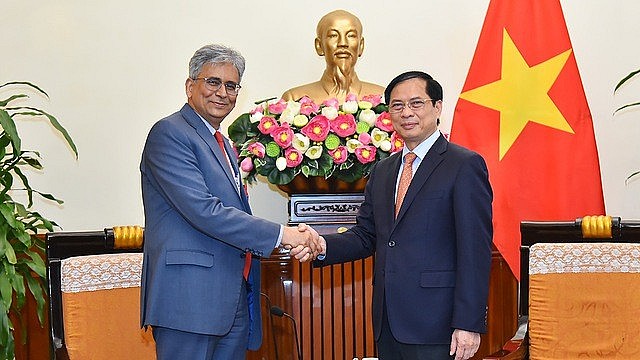 Minister of Foreign Affairs Bui Thanh Son (right) and Secretary (East) of the Indian Ministry of External Affairs Saurabh Kumar. Photo: Ministry of Foreign Affairs
The same day, Kumar had a meeting with Minister of Foreign Affairs Bui Thanh Son, during which the host suggested the two sides continue to work together to promote important cooperation pillars such as politics - diplomacy, defence - security, trade - investment, science - technology, culture and people-to-people exchange, especially tourism cooperation.
The minister congratulated India on its important achievements in national construction and development, Covid-19 prevention and control, and economic recovery, VietnamPlus reported.
Kumar pledged to closely coordinate in further stepping up the comprehensive strategic partnership between the two countries in the time to come.
Son asked Kumar to convey his invitation to Indian Minister of External Affairs S. Jaishankar to visit Vietnam and co-chair the 18th meeting of the Vietnam-India Joint Committee on Economic, Commercial, Scientific and Technological Cooperation, scheduled for the second half of this year./.
Economy
India is on track to attract USD 100 billion foreign direct investment (FDI) in the current fiscal on account of economic reforms and ease of doing business, the government said on Saturday