VUFO's Member Organizations Make Efforts to Support Localities Affected by Covid
The provincial Union of Friendship Organizations and friendship associations make efforts to support humanitarian projects implementing in their localitites.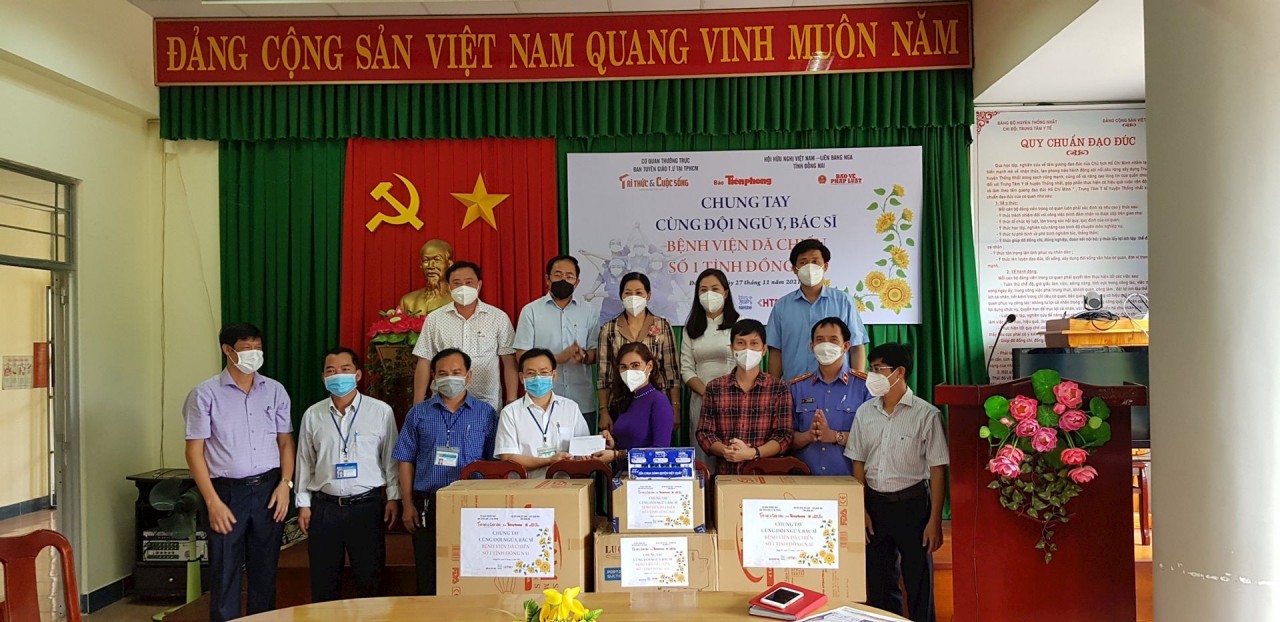 Representatives present gifts to Nguyen Trung Tin, director of Field Hospital No. 1, Dong Nai province.
In the face of unprecedented demand for certain medical supplies in localities, the Vietnam Union of Friendship Organizations (VUFO)'s member organizations have coordinated with relevant authorities to promptly distribute medical equipment and supplies in support of pandemic prevention and control.
The Ho Chi Minh City's the Central Propaganda Department, the Vietnam-Russia Friendship Association in Dong Nai Province on Nov. 27 collaborated with Tri Thuc & Doi Song newspapers, Tien Phong newspapers, Bao ve Luat phap newspapers, Vietnamnet newspaper, Nghe nghiep and Doi Song magazine presented gifts to doctors and nurses of the No. 1 Field Hospital and people affected by Covid-19 in Thong Nhat District, Dong Nai Province.
The gifts includes 2 phlegm suction machines, 10 blood pressure monitors and 1 box of N95 masks to support Dong Nai No. 1 Field Hospital and 100 gift packages including food, essential food for disadvantaged households in Thong Nhat District.
In addition, sponsors donated VND 50 million (US$ 2.200) to people in difficult circumstances due to the impact of Covid.
According to the director of the Health Center of Thong Nhat district, from the end of June 2021 up to now, the district has detected 1,615 new cases, of which 961 cases have completed treatment; 654 cases are monitoring and treating, 15 cases of severe illness and death. Currently, the district has injected over 126,000 people with first doses, reaching nearly 97% of the population. 100,000 people have fully got two shots.
Representatives of the Central Propaganda Department, the Dong Nai's Vietnam - Russia Friendship Association and press agencies have visited and encouraged ethnic minorities affected by Covid-19 in Thong Nhat District, families as well as the medical staff and doctors of the No. 1 Field Hospital.
Through this activity, they hope that people will have more strength to overcome difficulties caused by the pandemi, the medical team and doctors would feel more secure to perform well their task, bringing back the new normal life to the people.
Nguyen Thi Yen, chairwoman of the Fatherland Front Committee of Thong Nhat District, sent her deep thanks to all the units, saying that so far, the Covid-19 outbreak has basically been controlled here. However, the pandemic is affecting socio-economic activities, greatly affecting the lives of more than 165,000 people in the district.
According to the 9-month report of the People's Aid Coordinating Committee (PACCOM), more than 50 foreign NGOs have donated nearly 100 aid contents with a total estimated value of over US$ 6 million to Vietnam. VUFO also mobilizes other international partners to support the Vietnamese people to fight coronavirus. The total donation value has so far reached more than VND 150.6 billion (US$ 6,5 million).
Elsewhere, the outbreak also seriously affected the socio-economic life of people, especially children in difficult circumstances in Phuoc Son District, Quang Nam Province. The number of infections in the project areas of World Vision Vietnam has reached more than 100 cases, including 19 sponsored children.
Faced with this situation, World Vision Vietnam has joined hands with the Education and Training Department of Phuoc Sơn District, the Management Board of project communes, and schools, to support 639 children and 74 teachers who are in quarantine, relief package of necessities and medical equipment, including 750 protective bodysuits; 20 boxes of medical gloves; 100 face shields; 60 packs of medical masks; 15 packets of physiological saline; 50 bottles of sanitizer; 422 tubes of toothpaste, brush, and face towel; 61,392 batches of fresh milk. 50kg of pork; 2,076 packages of bread; 30 boxes of instant noodles; 33 boxes of cakes and other toiletries for girls.
With a total value of almost US$ 6,000, these supports of World Vision Vietnam contribute to the joint efforts of people and the local authorities to prevent the spread of the Covid-19 pandemic.
This activity is part of World Vision Vietnam's Covid National Response and Recovery Program. Up to now, more than US$ 2,894,152 has been disbursed to repair the damages caused by the Covid-19 pandemic on people's lives in World Vision Vietnam's project sites nationwide.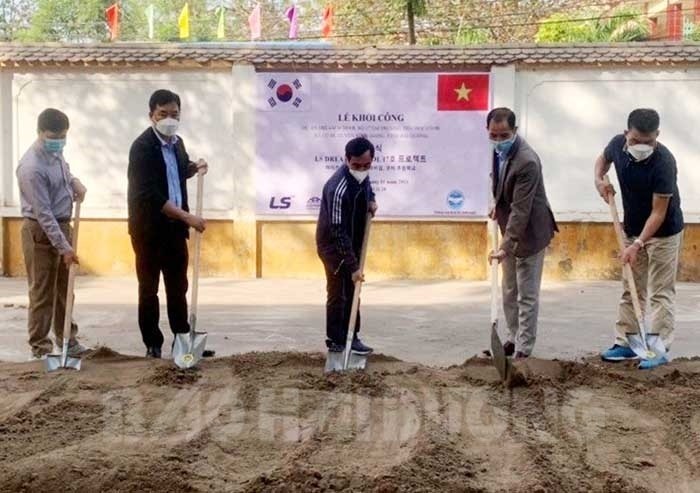 Delegates started the construction of classrooms.
In some places, humanitarian emergency projects are transitioned to recovery or longer-term development projects.
The Center for Friendship Cooperation (under the Union of Friendship Organizations of Hai Duong Province) on Nov. 28 in collaboration with the People's Committee of Co Bi Commune (Binh Giang District) started construction of three classrooms at Co Bi Primary School.
The project has a total area of ​​300 m2, including 3 classrooms, with a total cost of VND 1.9 billion (US$ 83.718). The project is expected to be completed in February 2022.
This is the 8th project sponsored by COPION organization and Korea's LS Group in Hai Duong Province through the Friendship Cooperation Center.
COPION is a Korean NGO, established in 1999, is one of the oldest and reputable NGOs in Korea, with its main office located in Seoul.
COPION has officially established a branch office in Vietnam since 2017, operating in the fields of development assistance and humanitarian assistance (supporting cultural exchanges and building educational infrastructure). So far it has been organizing short-term volunteer groups, at the same time, conducting projects to build classrooms and improve the school environment for students in provinces and cities in Vietnam.
Currently, the organization is implementing the project reinventing public libraries at Hanoi Library.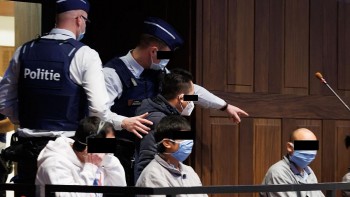 Overseas Vietnamese
Belgian court sentenced smuggler organization over 39 Vietnamese victims found dead in sealed lorry container in Essex.