Vulnerable Families Receive Post-Covid-19 Aid
Vulnerable families have received more aid since the lockdown finished.
International organizations are assisting those who are recovering post Covid-19 in Vietnam.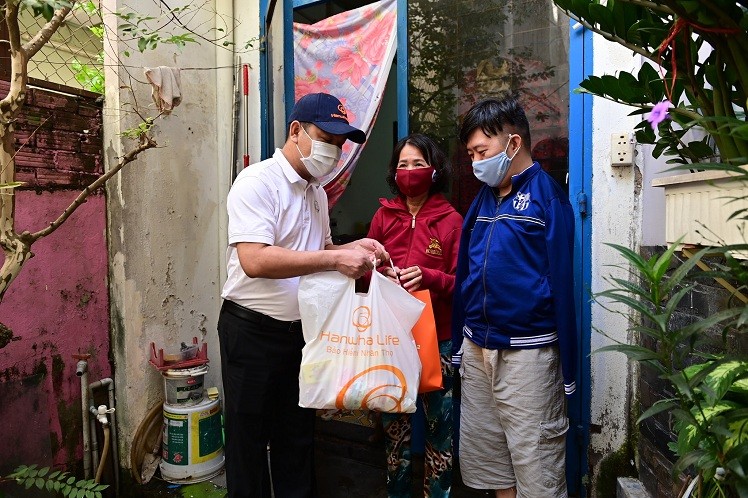 ChildFund Vietnam and Hanwha Life Vietnam have accompanied the Ho Chi Minh City chapter of Vietnam Fatherland Front Committee to prepare 2,215 gifts and 1,000 protective suits to give to households severely affected by the pandemic.
A gift-giving ceremony on Oct. 28 kick started ChildFund Vietnam and Hanwha Life Vietnam's campaign to present 2,215 gifts and 1.000 protective suits, with the help of the National Front, to households severely affected by the pandemic as well as pandemic prevention and control officials in Binh Thanh and Binh Chanh districts of Ho Chi Minh City.
While HCM City has passed through the most critical period and is adapting to the "new normal," the pandemic still left considerable consequences. ChildFund Vietnam hopes these small gifts will encourage the pandemic prevention team families with pregnant women, young children, elderly parents, and children in difficult circumstances to keep their spirit strong and overcome this challenging time.
As part of their global campaign Oakwood Residence Saigon recently distributed 520 kg of rice to 52 families of Saigon children's scholarship recipients in HCM City.
Hopefully, this will help relieve some burden for the families, and motivate the children in continuing to build a better future for themselves.
"Give with Oakwood" launched in 2020 as Oakwood's first global community outreach program, has since become an annual campaign.
During the campaign, for every direct booking made with Oakwood's properties around the world, Oakwood makes a donation to a chosen charity organization. Saigon children have been the beneficiary charity in Vietnam since the launch of the program in 2020.
In the northern province of Dien Bien, World Vision Vietnam on Oct. 28 joined hands with the District Agricultural Service Center to hand over breeding cows to 65 poor households in target areas of Tua Chua District.
With a total value of about US$ 42,831, this activity helps households improve their livelihoods through the application of safe and sustainable livestock techniques.
This is also an opportunity for families to diversify their income sources, thereby improving the quality of life for all members, especially children.
To ensure the efficiency of livestock production, World Vision Vietnam has also equipped households with skills to build stables, take good care of cows in and grazing techniques and forage storage for cows.
This activity is part of the German Relief Alliance-funded Dien Bien Ethnic Minorities Resilient in Disasters project.
The project's overall objective is to increase the Dien Bien Ethnic minorities' resilience to disasters through the application of climate-smart livelihoods and water solutions and community-based disaster risk management. With a total value of US$ 202,774, the Project is implemented from April 1, 2020, to March 31, 2022.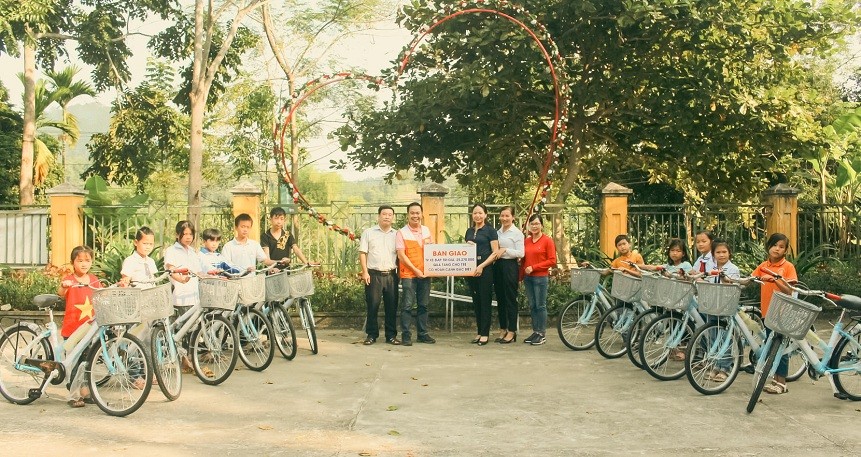 Bicycles granted to poor students. Source: World Vision Vietnam
In a joint effort to improve children's well-being, on Oct. 27, World Vision Vietnam cooperated with the Na Hang Department of Education and Training in Tuyen Quang Province, to hand over 19 bicycles for children in challenging circumstances in Thanh Tuong, Yen Hoa, and Nang Kha communes.
This is how World Vision Vietnam's supports children in hardship to go to school, thereby encouraging them to be diligent and make efforts in their studies.
Last week, Project RENEW in coordination with Huong Hoa District Disabled Organization (in the central province of Quang Tri) provided assistance to help families with disabled persons and Agent Orange survivors continue to overcome the aftermath of the historic flood in October 2020 and prolonged Covid-19 restrictions.
People with disabilities and Agent Orange victims received gifts with essential items including rice cookers, electric fans, water filters, and rice or cash aid.
Previously, Project RENEW also cooperated with the local Association of People with Disabilities, Victims of AO/dioxin and Social Protection to donate wheelchairs and crutches to the disabled in Khe Sanh Town, Tan Long Commune.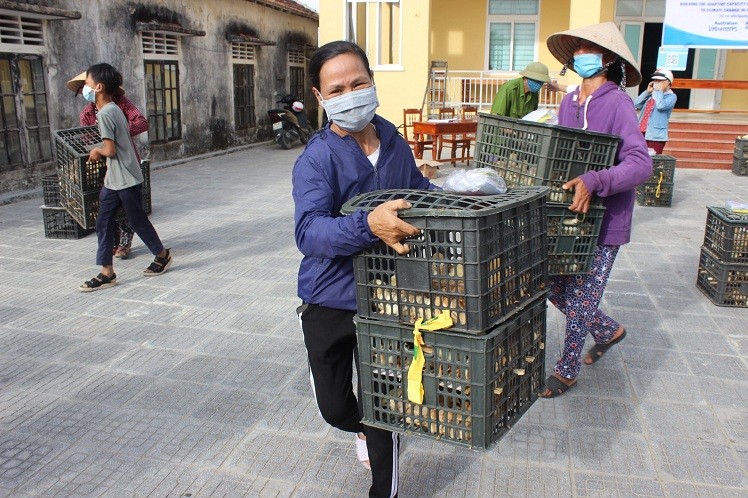 Farmer receive chickens. Source: Hearts for Hue
Elsewhere, with support from the Australian Volunteers Program through Hearts for Hue, 30 poor households in Huong Van Ward, (Thua Thien Hue Province) have been provided with the skills and resources needed to operate chicken farms.
Participants have taken part in training on sustainable poultry husbandry, marketing and sales, and have formed a farmers' club to help share experiences.
They have also received baby chicks and financial support from the project to build pages and vaccinate chickens.
This model will create sustainable income for disadvantaged people, particularly women and children. It will also help improve current farming structures and gradually implement standard chicken farming models in the region.
Hearts for Hue is one of a number of partner organizations of the Australian Volunteers Program to receive an Impact Fund Grant of up to AUD$10,000 to support vital development work.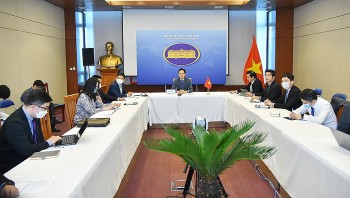 Friendship
In addition to the political dialogue, the delegations stressed their mutual interest in strengthening the economic relationship between the countries.