What Are The Most Gorgeous Coastal Towns In The US?
It is nothing more perfect than having a relaxing vacation with your families in one of these quiet and beautiful coastal towns in the United States.
With more than 12,000 miles (19,000km) of coastline, it's no wonder the US has so many incredibly picturesque coastal towns. From the quaint, historic coastal communities of New England to the rugged Pacific Northwest and subtropical climes of the Gulf Coast. Explore these beautiful coastal towns in the United States that you can pack your suitcase, grab your sunglasses, and visit right now.
1. Cape May, New Jersey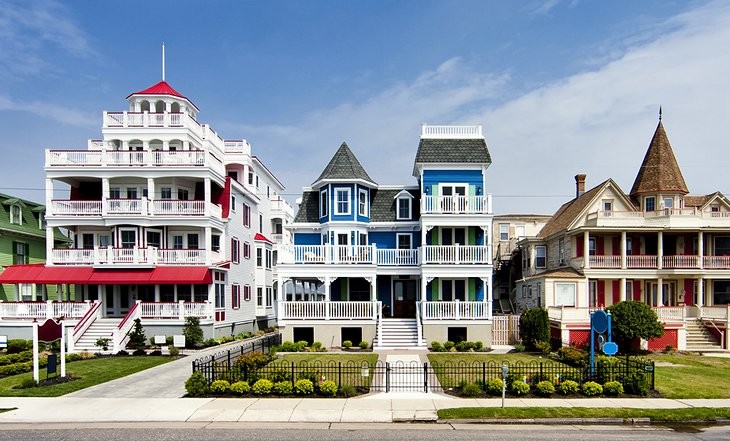 Photo: PlanetWare
Known as America's original seaside resort, Cape May has been a premier summertime getaway for generations. Part of the Jersey Cape's stretch of beaches and boardwalks, this tiny town is located about 45 miles south of Atlantic City, New Jersey, 95 miles southeast of Philadelphia, and roughly 160 miles south of New York City. It is home to less than 3,500 residents but welcomes upward of 50,000 vacationers every year. In addition to its pristine beaches, Cape May's roughly 600 preserved Victorian buildings and collection of quaint bed-and-breakfasts transport visitors to a bygone era. Its military presence also cannot go unnoticed; Cape May played a major role in defending the country during World War II, and about 30% of the population today is involved in the armed forces. Whether you choose to spend your days bird-watching (Cape May offers some of the best birding spots in the world), visiting wineries or touring historical sites, you're bound to quickly recognize the charm of this coastal escape.
2. Bar Harbor, Maine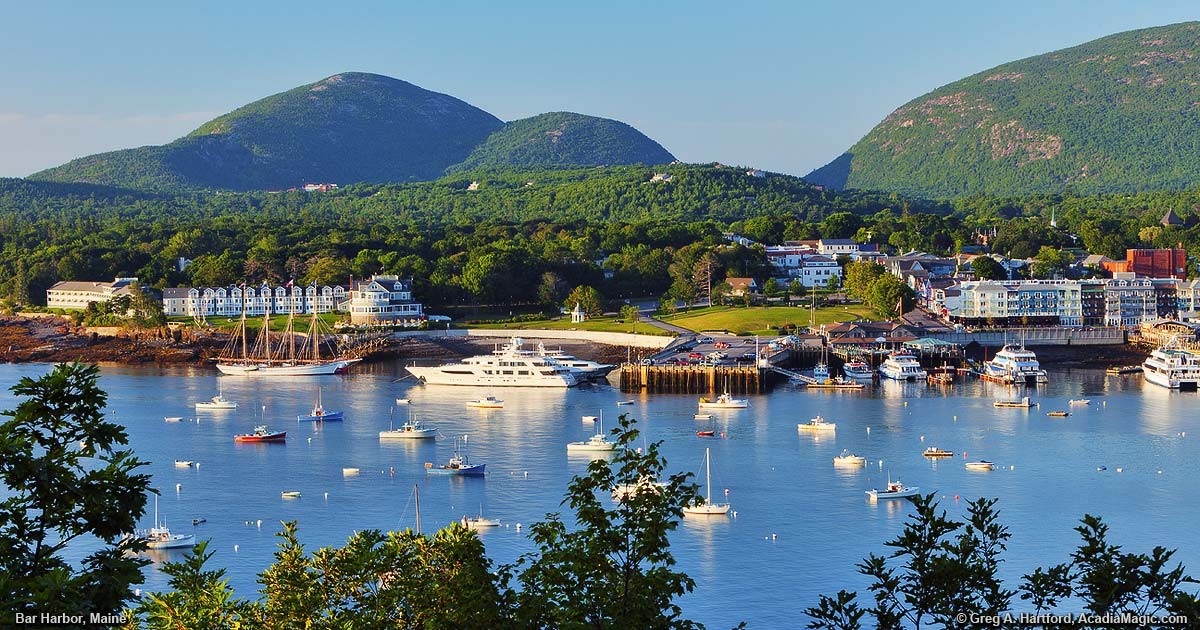 Photo: Acadia National Park
Famously known as the gateway to Acadia National Park, Bar Harbor, Maine, has enjoyed a centuries-long reputation as a scenic respite that combines all the best qualities of the state. Its placement along Frenchman Bay means that travelers are spoiled with soothing water views left and right, as well as craggy coastlines that look straight out of a landscape painting. Plus, it's the perfect jumping off point for some of the best whale watching tours in Maine. Not only that, but the town fosters a special kind of charm that makes it feel as if you've stepped out of real-life and walked into the pages of a storybook. Though, the abundance of finger-licking local lobster will certainly snap you back into reality in the best way possible. This is the kind of place you visit to reset and get back to marveling in the basics: taking a nice long stroll, watching the water sway as the day fades, and enjoying tasty local grub. Bar Harbor is perfect for all of that.
3. Ketchikan, Alaska
Photo: Always Bring Sunscreen
Long before it became the bustling Alaska cruise destination it is today, Ketchikan was a seasonal fish camp of the indigenous Tongass Tlingit. Through the crystalline waters of the Ketchikan Creek ran thousands of salmon in the summer. This natural abundance proved enticing to western settlers as well, drawing prospectors, traders, and businessmen in the late 1800s. A cannery was established in Ketchikan in 1900, thus cementing the town's self-proclaimed nickname: The Salmon Capital of the World.
Ketchikan can easily be described as the Totem Pole Capital of the World as well. Native craftsmen still carve today, with many traditional and modern totems on display at the Totem Bight State Historical Park, Totem Heritage Center, and in the nearby Native village of Saxman.
4. Cannon Beach, Oregon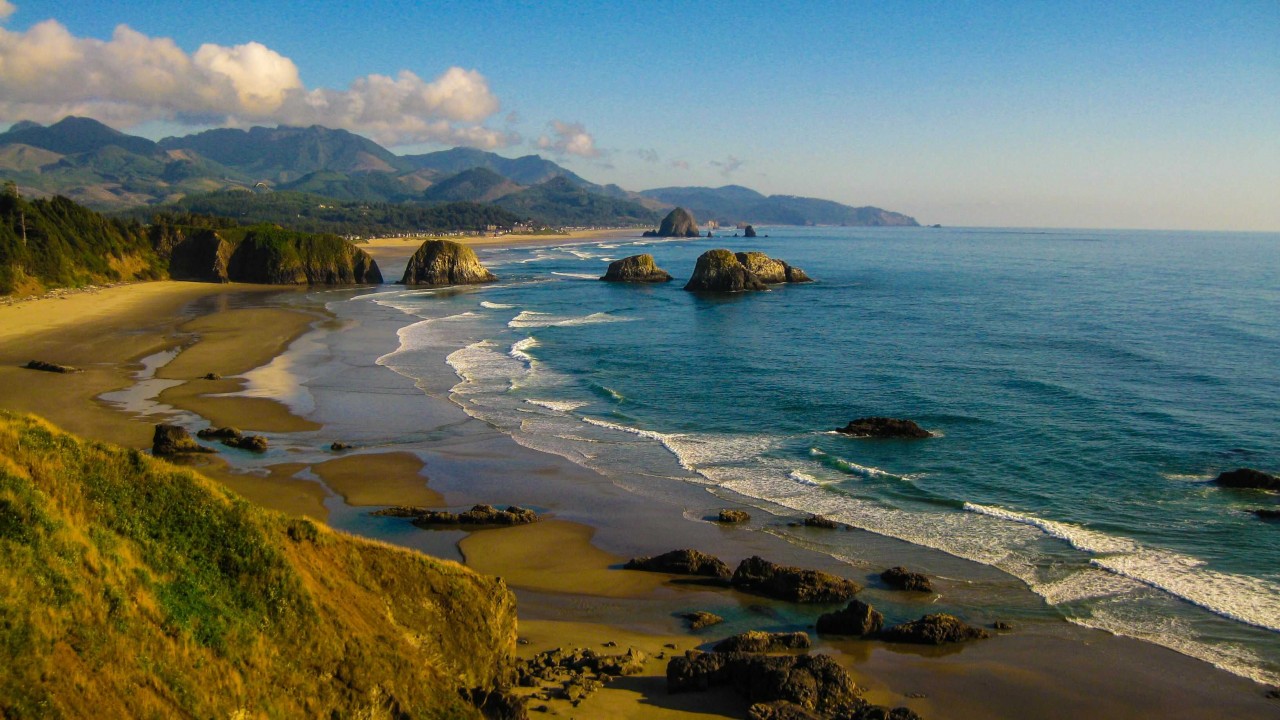 Photo: TripSavvy
Named one of National Geographic's 100 Most Beautiful Places in the World, Oregon's Cannon Beach is a gorgeous Pacific Northwest town that boasts not only natural, rugged beauty but a thriving arts scene and lively cultural calendar too. Nestled between the Oregon Coast Range Mountains and long stretches of sandy beaches, Cannon Beach's most famous landmark is Haystack Rock, a 235-foot high sea stack immortalized in the 1980s classic film The Goonies, while Ecola State Park located just north of town offers hiking trails and panoramic Pacific views. Discover why writer John Villani listed Cannon Beach amongst the Best Small Art Towns in America at its many art galleries and events like the Stormy Weather Arts Festival.
5. Carmel-by-the-Sea, California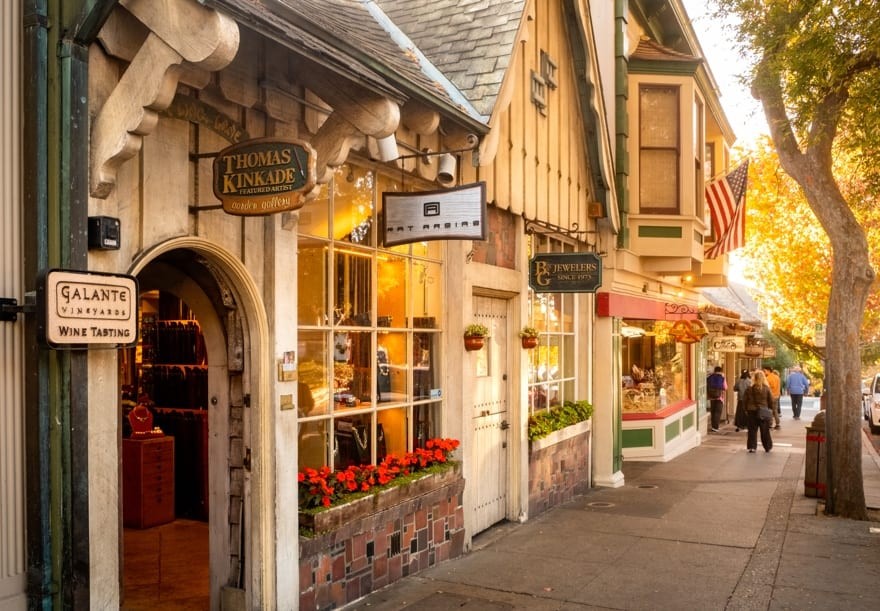 Photo: Travel in USA
Carmel-by-the-Sea is a small beach city on California's Monterey Peninsula. It's known for the museums and library of the historic Carmel Mission, and the fairytale cottages and galleries of its village-like center. The Scenic Bluff Path runs from surf spot Carmel Beach to bird-rich Carmel River State Beach, with a scuba entry point. South lie the sea animals and whaling museum of Point Lobos State Natural Reserve
A stroll around Carmel-by-the-Sea will quickly reveal that it's not your typical West Coast surf town. With thatched cottages like something out of a British village, Carmel-by-the-Sea is one-of-a-kind. Just off the famous Highway 1, it's a perfect stop along Big Sur as it offers everything from art galleries and boutiques to restaurants and wine-tasting rooms. The town's beach has earned a stellar reputation for its pristine white sand and azure waters, too.
6. Sanibel Island, Florida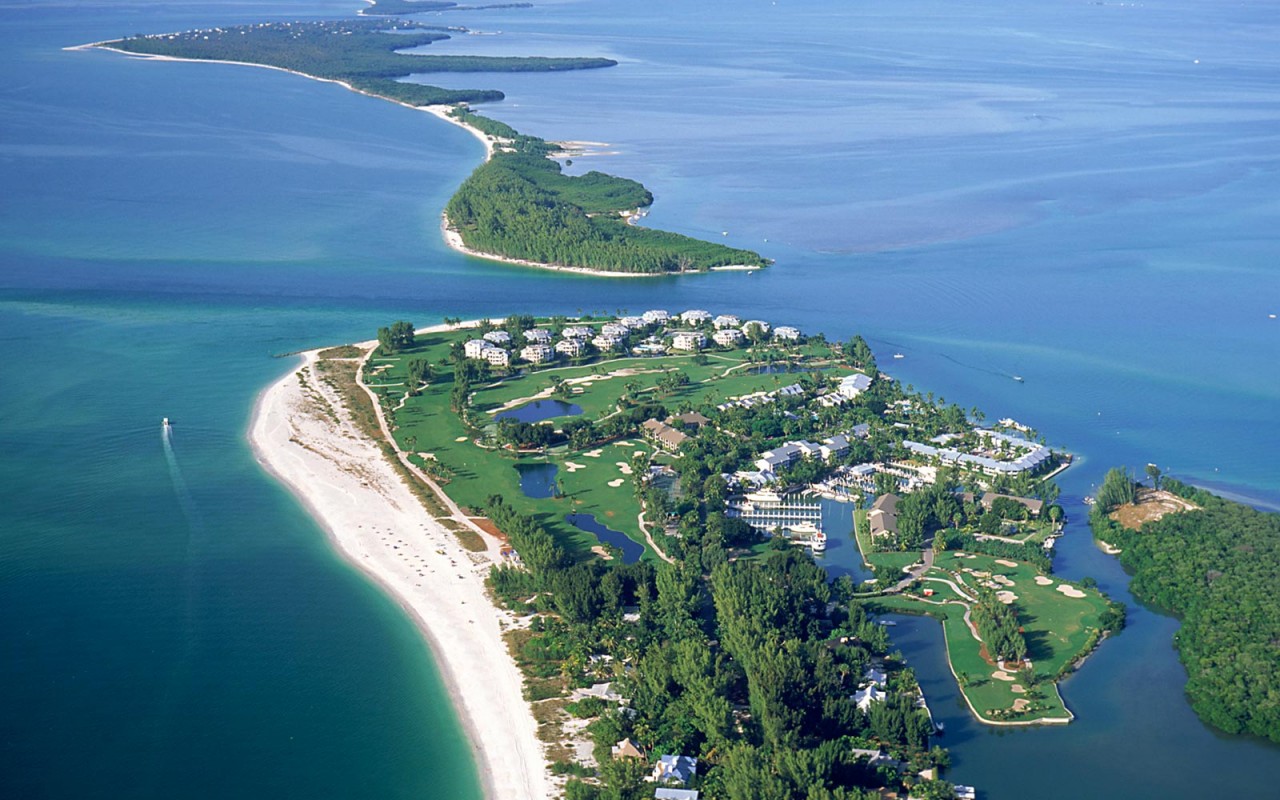 Photo: Travel + Leisure
This secluded Fort Myers offshoot is considered even more low-key, quiet and quaint than its Gulf Coast neighbor, and that's saying a lot. Casual is the order of the day on Sanibel Island; a shabby chic vibe permeates the Periwinkle Way galleries, restaurants, and shops; seashells cover every sandy and linoleum surface. In fact, the abundant seashells have become this island's (and its smaller sister, Captiva's) claim to fame. You'll find plenty of beachcombers practicing the "Sanibel Stoop" – what locals call shelling – on any lengthy stretch of sand. Plan on joining them for at least one afternoon of your stay; that is if the mood strikes you. The residents of laid-back Sanibel wouldn't have it any other way.
The best time to visit Sanibel Island is December to April, the peak season. Trips during these five months will be more expensive than at other times, so plan and book early. Still, this is when you'll find idyllic beach weather. The late fall is a good time to secure a room deal and do a little shelling in the chilly Gulf water. Avoid the hurricane season altogether – if you want to visit in the summer, plan your trip for May or early June, before the threat of bad storms.
7. Edgartown, Massachusetts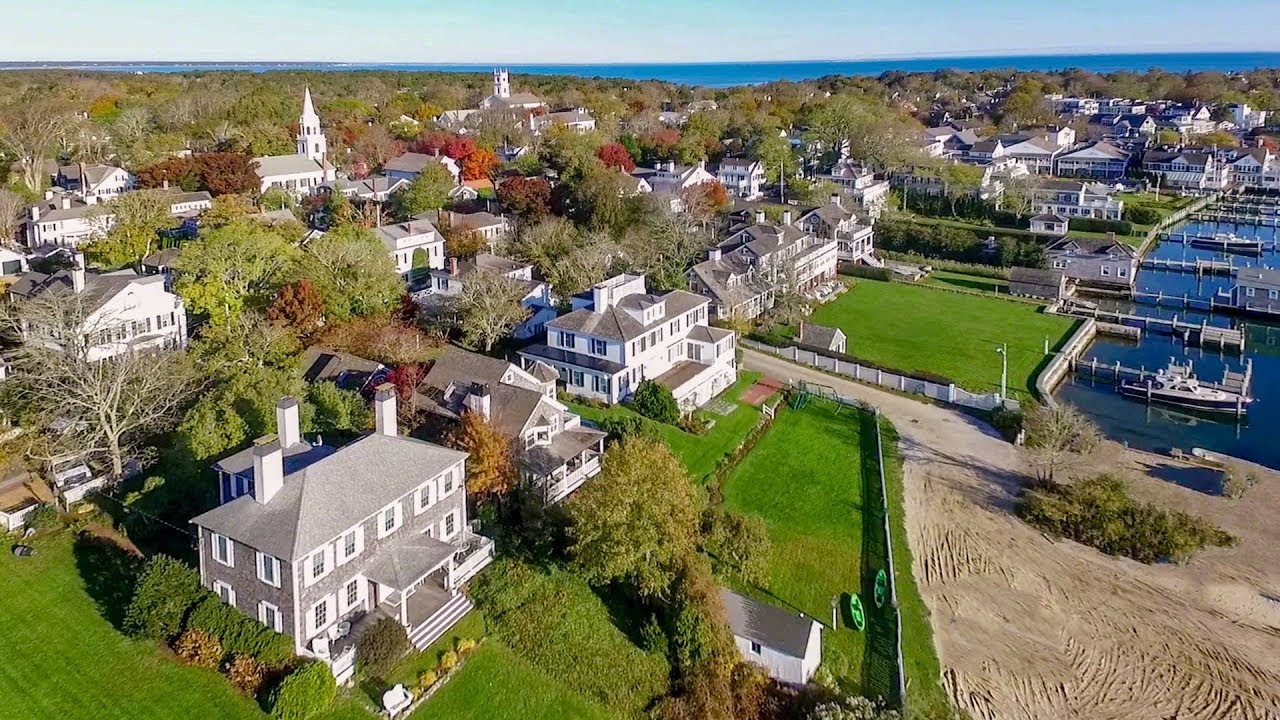 Photo: Point B Realty
Nestled on the easternmost edges of the beautiful Martha's Vineyard, Edgartown was the first settlement on the island and the county seat since as early as 1642. Much of the town's early history is still evident today: the Vincent House built in 1672, is the oldest house on the island, and the late 19th-century Old Whaling Church remains one of New England's finest examples of Greek Revival architecture. Spend a day exploring Edgartown's scenic sandy beaches, home to two historic lighthouses, before heading downtown to learn about island culture at the Martha's Vineyard Museum and sampling eats fit for a foodie at Edgartown's many upscale restaurants.
8. Tybee Island, Georgia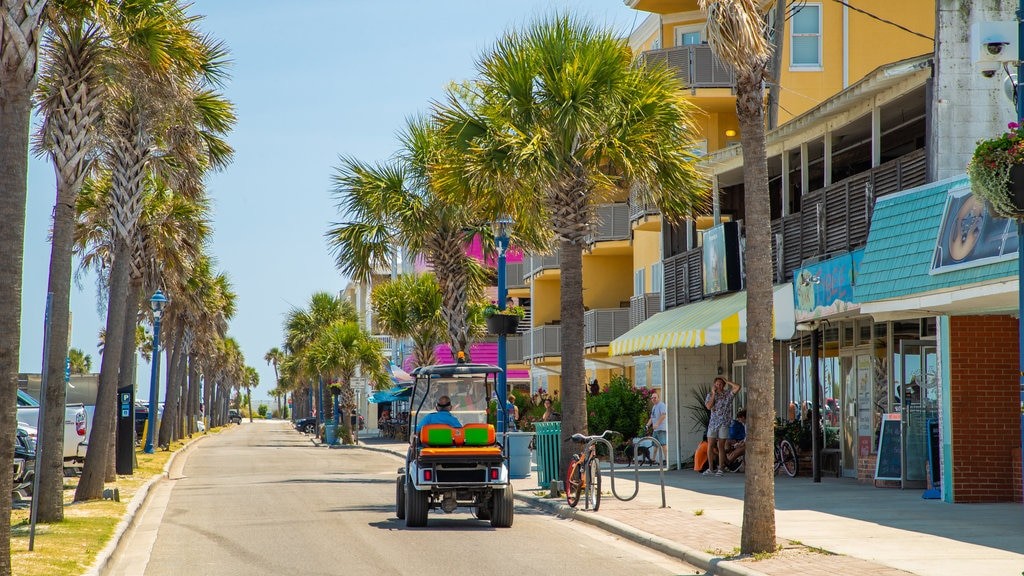 Photo: Expedia
Located just a 20-minute drive east of Savannah, Tybee Island is a scenic barrier island community. Boasting five miles of unspoiled sandy beaches, Tybee Island is the epitome of rustic coastal charm. Quaint wooden piers are dotted with fishermen and dolphin-spotters, its salt marshes are a birdwatcher's paradise and home to species including white ibis and wood stork, and boats bring in their daily catch of delicious Georgia shrimp. Trek to the top of the Tybee Island Light Station, built in 1773 and one of the south Atlantic coast's first lighthouses, for spectacular sunset views before retreating to the town's restaurants for seafood and southern cooking.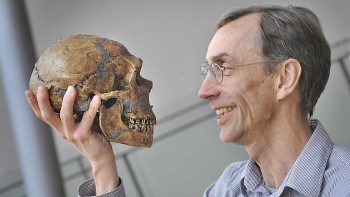 World
The Nobel Committee in Stockholm (Sweden) has announced the 2022 Nobel Prize in Biomedical Sciences to scientist Svante Paabo, for the discovery of genes and human evolution.