What you need to know about the case against the Trump Organization and others
New York prosecutors on June 2 (Vietnam Time) charged the Trump Organization and its chief financial officer with a 15-year alleged tax scheme.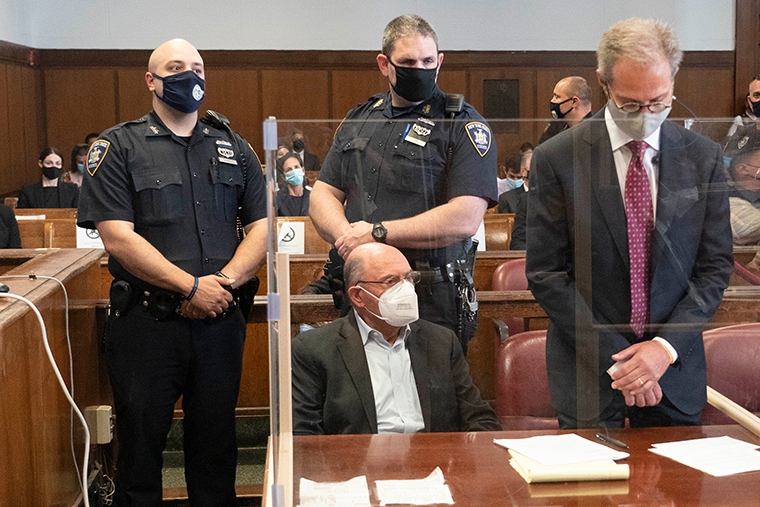 Allen Weisselberg appears in court in New York, Thursday, July 1. Steven Hirsch//Pool/New York Post/AP
Prosecutors charged the Trump Organization and Trump Payroll Corporation with 10 counts and chief financial officer Allen Weisselberg with 15 felony counts in connection with an alleged scheme stretching back to 2005, reported CNN.
Though former US President Donald Trump has faced multiple federal and state prosecutorial inquiries during his administration, the district attorney's indictment is the first to charge his namesake company, the Trump Organization, for conduct that occurred when he led it.
Accordingly, the indictment charged the Trump Organization, Trump Payroll Corporation and Allen Weisselberg, its the chief financial officer. Prosecutors in court described a 15-year tax scheme and said the charges include 15 felony counts, including a scheme to defraud, conspiracy, grand larceny and falsifying business records.
All three plead not guilty. Prosecutors said that Weisselberg attempted to conceal his participation in the scheme with the knowledge of the company.
Trump himself was not charged.
The Trump Organization operates hotels, golf courses, and resorts around the world, Reuters reported.
Before entering the White House in January 2017, Trump put his company into a trust overseen by his adult sons and Weisselberg, who has maintained tight control over company finances. It is unclear what role Trump now has at the company.
Court filings, public records and subpoenaed documents show that Weisselberg and his son Barry have received perks and gifts potentially worth hundreds of thousands of dollars, including many benefits related to real estate.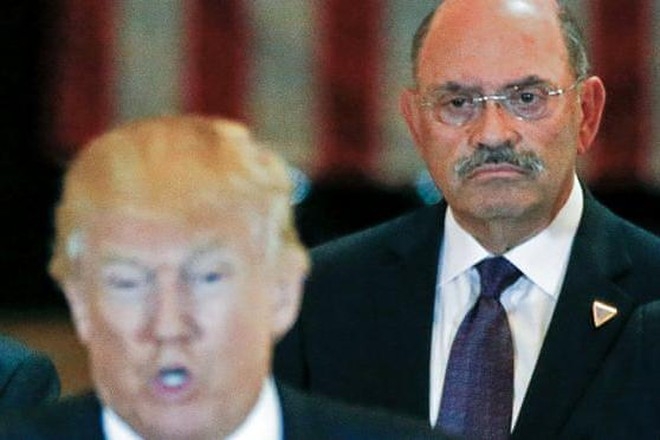 Allen Weisselberg, chief financial officer for the Trump Organization, in New York on May 31, 2016. Carlo Allegri/Reuters
New York Attorney General Letitia James issued a statement Thursday calling the indictment against the Trump Organization and Weisselberg an, "important marker in the ongoing criminal investigation."
"Today is an important marker in the ongoing criminal investigation of the Trump Organization and its CFO, Allen Weisselberg. In the indictment, we allege, among other things, financial wrongdoing whereby the Trump Organization engaged in a scheme with Mr. Weisselberg to avoid paying taxes on certain compensation. This investigation will continue, and we will follow the facts and the law wherever they may lead," the statement read.
US Former President Trump released a statement, casting the indictments against the Trump Organization and its CFO as part of a "political Witch Hunt."
"The political Witch Hunt by the Radical Left Democrats, with New York now taking over the assignment, continues. It is dividing our Country like never before!" the statement read.
According to the indictment, the company paid for rent, utilities and garage expenses on a Riverside Boulevard apartment that Weisselberg and his wife occupy.
The indictment says the company maintained internal spreadsheets tracking the amounts it paid for Weisselberg's rent, utilities and garage expenses, and that it accordingly reduced the amount of direct compensation to account for the expenses it was paying for him. The company didn't withhold income taxes on the indirect compensation, and Weisselberg reported only his direct compensation on his tax returns, according to the indictment.
Though Weisselberg began living in a Riverside Boulevard apartment rented by the company for him in 2005, he didn't say he was a New York City resident on his taxes until 2013, when he sold his home in Wantagh, New York, thereby avoiding paying city income taxes, according to the indictment. Between 2005 and June 2021, prosecutors said that Weisselberg received indirect employee compensation from the Trump Organization in the approximate amount of US$ 1.76 million, the indictment said.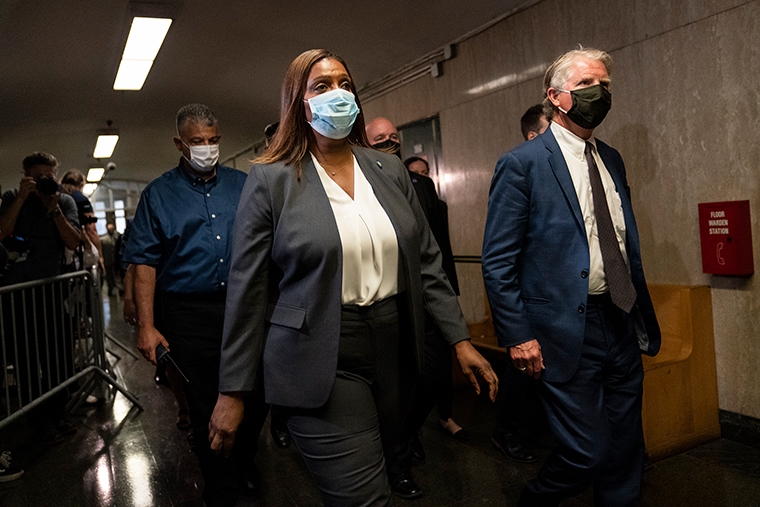 Letitia James, Attorney General of New York, center, and Cyrus Vance Jr., New York County District Attorney, right, leave Manhattan criminal court, Thursday, July 1, in New York. John Minchillo/AP
Prosecutors allege the scheme was carried out by the company, Allen Weisselberg and an unindicted co-conspirator, who a person familiar with the investigation told CNN is Jeff McConney, the Trump Organizations long-time controller.
From March 2005 to present, the indictment alleges, "the named defendants and others, including Unindicted Co-conspirator #1, agreed to and implemented a compensation scheme with the object of enabling Weisselberg to underreport his income to federal authorities, and thereby evade taxes and falsely claim federal tax refunds to which he was not entitled."
McConney, who has worked for the Trump Organization for decades, recently testified before the grand jury, CNN has previously reported. McConney was questioned about how the Trump Organization operates and asked about compensation, people familiar with the matter told CNN.
In New York state, individuals called before a state grand jury receive transactional immunity, meaning they would not be prosecuted for their testimony unless they lie.
McConney could not be reached for comment. A lawyer for the Trump Organization didn't respond to requests for comment, according to CNN.
Meanwhile, Vance Jr., the Manhattan district attorney, is leading the indictment of the Trump Organization, as it was his probe that questioned the accounting practices tied to hush-money payments made by former President Trump's lawyer Michael Cohen. Vance Jr.'s probe eventually led to a Supreme Court fight over a subpoena for Trump's tax documents. Vance Jr. announced earlier this year that he would not be seeking reelection. The winner of the Manhattan DA Democratic primary is poised to take over the Trump investigation.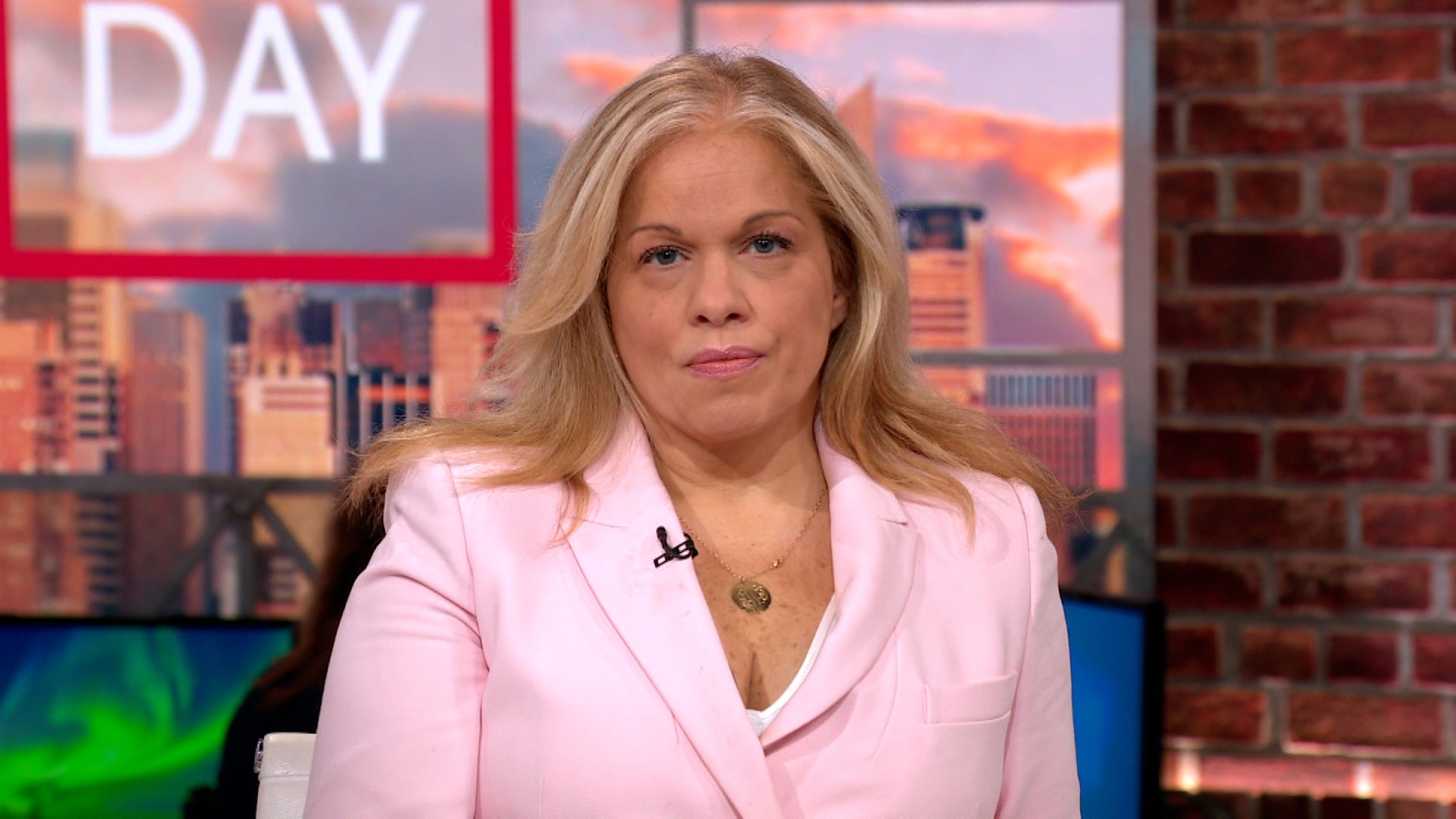 Jennifer Weisselberg, the former daughter-in-law of Allen Weisselberg, on July 1, 2021. Source: CNN
Allen Weisselberg's son, Barry Weisselberg, received thousands of dollars in payments for cars, rent, tuition, medical bills and more, from his father, according to documents from his divorce with Jennifer Weisselberg in 2018. In addition, Barry Weisselberg worked for the Trump Organization for more than a decade and was involved in managing two skating rinks and a carousel in New York's Central Park.
The former daughter-in-law of Allen Weisselberg, Jennifer Weisselberg assisted prosecutors with gathering evidence after her divorce from Barry Weisselberg. She has turned over boxes of financial records and has met with investigators multiple times, her lawyer Duncan Levin told CNN. According to Jennifer Weisselberg, she and her ex-husband lived in apartments rent-free.
Two individuals under scrutiny for receiving subsidized rent and company cars are Matthew Calamari, Trump's one-time security guard and chief operating officer, and his son, Matthew Calamari Jr. However, the investigation into the two men is not as advanced as the investigation of Allen Weisselberg.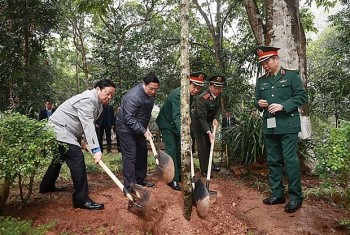 National
The Prime Minister launches a tree planting festival in Ba Vi on New Year of Cat.