India's indigenous aircraft carrier has China in its sights
The Indian Navy is to start sea trials of its first domestically-built aircraft carrier, seeking to counter China's growing presence in the Indian Ocean.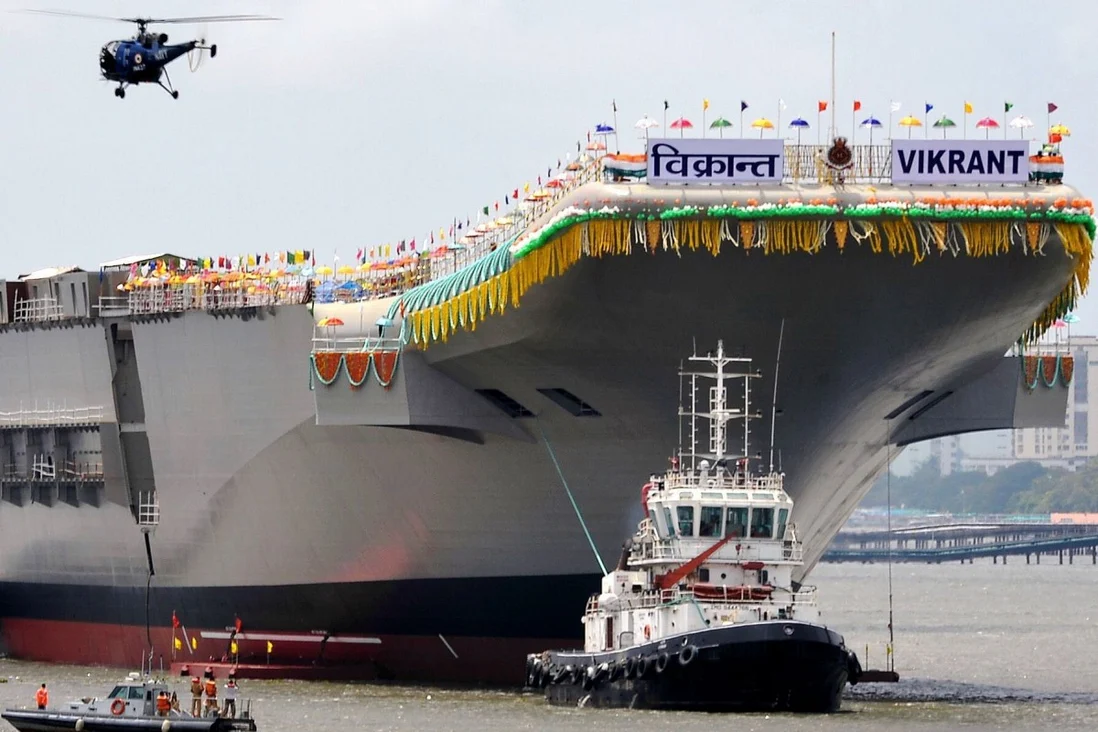 Tugboats guide India's domestically-built aircraft carrier INS Vikrant as it leaves the Cochin Shipyard after its launch ceremony in 2013. Sea trials are expected to begin next month. Photo: AFP
South China Morning Post reported the sea trials of the INS Vikrant are expected to begin as early as next month, citing Defence Minister Rajnath Singh as saying last week that the warship was set to enter active service in the first half of 2022.
Experts said the new carrier would help India project power in a region that has come increasingly under China's influence. In May, Kenya inaugurated a Chinese-built port on Lamu island, on the country's Indian Ocean coast, while last week, Tanzanian President Samia Suluhu Hassan said the country might revive a plan with China to build a US$10 billion port in Bagamoyo.
INS Vikrant will be India's second aircraft carrier. Its first is INS Vikramaditya, a 35-year-old warship that previously served in the Russian Navy as Admiral Gorshkov before it was bought by India.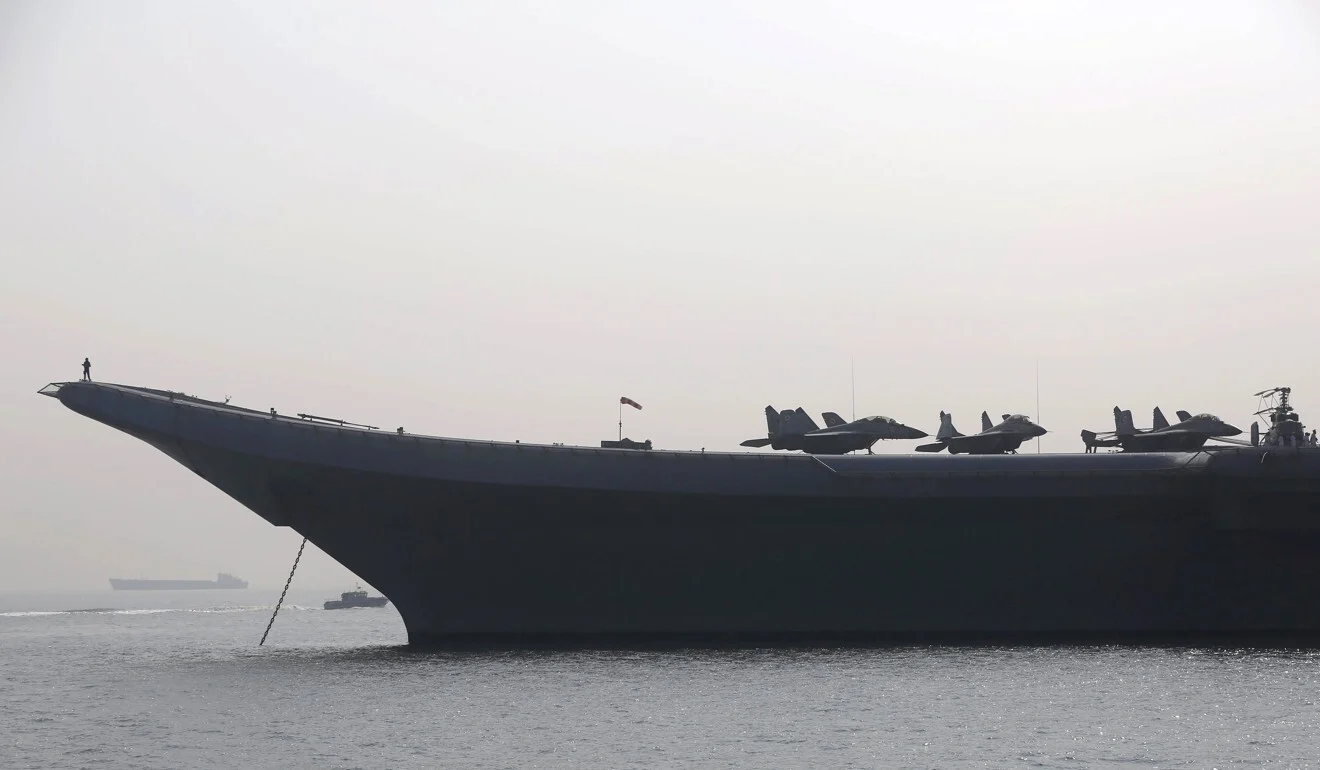 MiG-29 aircraft on the flight deck of India's first aircraft carrier INS Vikramaditya. Photo: Reuters
China has two aircraft carriers already in service – the Liaoning (which it built from the refitted hull of an old Soviet vessel) and the Shandong, which it developed domestically from scratch. Construction is under way on a third carrier, which according to some reports could be launched this year.
The Indian government has called its new carrier its "most potent sea-based asset" and an "incomparable military asset".
The carrier will operate Russian-built MiG-29K fighter jets and Ka-31 early warning helicopters, US-built MH-60R multi-role helicopters and domestically-built Advanced Light Helicopters.
The Hindu said INS Vikrant can carry a total of 30 aircraft (fighters and helicopters).
The biggest ship made in India, it has an overall length of 263 m and breadth of 63 m. The towering vessel has 15 decks and displacement (weight) of 40,000 tonnes. Propelled by four gas turbines, it is expected to touch up to a speed of 30 knots (approximately 55 kmph). Its endurance is 7,500 nautical miles at a speed of 18 knots (32 kmph), Navy sources said.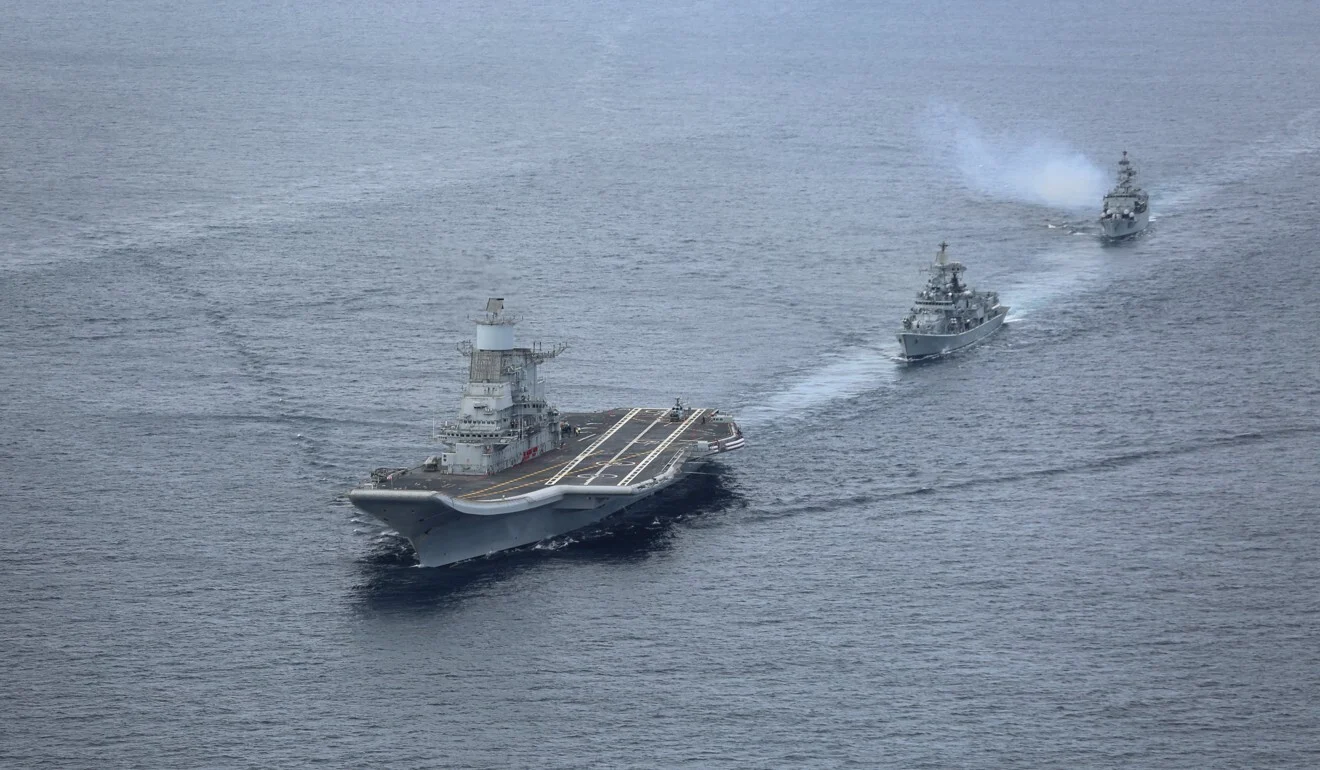 India's first aircraft carrier, INS Vikramaditya, in the Arabian Sea. Photo: AFP
Cochin Shipyard Limited, which built the indigenous aircraft carrier, is expected to fully hand it over to the Indian Navy in 2022.
The Cabinet Committee on Security approved the project in 2002, while its phase-I contract was signed in 2007. Its keel laying was in 2009, followed by launch in 2013. Its phase-II contract was signed in 2017 and the phase-III contract in 2019.
"Proving instrumental in any economic blockade of China"
Ben Ho, a naval analyst at the Singapore-based S. Rajaratnam School of International Studies, said the new aircraft carrier would provide New Delhi with more options "for a wide range of scenarios, including another crisis with Beijing".
"Having a larger carrier fleet should make for a more confident and robust maritime strategy, and this is likely to be in response to Beijing's inroads on Delhi's turf in the Indian Ocean," Ho said.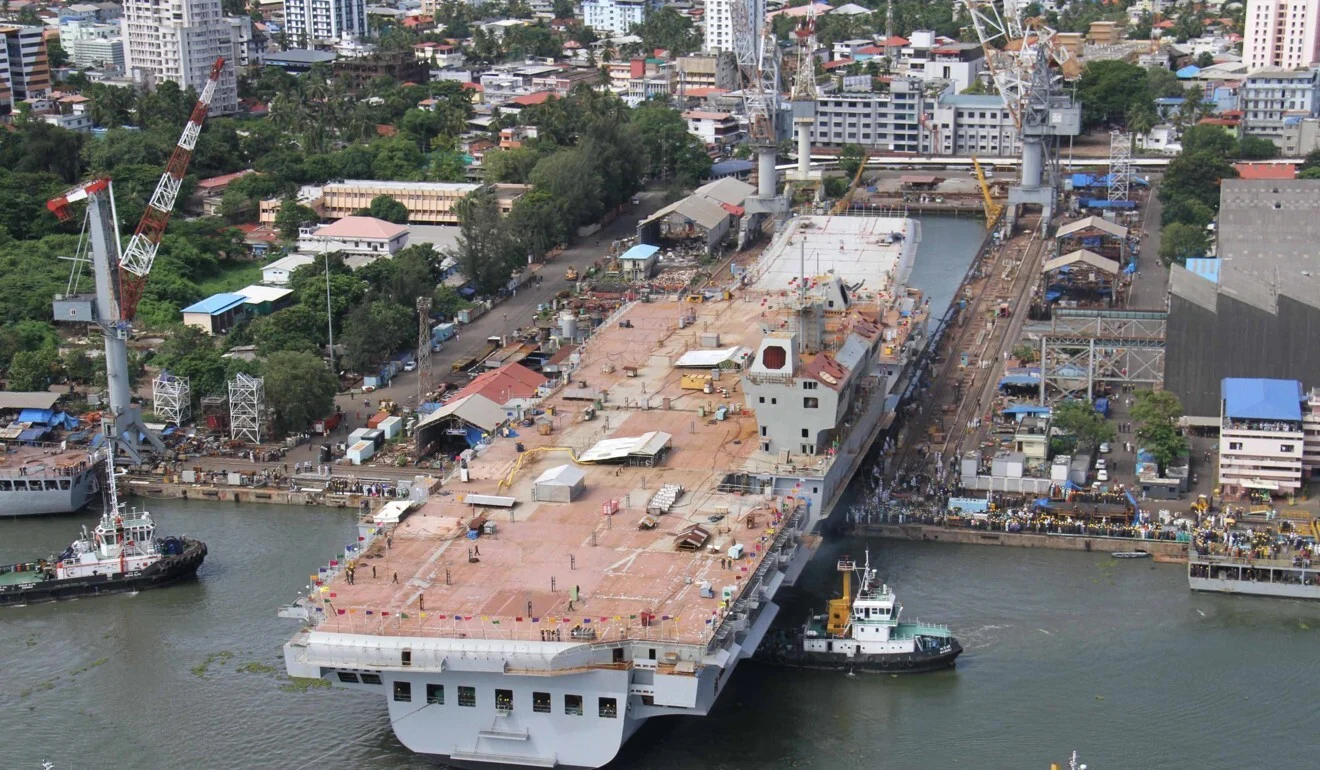 Work on INS Vikrant is carried out at Cochin Shipyard Limited at Kochi, India, during its construction. Photo: EPA
Yogesh Joshi, a research fellow at the National University of Singapore's Institute of South Asian Studies, said that while the INS Vikrant would "boost India's naval presence and offensive capability", that did not necessarily mean India would start sending warships to the South China Sea.
"But, aircraft carriers allow India to achieve some sea control in the Indian Ocean and therefore, would prove instrumental in any economic blockade of China during crisis situations," Joshi was cited by SCMP as saying.
A sign to others
Analysts said the new aircraft carrier would also help New Delhi pursue strategic and foreign policy goals, such as stepping up engagement with the other three members of the Quad (Quadrilateral Security Dialogue) – the United States, Japan and Australia – following the joint Malabar exercises held in November last year.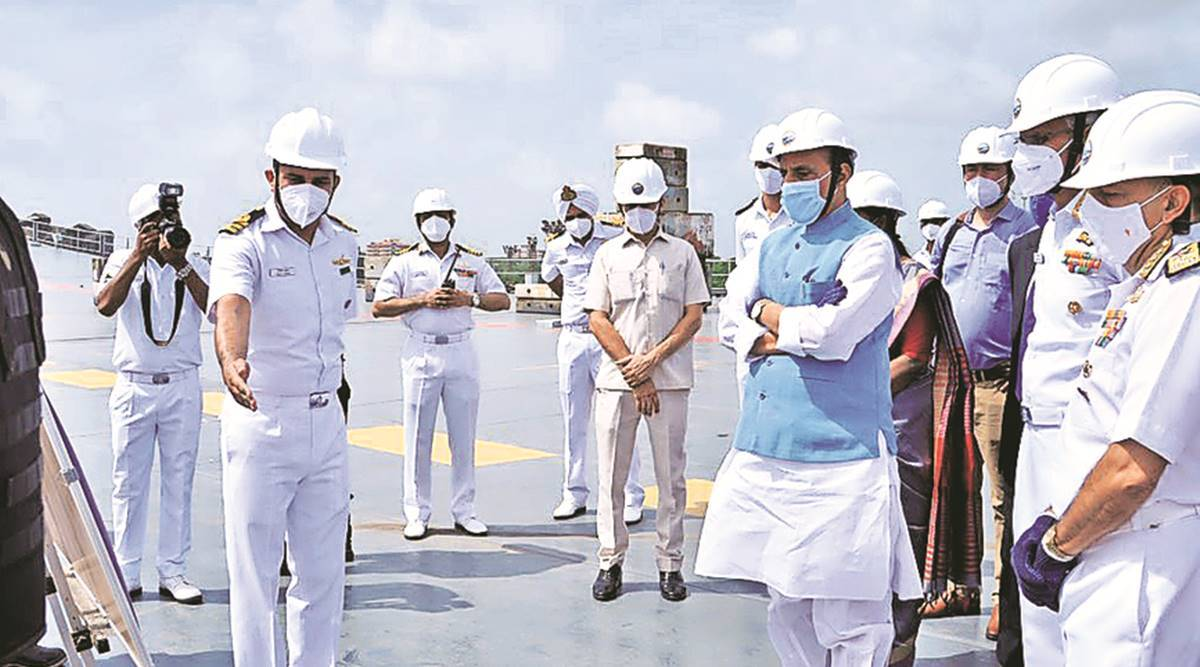 Defence Minister Rajnath Singh reviews work on the carrier in Kochi Friday. Photo: ANI
Joshi said the INS Vikrant could affect the group's strategy in the region. "One change may be that India would be more willing to take up the responsibility for Indian Ocean security in the overall division of labour within the Quad. That could relieve the US and others to operate more in the South China Sea," he said.
India's development of the carrier is also a showcase of its growing capabilities. The Indian government says 75 percent of the ship is domestically sourced, "from design to steel … to key weapons and sensors".
RS Vasan, a retired commodore and director of the Chennai Centre for China Studies said this demonstrated India's "technological prowess" and that showcasing the country's abilities could help the Quad achieve another strategic aim.
"By constructing an aircraft carrier, more and more countries, especially in South Asia and Southeast Asia, who depend on Chinese military hardware and are looking for a way out, might see an alternative in India," he said.
But for now, Vasan said, India should heed the maxim of China's former leader Deng Xiaoping and hide its strengths and bide its time./.