Where to Visit in Da Lat: Hidden Cafés in the Deep Forests
Relax on the beautiful outdoor terrace, overlooking the trees, or end your forest walk with a lovely cup of coffee or tea in the highland of Da Lat.
Da Lat has many coffee shops, but have you tried taking a deep breath and step into the wildness of Da Lat cafés and homestays in the deep forest? If not, these locations will be an ideal date in Vietnam's mini Europe city.
Tiem Ca Phe Trong Rung
Photo: Hoa Hoc Tro
Stirring up online community sites from Facebook to TikTok with a romantic view of the mountains, Tiem Ca Phe Trong Rung needs no introduction.
There is a garden with all kinds of fruit trees: avocado, coffee, jackfruit, banana; flowers such as chrysanthemum, lavender, purple myrtle... Many people visit this garden to take pictures and share it online, causing a sensation among Da Lat lovers..
What makes this place, although quite far from the city center, is still popular with many young people is because of its surrounding forest. In the cool, chilly weather of Da Lat, there's nothing better than sitting in the middle of the green and sipping a cup of coffee!
The cafés has many fun drinks to try: salted coffee, coconut milk coffee, egg coffee, silver custard, fruit yogurt and golden lotus oolong tea.
Because it is located far from the city center, the right time to come is early in the afternoon
Address: Mimosa, Ward 10, Da Lat City, Lam Dong
Opening hours: 7:00 - 18:00
In the Forest
The route from the city center to the café is through a very poetic and romantic slope, only to find yourself greeted by a wooden platform. Photo: Hoa Hoc Tro
Because the view is completely surrounded by mountains and hills, the decoration style of the restaurant also carries the breath of plants with gentle classical features.
The sitting area outside the green area is also not short of beautiful corners, one of the highlights that makes the restaurant stand out is the lake in the middle.
Standing from here you can zoom in to see the whole hill on the other side. The shop also has a brown leather sofa surrounded by potted plants, how romantic and poetic.
Photo: Hoa Hoc Tro
Address: 31D Khe Sanh, Ward 10, Da Lat City, Lam Dong.
Opening hours: 8:00 - 21:00
Duong
Duong Café has a very own character with the peaceful setting with a wooden house in the middle of a valley filled with sunshine and filled with the sound of pine trees.
It not a newly established coffee shop but people recently discover it thanks to the wonderful work of social media.
People come here to escape from chaos. There is no wifi here (no, there really isn't any), only nature and like-minded souls, together with their hearts, looking at the green mountains and hills together.
Photo: Hoa Hoc Tro
Address: 152 Pham Ngoc Thach, Ward 6, Da Lat City, Lam Dong
Opening hours: 8:00 - 20:00
Thong Oi
Photo: Hoa Hoc Tro
Last but not least, Thong Oi is also a coffee shop located in a vast pine forest catering for those who want to spend quality time in the wild mountain space of Da Lat. You can come here for your date, for taking pictures, or just enjoy the fresh air before coming back to the busy life at the city.
The shop is also inspired by the wide view of the pine forest, so the main color and interior of the shop are inspired by wood, making the shop rustic and fully integrated with nature.
If you are up for staying the night in the deep forest, Thong Oi also provides homestay services.
Address: 31/8c 3/4 street, ward 3, Da Lat city, Lam Dong
Opening hours: 7:00 - 18:00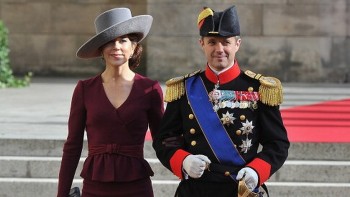 Friendship
Denmark's Crown Prince and Crown Princess will visit Vietnam to celebrate 50 years of diplomatic relations and promote green solutions.