Born in 2006, Barron Trump was first to stay out of public and stimulate the attention of the public since his father's presidential inauguration in 2017.
Barron Trump turns 14 today this year. Son of President Donald Trump and Melania Trump, the teenager has spent the past few years growing up in front of the nation's eyes — literally. He now towers over his 6-foot-3 father and 5-foot-11 mother.
Barron is not frequently photographed
According to Town and Country Mag, Barron is most commonly spotted traveling with his parents, boarding and disembarking Air Force One or the President's helicopter, as he was here, when the Trump family returned from their holiday trip to Mar-a-Lago.
A couple months earlier, Barron was seen heading to Florida to spend the Thanksgiving long weekend at Mar-a-Lago with the President and First Lady.
In 2018, the Trumps spent the Thanksgiving weekend in Florida at Mar-a-Lago. When 12-year-old Barron got off the plane with his parents, it was one of the first times he appeared to be as tall as his father.
And in April, 2018, he had made a rare public appearance at the annual White House Egg Roll. Barron hung back with his parents and watched his younger nieces and nephews race off to hunt for eggs.
Barron is the first boy to live in the White House since JFK Jr.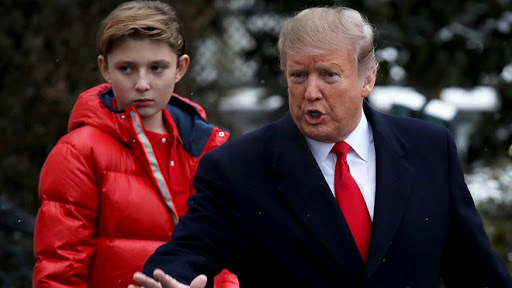 Barron Trump (red jacket) behind his father, the US President Donald Trump.
The three most recent presidents—Obama, Bush, and Clinton—have been fathers only to girls. While other presidents since JFK's time have had sons, they've all been adults who lived outside of the White House.
He is making history by attending St. Andrew's Episcopal School.
While every president's child over the past 35 years has attended Sidwell Friends, the White House has confirmed Barron is attending St. Andrew's in Potomac, Maryland. He is the first presidential child to do so. In a statement, Melania praised the school for "its diverse community and commitment to academic excellence."
This content is imported from Twitter. You may be able to find the same content in another format, or you may be able to find more information, at their web site.
His main interest is apparently "sports"
In November of 2018, the First Lady spoke at a forum at Liberty University, the institution founded by Jerry Falwell in Lynchburg, Virginia that has been crucial in shoring up Donald Trump's support on the religious right. Melania was there to raise awareness about the opioid epidemic as part of her "Be Best" initiative, and she shared a few details about her family's life in the White House. She shared that Barron is not on social media and that he is "all into sports."
That said, in the lead up to Super Bowl Sunday, President Trump said he'd have "a hard time" with letting his son play football. "I just don't like the reports that I see coming out having to do with football," President Trump said.
"I thought the equipment would get better, and it has. The helmets have gotten far better but it hasn't solved the problem."
He's fluent in both English and Slovene
Barron Trump used to have a strong Slovenian accent growing up. As of late, it is unclear if the 13-year-old's accent is still the same, Econotimes reported.
But years ago, Barron made an appearance on the "Larry King Show" alongside Donald and Melania Trump. At that time, he was heard conversing with his parents, and King couldn't help but notice his thick accent.
"Hi Larry, I like my suitcase. I have to go to school now?" Barron asked the FLOTUS. "Yes, you have to go to school now," Melania replied.
The POTUS joined in the conversation by telling his youngest son that he now has to do reading and arithmetic. At this point, King asked about Barron's accent and Melania said that he sounds more like a Slovenian than an American because Barron spends most of his time with her than his dad.
Meanwhile, when King asked Trump to share his thoughts on Barron's Slovenian accent, the president of the United States said that he thinks it's great. Melania also revealed at that time that her son can speak three languages.
Barron is really tall
Barron Trump walks out with his parents and shocks the media with his amazing height since his father's inauguration in 2017.
When's the last time you saw a seventh grader nearly as tall as his dad and former-model mom? While Barron's official height isn't publicly available, photos show he is as tall as (not taller than) the 6'2" President Trump. His mother Melania is 5'11" (without her ever-present heels).
His tall even shock the US media like photos and videos of the 13-year-old walking with his parents to board Marine One Friday show him towering over his father, who stands around six feet, three inches tall, according to the president's physician, Business Insider reported.
It isn't known exactly how tall Barron is, but he appears to be at least an inch or two taller than his father.
As he is rarely seen in public, social media users were quick to express shock at Barron Trump's seemingly extensive growth spurt since Trump's inauguration in 2017.
Many joked that if he keeps growing, he could end up as a pretty good prospect in the NBA.
Others compared him to seven feet, three-inch tall Dallas Mavericks power forward Kristaps Porziņģis, while journalist Christine Rousselle described him as "the world's tallest 13-year-old."
CNN reporter Betsy Klein noted on Twitter that the youngest Trump seemed to have grown "half a foot since Thanksgiving."
Cameron Kasky, a gun control advocate, and survivor of the Parkland shooting, described the youngest Trump in a tweet as "A TOWERING COLOSSUS."
The Mail Online covered Barron's growth spurt with the headline "TRUMP TOWER":
A computing genius, according to his president father's claim
Donald Trump brought up his youngest son during his rally in Las Vegas this February, which he rarely does, and imitated a conversation between himself and Barron.
While going off on a tangent about healthcare, and railing against Democrats for proposing single-payer healthcare systems, Trump said his youngest child could have created a better healthcare site than what came of Obamacare's open market, where people were supposed to go to sign up for a plan.
'We're running it much better than they did,' he said of the Obama administration and the former president's namesake healthcare program. 'Remember when they had – this was the greatest – the $5 billion website. $5 billion. It was supposed to cost $5 million. I have a son at home, he's 13. He's a genius with computers.'
The president then imitated a conversation between himself and Barron, who apparently is always typing on a computer.
'Hi dad. What's up dad. Dad, get out of here,' Trump said, employing a different voice to make it clear he was quoting his son.
'Hey, listen. I'm the President of the United States, Barron. Don't talk to your –' Trump said, cutting himself off in his voice of Barron.
'Dad, come on, dad. Can't you see I'm playing with my computer?'
'The guy talks to me and he's walking with his computer,' Trump said of his youngest child, his only child with first lady Melania.
'These guys are genius. You know, they grow up, it's like walking,' Trump said of younger generations growing up with technology. 'But he's looking at me. I could have given them their healthcare site, he would have done it for nothing and it would have been better than what they have. For nothing.'
He and his mother took their time moving to the White House
After months of living in New York City with his mom, Barron finally made the move to Washington, D.C. in June, halfway through the president's first year in office. First Lady Melania Trump confirmed the news with a tweet saying, "Looking forward to the memories we'll make in our new home! #Movingday" and a photo presumably taken out one of the White House windows of the Washington Monument.
VNT