Riots in America update: Peaceful protesters just outside the White House
Protests and Riots in America update: President Donald Trump has been weighing options on protest response; Peaceful protesters just outside the White House...
A formal speech addressing protests
President Trump and the White House have not decided whether he will deliver a formal speech addressing the protests and turmoil that have erupted following George Floyd's death in Minneapolis, White House adviser Brooke Rollins told Politico on Monday.
"Everything's on the table," Rollins told Politico in a remote interview. "I think ultimately he believes, and rightfully so, that he is in a constant narrative and conversation with his citizens".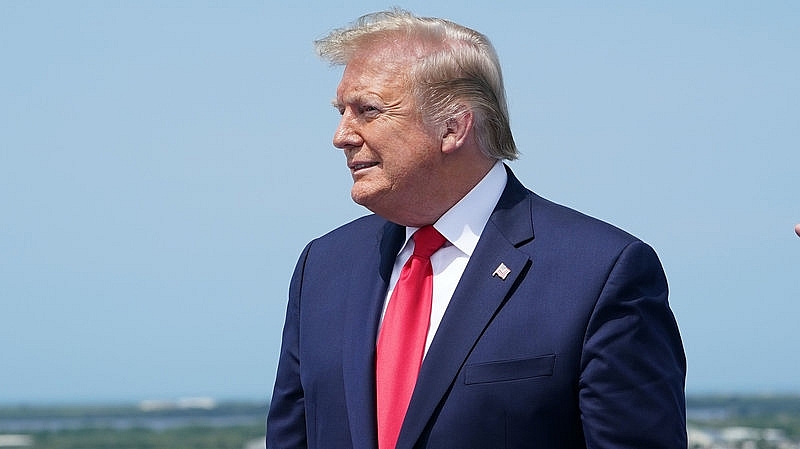 President Trump spoke about the protests over the weekend in Florida, where he traveled to watch the SpaceX launch. Photo: Mandel Ngan/AFP via Getty Images
According to npr.org, mass demonstrations have taken place across the country to call for justice for Floyd, who died after a Minneapolis police officer pressed his knee into Floyd's neck for nearly nine minutes as Floyd pleaded for help.
Tensions have escalated as police officers have fired tear gas and rubber bullets at protesters, and some demonstrators have set buildings and cars on fire. Trump has faced some pressure to speak to the nation about the unrest. Trump has been tweeting about the case and delivered lengthy remarks on the protests during a NASA' event Saturday. He said he supports peaceful protests, but that looting will not be tolerated.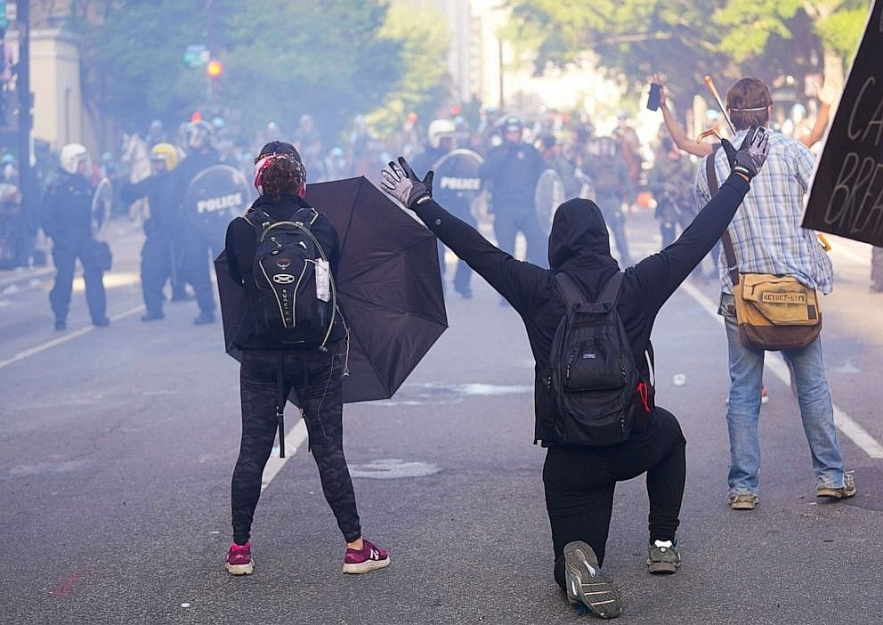 Demonstrators kneel in front of a line of police officers during a protest for the death of George Floyd, Monday, June 1, 2020, near the White House in Washington. Photo: AP.
Rollins, who heads the White House Domestic Policy Council, said the White House is examining a list of possible bipartisan "solutions" focused on how to bring the country together. "How do we use this as a unifying force for this country?" Rollins asked in the Politico interview.
While Rollins talked about reaching across the aisle, Trump has repeatedly lashed out about the protests in partisan terms, calling out governors and mayors who are Democrats. He's urged officials to use the military to crack down on demonstrators. In a call Monday, Trump called governors weak and urged them to dominate protesters, according to a person on the line.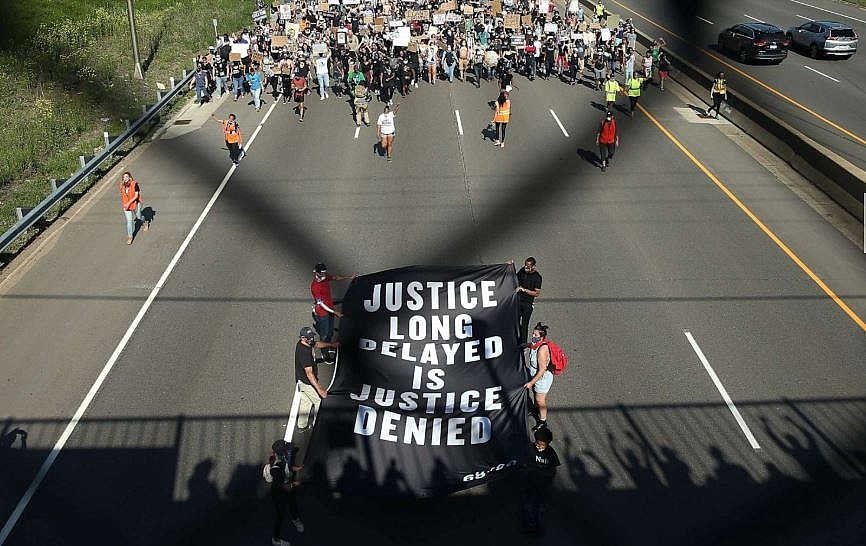 Death of George Floyd sparks widespread outcry. Photo: ABC News.
The "law and order" president
Trump declared himself "your president of law and order" during remarks Monday as peaceful protesters just outside the White House gates were dispersed with tear gas and flash bangs, CNN reported.
With the constant sound of helicopter blades overhead and a steady succession of bangs from nearby, Trump said from the Rose Garden he was committed to upholding laws and mobilizing military resources to end nationwide looting.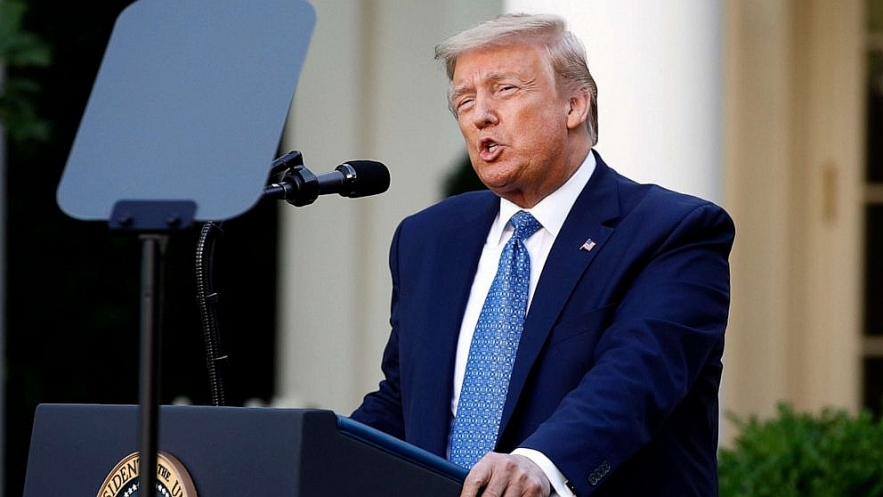 President Donald Trump speaks in the Rose Garden of the White House, June 1, 2020.
Photo: Patrick Semansky/AP
"My first and highest duty as president is to defend our great country and the American people," Trump said. "I swore an oath to uphold the laws of our nation and that is exactly what I will do."
Trump said justice would be served for George Floyd, the unarmed black man who died after a white police officer knelt on his neck as he was being arrested. He also said he was an "ally of all peaceful protesters".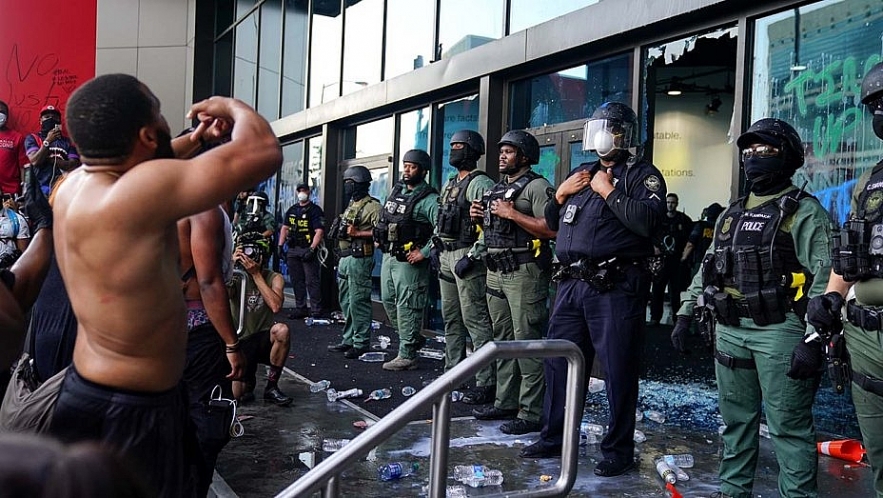 Protesters surged in CNN's headquarters in Atlanta. Photo: CNN
Striking terms with a declaration on mobilizing "heavily armed" military to stop protests
As ABC News reported, in a dramatic escalation of a national crisis, National Guard troops were deployed near the White House Monday evening hours after President Donald Trump said he wanted a military show of force against violent protests gripping the country.
"As we speak, I am dispatching thousands and thousands of heavily armed soldiers, military personnel, and law enforcement officers to stop the rioting, looting, vandalism, assaults, and the wanton destruction of property," he said. "We will end it now".
He also called on governors to use their National Guard military police units to "dominate the streets" and said he would deploy the active duty military if governors failed to use the National Guard more forcefully. He said he may invoke the 1807 Insurrection Act, which permits a president to deploy military inside the U.S. to deal with civil disorder.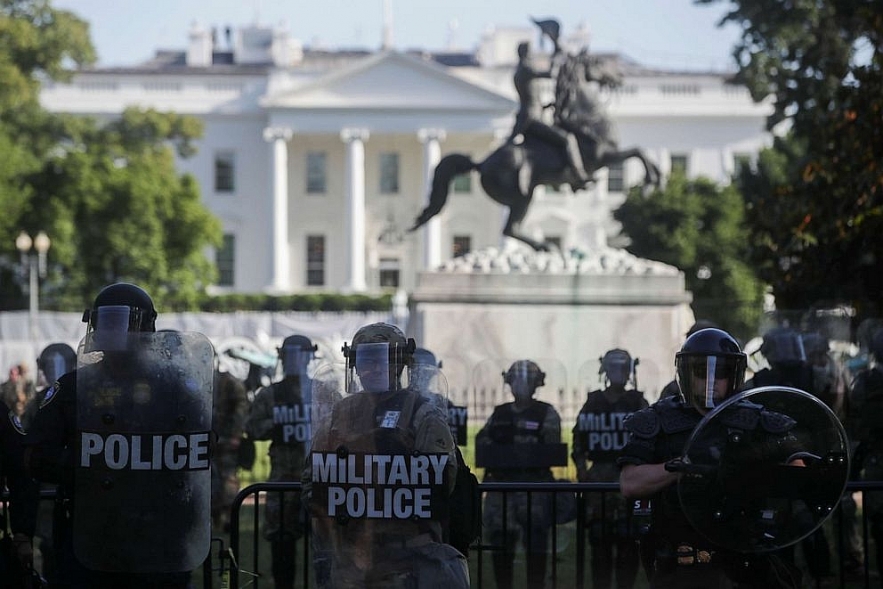 DC National Guard military police officers look on as demonstrators rally near the White House against the death in Minneapolis police custody of George Floyd, in Washington, D.C., June 1, 2020. Photo: Reuters.
Several truckloads of DC National Guard military police had arrived near Lafayette Park where large groups of protesters had fought with police for the past three nights, at one point on Friday causing officials to have Trump taken to a bunker below the White House for his protection.
A U.S. official said that active-duty Army military police units from Fort Bragg, North Carolina, were preparing to be on standby in the Washington, D.C. area Monday night after three days of violent protests. The National Guard troops are going to be protecting national monuments, the White House, property, and infrastructure, the official said.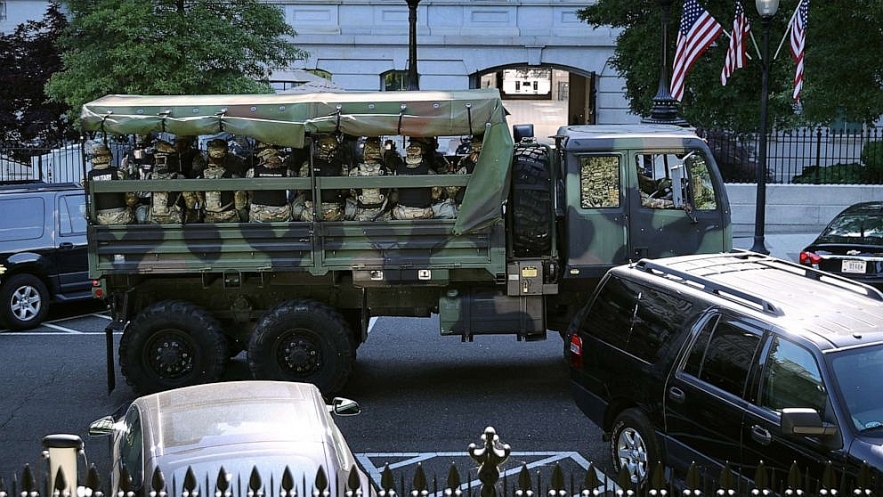 Trucks transport District of Columbia National Guard troops along West Executive Drive in support of law enforcement officers that are keeping demonstrators away from the White House. Photo: Getty.