Why 90% of Covid-19 infections in Vietnam are the young ?
While almost Covid-19 infectious patiens in some countries such as China, Italy are supposed to be the old people accounting for 80%, the cases in Vietnam are the young in contrast, rating 90%.
Hanoi Chairman Nguyen Duc Chung said that the disease development in Vietnam tended to contrast with the one in the world's epicenters of Wuhan (China) and Italy. In particular, almost infectious cases in other countries are the old people and on the contrary to Vietnam.
" 92% of infections and deaths in Italy or 80% of the number in China were over 60 year-old people. While more than 90% of infections in Vietnam are young people under the average age of 34, resulting no deaths confirmed till now" Chung said.
The proportion of Covid -19 infections in Vietnam makes up more than 90% (Photo: TPO)
Chung estimated that the young took higher risks of infection due to their more travelling and movement with less preventation, while the elder in Vietnam prefered staying at home to going out.
Furthermore, the disease is unpredictable along with hot weather advantaging for its wide spread and development.
In order to quickly implement and rush time to prevent the disease spreading, the meeting of steering commitee on 20 March for Covid-19 preventaiton in the city led by Hanoi Chairman Nguyen Duc Chung informing the development of the disease around the world, focusing the measures in Wuhan, China - the first source of disease outbreak - having confirmed no any new cases during last 4 days.
The national steering committee requested not to issue visas to all foreigners excepting diplomatic or medical officials, but all of entry must be quarantined for 14 days.
thoidai.com.vn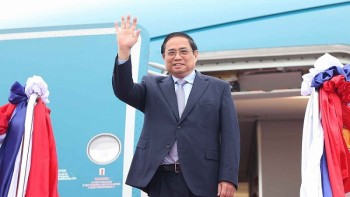 National
Vietnam News Today (Feb. 6): PM Chinh to pay official visits to Singapore, Brunei; Vietnam attends ASEAN+3 Tourism Ministers Meeting; Exports in 2023 and high demands from new generation FTAs; Digital technology to spearhead Vietnam's drive for Industry 4.0.