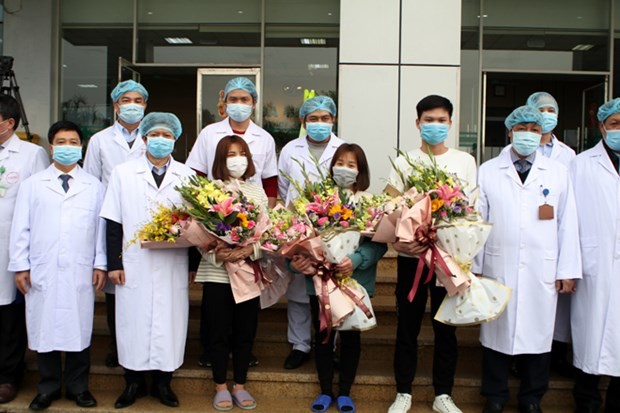 Three patients infected with the novel coronavirus (2019-nCoV) have recovered and are discharged from the National Hospital of Tropical Diseases in Hanoi on Feb 10. (Photo: VNA)
The latest case is a 3-month-old girl from Vinh Phuc province. According to MoH, she is grandchild of a previous confirmed patient, who had close contact with a infected worker returned from China's Wuhan city.
The eight Vietnamese people were sent to Wuhan for training by Nihon Plast Co Ltd of Japan and returned to Vietnam on China Southern Airlines fight CZ8315 on January 17.
On January 28, the baby was brought to her grandmother's house and kept there for four days.
On February 6, she showed symptoms such as coughing and runny nose.
The local disease monitoring centre took her blood sample for testing and the result was positive for the virus.
Contact tracing for the confirmed cases is ongoing, once identified, they will also be quarantined for 14 days from their last exposure to the patient.
At present, the baby and her mother are being quarantined at a polyclinic in Binh Xuyen district. Both are in a stable condition.
This brings the number of cases in Vietnam to 15; 10 in Vinh Phuc province, one in Thanh Hoa province, one in Khanh Hoa province, and three in Ho Chi Minh City.
Deputy Prime Minister Vu Duc Dam, who is also head of the steering committee on the fight against the respiratory disease caused by the nCoV, on February 10 said the northern province of Vinh Phuc should maintain its efforts and determination to contain the epidemic in its localities.
During a working session with provincial leading officials, he said that the government will set up a working team based in Vinh Phuc to make the fight more effective.
Vinh Phuc has set up facilities capable of quarantining up to 500 people./.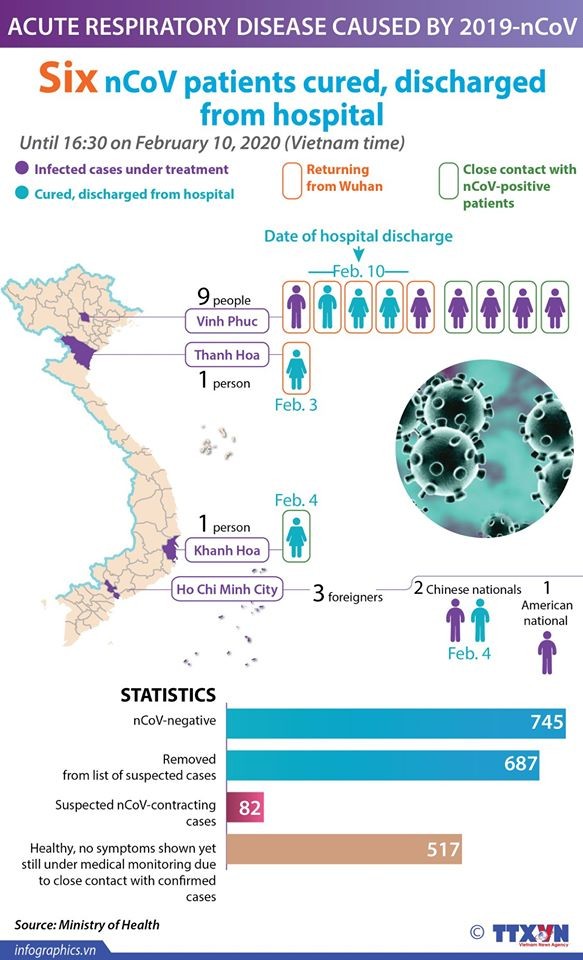 Six nCoV patients cured, discharged from hospital. (Source: VNA)
VNF