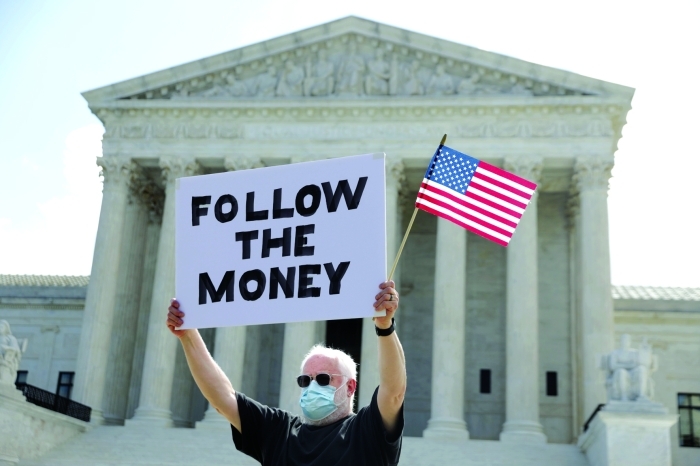 The Supreme Court has ruled that a district attorney in Manhattan can seek Donald Trump's tax and financial records from his accounting firm (Photo: Quatar Tribune)
Supreme Court rules Trump must hand over financial documents to prosecutor
The Supreme Court has ruled that a district attorney in Manhattan can seek Donald Trump's tax and financial records from his accounting firm, a potentially damaging ruling against the president and his New York-based business.
However, in a separate decision, the court blocked Congress from obtaining financial information from the president's accounting firm and major lenders.
The first ruling concerned not just the release of financial records, but the limits of presidential power. The Justice Department had argued that the president is immune from investigation while he holds office, and that a prosecutor must show a greater need than normal to obtain the records.
The court, however, ruled the president is not immune from the Manhattan district attorney's subpoena, but sent the matter back to a lower court to resolve the dispute, Independent reported.
The Manhattan district attorney had sought records from Mr Trump's accounting firm concerning payments arranged by his former personal lawyer, Michael Cohen. The payments in question were allegedly made to keep two women from airing their claims of decade-old extramarital affairs with Mr Trump during the 2016 presidential race.
By 7-2 votes, the justices upheld the Manhattan district attorney's demand for Trump's tax returns, with both of the president's Supreme Court appointees – Neil Gorsuch and Brett Kavanaugh – voting with the majority.
Mr Trump responded to the ruling by calling the investigation by the Manhattan district attorney "a political prosecution".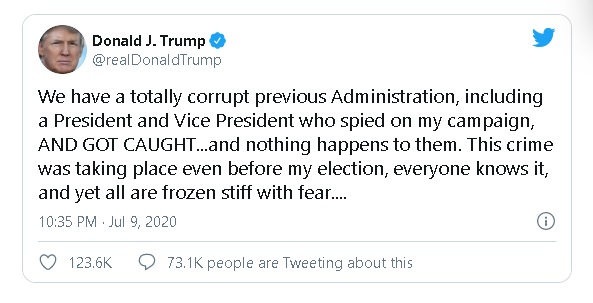 Trump posted on his tweeter (Photo: Captured)
Seoul mayor, embroiled in sexual harassment allegations, found dead hours after disappearance
Seoul Mayor Park Won-soon, 64, was found dead Thursday, ending a massive search a day after one of his secretaries reportedly accused him of sexual harassment.
The Mayor had left a message that his daughter described as sounding like a will and then turned off his phone. A search team involving about 600 police and fire officers, drones and dogs began looking for him in the northern part of the city, where his phone was last detected. His body was found seven hours later near a restaurant in wooded hills around that area.
The cause of death has not been released.
According to Daily News, the mayor's shocking death comes a day after a government secretary filed a police report against him describing a series of sexual harassment incidents that allegedly began in 2017, the Seoul-based SBS television network reported. The woman apparently told police that Park had also targeted other female employees over the years, according to SBS.
The third-term mayor, who was first elected in 2011, was a member of President Moon Jae-in's liberal Democratic Party and was considered a top contender for the 2022 presidential election.
He also was a longtime activist and human rights lawyer who was credited with winning South Korea's first sexual harassment conviction.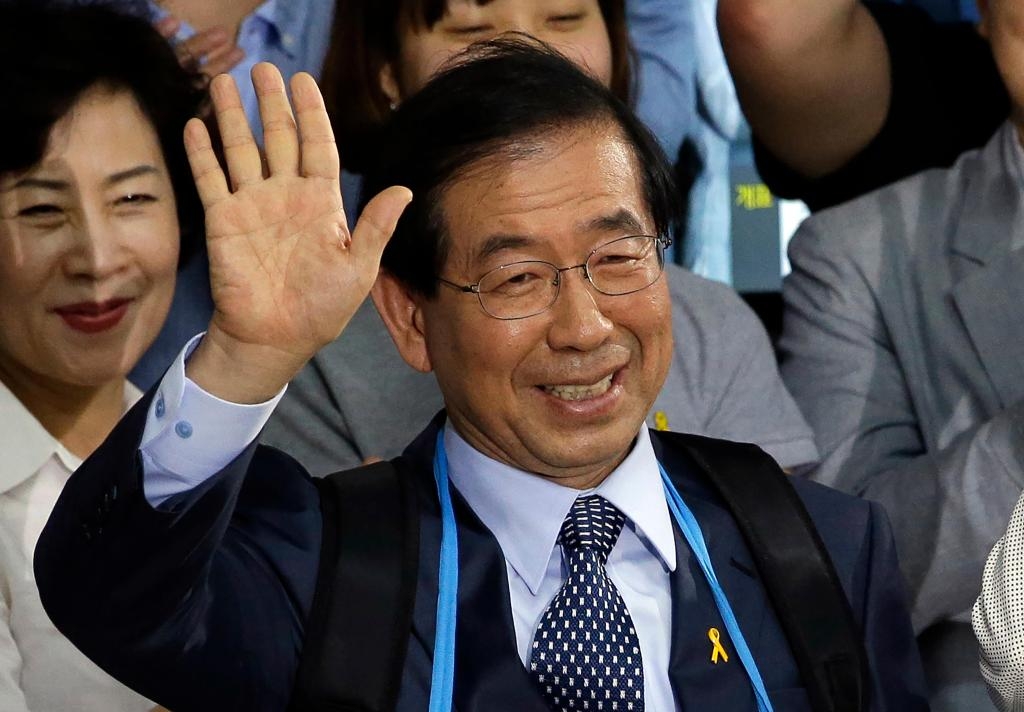 Seoul Mayor Park Won-soon (Photo: Boston Herald)
Bolivia's President Anez has tested positive for coronavirus
Following the confirmation that she had contracted the virus, Anez said in a tweet she was "well" and continuing to work while in isolation. "Together, we will come out of this," she said.
The Bolivian government confirmed that at least seven ministers, including its health minister, had tested positive and were either undergoing treatment or recuperating at home.
Bolivia is due to hold general elections on Sept. 6. The elections were originally planned for May but delayed due to the pandemic.
Other leaders around the world also have contracted the virus. British Prime Minister Boris Johnson, 55, spent three days in intensive care sick with COVID-19, the respiratory disease caused by the novel coronavirus, while Brazilian President Jair Bolsonaro confirmed on Wednesday he had tested positive.
Bolivia, a landlocked Andean nation of over 11.5 million people has registered more than 42,000 confirmed cases of the disease and 1,500 deaths and is one of the worst affected countries per capita in the world.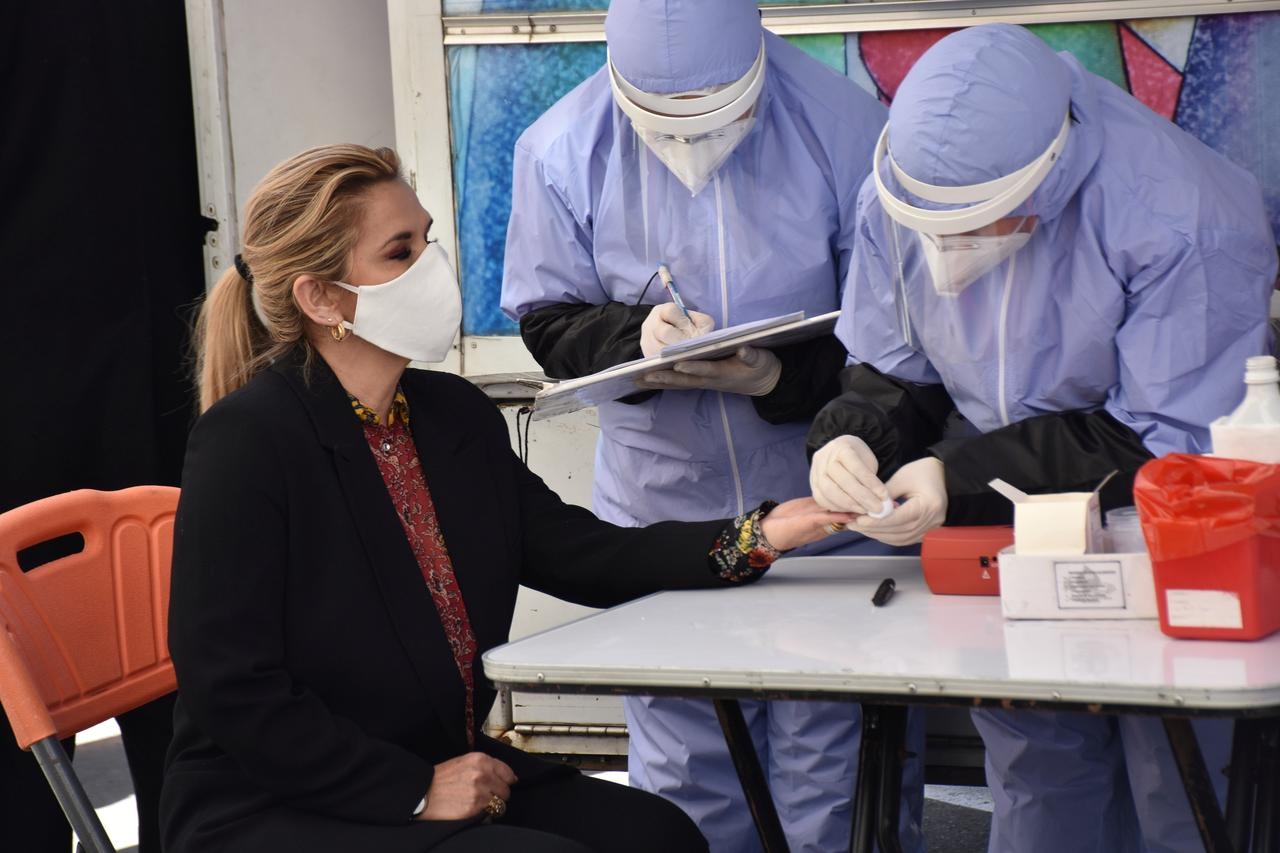 Anez said in a tweet she was "well" and continuing to work while in isolation (Photo: Reuters India)
Crane falls on house in London leaving one death, four injuries
A 20-metre long crane fell on two houses in east London on Wednesday afternoon, killing one woman and injuring four other people.
A woman was found on the first floor of one of the houses and confirmed dead at the scene. Among the four people who were injured, two were brought to the hospital with head injuries.
Photos from the scene showed a crane leaning on the houses and significant damage to the rooftops. London's Fire Brigade reported that the crane also fell on flats that was being constructed, Euro News said. The crane that collapsed was being used by Swan Housing Association and NU living.
Mayor of London Sadiq Khan tweeted: "This is a tragedy. My heartfelt condolences go out to the family of the victim who died during this incident in Bow today. I sincerely hope that the four individuals injured make a full recovery."
National officer of the Unite union, Jerry Swain, said there must be "an urgent, full and complete investigation into the circumstances that led to this accident".
Preliminary findings of the accident will be released in weeks, rather than months or years to make sure similar accidents are avoided in the future.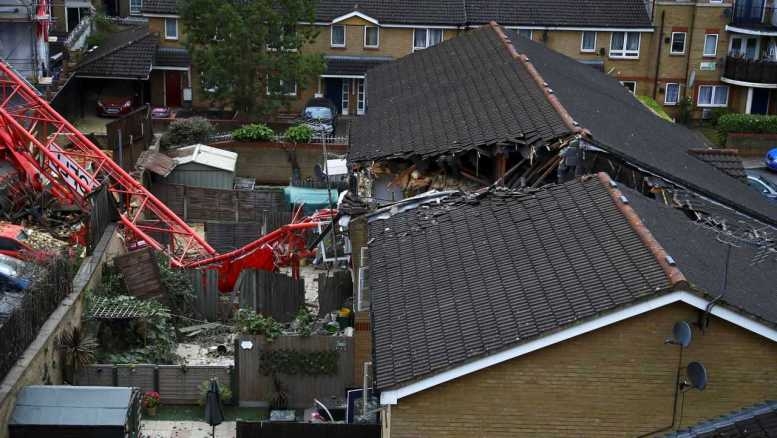 A 20-metre long crane fell on two houses in east London on Wednesday afternoon, killing one woman and injuring four other people. (Photo: Times Famous)
Prices Consolidate Despite Declining US Yields
Gold prices moved lower consolidating its recent gains after hitting a fresh 8-year high on Wednesday. The dollar rebounded on Thursday which generated some mild headwinds for gold prices. The 10-year US treasury yield dropped sharply declining to 60-basis points and closing at the 3rd lowest level in history and the lowest close since mid-April. Fear that COVID continues to spread through the United States, is weighing on future growth prospects. US jobless claims were smaller than expected showing that the declines in the job market have likely stabilized, FX Empire reported.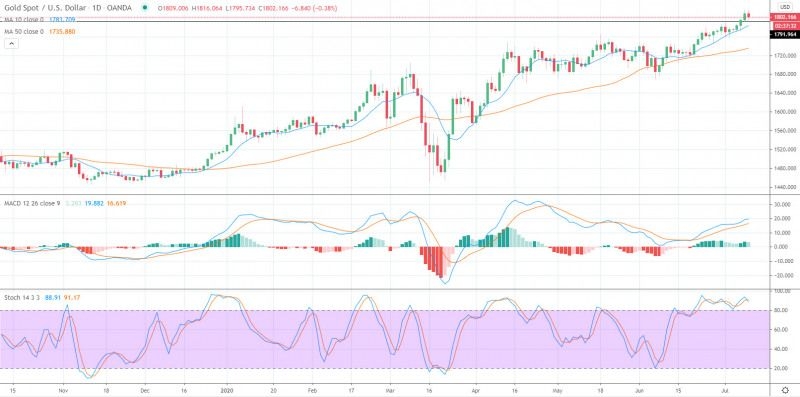 (Photo: FX Empire)
Technical Analysis
Gold prices rallied consolidated and moved lower on Thursday after hitting fresh 8-year highs on Wednesday. Prices are now poised to test target resistance near the August 2011 highs at $1,921. Support is seen near the 10-day moving average at 1,783 and additional support is seen near the 50-day moving average at 1,735. Short term momentum has turned negative and continues to whipsaw making new signals almost daily. The current reading on the fast stochastic is 89, down from 94 on Wednesday and still well above the overbought trigger level of 80 which could foreshadow a correction. Medium-term momentum remains positive as the MACD (moving average convergence divergence) histogram prints in the black with an upward sloping trajectory which points to higher prices.
Jasmine Le