World's last ninja showcases skills in Ho Chi Minh City
He also shattered some common misconceptions about ninjas
Jinichi Kawakami–who claims to be the last living ninja in the world–is in Ho Chi Minh City to demonstrate his skills and talk to local youths about the life of the ancient Japanese mercenaries.
Jinichi Kawakami, who claims to be the last living ninja in the world, demonstrates his skills in front of students at the University of Pedagogy in Ho Chi Minh City, November 14, 2017. Photo: Tuoi Tre
Kawakami is in Vietnam with professors from Japan's Mie University to announce their latest research into the lost art of ninjutsu , the strategy and tactics of unconventional warfare and espionage practiced by ninjas.
The Japanese master, claiming to be the only heir to authentic ninjutsu , and Mie University professors were invited by the University of Pedagogy in Ho Chi Minh City to give a speech on "The Truth about Ninjas" as part of an exchange program between the universities.
Unsung heroes
According to Mie University professor Yamada Yuji, who has conducted studies on ninjas and ninjutsu with the help of Kawakami since 2011, the term 'ninja' has only been used in popular culture since the end of the Second World War.
"During the Edo period, ninjas were called shinobi and were used mainly for gathering intelligence, though their missions could vary depending on when they lived and who their lord was," Professor Yuji spoke to students of the University of Pedagogy on Tuesday afternoon.
"When the Edo period ended, the need for shinobi also vanished."
Students at the University of Pedagogy in Ho Chi Minh City attend the talk about ninjas November 14, 2017. Photo: Tuoi Tre
The professor added that that the true nature of ninjas had been twisted by their dramatized portrayal in movies and comic books.
Apart from assassination and infiltration techniques, ninjas had to have extraordinary memory skills to memorize critical intelligence information, he said, and their role proved useful even during times of peace.
"Ninjas are extremely loyal servants to their lords who were aware that their existence mattered to the survival of their land," professor Yuji said. "But they also knew to always stay away from the spotlight."
Sharing his colleague's views, professor Yoshimaru Katsuya dismissed the misconception that anybody who is dressed in black attire and steals something is a ninja.
"In reality, ninjas are exceptional intelligence agents who had a special ability in evaluating a situation and had a certain impact on the political scene of the time," Katsuya said.
According to the researchers, it was not until the publication of the 1913 book 'Sarutobi Sasuke' by Tamada Gyokushusai that the perception of ninjas in the Japanese society changed for the better.
While ninjas were seen as the representation of evil and mischief before 1913, they are now known to also be loyal servants with dignity and self-respect, they said.
"Ninjas are the incarnation of hope about those who have the power to protect the common people in the most difficult circumstances," professor Katsuya said.
Professor Yoshimaru Katsuya from Mie University in Japan talks about ninja at the University of Pedagogy in Ho Chi Minh City, November 14, 2017. Photo: Tuoi Tre
The makings of a ninja
According to Kawakami, martial arts are just a small part of ninjutsu. A true ninja places his heart before everything else, not only in combat but also in their way of life.
To demonstrate his skills, Kawakami dislocated his own shoulder joint and put it back in place in front of the crowd of hundreds.
The ninjutsu practitioner also gave an eye-popping performance with renowned ninja weapons like shuriken, swords and smoke bombs.
According to professor Yamada Yuji, experts at Mie University are now also looking into breathing techniques and the diet employed by ninjas to help them achieve such remarkable health and stamina.
"Learning to become a ninja is learning to harmonize with others, not to become stronger than the rest," Kawakami said.
Jinichi Kawakami, the last living ninja in the world. Photo: Tuoi Tre
However, he said he didn't want younger generations to learn to become ninjas, because there are many more things worth studying in the modern world that are actually useful for the society, such as science, literature and the arts.
"Even we didn't expect the talk to be so captivating and academically informative," said Dr. Cao Le Dung Chi, dean of the Faculty of Japanese Studies at the University of Pedagogy.
"When we organized it, we only hoped that it would provide some interesting insights about ninjas to inspire our students to study the Japanese language."/.
VNF/TTO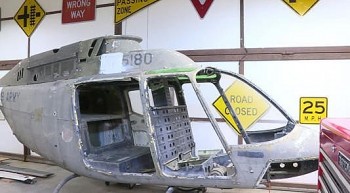 World
A piece of military history related to Vietnam is coming to life with a special project in a small Barton County townm in the US