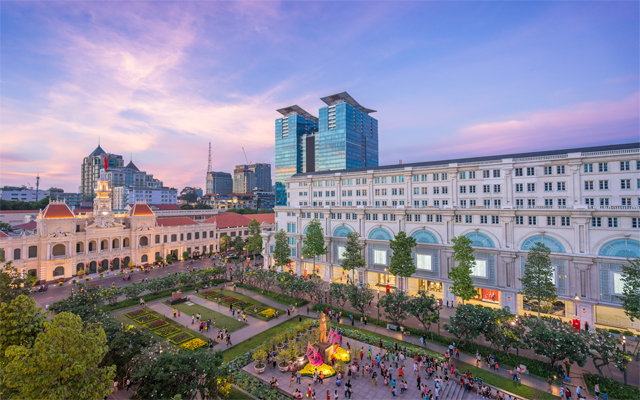 Nguyen Hue pedestrian zone in downtown Ho Chi Minh City, Vietnam. Photo by TTG Asia.
The survey carried on around 1,000 respondents by hospitality consulting group C9 Hotel works and Delivering Asia Communications in April following the Vietnamese government's decision on social distancing lift, which is the very first nation in Asia making such move.
Nearly half of those or 450 respondents gave nods when being asked if they wouldtravel to Vietnam. Of which, one-third aged between 20 and 29.
Otherwise, only about half or some 490 of the initial sample of 1,000 respondents said they would travel overseas this year. This means that the 450 who were looking to travel to Vietnam, a short-haul destination, made up 90 percent of these respondents.
TTGAsia cited David Johnson, CEO, Delivering Asia Communications as saying that the two most preferred platforms for accommodation bookings the aforementioned respondents are Tecent's WeChat, Alibaba Group's travel service platform Fliggy.
Other findings also seemed to reflect a strong influence of the age bracket. A significant majority (81 percent) of the 450 respondents said they prefer to visit Vietnam as an individual group to the touring group when visiting Vietnam.
What to make Vietnam travel so favorable?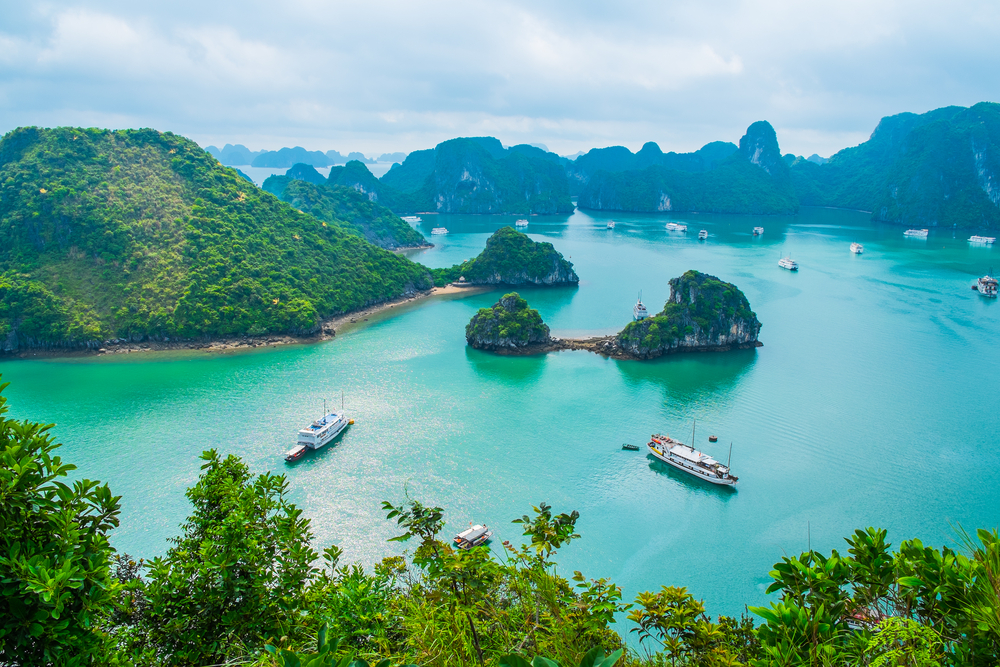 Ha Long Bay, Vietnam. Photo by Travel Daily Media.
Some aspects that make Vietnam a worth-visit destination including budget travel (accommodation, foods…) and mainstream locations.
39% of respondents showed interest in affordable accommodation while 25% another fond of a luxury stay.
"The preference for budget accommodation also came through in the amount the 450 respondents planned to spend on atrip to Vietnam, where most (54 percent) indicated they were looking at spending US$710 per trip, followed by 36 percent of respondents, who said they would set aside US$1,400," TTGAisa noted.
Besides the favorable exchange rate between the Chinese RMB and Vietnamese dong, the post-crisis 'fear factor' – likely to be manifested in a preference for short-haul, proximity air travel, and avoidance of extended air travel – are factors that are expected to make Vietnam a favored destination among Chinese outbound travelers, noted said Bill Barnett, managing director, C9 Hotelworks.
When being asked about the proper time travel to Vietnam, many of the 450 respondents (more than 30 percent) did not indicate any particular month. However, once the answers hone in, October and August proved the most popular, with more than 20 percent and over 10 percent of the 450 respondents saying they would travel in the two months respectively.
Travel Daily Media cited statistics showing that the respondents tend to looking at more mainstream destination such as Ho Chi Minh City (preferred by 26 percent of the 450 respondents), Hanoi (19 percent), Nha Trang/Cam Ranh (17 percent) and Halong Bay (13 percent). Among emerging destinations, Sapa stood out, with eight percent of the 450 respondents indicating interest in visiting.
While traditional activities such as sightseeing proved popular among the 450 respondents (32 percent indicated interest), a growing number seemed to be interested in nature activities, with 25 percent of the 450 respondents keen on such activities in Vietnam.
China makes lion's share among the Vietnamese tourist markets
China has always been Vietnam's main source of tourists in recent years, accounting for one-third of all foreign visitors. The number of Chinese tourists surged by 16.9% year on year in 2019, representing a record high, and now account for just under a third of all visitors to Vietnam, according to the General Statistics Office of Vietnam.
Survey results released last year by the Vietnam National Administration of Tourism, reveal the average daily spending by the Chinese in Vietnam increased from US$118.6 in 2014 to US$130 last year. This was below what Chinese visitors spent in Thailand ($180), Indonesia ($183), and Singapore ($446).
A Bloomberg report said Chinese tourists could have a big impact on Vietnam's economy. It said a 30 percent increase in spending by Chinese tourists would boost Vietnam's economic growth by nearly 1 percentage point. For Thailand, that would be around 1.6 percentage points.
"Chinese tourism is pretty big for ASEAN now, and all the countries rely on Chinese visitors to keep coming and keep spending," Edward Lee, an economist with Standard Chartered Plc in Singapore, was quoted as saying in the report.
Lyan Vu