Young French Filmmaker Explores Vietnam's Musical Landscape
François Bibonne, a young French documentary filmmaker, spent 15 months exploring his connection with Vietnam via music
Born in 1995, François Bibonne is a French – Vietnamese filmmaker who is residing in France.
He grew up listening to the stories about the people, nature and culture of Vietnam from his Vietnamese grandmother.
François never had any chance to visit the country until 3 years ago, when his grandmother passed away. It was love at first sight for the young French – Vietnamese.
When he came back to Vietnam in February 2020, François decided to make a documentary about Vietnam from his viewpoint via classical music.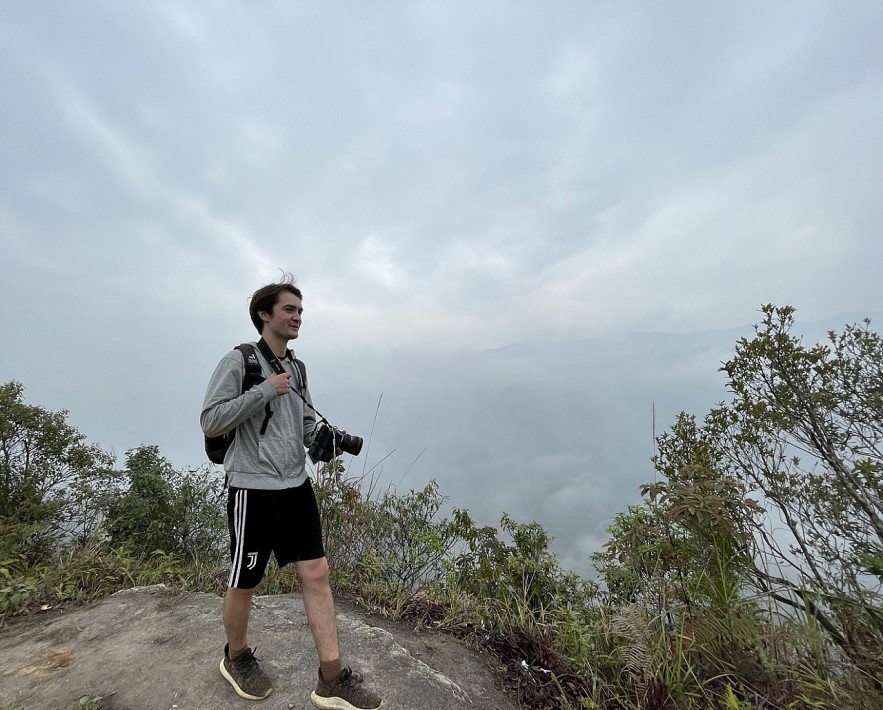 François Bibonne discovering Vietnam. Photo: VnExpress
The documentary recorded François' journey across many Vietnamese provinces. It reminded him of his late grandmother and helped him understand the cultural and natural beauty of Vietnam.
Before coming to Vietnam, François had doubts about classical music and orchestras in the country, but he was completely amazed by the opera houses in Hanoi, Haiphong, and HCMC. After visiting the country's many grandiose opera houses, the camera followed François' journey to the countryside to also discover folk music. A Ca Tru artisan once told François that Vietnam's traditional music and western classical music resembled yin and yang.
A music expert, François feels the sceneries and people of Vietnam via sounds.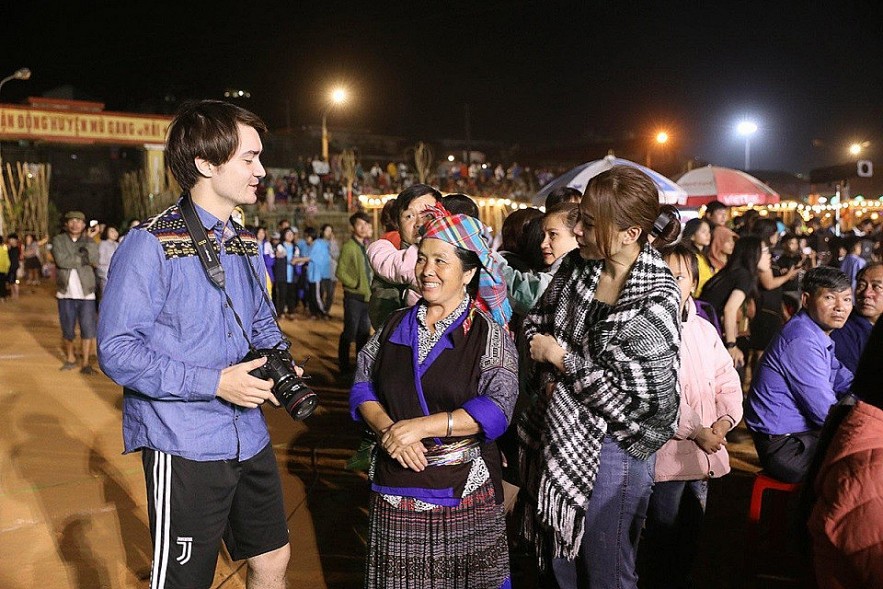 François exploring traditional culture during his 15-month journey in VIetnam. Photo: VnExpress
For François, sounds are constantly on the move because they are created when there is oscillation. In music, that is when people sing or play a musical instrument. In everyday life, that is the sound of climate, people, cities, societies, languages or even transport. François feels the uniqueness of Vietnam via sounds.
Coming back to France, the young French – Vietnamese recalls the sound of motorbikes or lively restaurants whenever he thinks about Vietnam. He also adores the sound of the Vietnamese language and traditional musical instruments.
Sounds help François to feel the beats of the country and its sceneries.
He said people often associate major cities in Vietnam with the noisiness from vehicles and the rural areas with quietness and tranquility. Through music, François can explore Vietnam and its contradictions, connecting cities and rural areas in the same melodies to show the harmony between the liveliness and gentleness of Vietnam's society.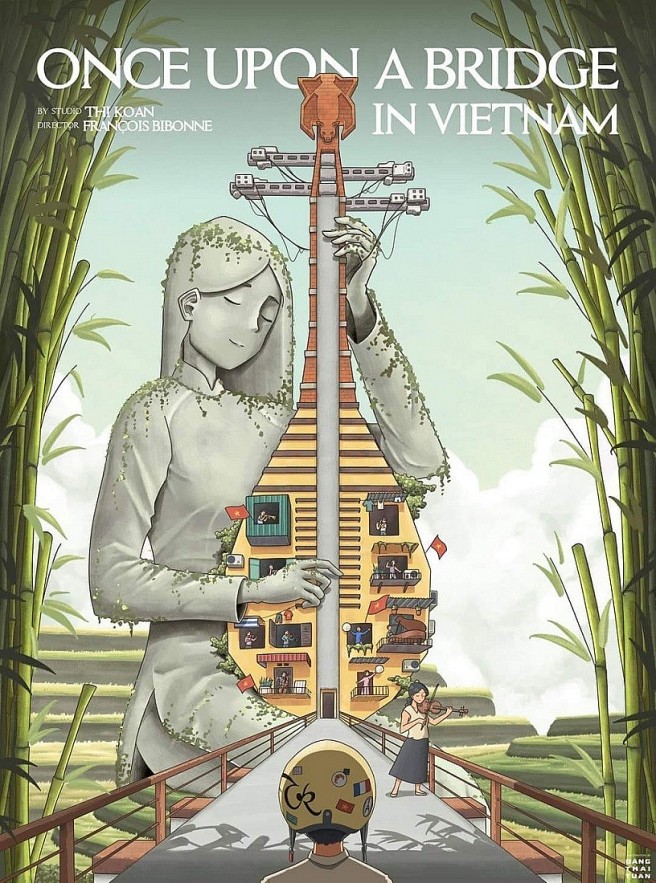 Poster for François' documentary "Once upon a bridge in Vietnam." Photo: François Bibonne
As he explored Vietnam, François felt as if he was living in a movie. He believes Vietnam landscapes are deeply cinematic.
François' journey to discover his connection to Vietnam took him to Bac Giang, Bac Ninh, Yen Bai, Nam Dinh, HCMC and Hanoi. Amongst the places he had been to, François loved the bamboo forest in Mu Cang Chai the most. "It was like magic. When the light died down, the bamboos turned orange and I felt as if I was transported to a different universe. It left one of the strongest impressions on me when I was in Vietnam and in my entire life. The bamboo forest was surrounded by mountains, so it felts very spiritual," François said.
When he visited Bac Giang, François went to a small village where farmers played the violins. The village had small roads covered in straws and brick walls on both sides, which, to François, were adorable. The journey to Nam Dinh also left a strong impression on the French filmmaker with its collection of spectacular churches.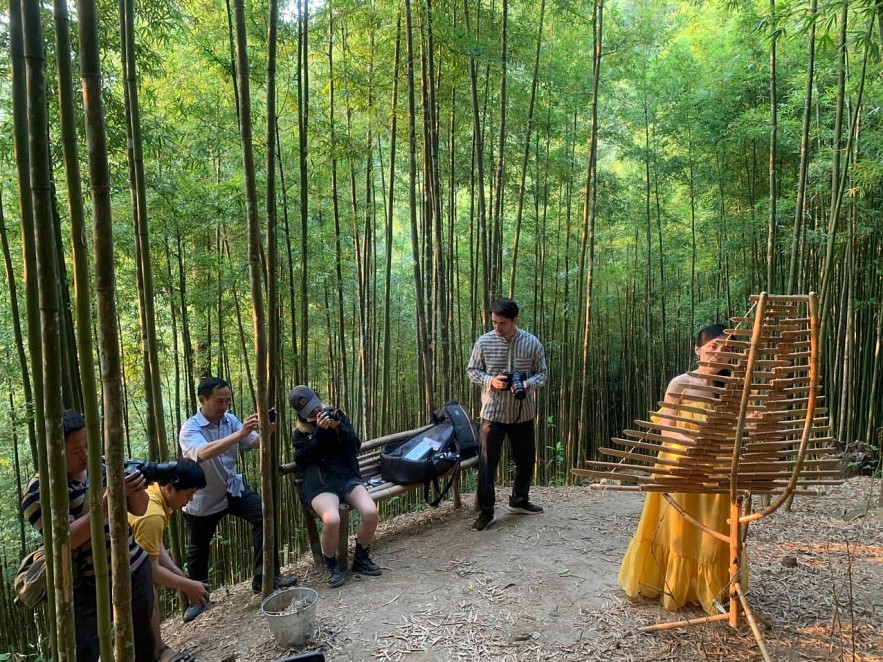 François filming his documentary. Photo: VnExpress
François believes Vietnam tourism should focus on promoting traditional music for its uniqueness. He is concerned that the tourism sector in Vietnam would try to make western visitors comfortable and Vietnamese artists would use western harmonies so foreigners could feel the melodies more easily. He hoped that tourism would accommodate traditional music, not changing it.
François hopes to return to Vietnam and visit Cong Quan House, where the famous French musician Camille Saint Saens stayed during his visit to Vietnam. He also looks forwards to visiting Da Lat and discovering traditional music in the central highlands.
Currently, François Bibonne's documentary "Once Upon a Bridge in Vietnam," which explores the country via classical music, is entering the final phase before its official debut at the end of this year. The film gathers its budget from fundraising and 10% of the fundraising campaign values will be donated to expand the bamboo forest in Yen Bai.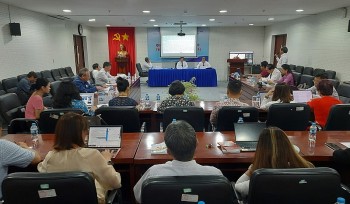 Friendship
The Vietnam - India Friendship Association's Ho Chi Minh City branch, the Ho Chi Minh City Union of Friendship Organizations (HUFO) and the Southern Institute of Social Sciences on March 21 held a scientific seminar themed "Vietnam - India relationship: tradition and present".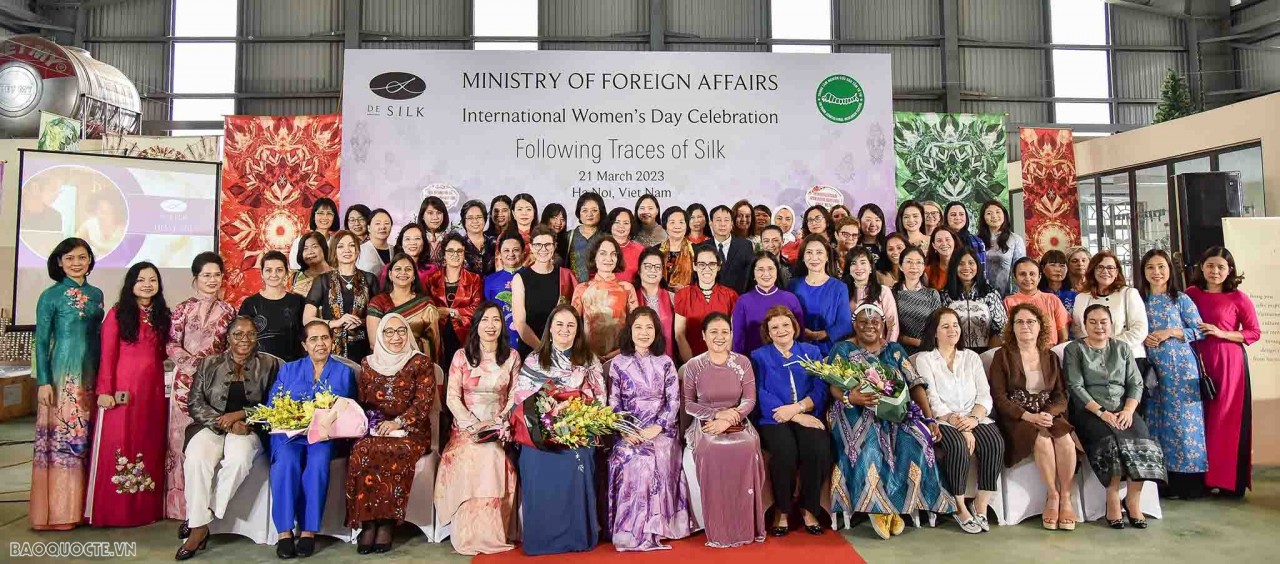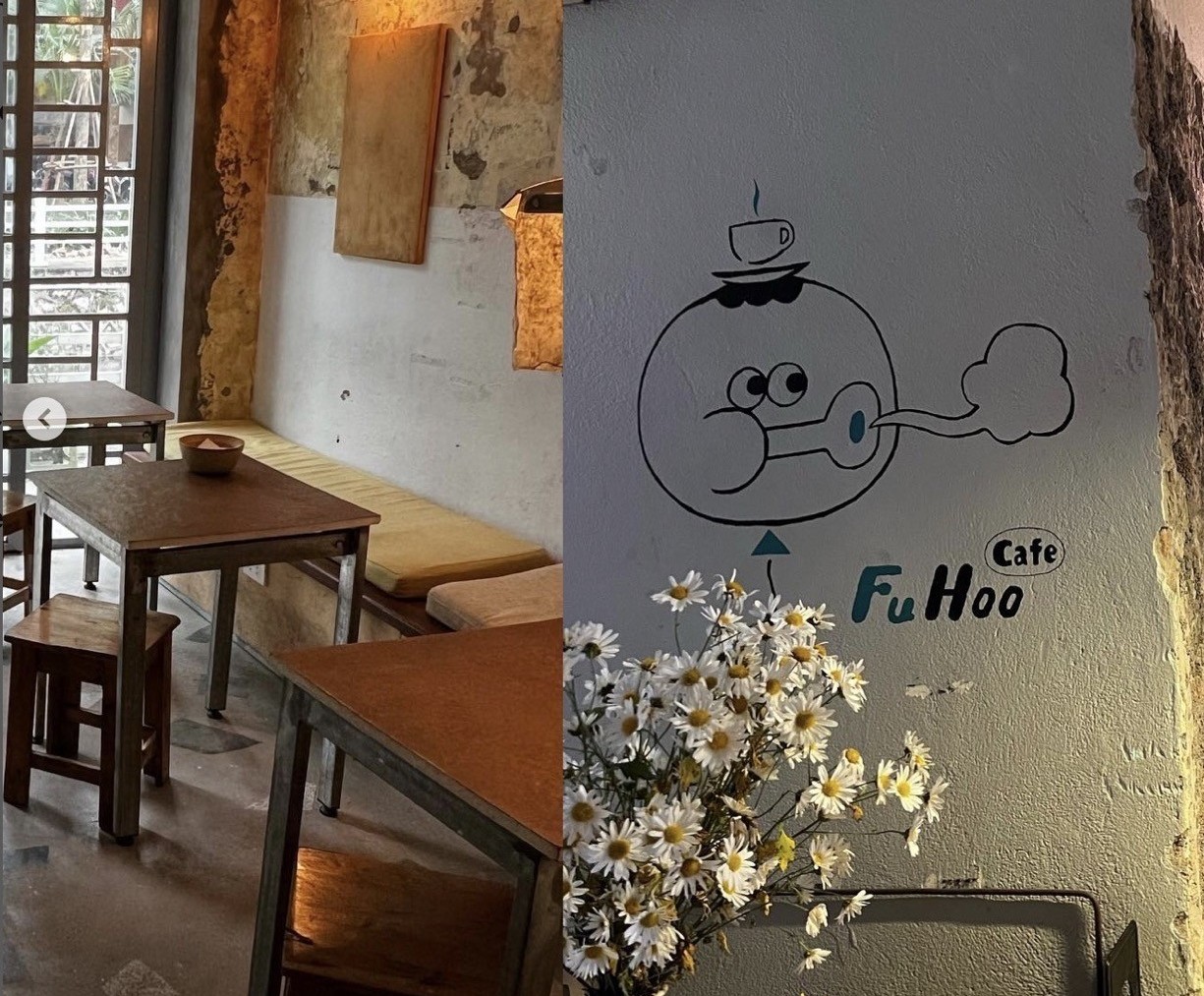 Focus
During three months of Covid-lockdown, Japanese architect Kosuke Osawa came up with the idea of a coffee shop/social gathering space in the heart of Hanoi city. After only a year since its opening, Kosuke's café has created an active and friendly community loved by both locals and expats.
February 24, 2023 | 06:30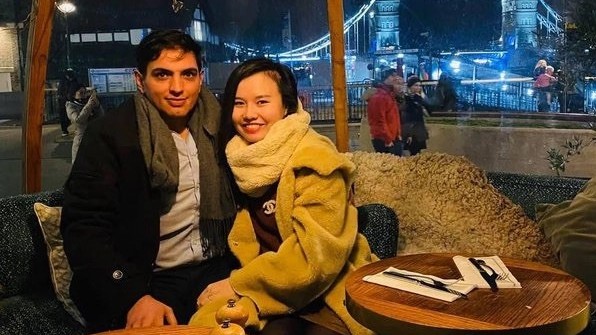 Expats in Vietnam
A modern fairytale between a Vietnamese beauty and a German had turned into a fruitful marriage since 2018. It all started with a song.
February 21, 2023 | 14:12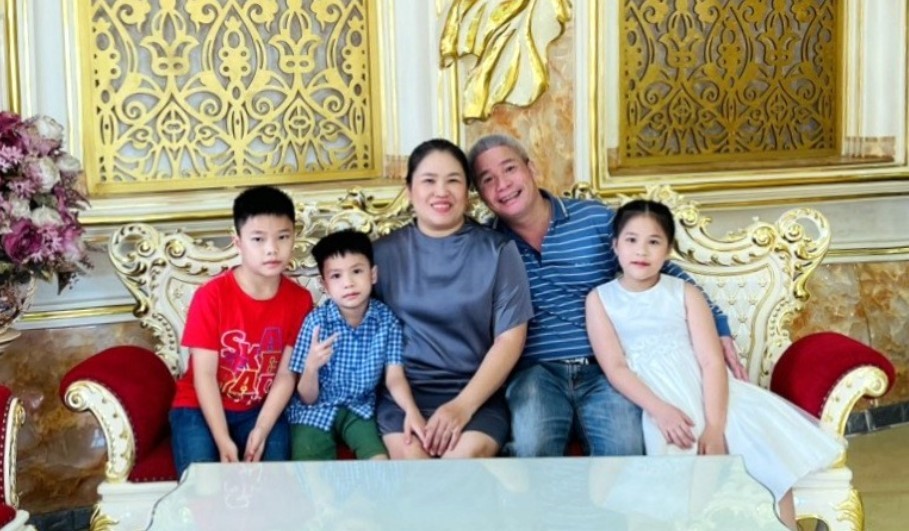 Expats in Vietnam
For Nun, a Lao bride in Vietnam, simple gestures of care are sometimes worth thousand times more than gifts or flowers.
February 20, 2023 | 12:04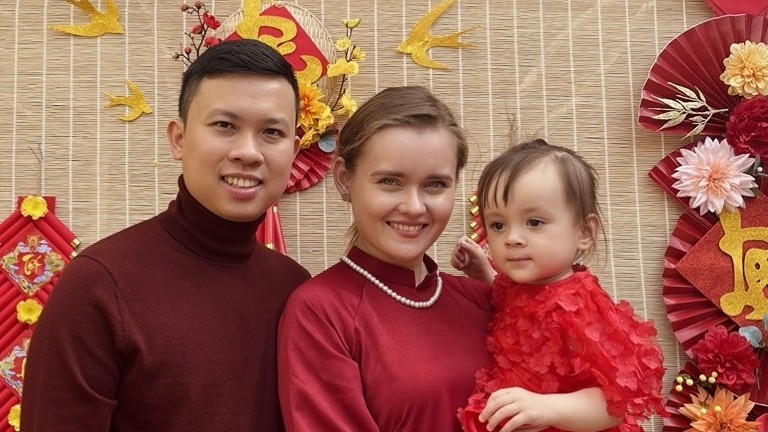 Expats in Vietnam
According to Phan Vu Son and Sophia Koshelna, love is the secret ingredient for a sweet multicultural family dynamic.
February 14, 2023 | 10:19