Young man preserves the beauty of Vietnamese pottery
One HCMC man has turned his love of Bau Truc pottery into a budding business endeavour.
One HCMC man has turned his love of Bau Truc pottery into a budding business endeavour.
Bau Truc pottery (photo: Xuan Huy)
I met Xuan Huy one afternoon at Javic Cafe on Tran Quy Khoach Street in HCMC's District 1, which he uses as his office to meet customers and which also acts as his showroom for displaying and selling Bau Truc pottery products. I was keen to see his ceramic vases and decorative items in the shape of animals with unique colours and patterns. 'I only began the business of selling Bau Truc pottery a year ago,' he said. 'After many years working as an editor and a contributor at newspapers and magazines in the city, I wanted to do something for myself. I then thought about Bau Truc pottery, which I've loved since I was a child.'
Xuan Huy, the businessman with great love for Bau Truc pottery (source: The Guide VN)
Huy's hometown is a village in Da Nhim in south-central Ninh Thuan province, about 30 km from Bau Truc pottery village. He remembers from his childhood beautiful images of Cham women in traditional costumes carrying the vases on their heads. When he grew up, every time he had the chance to visit Bau Truc village he would go and buy some of its products as souvenirs or gifts. Then, as a writer, he learned more about Bau Truc pottery and about Cham culture, and met craftsmen and women to understand how they made their pottery. 'I like Bau Truc pottery for its simplicity and uniqueness,' he explained. 'I also want to tell interesting stories about Cham culture. For example, the original patterns on Bau Truc pottery were created by Cham people from simple objects such as seashells, rope, or sometimes just a wooden plank, while their Apsara statues bear complex details that require skill to make.' He also learned more about Cham culture from books and met craftsmen and women in Bau Truc village to hear stories about their ancestors and spoke with a Cham cultural researcher.
Bau Truc pottery village is one of the two oldest pottery villages in Southeast Asia. Cham people have made the pottery for centuries using unique techniques that don't include using kilns, instead just using straw and dry wood to burn them. Its products are therefore typically dark brown, brown, yellowish-red, or reddish-pink. When firing the pottery, the Cham people use bark from cashew trees, which creates a darker shade.
Cham tower in Ninh Thuan province (source: The Guide VN)
When starting his business, Huy visited Bau Truc village many times to work with craftsmen and women regarding models, sizes, quantities, and how to pack and deliver the products to HCMC. Most families in Bau Truc make pottery products and sell them from home. They generally create items based on their own ideas, which results in a limited choice. And one issue for Bau Truc's pottery items is absorption. To be able to contain water, Cham people in the past used a type of resin from the forest, which was pasted on the inside of the vases or jars. Nowadays, however, they use chemicals for waterproofing, which takes away a lot of the natural beauty. So, one of the first things Huy made sure of when he started out was to spend a few months researching how to provide waterproofing while not losing any of the natural beauty. 'It was a difficult time, as I worked day and night trying different waterproofing methods until I found the best,' he said. 'My waterproofing technique is only used inside the vases and jars, and doesn't affect the natural beauty. When I announced this on my Facebook page, my customers and followers were very supportive and I sold more pottery items.'
The journey from passion to business was a long one, Huy said. With a small amount of money to start with, he had to do everything himself, from going to Bau Truc village to order items, writing articles for marketing, and arranging sales and delivery. 'It's been a major challenge to do everything but it's also been an invaluable experience for me in understanding the products and the needs of my customers,' he explained. 'Most of my customers see my products on my Facebook page and order them.' After a year in business, everything has improved now. He not only sells products but also thinks of new models for the craftsmen and women to make, bearing new patterns or different animals, statues of Buddha and Jesus, or portraits of famous figures which, he believes, will open up a larger market for Bau Truc pottery. 'It's more than just a business; I've fallen in love with Bau Truc pottery,' he said. 'I hope to create my own products some day.'/.
( VNF/The Guide VN )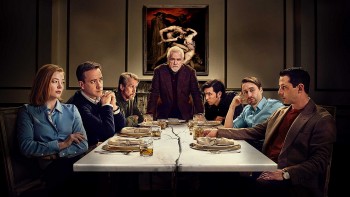 Handbook
Succession, Yellowjackets, Ambulance, etc, are some of the best TV shows with excellent plots, stellar casts, and high rates from the audience.